2012 • 06 • 25
Another reason to celebrate!
Based on the latest data gathered and released by website SocialBakers.com, PhilippineBeaches.org is the fifth largest Facebook Fan Page in the World in the Local/Travel category. We are the only Asian fan page in the top five, the top Filipino page, and one of the only two Pinoy travel pages in the Philippines. (Of course, the list does not include companies and brands for they fall under the Brand category.)
This is a testament to the number of people who love the spectacular beaches and other destinations in the Philippines!
SocialBakers.com is a global social media and digital analytics company that constantly tracks the performances of social media accounts of brands, companies, organizations, and individuals all over the world.
Here's the list of Top 20 fan pages in the same category: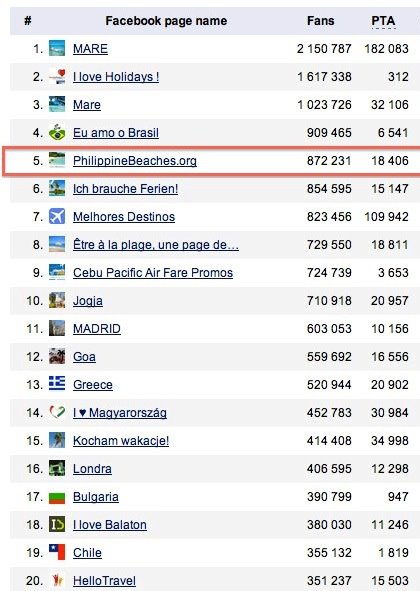 To view the complete list, click here.
Now, let's go beat Brazil and take the 4th spot! (jk) 😛
---
Reminders