Sagada is a fifth-class municipality in the Mountain Province. It is a small, moderately developed village at the heart of the Cordillera with only 11,000 residents (based on the 2015 census). It has grown popular with tourists over the years as tours became more organized and it became more easily accessible. Because of this, tourism has been contributing significantly to Sagada's economy, but agriculture remains to be the number one driver of the economy.
The constant cool climate is what attracts local tourists. The temperature in Sagada is much lower than in Baguio. Aside from the chilly weather, it is also famous for its hanging coffins — a traditional way of burying people. Its network of caves and waterfalls draws people who like nature activities and adventure. The town may be small but its three major roads are lined with guesthouses, inns, and restaurants. One of the best things about Sagada is that life here remains simple and you can have a relaxed time during your stay.
ATTENTION! Don't forget to accomplish all the requirements prior to your visit. Take note of the new normal travel rules and guidelines and make sure to comply with them. It's best to check the official websites or Facebook pages of Cordillera Tourism and Sagada Tourism for updates and announcements.
---
Best Area to Stay
When looking for accommodation, it's important to be familiar with the layout of the town proper. To easily picture it, think of Sagada as a giant letter Y. The three main roads of the town meet at the center of the Poblacion. This is where the municipal hall, tourism office, and police station are located. It is also the main bus stop of Sagada. You may use this junction as your reference point.
It is important to note that accommodations in Sagada are mostly guesthouses, homestays, and inns. Toilets and bathrooms are usually shared with other guests or the residents. If there are private toilets and baths, they are usually very small. So if you're looking for a luxury hotel with various amenities, you won't find it here.
There are many guesthouses and inns on these three roads that create the giant letter Y.
Staunton Road (North/East): This is the road you take if you're going to Sagada from Manila, Baguio, or Bontoc. This road leads to the access roads going to Marlboro Hill, Kiltepan Viewpoint, and Bomod-ok Falls.
West Road: Also referred to as Sagada-Besao Road. This is an uphill road when viewed from the junction. This road is the way to Lake Danum and Sagada Pottery.
South Road: Most well-known inns and restaurants in Sagada are found along this road. This road will take you to Barangay Dagdag and Demang and leads to Lumiang Cave and Sumaguing Cave.
Here are the inns and guesthouses you can book when you visit Sagada.
---
Getting There
NOTE: This section is a work in progress. Due to the pandemic, changes may have occurred. Please contact the LGU, terminal, or bus company directly for the latest schedule, routes, and fares.
Manila to Sagada
BY DIRECT BUS
Coda Lines has a direct bus to Sagada. From their bus terminal in Cubao, it will take 12 hours to reach Sagada taking the Banaue route including a few restroom stops along the way. They have two types of buses:
Semi-Deluxe: This is a 45-seater bus. The fare is P760.
Super Deluxe: This is a 35-seater bus with a toilet on board. The fare is P980.
All bus schedules leave the Cubao terminal in the evening. You will be traveling overnight and arrive in Sagada in the morning where you can start with a little sightseeing. You may check the bus schedule on the Coda Lines website: https://www.codalinesph.com/
MANILA TO SAGADA VIA BAGUIO
You can also go to Sagada via Baguio. From Baguio, you would have to transfer to a different bus and terminal. There are various bus companies with routes to Baguio but among the most popular are Victory Liner and Joy Bus.
Victory Liner Terminals:
Caloocan
Cubao
Sampaloc
Pasay
Joy Bus Terminals:
It is best if you can take the late-night bus to Baguio and arrive there in the morning because the last bus to Sagada leaves Baguio between 11:30 AM and 1:00 PM.
After arriving in Baguio, you can follow the Baguio to Sagada guide below.
Baguio to Sagada
BY BUS
Traveling to Sagada from Baguio takes six hours. Two bus companies in Baguio ply this route — GL Trans and Lizardo. In this post, we are focusing on GL Trans.
From Victory Liner/Joy Bus station, ride a taxi to GL Trans Terminal. The fare is around P80. When you reach GL Trans Terminal, proceed to the counter and buy a ticket. The fare is P220.
Here is the bus schedule and routes:
5:30 AM (Sagada > Besau)
8:30 AM (Sagada Ambasing)
9:30 AM (Sagada > Besau)
10:30 AM (Sagada > Besau)
11:30 AM (Sagada Ambasing)
1:00 PM (Sagada > Besau, last trip)
Most bus schedules leave Baguio before noon. If you're traveling from Manila, make sure you'll arrive in Baguio early morning to catch a bus to Sagada. Tickets could sell out fast so it's better to be early especially if you're going on a trip on a weekend.
REMINDERS when traveling from Baguio to Sagada by bus:
Tickets for trips are issued on the same day only. Advanced booking and reservations are not allowed.
Ticket selling starts at 5:00 AM on a first-come, first-served basis.
The bus makes at least two stops along the way.
Sagada Town Proper is not the final stop of these buses. When you're near Sagada, stay alert so you don't miss your stop and end up in Besau.
---
Tourist Spots & Attractions
ATTENTION! Because of the pandemic, the opening hours and rates might change from time to time. Make sure you check the official websites or Facebook pages of the attractions and tourist spots prior to your trip.
Cave Connection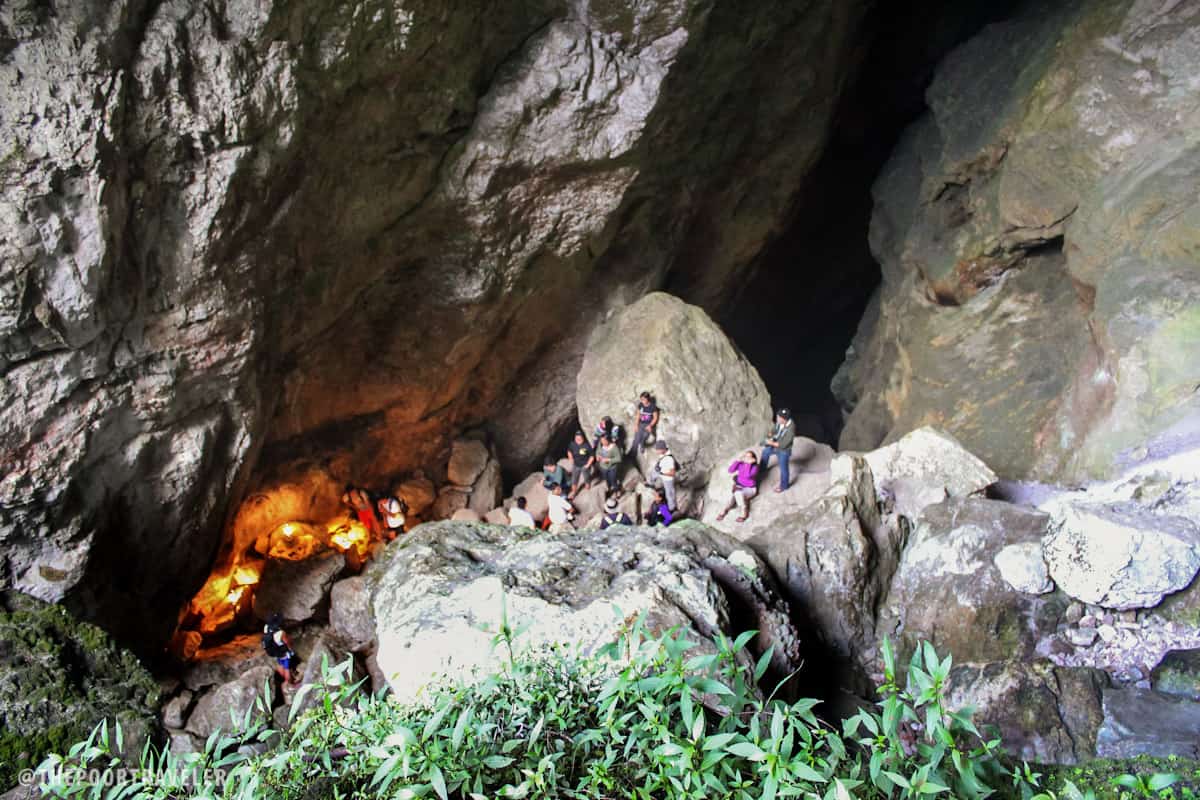 With a network of more than 60 caves, Sagada is a spelunking haven. Cave connection covers both Lumiang and Sumaguing Caves, two of the most popular caves in Sagada. This is a more challenging adventure than Sumaguing Cave alone. The tour will start at Lumiang Cave, a burial site where you can see hundreds of stacked coffins which is part of the local tradition. You will come out of Sumaguing Cave after three to four hours.
Guide Fees: P1,000 (1-2 pax) / P500 per additional person
Transportation Fee (optional): P400 (two-way)
Sumaguing Cave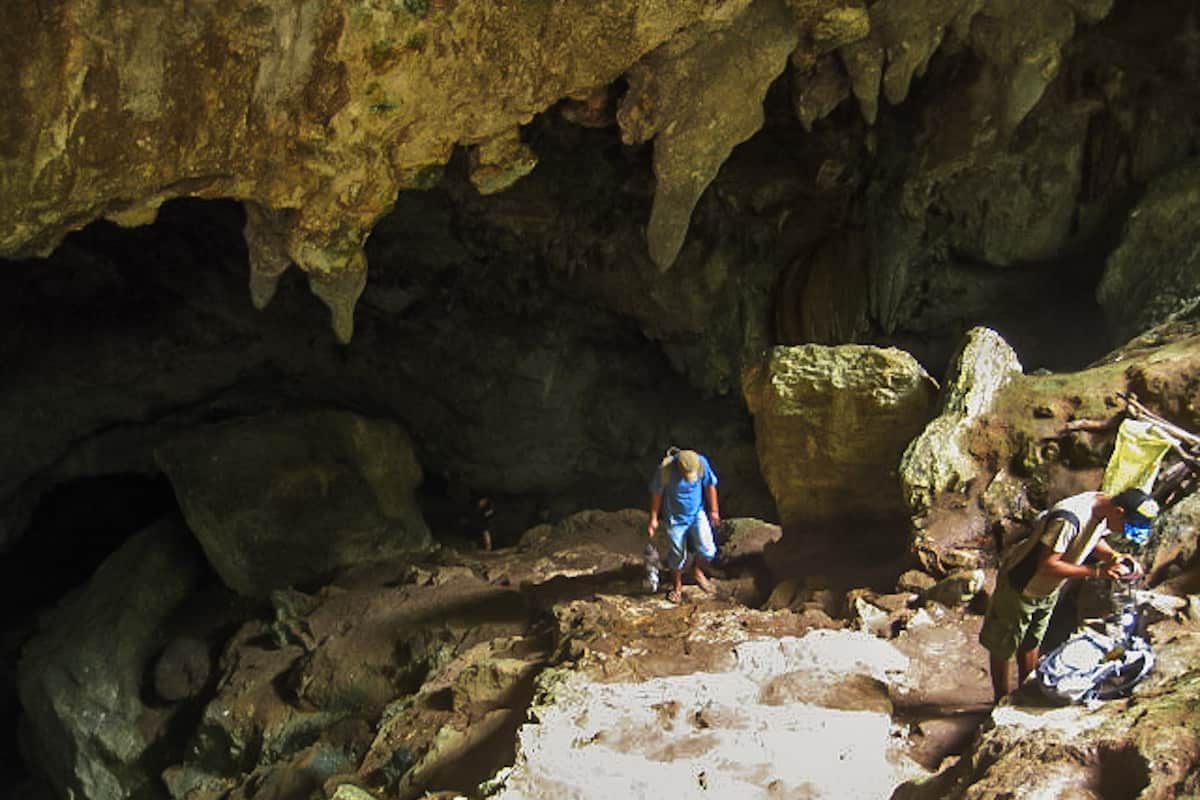 You can explore one of the cave networks if you are not ready yet for an extreme activity like a cave connection. Try Sumaguing Cave. Aptly nicknamed "The Big Cave", this is the biggest in Sagada. When you go on this spelunking adventure, you will see countless rock formations, some of them are in the form of different shapes like elephant, turtle's head, bear, pregnant woman, and chocolate cake. This cave is arguably the most popular tourist attraction in Sagada.
This activity looks challenging, but you should be fine as long as you follow the guide's instructions. But get ready to be wet and get physical during this two-hour adventure.
Guide Fees: P800 (1 guide, 1-4 pax) / P900 (1 guide, 5 pax) / P1,600 (2 guides, 6-9 pax) / P1,800 (2 guides, 10 pax) / P2,400 (3 guides, 11-12 pax) / P200/pax (13 pax or more)
Tranportation Fee (optional): P350 (two-way)
Echo Valley and Hanging Coffins
Right next to the town center is the Echo Valley where you can find the famous hanging coffins of Sagada. It's not too far from the Church of St. Mary the Virgin, going through the new cemetery.
To reach Echo Valley, there are three different tours you can take. All three will give you a view of the hanging coffins, but the last two will bring you to more natural attractions.
Echo Valley Hanging Coffins Tour: This will be a short hike from the church to the viewpoint. Then, you will go down to the valley for a closer view of the coffins. This tour will take one hour.

Guide Fee: P300 (1-10 pax) / P400 (11 pax) / P600 (12-20 pax)

Adventure Trail: This trail will take you from the church to the hanging coffins, Sagada Underground River, and Bokong Waterfall. The trek will take three hours.

Guide Fee: P1000 (1-10 pax) / P100 per additional person

Eco Tour: From the church, this tour will lead you to the hanging coffins to the underground river entrance to Bokong natural swimming pool, passing through canyons and rice fields. This tour will take 3 hours.

Guide Fee: P800 (1-10 pax) / P1,600 (11-20 pax) / P2,400 (12-30 pax)
Bomod-ok Falls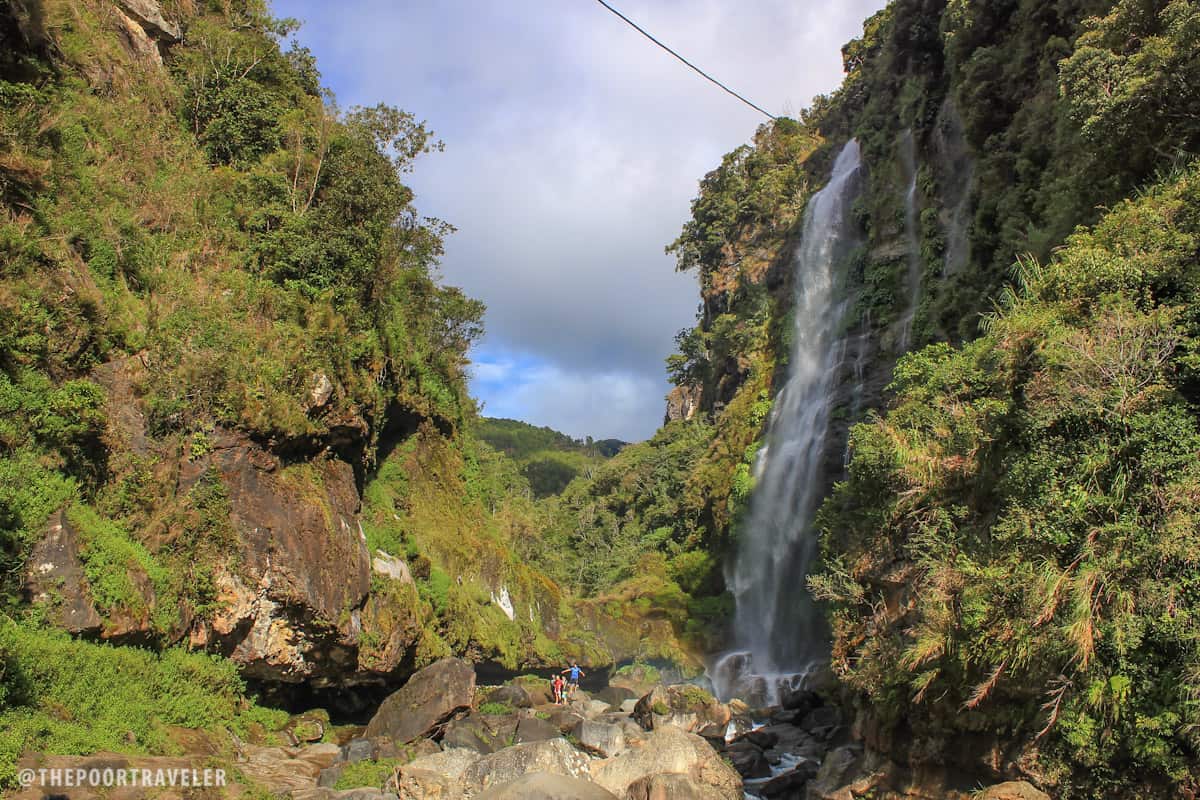 Bomod-ok Falls is the tallest and largest among the three waterfalls that are open to tourists in Sagada. It is also known as the "Big Falls."
The trek to reach the falls is challenging as you need to cross mountains to get there, but the captivating view of the 200-ft cascade will surely make up for that. Make sure you bring a lot of water for the tiring walk. When you reach the waterfalls, you can also swim at the pool at the base.
Guide Fee: P500 (1-7 pax)
Barangay Fee: P10
Transportation Fee: P500 – P650
Kiltepan Viewpoint (Temporarily Closed)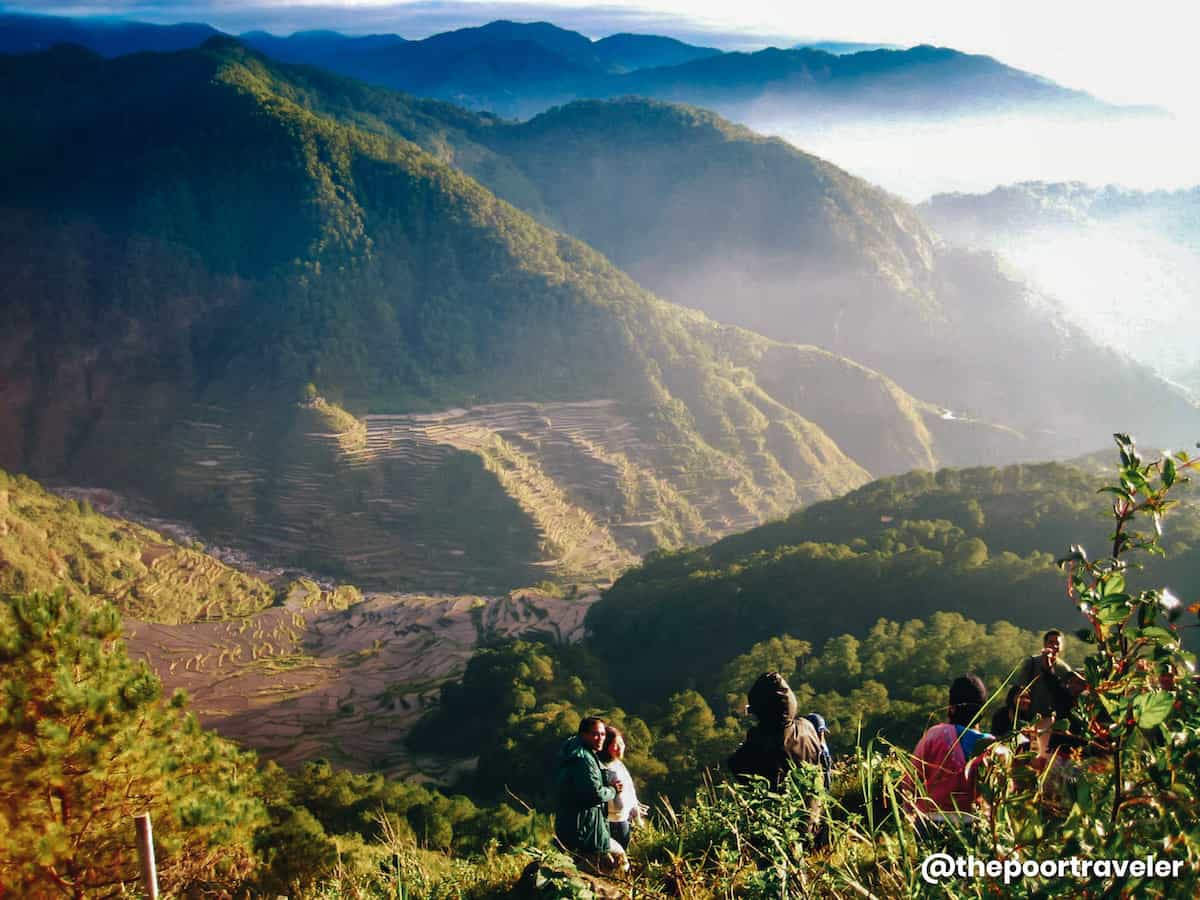 The most popular spot to catch the romantic sunrise in Sagada is the Kiltepan Viewpoint. To catch the sunrise, you must leave at 4:30 AM from the town center and drive for 15 minutes. Then, you will take a short hike to the viewpoint where you can marvel at the captivating view of the sea of white clouds and the amazing terraces underneath.
Transportation Fee (Two-way): P500 (1-10 pax) / P50 per additional person
Marlboro Hill and Blue Soil
With the temporary closure of Kiltepan Viewpoint, Marlboro Hill became the go-to spot for tourists to catch the sunrise and the sea of clouds. You would have to leave at 4:30 AM or earlier from the town center and drive to the jump-off point. From there, you need to go on a 20-minute hike to reach the viewpoint.
After watching the sunrise and taking photos, you can continue trekking to the Blue Soil Hill, locally called Kaman-utek. The trail is downhill so it's not that difficult. You'll also pass by a few picturesque sites on the way to Blue Soil Hill. When you get there, you'll notice the powder blue color of the soil which is the result of the high amounts of copper sulfate in it.
The trek will take around two hours, depending on your pace, but the whole activity from catching the sunrise to the end of the trek is about four to five hours.
Marlboro Hill Only
Guide Fee: P600 (1-10 pax)
Transportation Fee (optional): P650 (two-way)
Marlboro Hill + Blue Soil Hill

Guide Fee: P1,600 (1-5 pax) / P1,300 per additional person
Transportation Fee (optional): P1,350 two-way
Rock Farm (Orange Picking)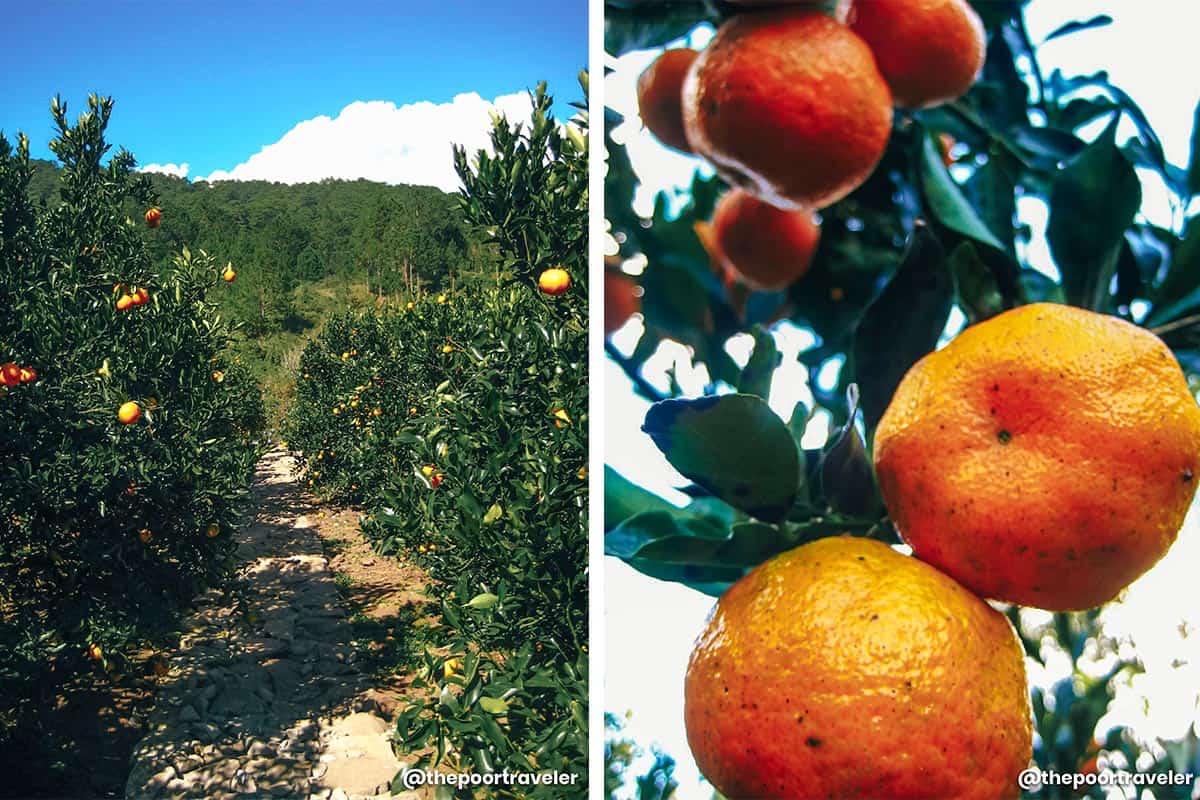 Located east of the town center is Rock Inn and Cafe Bodega, a lodging and dining complex. Cafe Bodega has a great ambiance and you should definitely try dining here during your stay. When oranges are in season, you can go orange picking at the Rock Farm.
Other Places to Visit
Lake Danum: A sunset viewing spot 20 minutes away from the town proper.
Transportation Fee: P550 (1-10 pax)
Balangaggan Cave: If you want another spelunking activity, Balangagan Cave is only 30 minutes away from Poblacion.
Guide Fee: P650 (4 pax) / P800 (5 pax) / P1300 (6-9 pax)
Transportation Fee: P650
Pongas Falls: It will take an hour hike to reach the falls.
Guide Fee: P600 (1-10 pax)
Transportation Fee: P650
Mt. Ampacao: From Poblacion, you will take a three-hour journey to Lake Danum and Mt. Ampacao.
Guide Fee: P1200 (10 pax)
---
Best Time to Visit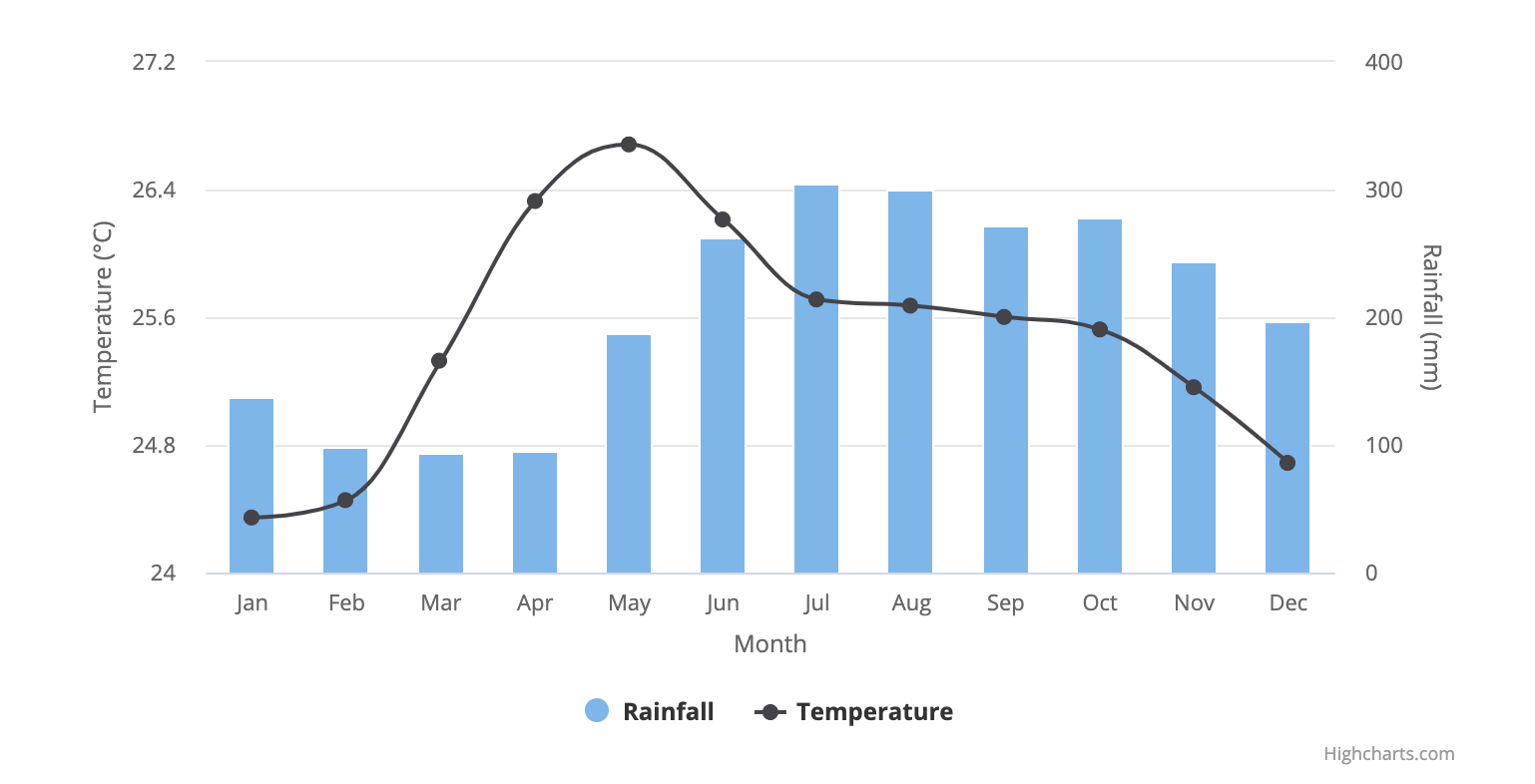 The best time to visit is from November to April. The dry and cool climate during these months is ideal for outdoor activities. However, there are still quick passing rainfalls during late afternoons. The wettest months are June to September so touring and trekking could be difficult because of the rain.
If you want to experience the Bonfire Festival, visit Sagada the week between Christmas and New Year. Party Sagad-style when you attend the Bonfire Festival. But if you don't like to be among the crowd of tourists, you might want to avoid these dates. Holy week is a peak period too.
---
Practical Travel Tips
When visiting attractions and going on tours in Sagada, the local government requires tourists to have a guide. A fixed and uniform rate on tours is also imposed, which is a great thing for tourists. So before you start going around, make sure to drop by the Sagada Tourism Office to register first. You also need to pay the tourism/environmental fee (P50).
If your accommodation is near the Sagada Genuine Guides Association (SAGGAS) office, you can also go straight here and book your tours. They can also assist you with the registration and payment of the tourism fee.
A receipt should be given to you after the registration. Make sure to keep it with you at all times because some attractions will ask you to present it upon entry. Also, keep in mind that the fee for vehicles is separate from the guide fee and entrance fees.
Always check for updates. Some adjustments have to be taken for establishments and attractions to operate during the new normal. Don't forget to contact or visit the official websites or Facebook pages of the attractions and activities for announcements and updates before going.
Form a bigger group. The tour rates depend on how big your group is. Usually, the per-person cost is less if you're with a bigger group because you have more people to split it with. If you're on a budget, you can join or merge with another group to save on guide fees.
Bring sun protection. The sun can be unforgiving sometimes, especially in summer. Don't forget to bring a hat/cap and sunglasses or apply sunscreen.
Buy a gallon of water. On your first day, buy a large container of water and take it to your room. Also, bring a reusable water bottle that you can refill and bring with you when going on tours.
Leave nothing but footprints. Let's do our part to keep Sagada clean. Make sure to throw away your trash properly and don't litter on the streets.
Follow the town's rules and regulations. Make sure you know the travel safety protocols and requirements and follow them.
---
Sample Itinerary
Here is a sample 3-day itinerary for a trip to Sagada. This includes a spelunking activity, trekking, and waterfalls. Don't hesitate to make changes to this itinerary to match your preferences.
Day 1
-Arrival in Sagada
-Go to the Sagada Tourism Office
-Pay the tourism fee
-Check in or drop bags at the inn
-Breakfast
-Sumaguing Cave
-Lunch
-Rest
-Dinner
-Back to the inn
-Lights out
Day 2
-Bomod-ok Falls
-Lunch
-Echo Valley Tour
-Shop for souvenirs
-Dinner
-Back to inn
-Lights out
Day 3
-Marlboro Hill
-Trek to the viewpoint
-Breakfast
-Trek to Blue Soil Hill
-Back to the inn
-Check out
-Brunch
-Travel back to Manila
---
Reminders