Parañaque Integrated Terminal Exchange or PITX is the first-ever landport in the Philippines. Opened in 2018, this transport hub aims to make commuting between the city and the provinces more convenient.
It connects the nearby provinces south of Metro Manila like Cavite and Laguna to different cities in the metro with buses and jeepneys with various routes. Additionally, it also connects them to destinations up north like Baguio and even provinces in Visayas and Mindanao.
At the same time, PITX serves as a transport hub for other provincial destinations in the south like Batangas and Bicol.
Situated in AsiaWorld, Bay City, Parañaque, PITX sits near the north end of CAVITEX and a few blocks away from NAIA Road. From the airport, PITX is only around 20 minutes away. Because of its proximity, it's a great option for travelers flying into Manila to go straight to PITX and catch a bus bound for other land-accessible destinations in the country.
This transport terminal has two levels with various shops and restaurants inside. It was honestly quite impressive to see how well-equipped the hub is to handle the droves of commuters that now rely on it.
This post is an extensive PITX guide, perfect for first-timers boarding from the hub. We'll share with you the routes you can take from PITX, food spots you can grab a quick bite from, and other facilities available at this modern transportation facility.
---
How to Get to PITX
From Cubao
By EDSA Carousel
EDSA Carousel's Southbound buses make a final stop at PITX. There are two stations in Cubao: Nepa Q Mart and Main Avenue. The challenge is that EDSA Carousel stops are housed in stations that do not have a uniform format or layout. Some stops make passengers go through the adjacent MRT or LRT station just to get to the boarding area, while some merely require you to cross a footbridge. Just make sure to follow the signs that lead you to the SOUTHBOUND LANE. Look out for the sign-boards that read PITX.
By Taxi or ride-hailing apps
If you're traveling with luggage, you can ride a taxi and ask the driver to drop you off at PITX. Fare is around P450-500. However, if you decide to take a taxi, know that some drivers may insist on a set price for the fare instead of using the meter. When you ride a taxi, make sure that the meter is running once your trip starts.
There are a few ride-hailing apps available in Metro Manila, but the widely used service is Grab. You can book either a 4-seater or 6-seater car from their mobile app, available on Android and iOS. Fare is around P650-730 from Cubao to PITX. While it's a bit pricier than taking a taxi, the advantage is that you'll have access to your exact fare before booking and have the ability to track your trip.
From NAIA
By P2P bus
If you're coming from NAIA, UBE Express operates a P2P bus to PITX. However, please note that according to their Facebook page, buses to PITX have no set departure schedule and the wait time for passengers is around 30 minutes to an hour. So if you're in a rush, this might not be the option for you. You may check the UBE Express Official Facebook Page for the updated schedule. The fare costs P150.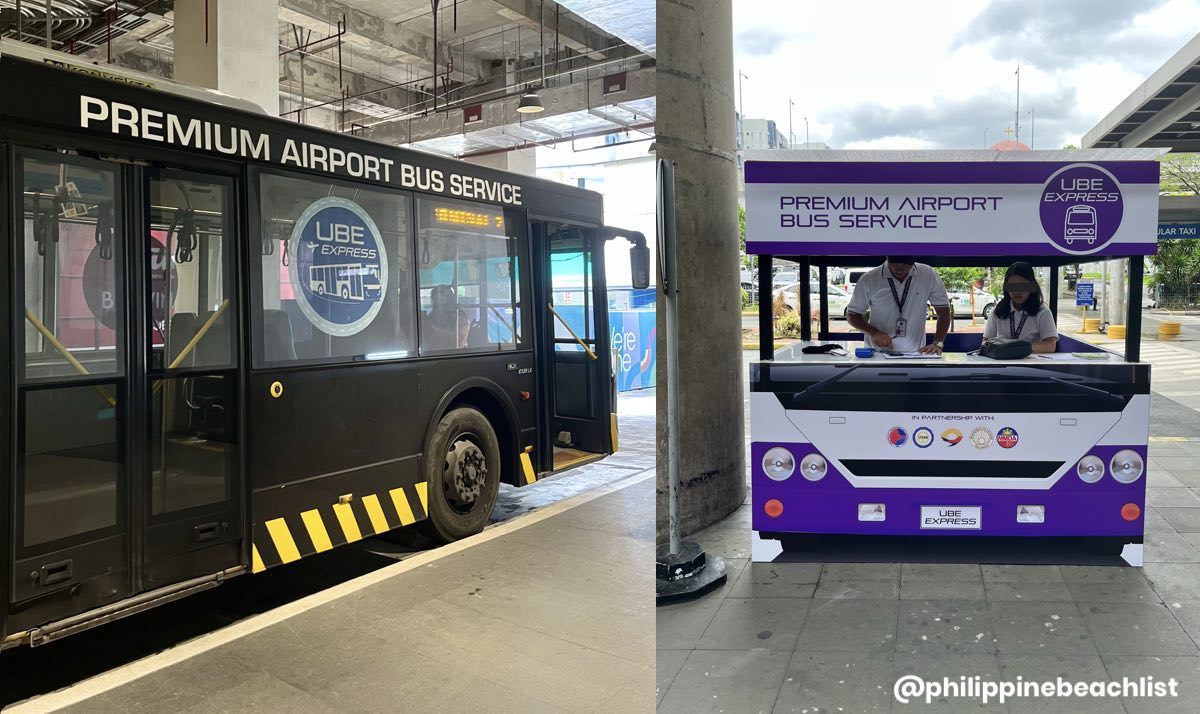 By Taxi or ride hailing apps
Taking a taxi or booking a ride through a ride hailing app is the more convenient option if you don't want to wait for the bus to leave or you have luggage with you. There are three types of taxis available in NAIA: Coupon Taxi (fixed rate), Yellow Metered Taxi, and Regular Metered Taxi. Fares may vary across options. Whichever type of taxi you decide to get, you will be handed a dispatch slip at the booth which contains details of the taxi and numbers you can call if you have an issue about your ride. Keep this dispatch slip with you until you reach your destination. You need not surrender this to your driver.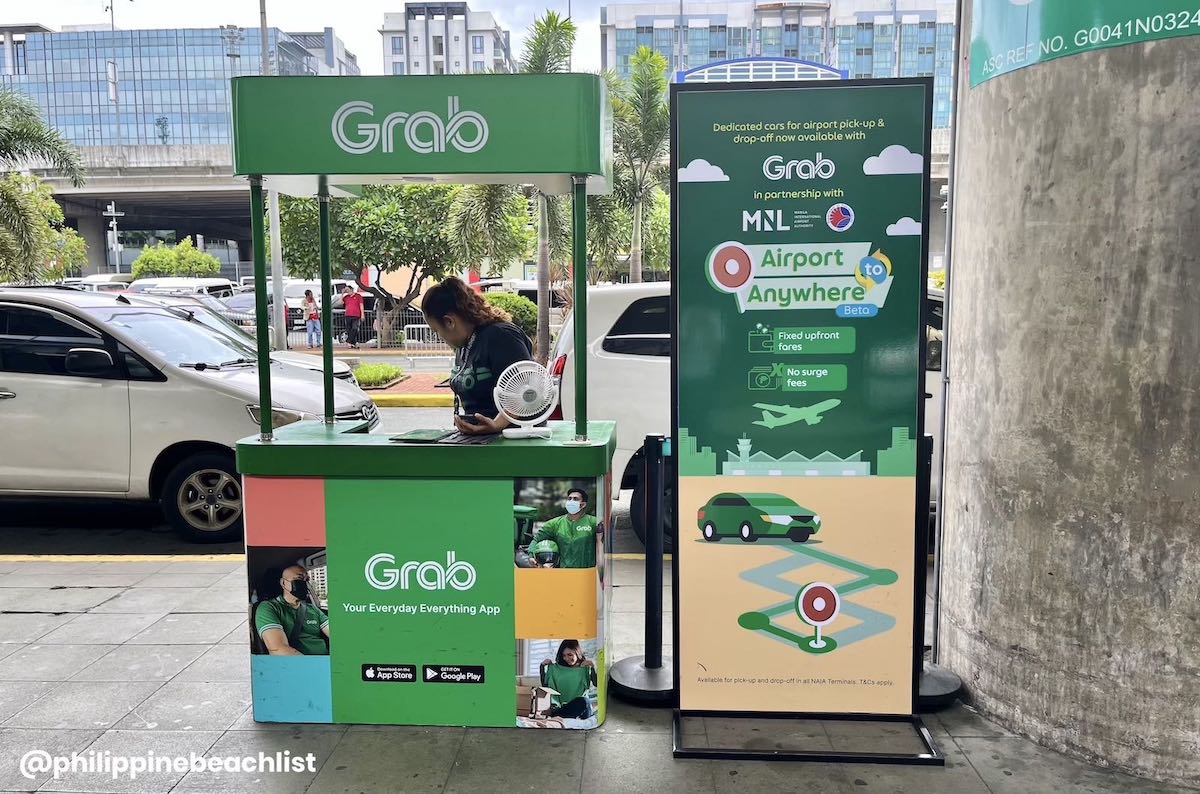 Another option is to book a ride using a ride-hailing app. The most commonly used app here in the Phiippines is Grab. You can either download the app to book a ride or look for the Grab booth where the booth attendant can book a ride for you. Fare is around P300 – P350.
For more details on transportation options at NAIA, you can check out our NAIA Transportation guide here.
---
How to Get Tickets
Different types of transportation options are available at PITX and the process of getting tickets for them varies. City buses, Cavite buses, jeepneys, and provincial buses with different routes make a stop or terminate here. All routes and where you can find them in the terminal are listed in the next section, but first, here's how you can get your tickets:
For city buses, Cavite buses, and jeepneys. Proceed to the gate where the bus or jeepney you plan to take is assigned. There are usually drivers or conductors who will show you which one you should board. Then, pay your fare once you're inside the vehicle.
For provincial buses. There are multiple ticket booths for provincial buses and each booth caters to different routes. Depending on where your destination is, head to the assigned ticket booth and get your tickets. You will then know which gate you should head toward during boarding. Tickets can either be purchased for the earliest available trip or you can choose to buy a ticket for a later time or date.
---
Available Routes
Jeepney
Both traditional and modern jeepneys are available here with routes that are mostly around Manila City. There are also routes going to the southern part of Metro Manila going as far as Cavite.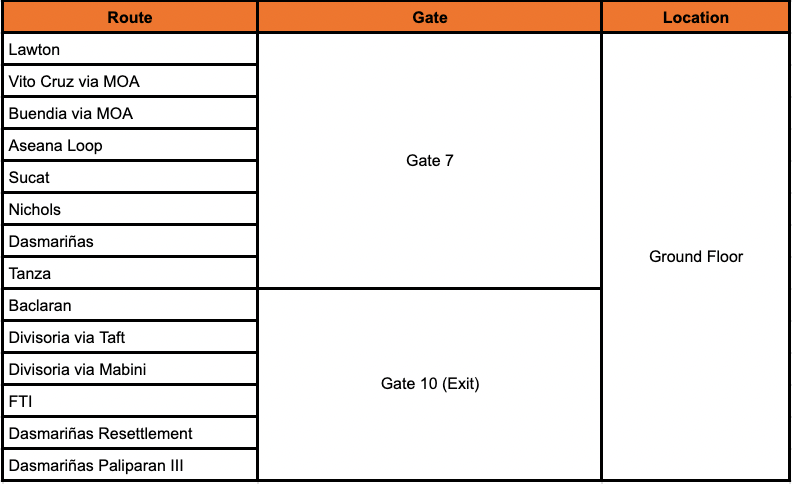 City Buses
City buses plying routes to different parts of Metro Manila along with Bulacan either terminate or make a stop at PITX. Here are the routes you can find and their respective gates at the terminal.

PITX to Cavite
PITX is also hosts buses bound for Cavite. There are a few routes going to different cities in this province including its most popular tourist destination, Tagaytay. Here's a complete list of these Cavite-bound buses, including their gate assignments.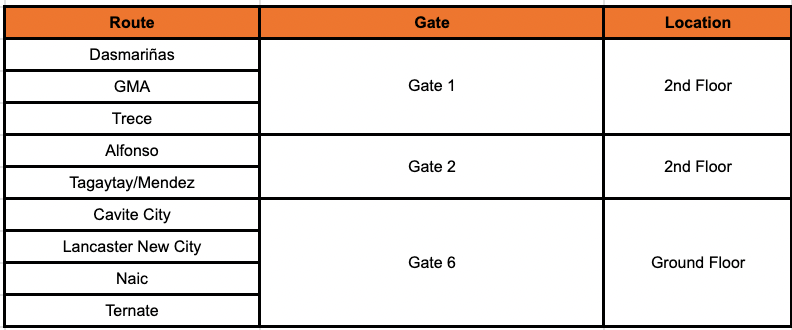 PITX to Batangas
Batangas is a great destination for quick weekend beach trips. If you're coming from Metro Manila, PITX can be your jump-off point to Batangas. Here's a list of Batangas bus routes and their assigned ticket counters.

PITX to Baguio
If you're coming from the south and you plan to head up north to Baguio, Solid North also has bus schedules from PITX. Here's where you can get tickets.

PITX to Bicol
Of all the transportation options available at PITX, Bicol-bound buses definitely dominate in numbers. There are countless routes all over the region offered by multiple bus companies. If you're heading to Albay, Camarines Sur, Camarines Norte, Catanduanes, Sorsogon, or Masbate, here are the available bus routes you can board at PITX and their assigned ticket booths.
PITX to Albay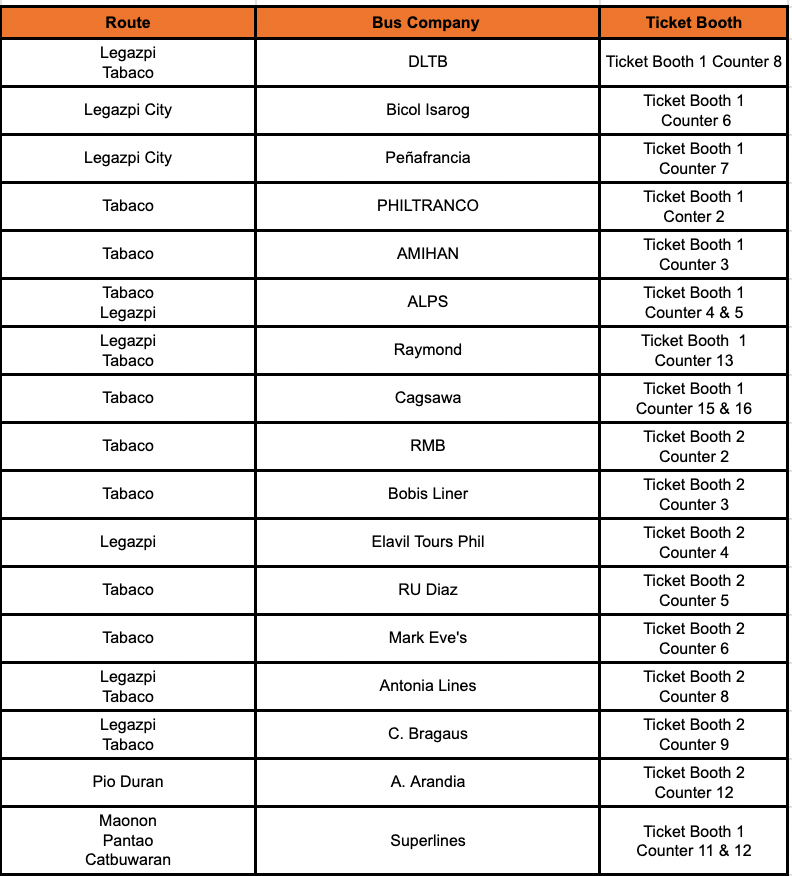 PITX to Camarines Sur
PITX to Camarines Norte

PITX to Cantanduanes

PITX to Sorsogon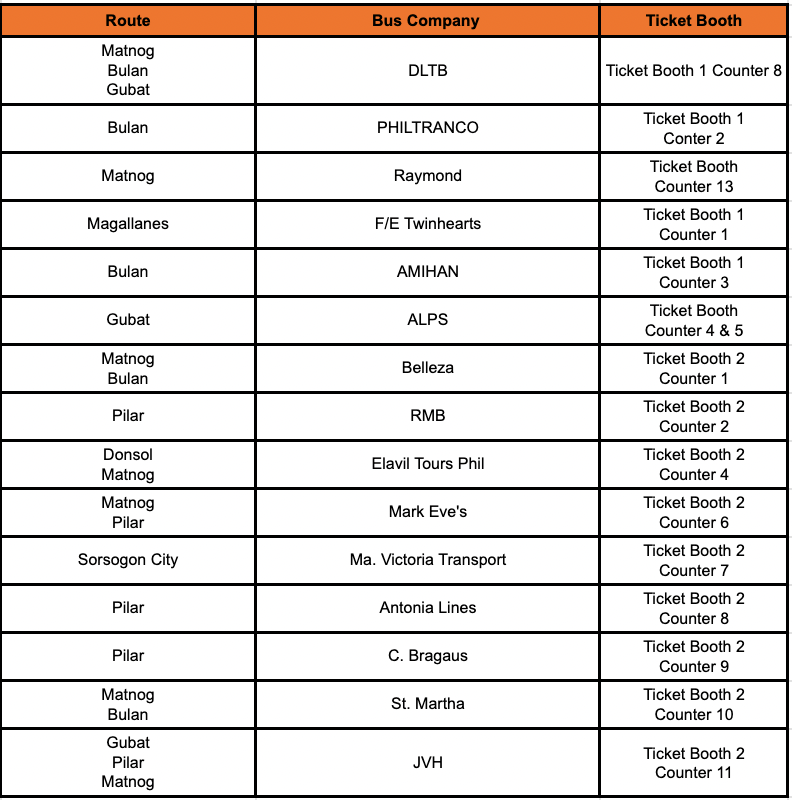 PITX to Masbate

PITX to Quezon Province
A few bus companies travel from PITX to Quezon Province. Below are the available routes and their assigned ticket booths.

PITX to Mindoro
Before PITX opened its doors, the usual route to Mindoro from Manila is through a fast craft to the island via Batangas Port. Nowadays however, you can board a bus from PITX that will take you all the way to San Jose, Mindoro.
PITX to Bohol
Bohol is one of the most popular destinations in the country. Beloved for its Chocolate hills and its aquatic wonders, tourists usually travel to Bohol by plane. However, if you have more time or are just looking to do things differently, you can ride a bus from PITX to the province's capital.

PITX to Iloilo
Known for maintaining its Spanish charm through the preservation of its historic sites, Iloilo is another popular destination in Western Visayas. This province enchants not only through its magnificent old churches but also its pristine beaches. Thankfully, you can reach Iloilo by hopping on a bus at PITX.
PITX to Leyte
Leyte is known for what was once the longest bridge in the country and the magnificent island of Kalanggaman. From PITX, a few bus companies ply routes to different parts of this province.

PITX to Davao
Usually a 2-hour flight from Manila, some locals opt to travel to Davao by riding a bus via PITX. This may dramatically increase the travel time to a few days, but it is generally cheaper than booking a flight.

---
Where to Stay
If you're planning to stay the night at a hotel, here's a few options near PITX that you can check out:
---
Where to Eat
There are restaurants and food stalls aplenty at PITX. You won't run out of options here when you go hungry while waiting for your departure. Whether you're looking for snacks, a meal, or just a sweet treat, you'll definitely find something inside the terminal. Here's a list of the restaurants and food stores you can find. Most of these stores are open from 6:00AM to 10:00 PM.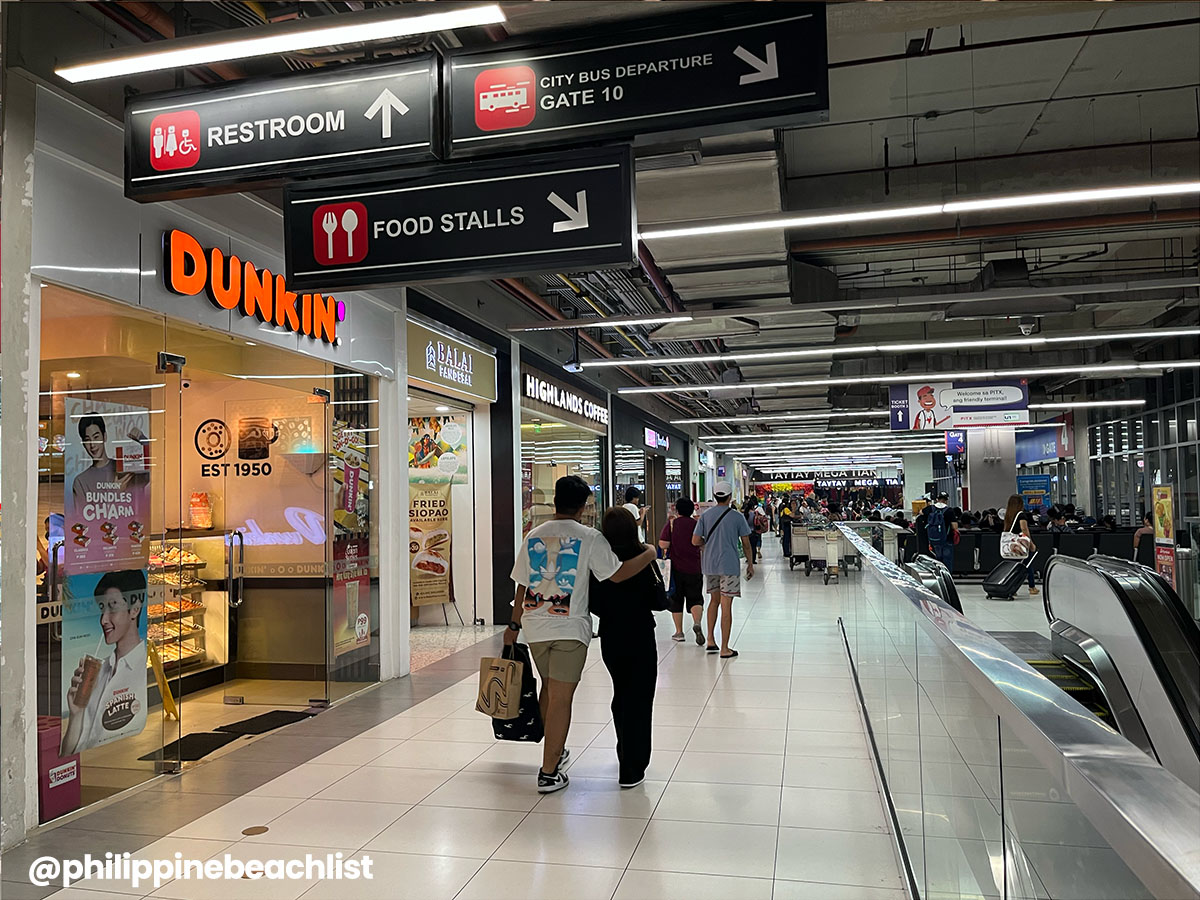 Ground Floor
Jollibee
Yellow Cab
Mang Inasal
Chowking
Wendy's
Subway
Kyukyu Ramen
Tah-Mee
Razon's by Glenn
Famous Belgian Waffle
Tim Hortons
Banh Mi Kitchen
Chocolate, Sweets, and Pasalubong Concept
Samgyup on the Go
Goldilocks
Red Ribbon
Krispy Kreme
Arcana Lounge Cafe
Shawarma Shack
Potato Corner
Jamaican Pattie
Johnn Lemon
Koomi
Hen Lin
Mcdonald's (Fries & Sundae)
Rice in a box
OPM
Pronto Food Corner
Mister Donut
Waffle Time
Chatime
The French Baker
2nd Floor
Popeye's
McDonald's
Purefoods TJ Hotdog
Ate Rica's Bacsilog
Highlands Coffee
Muhlach
Liezl's La Paz Batchoy
Binalot
Buko Juan
Original Bakery
Turks
Black Onyx Cafe
Dunkin Donut
---
Things to Do
Aside from restaurants and food stores, there are also shopping establishments at PITX. If you forgot to pack something for your trip or just want to kill time, you can visit these stores inside the terminal to shop. For those traveling with kids, beating their boredom is a must for a successful trip. You can find a small arcade area on the 2nd floor to help keep them entertained. Interestingly, there's also a barbershop and health clinics located here. I mean, you never really know when you'll need a surprise haircut or a quick check-up!
If you're in need of some essentials, the drugstores and convenience stores inside the terminal will be your best bet. Here's a list of stores you will find at PITX.
Ground Floor
Alfamart
7Eleven
K2 Pharmacy
Miniso
Fashion Rack
Executive Optical
2nd Floor
Watsons
Lawson
World Balance
Mr. D.I.Y.
Cellblitz
Biblio
Bench
---
Frequently Asked Questions (FAQs) about PITX
Is it required to book a ticket in advance?
No. There are some bus companies that have an online ticketing system where you can buy a ticket in advance, but it is not required to do so before arriving at PITX. You can purchase your tickets at any of the booths in the hub.
If you're riding a provincial bus, just proceed to the respective ticket booth of your destination to buy a ticket. Meanwhile, if you're riding a city bus or jeepney, you may proceed to their assigned gate. You can find more details about this in the available routes section of this article.
We plan on arriving earlier than our expected departure. Are there waiting areas at PITX?
A lot of seating areas are available by the gates. Plenty of restaurants where you can dine in while waiting for your departure can also be found on both levels of the terminal.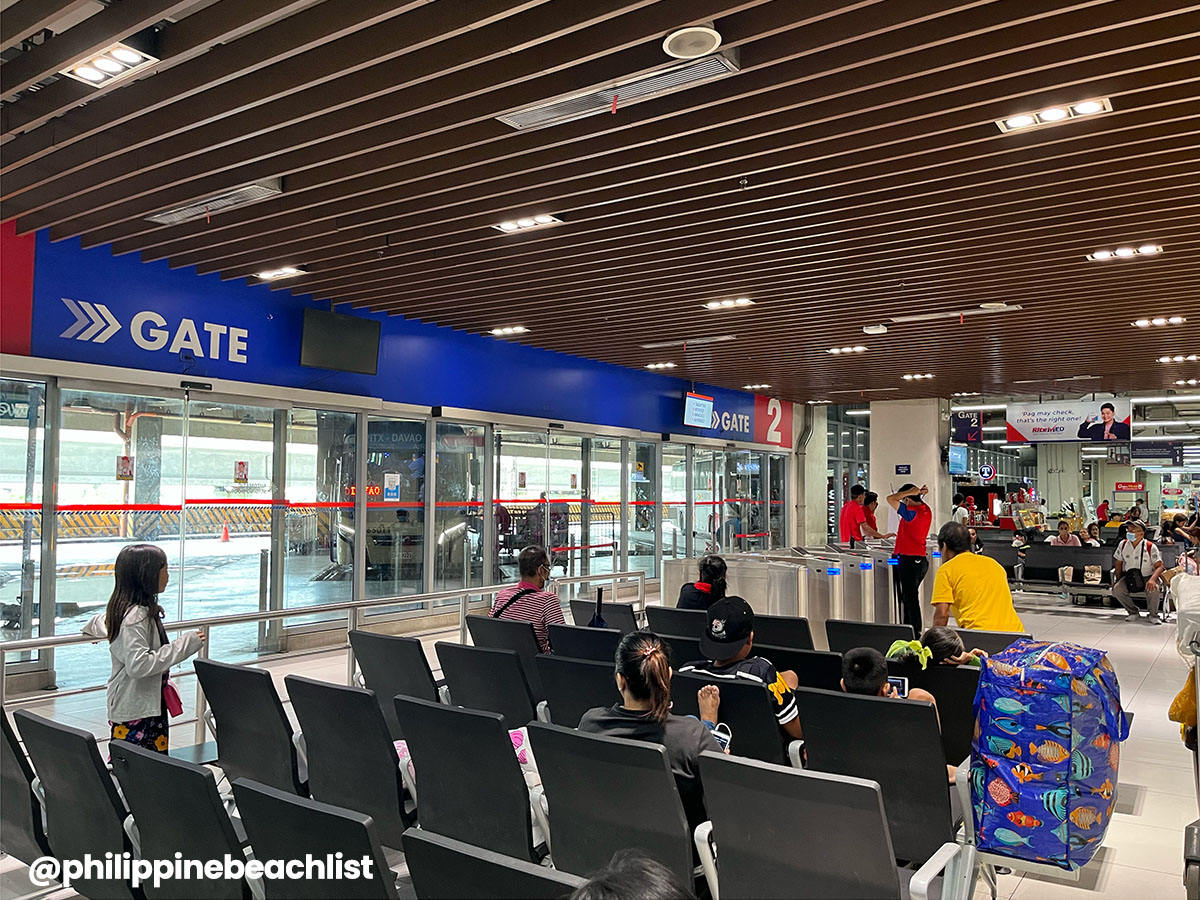 I need to withdraw cash before my trip. Are there ATMs at PITX?
Yes, there are multiple ATMs available here from different banks. Here's a list of them including their location.
First Floor
2nd Floor
RCBC
PNB
BDO
---
Reminders