Epifanio de los Santos Avenue, commonly referred to as EDSA, is the primary thoroughfare of Metro Manila. This major arterial road stretches from north to south, covering six (6) local government units in the National Capital Region: Caloocan, Quezon City, San Juan, Mandaluyong, Makati, and Pasay. It also connects to North Luzon Expressway (NLEX) via Balintawak Interchange in Quezon City and South Luzon Expressway (SLEX) via Magallanes Interchange in Makati.
Moreover, all major financial districts — Triangle Park, Araneta City, Ortigas Center, Makati CBD, and Bay City — are easily accessible from EDSA. Imagine the volume of vehicles and people plying this route every day! No wonder it is also the most congested highway in Metro Manila.
Here comes EDSA Carousel, a bus rapid transit (BRT) system along EDSA that links to other bus routes in the NCR. Launched in June 2020, the EDSA Busway has a dedicated lane utilized by more than 80 bus operators with over 700 accredited public utility buses serving the commuting public. The operation of the EDSA Carousel line in Metro Manila is under the supervision of the Department of Transportation (DOTr) and Metropolitan Manila Development Authority (MMDA).
---
Reminders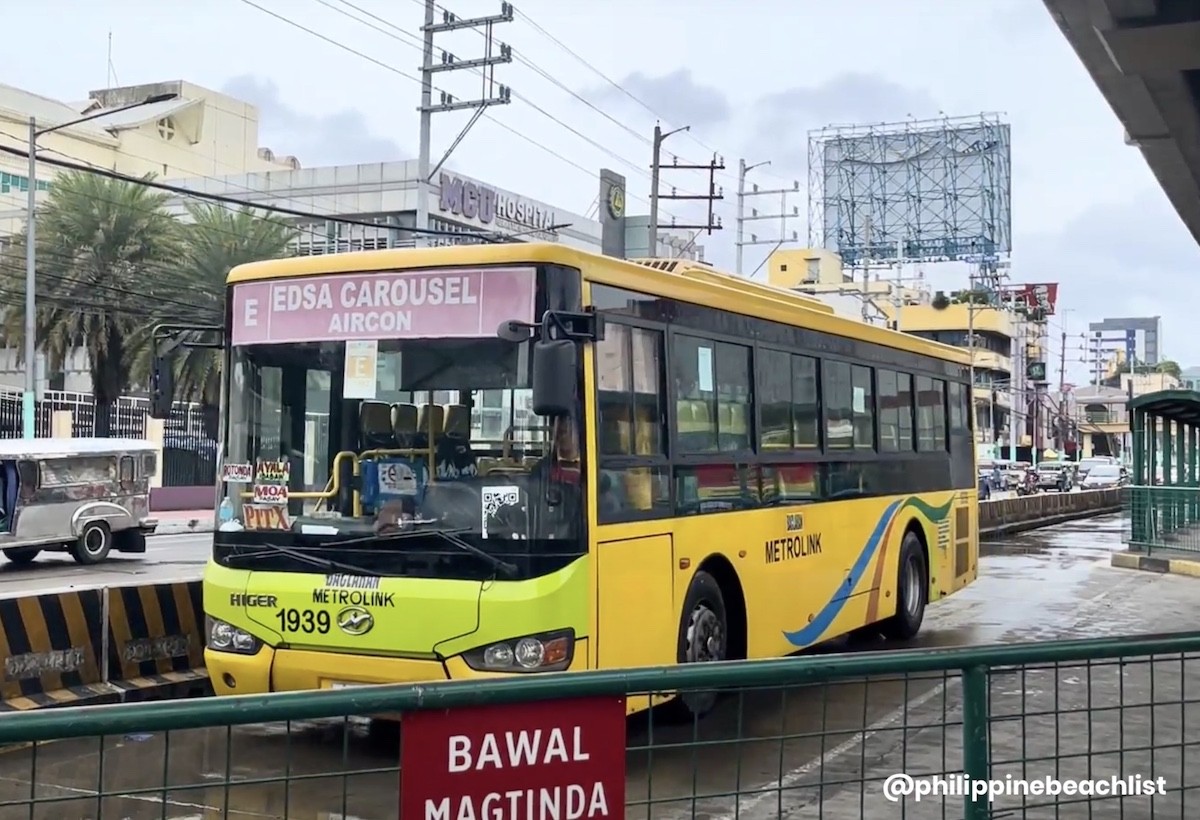 The EDSA Carousel Northbound route has 19 stops, while the Southbound route has 21 stops. The northbound buses are those headed to Monumento, the northernmost stop. The southbound buses are those going to PITX, the southernmost stop.
Fare ranges from P15 to P75. Your fare depends on the distance from your point of origin to your destination.
EDSA Busway line is open 24/7. However, the availability of buses depends on the operating hours of the bus companies. Most buses operate from 4:00 AM to 11:00 PM, while a few others extend their operating hours to run 24/7. You may experience some difficulty catching a bus in the wee hours of the morning.
Some bus stops are conveniently connected to MRT and LRT stations. However, one of the greatest thorns in any Metro Manila commuter's side are the access points to most EDSA Carousel stops. While being integrated with MRT and LRT stations creates greater mobility, it also creates its own inaccessibility paradox. Stairs getting to and from the bus stops can get quite steep. Some stops require getting through a maze of levels and security checkpoints of the adjacent train station to catch a bus. If you're traveling with children, senior citizens, or persons with disabilities, don't forget to give yourself a little grace if you get frustrated.
On most days, riding the MRT and LRT or hopping on the EDSA Carousel busway beats braving the EDSA traffic in a private vehicle due to their dedicated rights of way. On good days, you'll be speeding by cars that have been sitting in EDSA traffic for nearly an hour, which is especially a relief during rush hour. It's just a matter of getting a seat when half the metro's also looking to get home in time for dinner.
---
EDSA Carousel Metro Manila Northbound Bus Stops
PITX
City of Dreams
DFA
Roxas Boulevard
Taft Avenue
Ayala
Buendia
Guadalupe
Ortigas
Santolan
Main Avenue
Nepa Q Mart (Mega Q-Mart)
Quezon Avenue
North Avenue
Fernando Poe Jr. (Roosevelt)
Kaingin Road
Balintawak
Bagong Barrio
Monumento
---
EDSA Carousel Metro Manila Southbound Bus Stops
Monumento
Bagong Barrio
Balintawak
Kaingin Road
Fernando Poe Jr. (Roosevelt)
North Avenue
Quezon Avenue
Nepa Q Mart (Mega Q-Mart)
Main Avenue
Santolan
Ortigas
Guadalupe
Buendia
Ayala (OneAyala)
Tramo
Taft
Roxas Boulevard
SM Mall of Asia
DFA/Shell/Starbucks
Ayala Malls/Aseana
PITX
---
Reminders