The Ninoy Aquino International Airport is the key gateway to the Philippines, most especially the National Capital Region and its surrounding provinces. While some hop on the next flight bound for distant provinces in Luzon, others choose to travel by land.
The most reasonable and economical way to do so is to take the provincial buses from specific terminals and stations within Metro Manila. From the airport, one can grab a taxi, take a point-to-point (P2P) bus, or book a ride from a ride-hailing service. By the way, if your destination is Clark in Pampanga or Santa Rosa in Laguna, you can find direct P2P bus services at NAIA. If you're gunning for comfort and more control over your trip, some Grab drivers accept passengers heading to some towns or cities of nearby provinces such as Laguna and Rizal.
But before point-to-point buses and ride-hailing services came into the scene, taxis were the most reliable transportation out of Manila airport, save for personal pick-ups from friends and family. While metered taxis are also available at the airport, travelers bound for other Luzon destinations often take coupon taxis instead. This is because metered taxis rarely take trips outside Metro Manila.
Here are the Land Transportation Franchising and Regulatory Board (LTFRB)-prescribed fixed rates for any NAIA provincial coupon taxi bound for Luzon destinations.
---
Reminders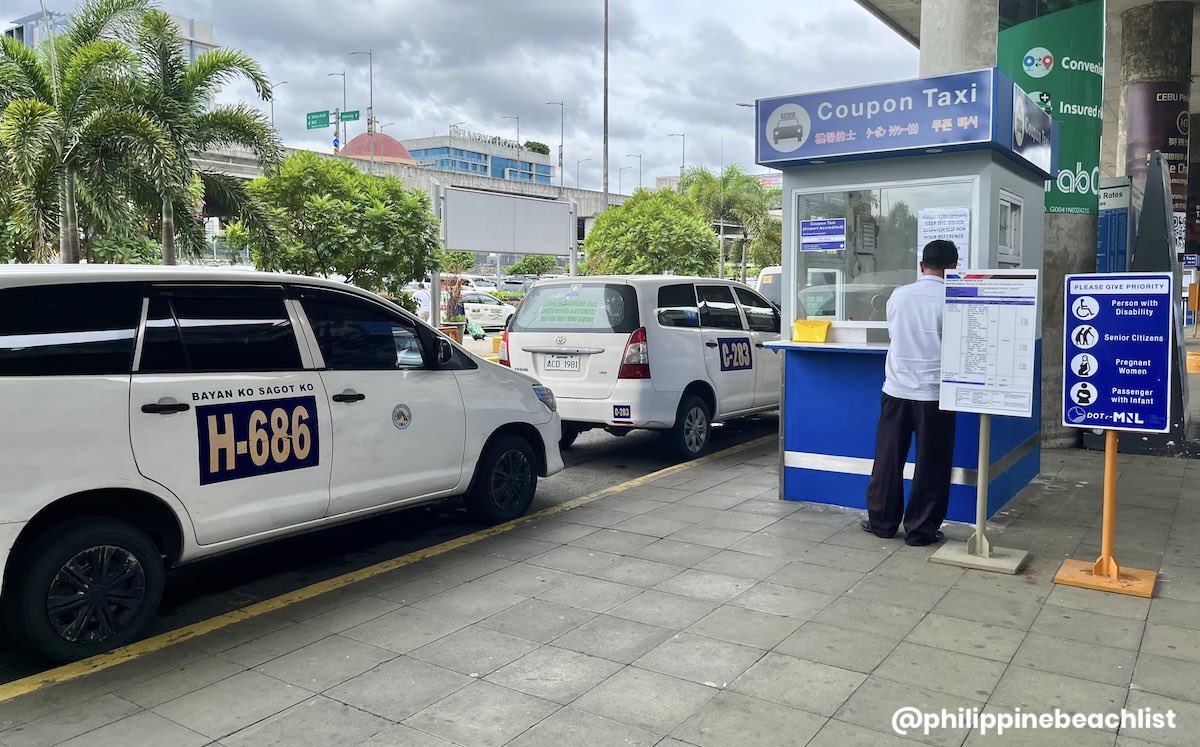 Coupon taxi routes cover provinces in regions of Luzon that can be reached by land travel from Manila airport: Cordillera Administrative Region (CAR), Ilocos Region (Region I), Cagayan Valley (Region II, except Batanes), Central Luzon (Region III), Calabarzon (Region IV-A), and finally, Bicol Region (Region V, except Catanduanes, Masbate, and Sorsogon).
The LTFRB is responsible for managing the legalities of public land transportation services. Their jurisdiction covers taxis! The rates indicated here are prescribed by the LTFRB as of 2023. Rates are posted at the designated coupon taxi lane at the airport.
A dispatch coupon/slip will be handed to you at the booth. It contains the following details: the taxi's plate number, safety reminders, and important contact numbers. Keep it!
Tipping the driver is not mandatory. Some drivers may ask for an additional fee or a tip, but it's really up to you.
The coupon taxi lane is found near the arrival gates of each NAIA terminal. For Terminals 1 and 4, you can easily spot them at the arrival exit. For Terminal 2, the lane is located near Bay 11, while it is across Bay 6 for Terminal 3.
But before embarking on your Philippine tour, you may want to consider grabbing a local SIM Card or renting a pocket WiFi unit before you leave the Manila airport premises! Safe, secure, and reliable free WiFi is sparse in the Philippines, so it's best to have your own private connection. Reserve a SIM card or pocket WiFi unit via Klook and pick it up at NAIA before embarking on your Luzon adventure.
---
NAIA to CAR (Cordillera Administrative Region) Provincial Coupon Taxi Rates
Abra
Here are the fixed rates from NAIA to:
Bangued: P11,186
Boliney: P12,530
Bucay: P11,690
Bucloc: P12,446
Daguioman: P12,782
Danglas: P11,578
Dolores: P11,522
La Paz: P11,578
Lagangilang: P11,690
Lagayan: P11,718
Langiden: P10,990
Licuan: P12,698
Luba: P12,614
Malibcong: P13,230
Manabo: P11,970
Peñarrubia: P11,242
Pidigan: P12,082
Pilar: P11,970
Sallapadan: P12,222
San Isidro: P11,354
San Juan: P12,054
San Quintin: P10,766
Tayum: P11,326
Tubo: P12,894
Villaviciosa: P11,802
Apayao
Here are the fixed rates from NAIA to:
Calanasan: P16,366
Conner: P15,358
Flora: P18,522
Kabugao: P16,506
Luna: P18,606
Pudtol: P18,186
Santa Marcela: P18,662
Benguet
Here are the fixed rates from NAIA to:
Atok: P7,490
Baguio City: P6,734
Bakun: P9,142
Bokod: P8,218
Buguias: P9,198
Itogon: P7,210
Kabayan: P9,030
Kapangan: P7,686
Kibungan: P8,554
La Trinidad: P6,902
Mankayan: P9,478
Sablan: P7,742
Tuba: P6,874
Tublay: P5,754
Ifugao
Here are the fixed rates from NAIA to:
Alfonso Lista (Potia): P11,578
Banaue: P9,086
Hungduan: P9,870
Kiangan: P8,526
Lagawe: P8,358
Lamut: P7,574
Mayoyao: P10,262
Kalinga
Here are the fixed rates from NAIA to:
Balbalan: P13,286
Bulanao: P13,370
Lubuagan: P12,278
Pasil: P12,894
Pinukpuk: P13,958
Rizal: P14,266
Tabuk: P13,678
Tanudan: P12,922
Tinglayan: P11,662
Mountain Province
Here are the fixed rates from NAIA to:
Barlig: P10,794
Bauko: P10,850
Besao: P10,794
Bontoc: P10,514
Natonin: P12,810
Paracelis: P13,174
Sabangan: P11,130
Sadanga: P11,158
Sagada: P10,570
Tadian: P10,654
---
NAIA to Ilocos Region (Region I) Provincial Coupon Taxi Rates
Ilocos Norte
Here are the fixed rates from NAIA to:
Bacarra: P13,594
Badoc: P12,306
Bangui: P15,218
Batac: P12,922
Burgos: P14,742
Currimao: P12,362
Dingras: P13,818
Dumalneg: P15,022
Espiritu: P14,238
Laoag City: P13,314
Marcos: P14,126
Nueva Era: P14,462
Pagudpud: P15,442
Paoay: P12,894
Pasuquin: P13,874
Piddig: P13,874
Pinili: P12,558
San Nicolas: P13,286
Sarrat: P13,566
Solsona: P14,042
Vintar: P13,566
Ilocos Sur
Here are the fixed rates from NAIA to:
Alilem: P8,890
Banayoyo: P9,702
Bantay: P11,102
Burgos: P10,206
Cabugao: P11,494
Candon: P9,450
Caoayan: P11,214
Cervantes: P10,374
Galimuyod: P9,506
Gregorio Del Pilar: P9,842
Lidlidda: P9,870
Magsingal: P11,102
Nagbukel: P10,066
Narvacan: P9,898
Quirino: P10,794
Salcedo: P9,450
San Emilio: P9,758
San Esteban: P10,094
San Ildefonso: P10,906
San Juan (Lapog): P11,326
San Vicente: P10,850
Santa: P10,206
Santa Catalina: P10,850
Santa Cruz: P8,722
Santa Lucia: P8,834
Santa Maria: P9,730
Santiago: P9,422
Santo Domingo: P10,962
Sigay: P10,962
Sinait: P11,718
Sugpon: P8,666
Suyo: P8,722
Tagudin: P8,246
Vigan: P11,130
La Union
Here are the fixed rates from NAIA to:
Agoo: P6,342
Aringay: P6,566
Bacnotan: P4,886
Bagulin: P5,026
Balaoan: P8,106
Bangar: P8,358
Bauang: P6,986
Burgos: P7,518
Caba: P6,706
Rosario: P5,782
San Fernando: P7,266
San Gabriel: P7,518
San Juan: P7,518
Sudipen: P6,454
Tubao: P6,818
Pangasinan
Here are the fixed rates from NAIA to:
Agno: P10,178
Aguilar: P5,390
Alaminos: P7,154
Alcala: P5,138
Anda: P10,430
Asingan: P5,502
Balungao: P5,306
Bani: P9,478
Basista: P4,970
Bautista: P5,026
Bayambang: P4,382
Binalonan: P5,250
Binmaley: P5,950
Bolinao: P7,350
Bugallon: P5,278
Burgos: P8,050
Calasiao: P5,530
Dagupan City: P6,006
Dasol: P7,882
Infanta: P7,602
Labrador: P6,454
Laoac: P4,914
Lingayen: P6,370
Mabini: P8,750
Malasiqui: P10,710
Manaoag: P5,334
Mangaldan: P7,518
Mangatarem: P7,518
Mapandan: P5,894
Natividad: P5,642
Pozorrubio: P5,642
Rosales: P4,690
San Carlos: P5,670
San Fabian: P6,482
San Jacinto: P5,670
San Manuel: P5,418
San Nicholas: P5,670
San Quintin: P5,418
Santa Barbara: P5,670
Santa Maria: P5,754
Santo Tomas: P4,886
Sison: P5,838
Sual: P6,930
Tayug: P5,306
Umingan: P5,222
Urbiztondo: P5,194
Urdaneta: P5,166
Villasis: P4,886
---
NAIA to Cagayan Valley (Region II) Provincial Coupon Taxi Rates
Cagayan
Here are the fixed rates from NAIA to:
Abulug: P18,802
Alcala: P14,014
Allacapan: P18,886
Amulung: P13,874
Aparri: P16,114
Baggao: P14,490
Ballesteros: P18,606
Buguey: P16,226
Camalaniugan: P15,778
Claveria: P16,590
Enrile: P13,566
Gattaran: P14,994
Gonzaga: P16,702
Iguig: P13,594
Lal-lo: P15,498
Lasam: P16,226
Pamplona: P17,710
Peñablanca: P13,062
Piat: P14,350
Rizal: P15,050
Sanchez-Mira: P17,206
Santa Ana: P17,598
Santa Ana (Brgy. San Vicente): P14,882
Santa Praxedes: P16,142
Santa Teresita: P16,422
Santo Niño (Faire): P14,574
Solana: P13,258
Tuao: P14,434
Tuguegarao: P13,062
Isabela
Here are the fixed rates from NAIA to:
Alicia: P9,282
Angadanan: P9,450
Aurora: P9,842
Benito Soliven: P10,598
Burgos: P11,130
Cabagan: P12,250
Cabatuan: P9,674
Cauayan: P9,842
Cordon: P8,330
Delfin Albano (Magsaysay): P12,726
Echague: P9,030
Gamu: P10,738
Ilagan: P10,794
Jones: P8,890
Luna: P9,926
Mallig: P10,542
Naguilian: P10,262
Palanan: P11,550
Quezon: P10,850
Quirino: P11,158
Ramon: P9,058
Reina Mercedes: P10,374
Roxas: P10,234
San Agustin: P9,702
San Guillermo: P9,870
San Isidro: P9,058
San Manuel: P9,954
San Mariano: P10,850
San Mateo: P9,338
San Pablo: P12,362
Santa Maria: P12,418
Santiago: P8,638
Santo Tomas: P9,478
Tumauini: P11,690
Nueva Vizcaya
Here are the fixed rates from NAIA to:
Alfonso Castañeda: P4,522
Ambaguio: P7,490
Aritao: P6,006
Bagabag: P7,434
Bambang: P6,426
Bayombong: P6,874
Diadi: P7,826
Dupax Del Norte: P6,342
Dupax Del Sur: P6,230
Kasibu: P7,350
Kayapa: P6,874
Quezon: P7,322
Santa Fe (Imugan): P5,446
Solano: P7,014
Villa Verde (Ibung): P7,294
Quirino
Here are the fixed rates from NAIA to:
Aglipay: P9,394
Cabarroguis: P8,918
Diffun: P8,666
Maddela: P10,710
Saguday: P9,058
---
NAIA to Central Luzon (Region III) Provincial Coupon Taxi Rates
Aurora
Here are the fixed rates from NAIA to:
Baler: P5,866
Casiguran: P8,974
Dilasag: P9,674
Dinalungan: P5,894
Dingalan: P4,550
Dipaculao: P6,202
Maria Aurora: P6,006
San Luis: P5,390
Bataan
Here are the fixed rates from NAIA to:
Abucay: P3,066
Bagac: P4,130
Bagac (Brgy. Saysain): P4,270
Balanga: P3,178
Dinalupihan: P2,562
Hermosa: P2,506
Limay: P4,522
Mariveles: P4,522
Orani: P2,786
Orion: P3,430
Pilar: P3,262
Samal: P2,898
Bulacan
Here are the fixed rates from NAIA to:
Angat: P1,600
Balagtas: P1,440
Baliwag: P1,560
Bocaue: P1,390
Bulakan: P1,480
Bustos: P1,600
Calumpit: P1,520
Doña Remedios Trinidad: P2,254
Guiguinto: P1,390
Hagonoy: P1,600
Malolos: P1,440
Marilao 1: P990
(Lambakin, Lias, Saog, Tabing-Ilog, Nagbalon, Poblacion 1st and 2nd, Abangan Sur, Ibayo, Abangan Norte)
Marilao 2: P1,060
(Other remaining areas — refer to Marilao 1)
Meycauayan 1: P900
(Togatog, Bangcal, Caingin)
Meycauayan 2: P940
(Bayugo, Saluysoy, Hulo, Mahalcan, Pandayan, Langka, Zamora, Libtong, Langos, Lawa)
Meycuayan 3: P990
(Bagbagun, Camalig, Perez Balaongan, Pantoc, Iba)
Norzagaray: P1,650
Obando 1: P850
(F.Navarrete Street, B. Flamengco Street)
Obando 2: P900
(Pag-asa, Paliwas, Obando Church)
Obando 3: P940
(Paco, P. Reyes Street, M. Jacinto Street)
Pandi: P1,390
Paombong: P1,520
Plaridel: P1,560
Pulilan: P1,480
San Ildefenso: P1,820
San Jose Del Monte: P1,480
San Jose Del Monte (Brgy. Sapang Palay): P1,650
San Miguel: P1,770
Santa Maria: P1,480
Nueva Ecija
Here are the fixed rates from NAIA to:
Aliaga: P3,710
Bongabon: P4,018
Cabanatuan City: P3,122
Cabiao: P3,010
Carranglan: P5,194
Cuyapo: P4,914
Gabaldon: P4,746
Gapan: P2,562
Gen. M. Natividad: P3,710
Gen. Tinio: P3,122
Guimba: P4,242
Jaen: P2,786
Laur: P3,990
Licab: P4,214
Llanera: P3,990
Lupao: P4,578
Muñoz: P4,074
Nampicuan: P3,822
Palayan City: P3,878
Pantabanga: P4,802
Peñaranda: P2,814
Quezon: P3,514
Rizal: P4,186
San Antonio: P3,038
San Isidro: P2,730
San Jose City: P4,410
San Leonardo: P2,842
Santa Rosa: P2,954
Santo Domingo: P3,850
Talavera: P3,430
Talugtug: P4,662
Zaragoza: P4,158
Pampanga
Here are the fixed rates from NAIA to:
Angeles City: P2,450
Apalit: P2,070
Arayat: P2,450
Bacolor: P2,150
Candaba: P2,150
Floridablanca: P2,478
Guagua: P2,254
Lubao (Sta. Cruz): P2,450
Mabalacat: P2,310
Macabebe: P1,860
Magalang: P2,198
Masantol: P2,030
Mexico: P2,338
Minalin: P2,590
Porac: P2,564
San Fernando: P2,070
San Luis: P2,226
San Simon: P1,860
Santa Ana: P2,070
Santa Rita: P2,226
Santo Tomas: P1,940
Sasmuan: P2,366
Tarlac
Here are the fixed rates from NAIA to:
Anao: P3,458
Bamban: P2,730
Camiling: P4,410
Capas: P2,926
Concepcion: P3,178
Gerona: P3,962
La Paz: P3,962
Mayantoc: P4,354
Moncada: P4,242
Paniqui: P4,018
Pura: P3,990
Ramos: P4,214
San Clemente: P3,206
San Manuel: P4,494
Santa Ignacia: P4,130
Tarlac City: P3,458
Victoria: P3,906
Zambales
Here are the fixed rates from NAIA to:
Botolan: P5,530
Cabangan: P4,970
Candelaria: P6,790
Castillejos: P3,850
Iba: P5,670
Masinloc: P6,454
Olongapo: P3,570
Palauig: P6,090
San Antonio: P4,270
San Felipe: P4,690
San Marcelino: P4,130
San Narciso: P4,550
Santa Cruz: P7,210
Subic: P3,374
---
NAIA to Calabarzon (Region IV-A) Provincial Coupon Taxi Rates
Batangas
Here are the fixed rates from NAIA to:
Agoncillo: P2,562
Alitagtag: P2,842
Balayan: P2,070
Balete: P1,820
Batangas City: P2,150
Bauan: P3,094
Calaca: P3,122
Calatagan: P2,506
Cuenca: P1,770
Ibaan: P2,070
Laurel: P1,860
Lemery: P2,618
Lian: P1,940
Lipa City: P1,730
Lobo: P2,479.92
Mabini: P2,593.45
Malvar: P1,520
Mataasnakahoy: P1,770
Nasugbu: P1,940
Padre Garcia: P2,450
Rosario: P1,940
San Jose: P1,940
San Juan: P2,338
San Luis: P2,730
San Nicolas: P2,618
San Pascual: P3,178
Santa Teresita: P2,842
Santo Tomas: P1,600
Taal: P2,646
Talisay: P1,350
Tanauan: P1,440
Taysan: P2,110
Tuy: P1,940
Cavite
Here are the fixed rates from NAIA to:
Alfonso: P1,770
Amadeo: P1,520
Bacoor 1: P440
(Zapote 1,2 and 3)
Bacoor 2: P530
(SM Bacoor, Talaba, Niog, San Nicolas, Ligas, Aniban)
Bacoor 3: P610
(Molino 1 and 2, Habay, Mambog 1-5, Mabolo, Bayanan, Salinas)
Bacoor 4: P670
(Gawaran Heights, Camella, Gardens, Queen's Row, Camella Homes, Spring Ville, Bahagyang Pag-Asa, Progressive Ville, Molino Homes)
Carmona: P1,180
Cavite City: P740
Dasmariñas 1 (Salawag): P900
Dasmarinas 2: P940
(Other remaining areas — refer to Dasmarinas 1)
General Aguinaldo: P1,860
General Trias: P990
Imus 1: P610
(Real, Poblacion, Palicion, Toclong, Medicion)
Imus 2: P670
(Bagong Silang, Espeleta, Bacundala, Pinagbuklod, Alapan, Carsadang Bago, Maharlika, Anabu 1 , Magdalo, Tanzang, Bayanluma, Pag-asa)
Imus 3: P740
(Anabu 2, Malagasang 1, Pasong Buaya 11)
Indang: P1,390
Kawit 1 (Binakayan): P610
Kawit 2: P610
(Toclong, Kaunlaran, Longbalay-Legaspi, Bisita Balsahan, Pulvorista/Aplaya Samala Marquez, Tramo Bantayan)
Magallanes: P1,940
Maragondon: P1,220
Mendez: P1,520
Naic: P1,310
Noveleta: P790
Rosario: P900
Silang: P1,180
Tagaytay: P1,560
Tanza: P900
Ternate: P1,690
Trece Martires: P1,220
Laguna
Here are the fixed rates from NAIA to:
Alaminos: P1,920
Bay: P1,920
Biñan: P790
Cabuyao: P1,310
Calamba: P1,440
Calauan: P1,820
Cavinti: P2,310
Famy: P3,234
Los Baños: P1,560
Luisiana: P2,450
Lumban: P2,702
Mabitac: P3,206
Magdalena: P2,110
Majayjay: P3,122
Nagcarlan: P2,646
Paete: P3,926
Pagsanjan: P2,030
Pakil: P2,982
Pangil: P3,066
Pila: P1,920
Rizal: P2,506
San Pablo: P2,070
San Pedro: P740
Santa Cruz: P2,030
Santa Maria: P3,374
Santa Rosa: P1,220
Siniloan: P3,150
Victoria: P1,820
Quezon
Here are the fixed rates from NAIA to:
Atimonan: P4,718
Buenavista: P6,314
Calauag: P6,286
Candelaria: P2,310
Catanauan: P5,474
Dolores: P2,170
General Luna: P5,194
General Nakar: P3,906
Guinyangan: P6,930
Gumaca: P5,362
Infanta: P3,794
Lopez: P5,922
Lucban: P4,270
Lucena: P3,570
Macalelon: P6,790
Mauban: P5,026
Mulanay: P7,490
Padre Burgos: P4,550
Pagbilao: P3,850
Pitogo: P6,090
Plaridel: P5,054
Real:: P2,926
Sampaloc: P3,038
San Andres: P9,422
San Antonio: P2,842
San Franciso: P14,042
San Narciso: P8,302
Sariaya: P2,786
Tagkawayan: P4,914
Tayabas: P3,878
Tiaong: P2,618
Unisan: P5,418
Rizal
Here are the fixed rates from NAIA to:
Angono: P1,100
Antipolo: P790
Baras: P1,480
Binangonan: P1,180
Cainta 1: P610
(Greenwoods Executive Village, Dilang Cainta, Libis, Kawayanan)
Cainta 2: P670
(Santo Nino, San Jose, San Roque, Kababaan, San Andres, Santo Domingo)
Cainta 3: P740
(Balanti, Mapandan, San Isidro, Mayamot, Pagsanjan, Bulao, Greenpark)
Cardona: P1,220
Jalajala: P1,770
Morong: P1,180
Pililia: P1,520
Rodriguez (Montalban): P1,180
San Mateo 1: P850
(Silangan, Santo Niño, Banaba, Ampid 1)
San Mateo 2: P900
(Gitnang Bayan 1 & 2, Dulong Bayan 1 & 2, Ampid 2)
San Mateo 3: P940
(Maly, Guinayang, Patiis, Malanday)
Tanay: P1,440
Taytay 1: P670
(Santa Ana, San Juan)
Taytay 2 (San Isidro): P740
Teresa: P1,100
---
NAIA to Bicol Region (Region V) Provincial Coupon Taxi Rates
Albay
Here are the fixed rates from NAIA to:
Bacacay: P14,854
Camalig: P16,086
Daraga: P14,406
Guinobatan: P13,958
Jovellar: P15,274
Legazpi City: P14,854
Libon: P12,754
Ligao: P13,706
Malilipot: P15,274
Malinao: P15,302
Manito: P15,638
Oas: P13,594
Pio Duran: P11,998
Polangui: P14,098
Santo Domingo: P15,190
Tabaco: P14,994
Tiwi: P14,434
Camarines Norte
Here are the fixed rates from NAIA to:
Basud: P9,002
Capalonga: P8,470
Daet: P8,806
Jose Panganiban: P8,666
Labo: P8,358
Mercedes: P8,974
Paracale: P8,666
San Lorenzo Ruiz (Imelda): P9,142
San Vicente: P8,946
Santa Elena: P6,566
Talisay: P8,694
Vinzons: P8,610
Camarines Sur
Here are the fixed rates from NAIA to:
Baao: P12,418
Balatan: P13,482
Bato: P12,950
Bombon: P11,326
Buhi: P9,786
Bula: P12,306
Cabusao: P10,934
Calabanga: P11,270
Camaligan: P11,326
Canaman: P11,522
Caramoan: P15,246
Gainza: P11,382
Garchitorena: P16,366
Goa: P13,006
Iriga City: P12,698
Lagonoy: P7,630
Libmanan: P10,934
Lupi: P10,318
Magarao: P11,466
Milaor: P11,214
Minalabac: P11,774
Nabua: P12,454
Naga City: P11,494
Ocampo: P12,306
Pamploma: P10,906
Pasacao: P11,214
Pili: P12,026
Ragay: P9,898
Sagñay: P12,810
San Fernando: P11,242
San Jose: P13,090
Sipocot: P10,486
Siruma: P13,090
Tigaon: P12,810
Tinambac: P11,746
---
Where to Stay Near Manila Airport (NAIA)
If you're looking for a place to stay for a night near the airport, here are some hotels to consider:
If you want more suggestions with more details about each hotel, you can also check our Top 10 Hotels Near NAIA (Manila Airport) article.
---
Reminders