Widely known for its moniker "The City of Smiles", Bacolod City is Negros Occidental's capital. It's a first class, highly urbanized city with the biggest population in Western Visayas. To tourists, the city is defined by its annual festival celebrated in October, MassKara Festival, and its iconic dishes and desserts like chicken inasal, piaya, and napoleones.
Bacolod also serves as the jump-off point to neighboring cities and towns. Travel north of Bacolod and you'll find yourself in Talisay City, home to the architectural beauty of The Ruins, which is touted as the "Taj Mahal of Negros." North of this structure is Silay City, whose streets are lined with historical landmarks and ancestral homes. Head further east and you'll reach the Municipality of Murcia. This town cradles Mambukal, a resort township with water falls, hot springs, and a boating lagoon, perfect if you're looking for a little sun without the sea.
Aside from its neighboring towns, Bacolod is also the gateway to Negros Occidental. Hop on a bus, and in 4 to 6 hours, you'll reach the municipality of Cauayan and Sipalay City, which will both greet your tired feet with fine sand beaches and a kaleidoscope world beneath the waves.
---
Getting to Bacolod from Manila
From Manila, you can get to Bacolod by air or by sea. For some, choosing between the two is a no-brainer since flying gets you there in 1.5 hours tops. However, traveling by sea has its benefits too. When you sail with 2GO Travel, each ticket comes with meals on board plus a baggage allowance of 50 kilos — way bigger than what you would get if you fly! 2GO also uses one of the newest vessels on their fleet, 2GO MV Maligaya for Manila to Bacolod sails. Its a larger, more modern ship that offers more amenities that can make your time on board entertaining. To be honest, with ferry rides, the transportation itself is an experience.
Keep reading to know more about 2GO's Manila to Bacolod sailing schedules, ticket prices, and other things you need to know prior to booking a ticket.
---
Sailing Schedule
2GO sails from Manila to Bacolod three times weekly. A few vessels are used for this route and one of them is the 2GO MV Maligaya. You will find their sailing schedule below. Please note that these schedules are based on 2GO's October 2023 sailing schedule.
It is also important to keep in mind that these schedules may change without prior notice. We advice that you double check the schedule for your intended travel date to be sure. For updates on sailing schedules, you can visit 2GO Travel's website.
Manila to Bacolod
Tuesday Sailing
Departure: Tuesday, 11:00 AM
Arrival: Wednesday, 6:30 AM
Thursday Sailing
Departure: Thursday, 9:30 PM
Arrival: Saturday, 10:30 AM
Saturday Sailing
Departure: Saturday, 5:30 PM
Arrival: Sunday, 9:30 PM
Bacolod to Manila
Monday Sailing
Departure: Monday, 4:30 AM
Arrival: Tuesday, 12:00 AM
Saturday Sailing
Departure: Saturday, 2:30 PM
Arrival: Sunday, 12:30 PM
Sunday Sailing
Departure: Sunday, 11:00 AM
Arrival: Monday, 11:00 AM
---
How much are the tickets?
Much like airlines, 2GO practices dynamic pricing, so ticket fares for 2GO vary based on different factors. Fares can change depending on your chosen travel date or how far in advance you book your tickets. Similarly, fares will also differ based on the type of on-board accommodation you choose.
Here are sample rates from 2GO's website for a Manila to Bacolod ticket booked one month in advance so you can gauge the ticket prices.
MV 2GO Maligaya
Mega Value Class: P1192.57
Tourist Class Premium: P1549.71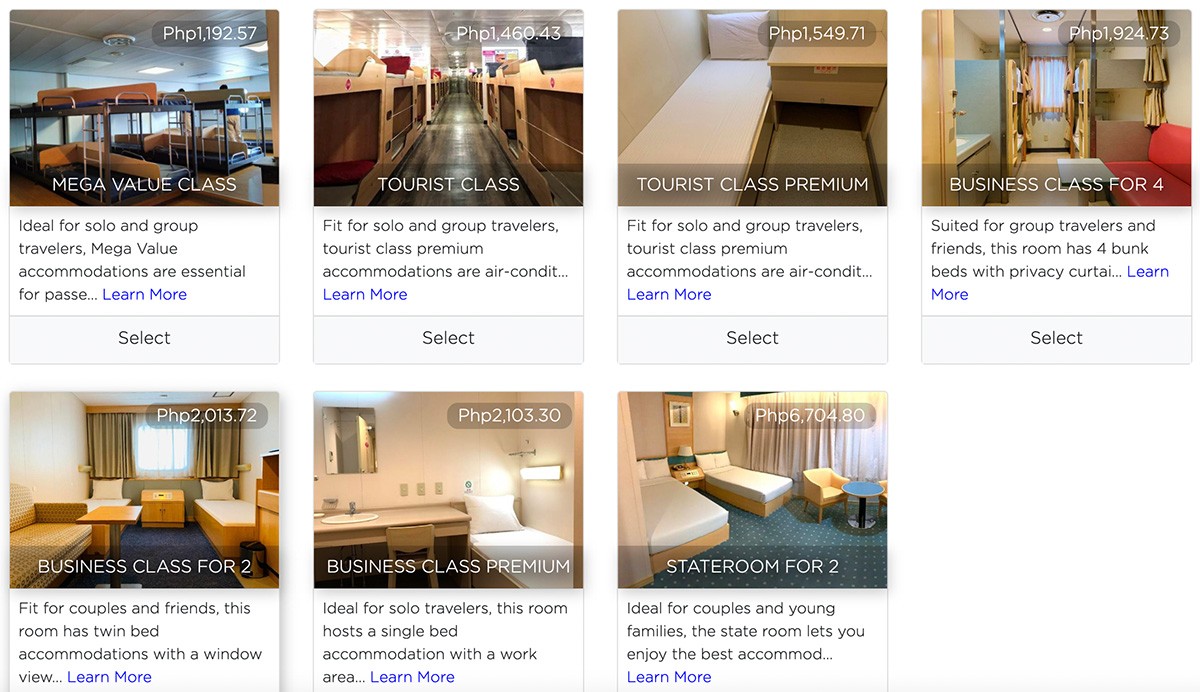 St. Michael the Archangel
Super Value Class: P835.43
Tourist Class: P1549.72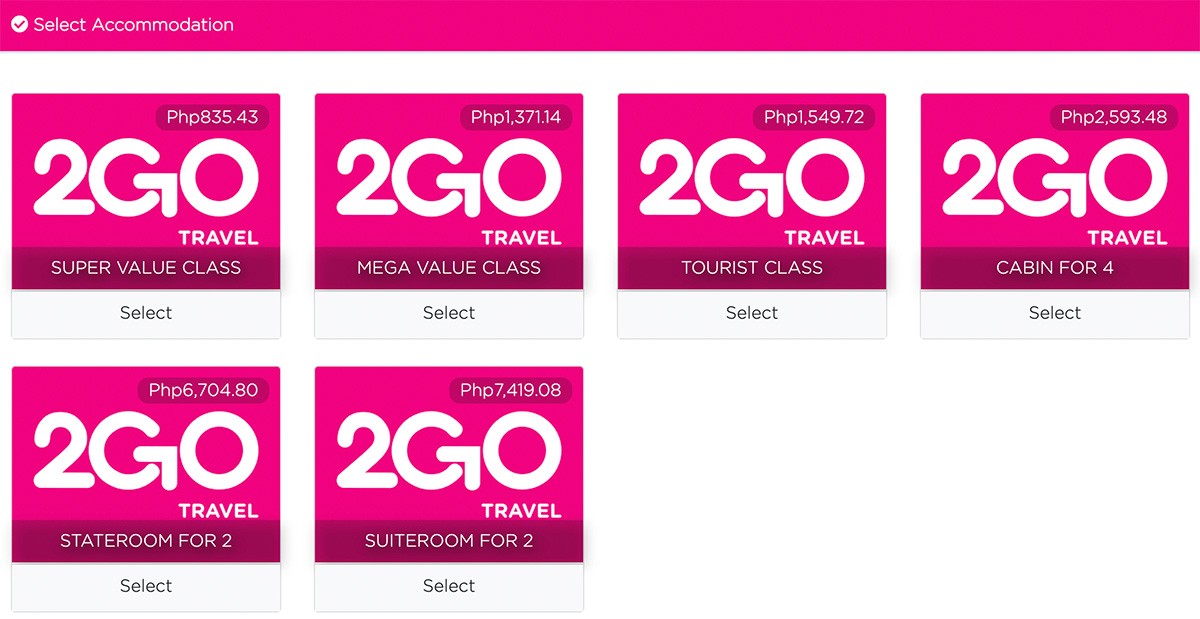 Tickets are priced per bed except for STATE and SUITE rooms which are priced per room and can accommodate two people. Meals on board and linens are included in every ticket. However, note that the prices shown above are the gross fare and are still subject to taxes and fees.
---
How to book tickets for 2GO Manila to Bacolod Trips?
There are a few ways to book a ticket. First, you can go to a 2GO outlet near you. Find a branch in your area on 2GO's website. Another option is to book your tickets at SM Business Centers located in SM Malls.
If you want a more convenient way to get tickets, you can download the 2GO app on your mobile device and get a ticket from there. You can also book tickets through their website. There are multiple payment options available for online bookings including GCash, Maya, GrabPay, and credit/debit card. Over-the-counter payment options are also available through various establishments like 7Eleven, M Lhuiller, Cebuana Lhuiller, SM Bills Payment Center, and others listed on their website.
Of course, if you wish to book your tickets online, you'll need internet connection. For your peace of mind, make sure you're using a safe and secure network. If you're a foreign tourist visiting the Philippines, you can get your own private connection by using a local SIM or a pocket WiFi device. Both of these are available at the airport. You can purchase a local SIM or rent a pocket WiFi device in advance via Klook and pick it up upon arrival at NAIA.
---
How long is the travel time?
The travel time from Manila to Bacolod via 2GO differs depending on the sailing day. Basing on the published October 2023 schedule, the journey can take 19 to 37 hours. It's considerably longer than your usual flight since on some sailing days, the vessel also makes stops in other provinces. Because of this, make sure to take note of both the departure and arrival schedule of the trip prior to booking.
---
How to get to Manila Port?
2GO's passenger terminal is located at Pier 4, North Harbour, Manila City.
By Taxi or Grab
Hailing a taxi or booking a ride through apps like Grab and Joyride is the most convenient way to reach the port. This is the most ideal especially if you have luggage with you since you'll be dropped off right at the port in one trip. Just tell the taxi driver or pin your drop off location at North Harbour Pier 4 Zaragosa Gate.
By Public Transportation
Go to LRT 1 Carriedo Station or LRT 2 Recto Station.
Get on a jeepney bound for North Harbour and get off near Jollibee North Harbour
Ride a tricycle or walk to Pier 4 Zaragosa Gate.
If you're coming straight from the airport, you may also check our NAIA to Manila transport guide for detailed information on how you can get to the port.
---
Where to stay in Bacolod?
Still looking for accommodations for your Bacolod trip? Here are some of the highly rated hotels you can choose from.
---
Reminders