Despite the push and pull with Iloilo over the crown of "Queen City of the South," it's really no question why Cebu is a top pick for visitors to the Philippines. With sun-soaked coastlines, deep connections with our Hispanic past, and streets bursting with grub, you'll find yourself enchanted by this province at the heart of the archipelago.
Among the more prosperous capital cities in the country, Cebu City serves as a jump-off point for a myriad of tourist attractions located across the province. For thrill-seekers, make your way to Kawasan Falls in Badian for some canyoneering in the multi-tiered falls. Meanwhile, for beach lovers, let the gorgeous white shores and clear waters of Malapascua and Bantayan Island court you.
If you're coming from Manila, advice will usually lead you to booking plane tickets bound for Cebu. However, if you want to experience a different way to travel or have more time, Cebu is also accessible from Manila by sea. 2Go Travel regularly sails from Manila to Cebu and vice versa. Compared to booking a flight, 2Go has cheaper year-round fares and comes with a baggage allowance of – here's the kicker – 50kg.
If we've piqued your interest, you'll want to check out this post on 2GO Manila to Cebu fares & schedules. We're throwing in a few tips as well so read 'til the end!
---
Sailing Schedule
2Go Travel uses two different vessels for the Manila to Cebu route: St. Therese of Child Jesus and MV 2GO Masagana, which is a bigger and more modern ship. The schedule indicated below is based on 2Go Travel's September 2023 sailing schedule.
Note that these schedules may change, so it's best to check the updated schedule for your intended travel date. You can visit 2Go's website to see updates on their sailing schedule.
Manila to Cebu
Sunday Departure
Departure (Manila): Sunday, 7:00 AM
Arrival (Cebu): Monday, 4:00 AM
Monday Departure
Departure (Manila): Monday, 9:30 AM
Arrival (Cebu): Tuesday, 11:00 AM
Wednesday Departure
Departure (Manila): Wednesday, 7:00 PM
Arrival (Cebu): Thursday, 4:00 PM
Cebu to Manila
Tuesday Departure
Departure (Cebu): Tuesday, 11:00 AM
Arrival (Manila): Wednesday, 8:00 AM
Tuesday Departure
Departure (Cebu): Tuesday, 2:00 PM
Arrival (Manila): Thursday, 9:30 AM
Friday Departure
Departure (Cebu): Friday, 11:00 PM
Arrival (Manila): Saturday, 8:00 PM
---
How much are the tickets?
2GO Travel observes dynamic ticket pricing so ticket prices vary based on different factors including how close you book a ticket to your travel date. Tickets are also priced according to the accommodation type you choose, which may differ on the vessel.
To give you insight on ticket prices, here's the sample rates from their website for a sailing booked one month in advance.
MV 2GO Maligaya
Mega Value Class: P837.13
Tourist Class Premium: P1194.28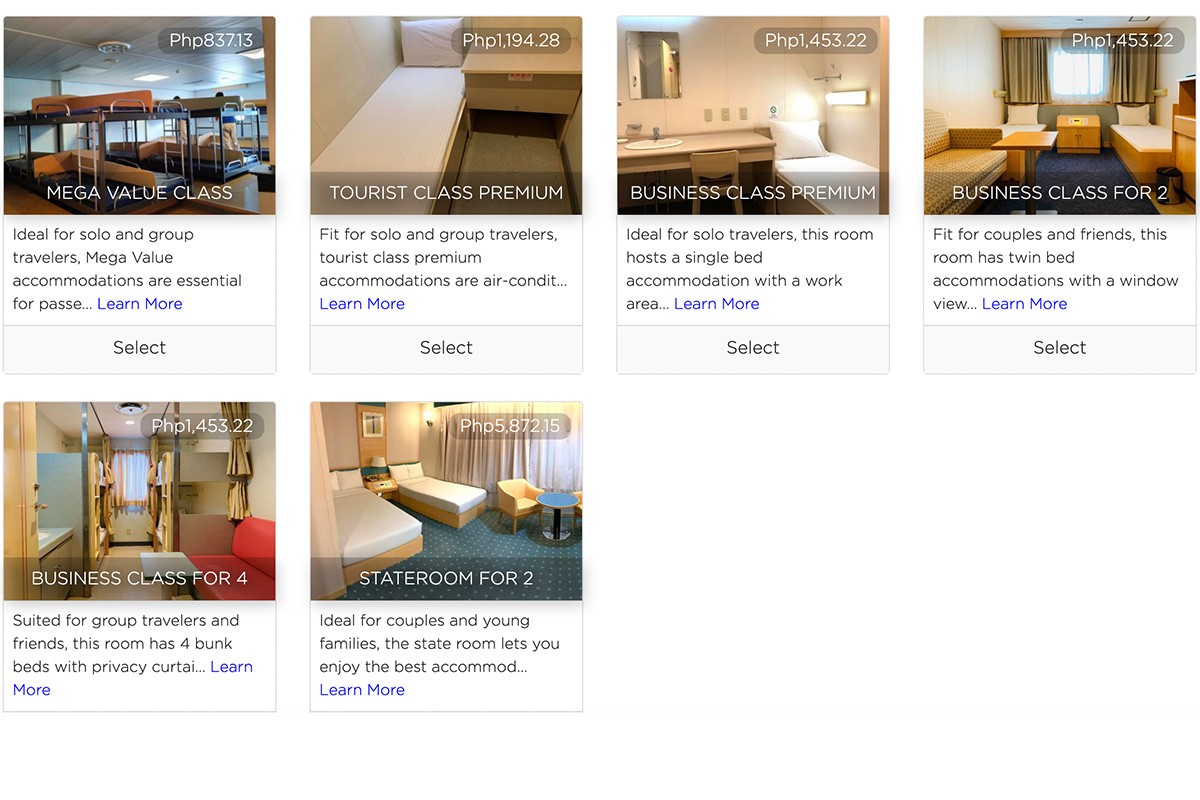 St. Therese of Child Jesus
Super Value Class: P854.99
Tourist Class: P1837.13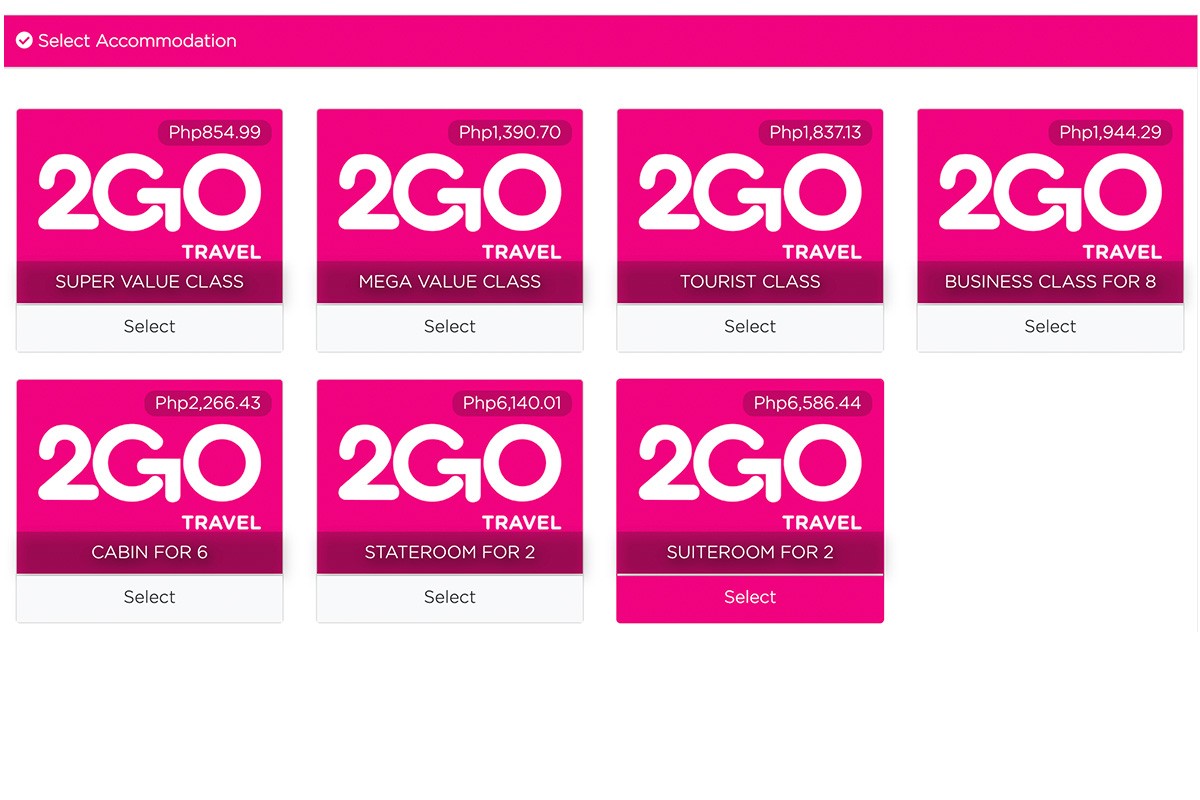 Tickets are priced per bed for all room types except for STATE and SUITE rooms, which are priced per room. All tickets are inclusive of linens and meals on board. However, note that the prices indicated above are merely gross fare and are still subject to taxes and fees.
---
How to book tickets for 2Go Manila to Cebu trips?
There are multiple ways to book a ticket for your trip. First, go to a 2GO branch near you. You can also book tickets at SM Business Centers, which are located in SM Malls.
Your second option is to download the 2Go App on your mobile device and book a ticket from there. Another way to book a ticket online is by going to 2GO Travel's website. Payment options for online bookings include credit/debit card, GCash, Maya, GrabPay, and more through paynamics. You can also choose to pay over-the-counter at SM Bills Payment Center, 7Eleven, Cebuana Lhuiller, M Lhuiller, and other accredited stores indicated on their website.
But before you're able to use the app, you'll need internet connection. Safe, secure, and reliable free WiFi is sparse in the Philippines, so it's best to have your own private connection. If you are a foreign tourist exploring the Philippines, you can either purchase a local SIM card or rent a pocket WiFi unit to help with this. SIM cards and pocket WiFi devices are available at the airport.
---
How long is the travel time?
The journey from Manila to Cebu takes 21 hours. I know, I know. It's a far cry from your 1.5-hour travel time should you choose to board a plane instead. This option really isn't for travelers with tight schedules, but if you're feeling generous with your time, 21 hours may not seem like much. Note that for Cebu to Manila schedules, one sailing schedule takes much longer since the vessel also makes a stop in Butuan City in Agusan del Norte before heading to Manila.
---
How to Get to Manila Port?
2Go's passenger terminal is located at Pier 4, North Harbour in Manila City.
By Taxi or Grab
Taking a taxi or booking through a ride-hailing app like Grab or Joyride is the easiest way to reach the port. Just put North Harbour Pier 4 Zaragosa Gate as your drop off location. This is the passenger gate of the port.
By Public Transportation
1. Make your way to LRT 1 Carriedo Station or LRT 2 Recto Station.
2. Ride a jeepney going to North Harbour and get off near Jollibee North Harbour.
3. Walk or ride a tricycle to Pier 4 Zaragosa Gate.
If you're coming from the airport, you may also check our NAIA to Manila transport guide to help you get to the port.
---
Where to Stay in Cebu
If you plan to stay in the city, here are some top-rated hotels you can consider for your trip.
---
Reminders