It's quite the responsibility to be hailed the "Heart of the Philippines," but Iloilo carries the crown well. Located within Panay Island in the Western Visayas Region, this city of almost half a million people is bound by other provincial destinations in the region like Antique and Capiz.
Much like other destinations in the country, Iloilo is both a tourist spot in and of itself and a gateway to more Visayan adventures. It has deep ties with our Hispanic heritage, as clearly seen through the several historic sites still standing here.
Among the most notable attractions in Iloilo are the Spanish colonial era churches in the city. Included in these is Miag-ao Church, a declared UNESCO World Heritage Site. The Jaro Cathedral and Molo Church in Iloilo City which are both recognized as a National Historical Landmark by the National Historical Institute are also a common stop for locals and tourists alike. Iloilo also harbors gorgeous beaches and breathtaking islands like Islas de Gigantes, a group of islands in the Municipality of Carles.
---
Getting to Iloilo from Manila
If Iloilo is in your bucket list, most guides will probably tell you that the way to get there is by flying to Iloilo International Airport. Although this is true, the airport is not the only gateway to the province. From Manila, you can also get to Iloilo by boarding a 2GO ship.
This mode of transportation is used more by locals traveling from Manila to their home province. However, traveling to Iloilo by sea has its benefits for tourists too. One, if you're traveling on a budget, 2GO has cheaper year-round fares compared to booking a flight. Two, each ticket comes with a huge complimentary baggage allowance that is way bigger than what you will get from any airline. When you book a 2GO Manila to Iloilo trip, you get a baggage allowance of 50 kilos, perfect for bringing home all your pasalubongs (souvenirs)!
Interested in traveling to Iloilo by sea? You'll find 2GO's Manila to Iloilo sailing schedule, ticket prices and other things you need to know in this post.
---
Sailing Schedule
2GO Travel plies the Manila to Iloilo route multiple times a week. Below is the detailed departure and arrival schedule of their sailing schedules from Manila to Iloilo and vice versa.
Please note that the schedules listed below are based on 2GO's October 2023 sailing schedule. These schedules may change without prior notice so it is best to check the actual schedule of your intended travel date. We just wanted to give you a reference point to ease your decision making.
It is also important to know that 2GO uses different vessels for these sailings which will affect the types of accommodation available on board. To check the updated schedule and to know what vessel you will be boarding, you may go to 2GO Travel's website.
Manila to Iloilo
Tuesday Sailing
Departure: Tuesday, 11:00 AM
Arrival: Wednesday, 3:00 PM
Thursday Sailing
Departure: Thursday, 9:30 PM
Arrival: Saturday, 2:30 AM
Friday Sailing
Departure: Friday, 11:00 PM
Arrival: Saturday, 11:30 PM
Saturday Sailing
Departure: Saturday, 5:30 PM
Arrival: Sunday, 1:00 PM
Iloilo to Manila
Friday Sailing
Departure: Friday, 10:30 AM
Arrival: Saturday, 8:30 AM
Saturday Sailing
Departure: Saturday, 6:30 AM

Arrival: Sunday, 12:30 AM
Sunday Sailing
Departure: Sunday, 3:00 AM
Arrival: Monday, 11:00 AM
Sunday Sailing
Departure: Sunday, 7:00 PM
Arrival: Tuesday, 2:00 AM
---
How much are the tickets for 2GO's Manila to Iloilo trips?
2GO Travel applies dynamic ticket pricing, meaning ticket prices are not fixed, but rather change based on different factors. These factors include how far in advance you book your tickets and the time of year. Ticket prices also depend on the type of accommodation on board that you choose.
To give you more insight, here are sample ticket prices for a Manila to Iloilo ticket from 2GO's website booked one month in advance.
MV 2GO Maligaya
Mega Value Class: P1096.66
Tourist Class: P1185.94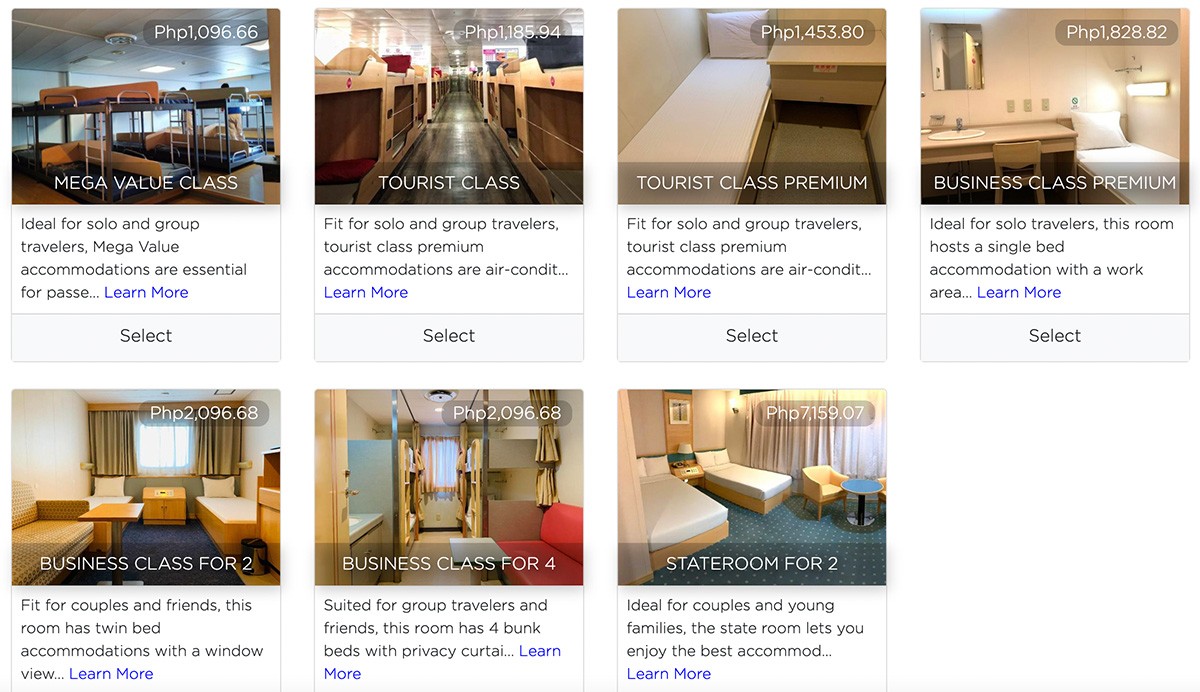 St. Michael the Archangel
Mega Value Class: P555.42
Tourist Class: P1078.80
Take note that all tickets are priced per bed except for SUITE and STATE rooms, which are priced per room. Tickets are inclusive of meals on board, linens, and a 50 kg baggage allowance. However, note that the prices indicated above only reflect the gross fare and are still subject to taxes and fees.
---
How to book tickets?
Booking 2GO tickets is easy. You have the option to book your tickets online and offline, whichever is easier for you. To purchase tickets at a physical store, just proceed to the nearest 2GO branch in your area. You can also go to SM Business Centers located in SM Malls.
If booking tickets online is more ideal for you, you may do just that through 2GO Travel's website. Online booking is also available via the 2GO app. Just download the app on your mobile device and purchase tickets from there. Multiple payment options are available for online bookings through 2GO's payment gateway, Paynamics. You may choose to pay with your credit/debit card, GCash, Maya, GrabPay, and more. Over-the-counter payment options are also available through Cebuana Lhuiller, M Lhuiller, SM Bills Payment Center, 7Eleven, and other accredited stores listed on their website.
---
How long is the travel time?
Travel time from Manila to Iloilo varies per sailing day, but it ranges from 19 and a half hours to 29 hours. I know that this is considerably longer than your usual air travel time, especially for those traveling on a tight schedule. But if you have a lot of time and a limited budget, this might just be what you need. Think of it as another item to check of your Philippines bucket list!
2GO's Manila to Iloilo sailings are also booked in their newer vessels, the MV 2GO Maligaya which is a larger and more modern ship compared to other vessels on their fleet. If you sail aboard 2GO Maligaya, you'll have more amenities that can help you pass the time on your journey.
---
How to get to Manila Port?
2GO's passenger terminal in Manila is located at Pier 4, North Harbour, Manila City.
By Taxi or Grab
Riding a taxi or booking a car service through ride-hailing apps like Grab or Joyride is the most convenient option especially for passengers with luggage in tow. Just let your driver know that you're headed to North Harbour Pier 4 or enter it on the app as your drop off location.
By Public Transportation
Make your way to LRT 1 Carriedo Station or LRT 2 Recto Station.
Take a jeepney going to North Harbour and get off near Jollibee North Harbour.
Ride a tricycle or walk to Pier 4 Zaragosa Gate.
If you're coming from Manila airport, you can check out our NAIA to Manila transport guide for more information on how you can get to the port.
---
Where to stay in Iloilo?
If you're still in search of a place to stay for your trip, here are some highly-rated hotels in Iloilo City that you can consider booking.
---
Reminders