A first class municipality in the province of Palawan, Coron is a part of Calamian Islands in northern Palawan. It is one of the three key destinations in the province along with El Nido and Puerto Princesa. Coron is best known for it's shipwreck diving sites, towering karst cliffs, and breathtaking lakes and lagoons. With its white sand and serene waters, it's not surprise why this crowd-magnet is so popular among locals and foreigners alike.
Although it is sometimes mistaken for Coron Island, in the tourism industry, 'Coron' often refers to the Municipality of Coron. It is also known as Coron town, located in Busuanga Island. Serving as a base for travelers and a jump-off point to other islands in Calamianes, it is the center of accommodations, restaurants, and tour operators in the island group. On the other hand, Coron Island is where the iconic island hopping stops Kayangan Lake, Barracuda Lake, and Twin Lagoon can be found.
Over the years, Coron has become more accessible through various forms of transportation. If you're coming from Manila, the fastest option is to fly directly to Busuanga airport. Meanwhile, there are also some tourists who fly to El Nido and then take a fast craft to Coron to visit both destinations in one trip. Another option is to board a 2GO ship from Manila.
Traveling to Coron from Manila by sea may not be your typical transportation pick, but it has its perks. Particularly, 2GO offers cheaper year-round fares compared to booking a flight, PLUS they offer a HUGE complimentary baggage allowance at 50 kilos per ticket. If you're interested in sailing to Coron, you'll find 2GO's Manila to Coron fares & schedules in this post.
---
Sailing Schedule
2GO Travel sails from Manila to Coron twice weekly. You will see a detailed schedule of the ship's departure and arrival below.
Note that this schedule is based on the September 2023 sailing schedule of 2GO. These schedules may change without prior notice so it is best to check the specific schedule for your intended travel date. For the updated sailing schedule, head over to 2GO Travel's official website.
Manila to Coron
Saturday Departure
Departure: Saturday, 6:00 AM
Arrival: Saturday, 11:00 PM
Tuesday Departure
Departure: Tuesday, 2:00 PM
Arrival: Wednesday, 6:30 AM
Coron to Manila
Sunday Departure
Departure: Sunday, 2:00 AM
Arrival: Tuesday, 7:00 AM
Thursday Departure
Departure: Thursday, 11:59 PM
Arrival: Friday, 5:00 PM
---
How much are 2GO's Manila to Coron tickets?
2GO's ticket prices vary based on different factors. First, you'll have to consider your preferred accommodation type, which vary per vessel and per sailing schedule. Aside from that, ticket prices may also change depending on how close you book your ticket to your actual travel date.
For your reference, here are some sample rates from 2GO's website for a Manila to Coron ticket booked one month in advance.
Super Value Class: P1236.64
Tourist Class: P1394.14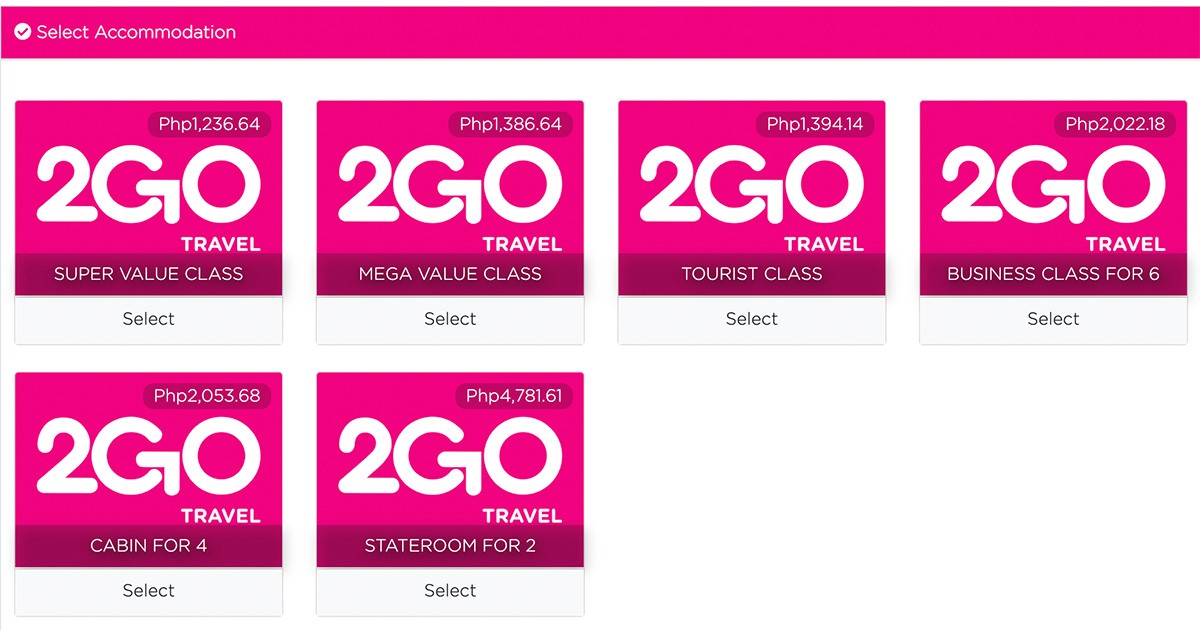 All tickets are priced per bed except for STATE and SUITE rooms, which are priced per room and can accommodate 2 people. Tickets are inclusive of meals on board and linens for the bed. But know that the prices indicated above cover only the gross fare and are still subject to taxes and fees.
---
How to book tickets for 2GO Manila to Coron trips?
Booking tickets for 2GO is fairly easy. Passengers have the option to buy tickets online or in 2GO's physical stores. If you prefer to purchase tickets in-store, you can go to a 2GO branch near you. Tickets are also available at SM Business Centers, located in SM Malls.
A more convenient option is to buy tickets online through 2GO Travel's website. You can also download the 2GO app on your phone or other mobile devices and purchase a ticket from there. For online bookings, payments are through Paynamics, 2GO's preferred payment gateway, which allows you to use various payment options like credit/debit card, GCash, Maya, and GrabPay. Over-the-counter payment options are also available at SM Bills Payment Center, Cebuana Lhuiller, 7Eleven, M Lhuiller, and other accredited stores listed on their website.
To be able to use the app, you'll need internet connection. If you're a foreign traveller, there are a couple of options to get your own internet connection. You can either purchase a local SIM if your mobile phone allows you to use a different SIM OR rent a pocket WiFi unit. These are the best options to get private and secure internet connection when traveling. You can pick up a SIM card or a pocket WiFi at the airport when you book them in advance via Klook.
---
How long does a trip from Manila to Coron via 2GO take?
Travel time from Manila to Coron takes around 17 hours. This may not be ideal for those who are traveling on a tight schedule, but if you have plenty of time to spare, this might be an experience you can add to your travels in the Philippines. Note that for Coron to Manila sailing schedules, 2GO offers a schedule that takes much longer since the assigned vessel also makes a stop in Puerto Princesa (Another must-see for your Palawan itinerary!)
---
How to get to Manila Port?
2GO's passenger terminal is located at Pier 4, North Harbour in Manila City.
By Taxi or Grab
Taking a taxi or booking a car through ride-hailing apps like Grab and Joyride is the easiest way to reach the port. This is also more convenient if you have luggage in tow. Just pin the North Harbour Pier 4 Zaragosa Gate as your drop off location.
By Public Transportation
Make your way to LRT 1 Carriedo Station or LRT 2 Recto Station.
Ride a jeepney going to North Harbour and get off near Jollibee North Harbour.
Walk or ride a tricycle to Pier 4 Zaragosa Gate.
If you're coming from the NAIA or Manila Airport, you may also refer to our NAIA to Manila transport guide to help you get to the port.
---
Where to stay in Coron
Haven't found a place to stay in Coron yet? Here are some of the highly rated accommodations you can book for your trip.
---
Reminders