Famous for its chocolate hills, Bohol is an island province in the Central Visayas Region. It is also known for the Philippine Tarsier, which is said to be the world's smallest primate that is endemic to the region.
Recently, Bohol Island was designated as a UNESCO Global Geopark, making it the first Global Geopark in the Philippines. Among UNESCO site designations, Global Geoparks are recognized for pairing their geological heritage with sustainable development through tourism, conservation, and research.
Seemingly a mishmash of natural wonders to enjoy, Bohol is known for its Chocolate Hills as well as its white sand beaches. Panglao Island, one of the islands that comprise Bohol province, is among the top diving spots in the country frequented by both local and international divers. This is also where Alona Beach, one of the most popular beaches on the island, is located.
Aside from island hopping and beach bumming, tourists may also find themselves cruising the Loboc River, walking through the Bilar Man-Made Forest, and exploring the Bohol Bee Farm. Additionally, thrill-seekers will enjoy a visit to Danao Adventure Park or Hinagdanan Cave.
Most tourists will find themselves booking flights to Tagbilaran Airport in the province's capital, but perhaps this article will have you booking 2GO Manila to Tagbilaran (Bohol) tickets by the end of it!
---
Getting to Bohol from Manila
Being accessible also adds to the many reasons why tourists visit Bohol. Those who prefer to travel by air can fly to Bohol-Panglao International Airport or TAG located in Panglao Island. This airport services flights from Manila as well as other destinations like Cebu, Cagayan de Oro, and Davao. For those who prefer travel by sea, you'll be happy to note that the Tagbilaran City Port welcomes passengers daily from nearby islands as well as Mindanao and Luzon islands.
If you're coming from Manila, you can also travel to Bohol by sea via 2GO Travel. This is not a common choice for tourists, but locals who are going back to their home province are familiar with this option. Although the travel time can make this an unlikely option for tourists, traveling by sea has its perks! 2GO Travel offers cheaper year-round fares compared to booking a flight. An added bonus is the huge baggage allowance of 50 kilos that comes with each ticket. If you're curious about traveling from Manila to Bohol by sea, you will find all the necessary details on this post including sailing schedules and ticket prices.
---
Sailing Schedule
2GO Travel sails from Manila to Tagbilaran, Bohol twice weekly. The detailed departure and arrival schedule of each sailing day is indicated below. This schedule is based on 2GO's October 2023 sailing schedule. Note that schedules may change without prior notice so it is best to check the updated sailing schedule prior to making your plans or booking your trip. For accuracy, check the schedule assigned to your intended travel date. You may check the updated schedule by heading over to 2GO's website.
Manila to Tagbilaran
Monday Sailing
Departure: Monday, 5:00 PM
Arrival: Wednesday, 11:00 PM
Thursday Sailing
Departure: Thursday, 4:30 PM
Arrival: Saturday, 5:30 PM
Tagbilaran to Manila
Thursday Sailing
Departure: Thursday, 3:00 AM
Arrival: Friday, 7:00 AM
Saturday Sailing
Departure: Saturday, 9:30 PM
Arrival: Monday, 12:30 AM
---
How much are 2GO Manila to Tagbilaran (Bohol) tickets?
Ticket prices for 2GO vary based on different factors. First, 2GO uses a dynamic ticket pricing which means that prices may change based on the season or time of the year and how close your booking date is to your travel date, among other factors. Second, prices also depend on your chosen accommodation on board.
Below is the sample ticket prices from 2GO's website for a Manila to Tagbilaran ticket booked one month in advance.
Super Value Class: P883.98
Tourist Class: P1083.98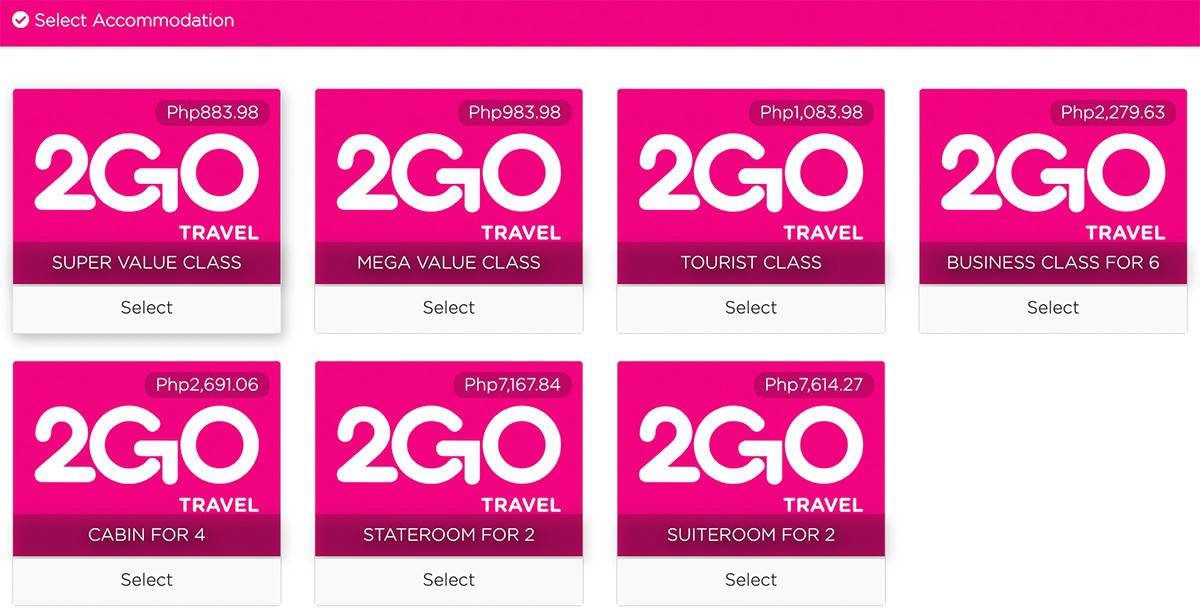 All accommodation types are priced per bed except STATE and SUITE rooms, which are priced per room and can accommodate 2 people. Tickets are inclusive of meals on board and linens. However, note that the ticket prices above only shows the gross fare and are still subject to taxes and fees.
---
How to book tickets for 2GO Manila to Tagbilaran (Bohol) trips?
There are a few options on how you can book your tickets. Passengers can either purchase it online or in physical stores. To purchase in store, you can go to a 2GO branch near you. Tickets are also available at SM Business Centers located in SM Malls.
If you prefer to book tickets online for convenience, you can book through 2GO Travel's website. You may also download the 2GO app on your mobile device and book tickets from there. Accepted modes of payment for online bookings are credit/debit card, GCash, Maya, GrabPay, and more through Paynamics, 2GO's payment gateway. Passengers may also choose to pay over-the-counter and settle your payments at SM Bills Payment Center, 7Eleven, M Lhuiller, Cebuana Lhuiller, and other accredited stores listed on their website.
To book tickets online or through the app, you'll need internet connection. If you're a foreign traveler, note that reliable public WiFi is scarce in the Philippines. It's best to have a secure and private internet connection even when you travel. Your best options to get this is by purchasing a local SIM or renting a pocket WiFi unit. It's simpler to purchase a local SIM so you don't have to worry about having to return the pocket WiFi unit. However, if your phone does not allow you to use a different SIM, both options are available via Klook and can be picked up at the airport.
---
How long is the travel time?
The travel time from Manila to Bohol takes between 19 to 20 hours. I know this is a far cry from the duration of flights from Manila to Bohol which only takes around an hour and thirty minutes, but traveling by sea is also a different experience. This might not be ideal for those who have limited time to travel, but if you have a lot of time to spare and a limited budget, booking with 2GO might be a good option.
---
How to get to Manila Port?
2GO's passenger terminal is located at Pier 4, North Harbour in Manila City.
By Taxi or Grab
The most convenient way to get to the port in Manila is by taking a taxi or booking a car through ride-hailing apps like Grab or Joyride. This is also the more ideal option if you are traveling with a group or have luggage with you. On the ride-hailing app, put North Harbour Pier 4 Zaragosa Gate as your drop off location.
By Public Transportation
Make your way to LRT 1 Carriedo Station or LRT 2 Recto Station.
Take a a jeepney going to North Harbour and get off near Jollibee North Harbour.
Ride a tricycle or walk to Pier 4 Zaragosa Gate.
If you're coming from the NAIA, you may also refer to our NAIA to Manila transport guide to help you get to the port.
---
Where to stay in Bohol?
Most accommodations in Bohol are located in Panglao, Tagbilaran, or Anda. If you're looking for accommodations near the beach, you will find a lot of them in Panglao. Here are some top-rated hotels or resorts you can consider for your Bohol trip.
---
Reminders