Mark my words: adrenaline junkies and thrill-seekers will never get tired of Cagayan de Oro. Let's be real: island adventures aren't a novelty in the Philippines. However, if you're looking to go EXTREME, Cagayan de Oro or CDO, the capital of Misamis Oriental in Northern Mindanao, is among the destinations that should sit high on your list.
Cagayan de Oro is popular for its white water rafting adventure where you can feel the exhilarating fun of conquering the rapids of Cagayan River. This extreme water activity is available in different levels, from beginner to advance to extreme. Another attraction that visitors go to for water adventures is the Seven Seas Waterpark and Resort. It is a pirate-themed waterpark with over a dozen slides, a wave pool, and other amenities.
Aside from these water activities, CDO also have various natural attractions like Mapawa Nature Park. The city also serves as the gateway to other Mindanao destinations. If you're sick of the seas, a side trip to Bukidnon will serve you well, as this municipality is home to Dahilayan Adventure Park. Ride the razorback or Alpine Mountain Coaster, zipline, and other heart-racing activities here. For a more educational sidetrip, make your way to the Del Monte Pineapple Plantation.
---
Getting to Cagayan de Oro from Manila
Depending on where you're coming from, Cagayan de Oro can be reached by plane, fast craft, or bus. If you're coming from Manila, the first option that would probably come to mind is to book a flight to Cagayan de Oro's Laguindingan Airport. But wait! You can board a 2GO ship from Manila to CDO too!
Sea travel may not be a popular choice for tourists since it takes much longer than taking a flight, but it has its perks. For budget travelers, its low year-round fares is a good deal. Another bonus is the huge complimentary baggage allowance worth 50 kg that comes with every ticket -— perfect for overpackers and serial pasalubong buyers. If booking a 2GO Manila to Cagayan de Oro trip sounds interesting to you, keep reading to know more. You will find all the important details you need to know prior to booking your tickets including sailing schedules and ticket prices in this post.
---
Sailing Schedule
2GO Manila to Cagayan de Oro trips sail four (4) times a week. The schedule for each sailing day is indicated below. You will see the detailed departure and arrival time for each of them since this varies on the sailing day. Note that this schedule is based on the November 2023 sailing schedule published on 2GO Travel's website. Schedules might change without prior notice so it is best to check the schedules in relation to your planned sailing date. You can check the updated schedule on 2GO's website.
Manila to CDO
Monday Sailing
Departure: Monday, 5:00 PM
Arrival: Wednesday, 8:30 AM
Tuesday Sailing
Departure: Tuesday, 11:00 AM
Arrival: Thursday, 7:00 AM
Wednesday Sailing
Departure: Wednesday, 7:00 PM
Arrival: Friday, 4:30 PM
Sunday Sailing
Departure: Sunday, 7:00 AM
Arrival: Monday, 4:30 PM
CDO to Manila
Monday Sailing
Departure: Monday, 10:30 PM
Arrival: Wednesday, 8:00 AM
Wednesday Sailing
Departure: Wednesday, 3:30 PM
Arrival: Friday, 7:00 AM
Thursday Sailing
Departure: Thursday, 4:00 PM
Arrival: Saturday, 6:30 AM
Friday Sailing
Departure: Friday, 10:30 AM
Arrival: Saturday, 8:00 PM
---
How much are the tickets?
2GO's ticket prices are not fixed since they implement dynamic ticket pricing. This means that ticket prices may change based on different factors like the time of the year and how close you book your tickets to your travel date. Prices also depend on the type of accommodation you choose on board and options for this may also vary depending on the vessel that would be used for that sailing date. It's really no different from booking a plane ticket!
To give you a reference, below are sample ticket prices for different accommodation types for a 2GO Manila to Cagayan de Oro trip. These prices are for a sailing date booked a month in advance.
Super Value Class: P669.70
Tourist Class: P1420.70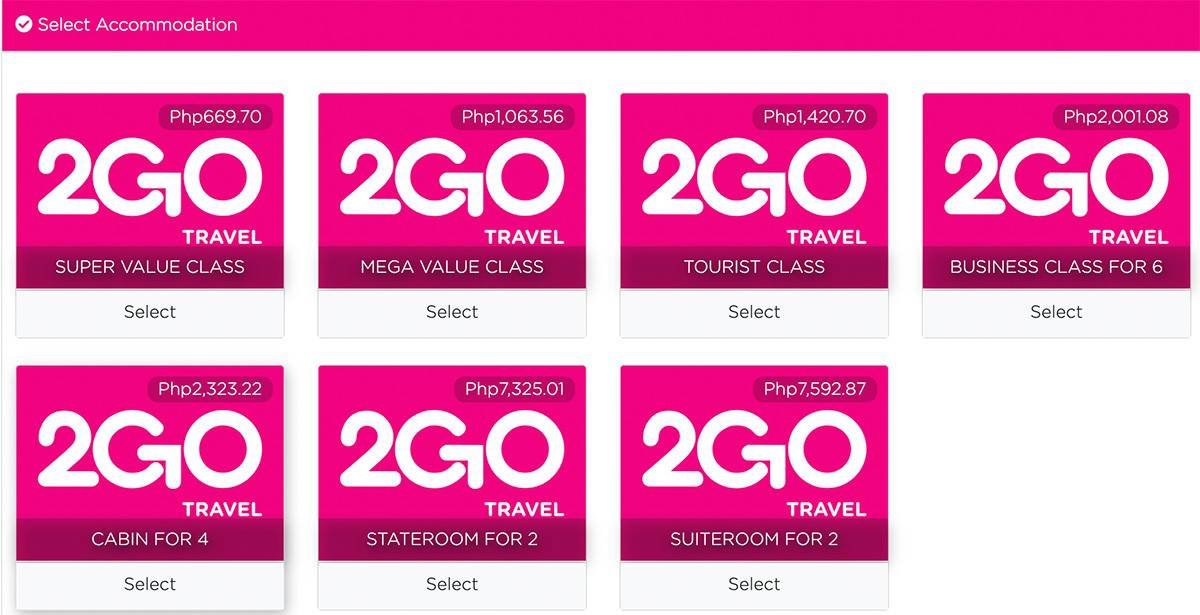 All tickets are priced per bed except SUITE and STATE rooms, which are priced per room. Each ticket is inclusive of meals on board and linens. However, note that the prices reflected above are just gross fares and are still subject to taxes and fees.
---
How to book tickets for Manila to CDO trips?
Booking 2GO tickets is easy and there are multiple options for doing so. First, you can book tickets at the nearest 2GO branch in your area. Tickets are also available at SM Business Centers, located in SM Malls.
If you want to book tickets more conveniently, you can also do it online. Just go to 2GO Travel's website, enter your origin and destination, and select your travel date. Booking tickets is also possible through the 2GO app which you can download on your mobile device. For online bookings, you may pay using your credit/debit card, GCash, Maya, Grabpay, and more through paynamics, 2GO's payment gateway. You can also opt to pay over-the-counter at SM Bills Payment Center, 7Eleven, Cebuana Lhuiller, M Lhuiller, and other accredited stores that you can find on their website.
Booking tickets online requires internet connection. If you're traveling to the Philippines, you would want to have your own secure and private internet connection since reliable and secure public WiFi connections are scarce. At the same time, connecting to public WiFi is not really a good idea as it may pose security risks. The best way to have your own internet connection on-the-go is to purchase a local SIM or rent a pocket WiFi device. Both of these are available for pick up at the airport if you book in advance through Klook.
---
How long is the travel time?
Travel time from Manila to Cagayan de Oro varies per sailing day. It takes around 33 and a half to 45 and a half hours. Yes, the travel time is no joke and is not for the faint heart or for those with limited days to travel. However, adventurers can take this as a whole different experience of traveling in between Philippine islands by sea.
How to get to Manila Port?
2GO's passenger terminal is located at Pier 4, North Harbour in Manila City.
By Taxi or Grab
Booking a ride through ride-hailing apps like Grab or Joyride is the easiest way to get to the port in Manila. You can also hail a taxi. Just tell the driver or pin your drop-off location on the app as North Harbour Pier 4 Zaragosa Gate.
By Public Transportation
Make your way to LRT 1 Carriedo Station or LRT 2 Recto Station.
Ride a jeepney going to North Harbour and get off near Jollibee North Harbour.
Walk or ride a tricycle to Pier 4 Zaragosa Gate.
If you're coming straight from the airport, you may also check our NAIA to Manila transport guide to help you find your way to the port.
---
Where to stay in Cagayan de Oro?
If you're still looking for a place to stay for your trip to Cagayan de Oro, here are some of the highly-rated accommodations you can consider.
---
Reminders