Palawan is probably one of the first places that you would think of when you hear someone mention the Philippines. Known as the country's last frontier, this island-strewn province is surrounded by cerulean waters that shimmer like diamonds under the sun. Bagging awards for being the most beautiful island is just par for the course for Palawan.
Located in the middle of Palawan, its capital city Puerto Princesa serves as the gateway to the province's main island. From here, you can reach other Palawan destinations like El Nido, San Vicente, and Port Barton.
But more than just being a gateway for travel, Puerto Princess is also home to attractions like the Puerto Princesa Subterranean River (you may have heard it being called the Underground River!), a UNESCO World Heritage Site and Ramsar Wetland Site. Peep the list of New 7 Wonders of Nature and you'll also find this river sitting pretty on the list.
If you're looking for things to do on the dryer side, you may want to book a city tour. This tour will take you to cultural and historical attractions in "The City in the Forest" like Plaza Cuartel and Palawan Wildlife Rescue and Conservation Center. For beach bums, a Honda Bay tour will surely satiate your need for sand and saltwater. This tour will take you to a few islands not too far away from the city like Starfish Island and Cowrie Island.
---
Getting to Puerto Princesa from Manila
To get to Puerto Princesa City from Manila, you can either travel by sea or by air. Of course, the more popular option for tourists is to take the flight which takes an hour and thirty minutes. However, 2GO Travel also ferries passengers from Manila to Puerto Princesa. And although the journey takes much longer, this atypical transportation option does have its perks. Tickets are generally cheaper year-round, and the complimentary baggage allowance is 50 kilos —- a LOT more than what you would get when you book a flight. This is perfect for those who are traveling on a budget and love shopping for pasalubong or souvenirs!
If you're interested in boarding a ship from Manila to Puerto Princesa, this post has all the important details you would need including 2GO's sailing schedule and ticket prices.
---
Sailing Schedule
2GO Travel sails from Manila to Puerto Princesa three times a week. You will find the detailed schedule of departure and arrival for each sailing day below.
Please take note that this is based on the published October 2023 sailing schedule of 2GO. Schedules might change without prior notice so we advise that you double check 2GO's website for the updated schedule. For good measure, check the specific schedule of your intended travel date as it might be different from month to month and even from sailing day to sailing day.
Manila to Puerto Princesa
Tuesday Sailing
Departure: Tuesday, 2:00 PM
Arrival: Thursday, 1:00 AM
Friday Sailing
Departure: Friday, 4:00 PM
Arrival: Saturday, 8:30 PM
Saturday Sailing
Departure: Saturday, 6:00 AM
Arrival: Sunday, 7:00 PM
Puerto Princesa to Manila
Sunday Sailing
Departure: Sunday, 11:00 PM
Arrival: Tuesday, 7:00 AM
Sunday Sailing
Departure: Sunday, 3:30 AM
Arrival: Monday, 8:00 AM
Thursday Sailing
Departure: Thursday, 5:00 AM
Arrival: Friday, 5:00 PM
---
How much are the tickets for 2GO's Manila to Puerto Princesa trips?
Ticket prices for 2GO vary because they apply dynamic ticket pricing. This means that ticket prices change depending on different factors like your travel date and how far in advance you book your trip. There are also a few accommodation options on board that you can choose from which can influence your ticket prices.
To give you an idea on the range of prices, here are sample ticket prices for Manila to Puerto Princesa trips via 2GO for a sailing date booked one month in advance.
Super Value Class: P739.71
Tourist Class: P962.92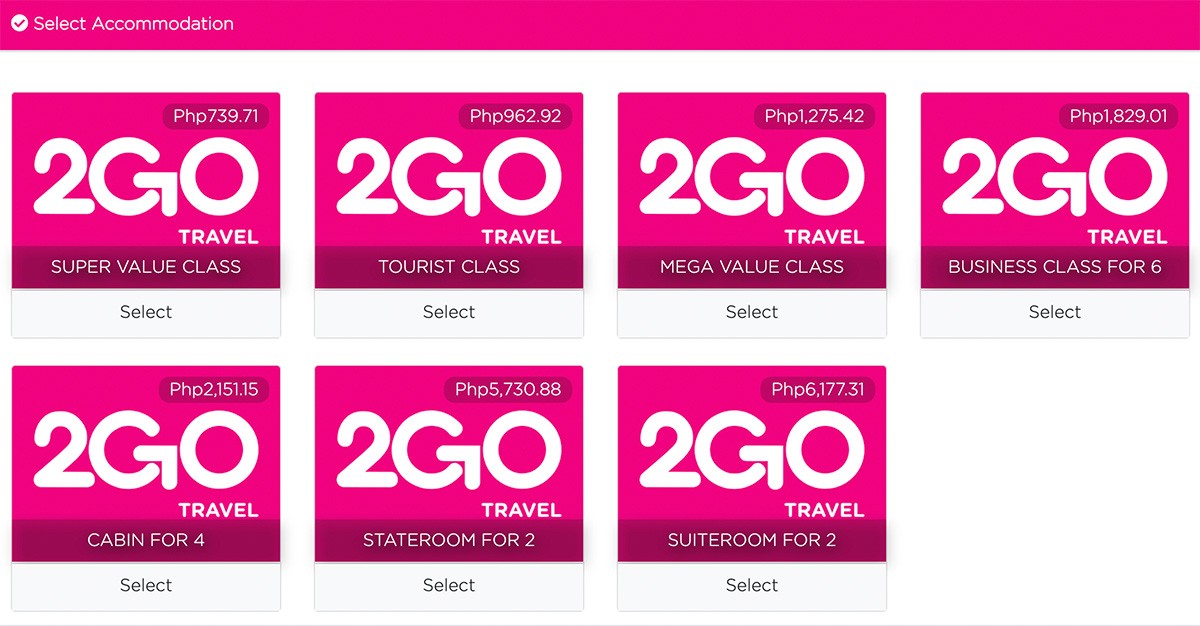 Prior to booking, it is important to know that all tickets are priced per bed except for SUITE and STATE rooms, which are priced per room and accommodate 2 people. All tickets come with meals on board, linen, and a 50 kg baggage allowance. But keep in mind that the prices indicated above only indicate gross fare and are still subject to taxes and fees.
---
How to book tickets?
It's fairly easy to book tickets for Manila to Puerto Princesa with 2GO Travel. You can do it online or even face-to-face, whichever is more convenient for you. Tickets can be purchased at 2GO branches nationwide and SM Business Centers located in SM Malls.
If you prefer to book tickets online, you can do it through 2GO Travel's website. You may also download 2GO's app on your mobile device and purchase a ticket from there. Accepted mode of payments for online bookings are credit/debit card, GCash, GrabPay, Maya, and more through the payment gateway Paynamics. Paying for your booking over-the-counter is also possible through 7Eleven, Cebuana Lhuiller, M Lhuiller, SM Bills Payment Center and other accredited stores listed on their website.
---
How long is the travel time?
Travel time from Manila to Puerto Princesa varies per sailing day, but it takes around 28 and a half hours to 35 hours. Yes, it is considerably longer compared to flying to this beautiful island. Howeved, if you're traveling on a budget and have a lot of time to spare, you could consider this an item ticked off your bucket list. Since the journey takes over a day, you can think of it as a staycation on board a ship!
---
How to get to Manila Port?
2GO's passenger terminal in Manila is located in Pier 4, North Harbour, Manila City.
By Taxi or Grab
If you have luggage or simply want the most convenient way to reach the port, take a taxi or book a ride through Grab or Joyride. Just enter North Harbour Pier 4 as your drop off location or tell the taxi driver your destination. Note that the passenger entrance at the pier is the Zaragosa Gate.
By Public Transportation
Make your way to LRT 1 Carriedo Station or LRT 2 Recto Station.
Ride a jeepney going to North Harbour and get off near Jollibee North Harbour.
Walk or take a tricycle to PPier 4 Zaragosa Gate.
If you're going to the port from NAIA or Manila Airport, you can read our NAIA to Manila transport guide for more details on different transportation options you can take.
---
Where to Stay in Puerto Princesa?
If you haven't decided on where to cast your anchors yet in Puerto Princesa, here are some top-rated hotels that you can book.
---
Reminders