Subic is a former US Navy Base in the province of Zambales. It is also known for its maritime industry and logistics and warehousing services. Located in Subic Bay, the town is part of the Subic Bay Freeport Zone along with the city of Olongapo in Zambales and Morong and Hermosa in Bataan.
Apart from being an economic zone, one of Subic's biggest resources is the tourism industry. The attractions in the zone include theme parks, diving spots (wreck diving), extreme water sports, sailing, and adventure parks. It also has guided treks and jungle survival tours that help promote ecotourism. Tourists also come to Subic to visit outlet shops and duty-free shopping centers where you can find great deals.
ATTENTION! Don't forget to accomplish all the requirements prior to your visit. Take note of the new normal travel rules and guidelines and make sure to comply with them. It's best to check the official website or the Facebook page of Subic Tourism, Zambales Tourism Office, and Zambales Provincial Government for updates and announcements.
---
Best Area to Stay
From being a US Naval Base to a major maritime gateway, Subic has gone through developments early. Different kinds of businesses including hotels, restaurants, shopping malls, and adventure parks have mushroomed here through the years.
There are a lot of accommodation options in Subic that you can choose from. Depending on your needs and preferences, here are some lodging options in Subic.
Top Hotels
If you want to stay in a hotel where you can relax, here are the top-rated hotels in Subic.
Top Resorts with Swimming Pool
Since there are not that many places to visit around Subic, you might just want to spend some time and unwind in your hotel. Here are some resorts with swimming pools in Subic.
Top Beachfront Resorts
One of the things tourists visit Subic for is the water activities and water parks. If you want to stay by the beach, here are the top beachfront hotels in Subic.
---
Getting There
NOTE: This section is a work in progress. Due to the pandemic, changes may have occurred. Please contact the LGU, terminal, or bus company directly for the latest schedule, routes, and fares.
By Car
MANILA TO SUBIC
Subic is easily accessible from Manila through the North Luzon Expressway (NLEX) and Subic-Clark-Tarlac Expressway (SCTEX). Drive along NLEX and take the SCTEX exit. After taking the SCTEX Exit, continue driving to SMBA.
Bringing your own car will allow you to travel at your own pace and make stops whenever you need to. Travel time is two to four hours.
CLARK TO SUBIC
From Clark, take the SCTEX and follow the road signs going to SBMA/SBFZ. Travel time is about 45 minutes.
By Bus
MANILA TO SUBIC
There are three Victory Liner terminals in Manila where you can board a bus to Subic– Pasay, Cubao, and Caloocan. The buses are air-conditioned and have wi-fi onboard.
Board a Victory Liner bus bound to Olongapo. Fare is P230 to 290 and travel time is two to four hours.
Get off at Olongapo. From there, ride a jeepney or taxi to Subic/SBFZ. The fare depends on your destination and mode of transportation.
CLARK AIRPORT TO SUBIC
Regular Bus

1. From Clark Airport, ride a jeepney to the Main Gate Entrance of Clark Freeport Zone.
2. From the Main Gate Entrance, take another jeepney going to Dau-Mabalacat Bus Terminal.
3. Board a Victory Liner bus going to Olongapo.
4. Get off the Olongapo Bus Terminal, then take a jeepney to Subic or SBFZ.

P2P Bus

You can also take a P2P bus from Clark Airport to Subic. Travel time is one hour and 40 minutes.

Shuttle Bus

Based on 12Go, there are also shuttle/tourist buses plying the Clark to Subic route. Two companies offer this direct transport service: Southern Cross Shuttle and Swagman Resort. Pick-up and drop-off points are in Angeles and Subic. The fare is P500 per person. Here are the days they operate:

Southern Cross Shuttle: Daily
Swagman Resort Bus: Monday, Wednesday, Friday, and Sunday
---
Tourist Spots & Attractions
ATTENTION! Because of the pandemic, the opening hours and rates might change from time to time. Make sure you check the official websites or Facebook pages of the attractions and tourist spots prior to your trip.
Subic Inflatable Island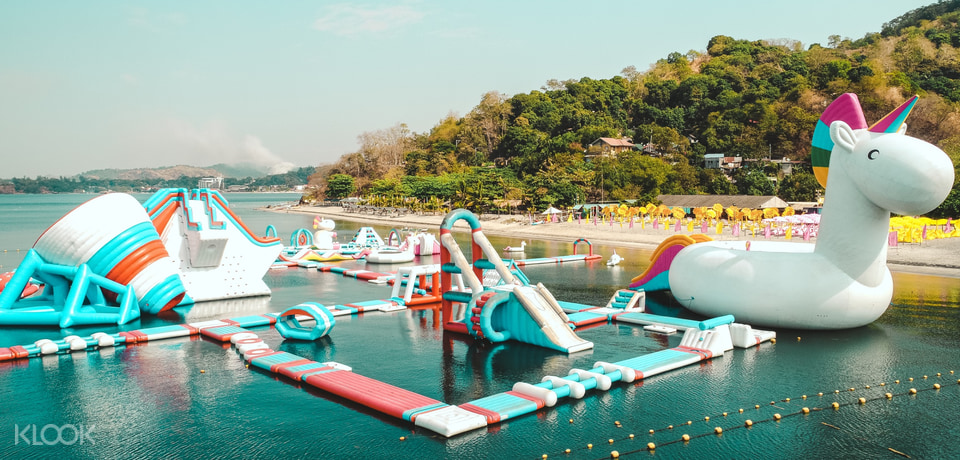 Subic Inflatable Island is a huge floating playground where you can slide, bounce around, and swing. This is perfect for kids-at-heart and is a great bonding activity for friends and family. You can also find the biggest floating unicorn in the world here!
You can score a good deal when you book with Klook! There are package options — all-day pass, half-day pass, 2-hour access, one-hour access, etc. Choose the best that fits your preference.
✅ CHECK OPTIONS & GET YOUR PASS HERE!
Beaches and Resorts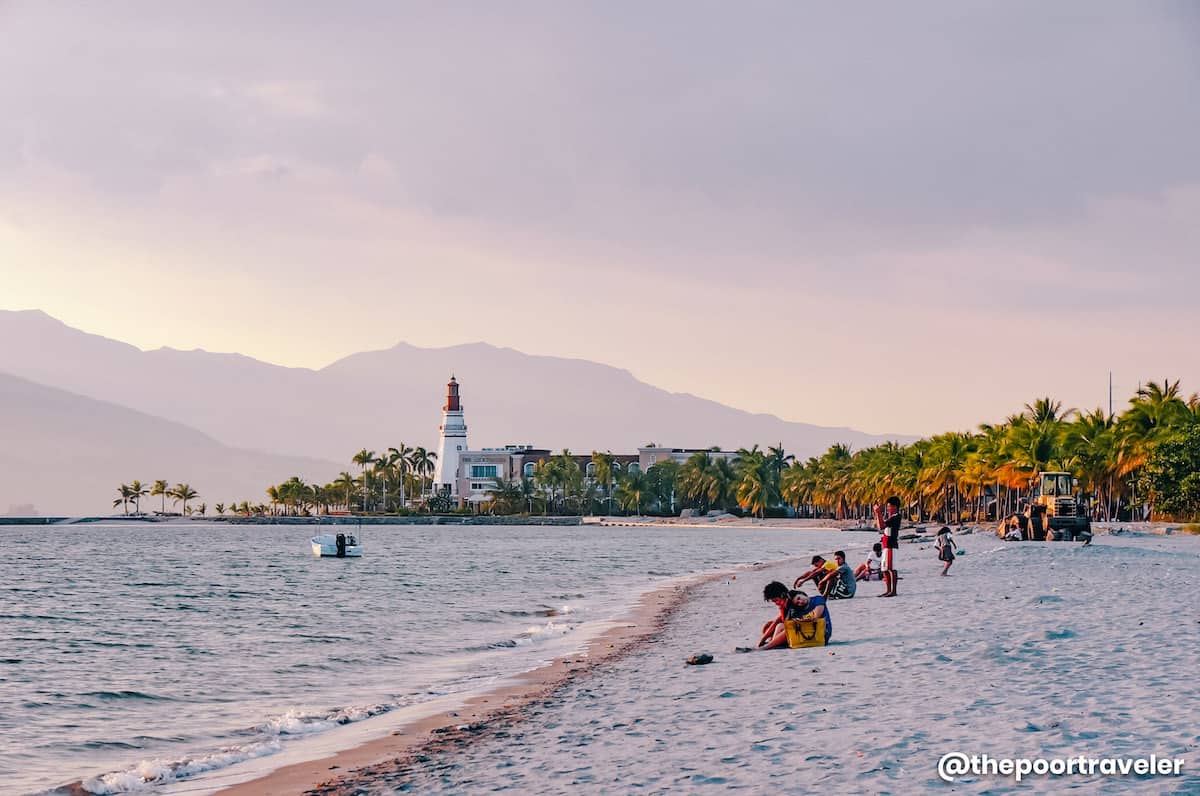 The beaches here may not be as fair as that of Boracay or other beaches in the country, but they still offer great spots to relax and unwind. You can spend your time just lounging around the beach or try the water activities available.
Subic Shopping
If you love shopping and getting cheap deals or if you simply want to get pasalubong for your loved one, you shouldn't miss shopping in Subic. There are a lot of shopping spots, but the most popular are the outlet stores and duty-free shops.
El Kabayo Subic Trail
There are many trekking sites in Subic. One of those is the El Kabayo Subic Trail. You can join MAD Travel's Tribe and Trek program where you can explore the flora and fauna surrounding the trail and learn about jungle survival as well as making herbal medicine. The El Kabayo Subic Trail is home to Aeta's Pastolan Tribe and the program aims to help the indigenous tribes preserve their ancestral domain. This helps tourists understand the importance of natural heritage and sustainable tourism.
You can also check out the waterfalls towards the end of the trail. It's not grand though, so may also choose to skip it if waterfalls are not your thing.
Rate: P1,800/pax (Day Tour). This rate is inclusive of transfers within Subic, lunch and snack, local guides, and jungle survival training.
Contact Details: [email protected] / +63 917 713 8607
Official Website: www.madtravel.org
Wreck Diving and Snorkeling
Subic is claimed to be one of the biggest naval bases of the U.S. Navy outside the US when it was still operational. Now, Subic Bay is filled with several vintage shipwrecks and remnants of WWII. These attract both local and international divers who have a penchant for wreck diving.
Some shipwrecks in Subic Bay are the USS New York, the Oryoku Maru, the Sakura Maru, and the USS Lanikai. Some of these sites are only about 15 minutes away from diving centers.
There are several dive centers around Subic Bay and the rates vary depending on the course, the number of sessions, and the inclusions. Recreational wreck dive prices range from P1,000 to P3,000 if you have your own gear. If you will rent gears, add P500 to P800 on top of that.
If you're not a diver, some diving operators allow non-divers to go snorkeling. The snorkeling fee with gear rental is around P1,000 to P1,200.
Subic Bay Cruise
A Yacht Cruise is expensive, but if you're celebrating a special occasion, this is something you can do. This is perfect for a romantic getaway especially if you do it at dusk in time for the gorgeous sunset.
You can also split the cost if you're in a big group and celebrating special events like reunions. The rates will depend on the type of boat and the size. You may contact or check the official websites of Subic Bay Yacht Club and Subic Sailing Club for inquiries.
Subic Bay Yacht Club
Contact Numbers: (047) 252 5211 / (02) 844 5777 / +63 917 554 6411
Official Website: www.subicbayyachtclub.ph
Subic Sailing Club
Contact Number: (047) 251 7245
E-Mail Address: [email protected]
Official Website: www.subicsailing.com
Spectacular Sunsets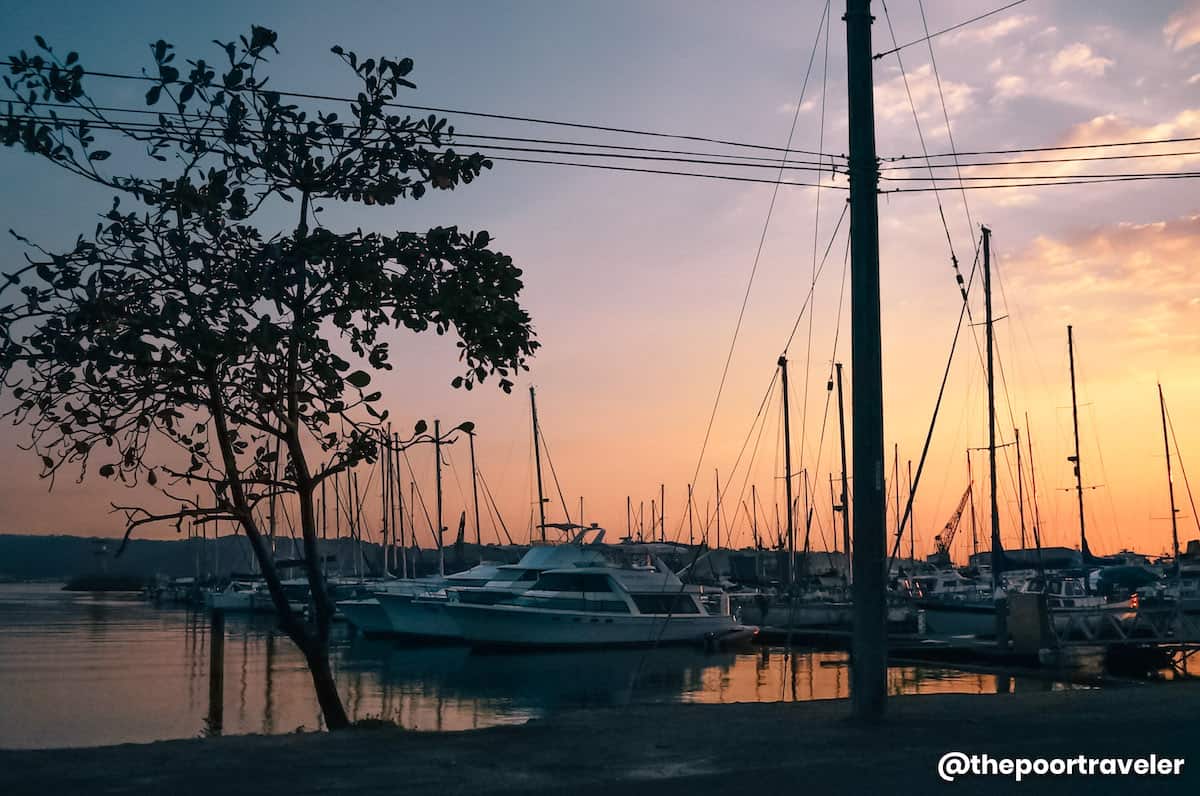 Subic Bay has many great spots where you can watch the spectacular sunset. Some of the spots are the Malawaan Park, The Lighthouse Marina Resort, Boardwalk Park, and the Waterfront Road where you can also find the Children of the Sun Monument, Inang Laya Monument, and The Hellship or Oryoku Maru Monument. You can even admire the beauty while on a yacht cruise.
Rich Mangrove Forests
Mangroves have an important role in maintaining the balance in our ecosystem. In the Philippines, there are over 30 mangrove species. Subic Bay has more than 60 hectares of mangrove forests. These are scattered in six different sites including Triboa Bay Area, Olongapo Bay Area, and Ilanin Bay Area.
Triboa Mangrove Park is the most popular site. It is best to visit early in the morning or at dusk during the dry season and take into consideration the tide too. When you visit mangrove forest sites, make sure to follow their rules and regulations. Respect the area. Do not take plants or animals with you or step on mangrove roots and other vegetation. Don't be too loud when exploring and do not litter. Restrooms are available in the area.
---
Best Time to Visit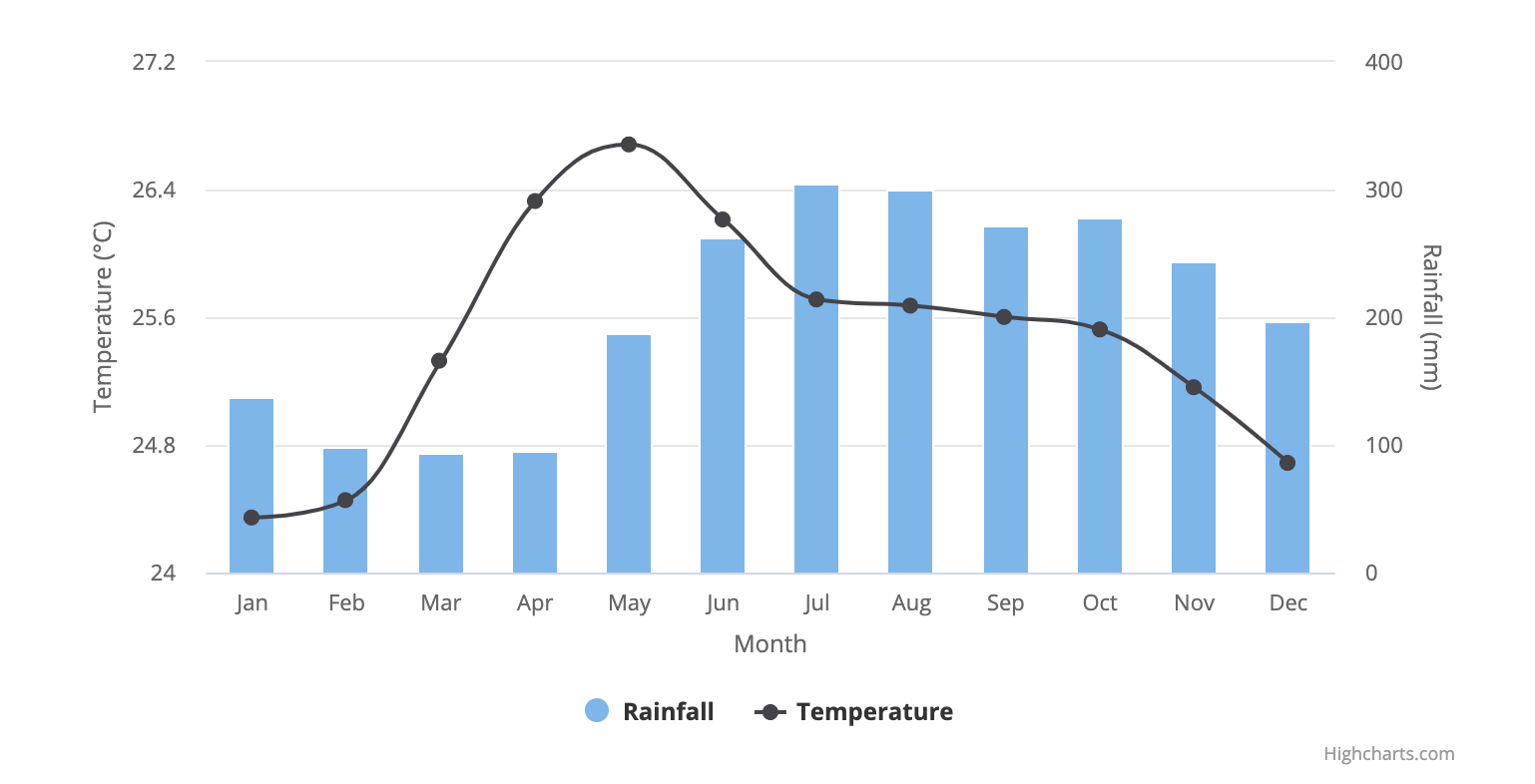 Most of the attractions in Subic are outdoors so it's best to go during the dry months. Summer months are from March to May, but the period from December to February is pretty dry too. July to October period is the rainy season, which could hinder you to enjoy many outdoor activities.
---
Practical Travel Tips
Always check for updates. Some adjustments have to be taken for establishments and attractions to operate during the new normal. Don't forget to contact or visit the official websites or Facebook pages of the attractions and activities for announcements and updates before going.
Bring sun protection. The sun can be unforgiving sometimes, especially in summer. Don't forget to bring a hat/cap and sunglasses or apply sunscreen. Avoid sunscreen products that contain the following chemicals: oxybenzone, benzophenone, and parabens.
Leave no trace behind. Help protect the environment by collecting your garbage and following proper waste disposal. If you can't find a garbage bin right away, keep your trash with you until you find one.
Practice sustainable and responsible tourism. Support the local community by purchasing their products. Lessen the waste by bringing your own water bottle and dry bags or eco bags to avoid buying plastic bottled drinks and plastic bags.
Follow the town's rules and regulations. Make sure you know the travel safety protocols and requirements and follow them.
---
Sample Itinerary
Here are two itinerary options for Subic. Feel free to make adjustments depending on your preferences and the number of days you want to stay.
Option 1: Beach
-Travel from Manila to Olongapo
-Travel to Barrio Barretto
-Barrio Barretto Beaches: Baloy, Sierra, & Manga
-Swim/Chill at the beach
-Lunch
-Freshen up
-Travel to SBFZ
-See the monuments along Waterfront Road
-Sunset watching along Waterfront Road
-Travel back to Manila
Option 2: Forest Trail
-Travel from Manila to Olongapo
-Travel to Pamulaklakin Forest Trail inside SBFZ
-Explore Pamulaklakin Forest Trail
-End of trek
-Lunch
-Shopping
-See the monuments along Waterfront Road
-Sunset watching along Waterfront Road
-Travel back to Manila
---
Reminders