2018 • 05 • 29
Bituin Cove, also known to locals as Angara Cove, is one of Nasugbu's many pristine sand pockets gracing its coast. The cove is located in Barangay Calayo, more than half an hour's drive from the town proper of Nasugbu. Its sand is a mixture of coarse sand and shingles; the color is between beige and light brown. Aside from Calayo, Barangay Papaya can also be your jump-off point to the island-hopping tour that can take you to Bituin Cove.
How to Get There
Nearest Airport: Ninoy Aquino International Airport, also known as Manila International Airport (Manila)
By Land
From Pasay, Buendia-Taft or Cubao, board a bus bound for Nasugbu, Batangas. The fare is P160-180. Travel time is about two to 3 hours, depending on traffic situation.
Alight at Nasugbu Bus Terminal (town proper), you have the option to ride a tricycle or a jeepney to Barangay Calayo. If your group is composed of two to four persons, you can hire a tricycle to take you to Calayo Beach for P300. This is fair since Calayo is more or less half an hour from the town center. If your group is big, you can hire a jeepney. Negotiate the cost based on the size of your group or the vehicle.
From Calayo, you can charter a boat for your island hopping tour. This will take you to Bituin Cove and other nearby attractions. Bituin Cove is just 20 minutes away from Calayo Beach by boat.
---
Entrance Fee and Other Charges
Entrance Fee: P25
Camping Fee: P100; P300 (tent rental)
Cottage Rental Fee: P300
Island Hopping Tour: Starts at P1500/boat (good for 12 pax)
Calayo Environmental Fee: P20
Calayo Beach Parking Fee: Around P50 (day trip); Around P100 (overnight)
---
Don't Miss
Snorkeling! The underwater scenery outshines the beachscape. You can even do freediving if you are into it to get a closer look at the vibrant marine life.
Take a short trek to a viewpoint and snap photos of the vista. Take the opportunity to have your photo taken too!
While you're at it, make the most of the rundown diving platform, the rusting container van, the ruins of what used to be a helipad, or the manmade breakwater; these locations are perfect for a mini photo shoot with your family or friends.
Go island hopping. Bituin Cove can be your last stop if you will spend the night here. Discuss your itinerary with your boatman.
Swimming! The water is calm because of the manmade breakwater.
---
Don't Forget
If you are staying overnight, note that setting up a bonfire is not permitted near the beach area. Also, avoid loud music or shouting when the clock hits 10 PM until 7 AM.
Bring your own tent and snorkeling gear to lessen your expenses.
When you snorkel or go freediving, don't step on the corals.
Bring an extra battery for your camera or bring power banks.
Bring sun protection like a hat, scarf, or coral-friendly sunscreen (those without oxybenzone, parabens, and benzophenone).
Bring also insect or mosquito repellent lotion.
Bring your own food and drinks. You can make a stop at Nasugbu public market to buy your food before heading to Calayo. Grilling near the beach is also not permitted. There's a small sari-sari store that sells snacks and drinks, but it might not be always open, so it's still safer to bring your own. You can also bring a portable stove.
Bring a first-aid kit, medicine, flashlight, whistle, swiss knife, rope, and other life-saving gadgets and tools.
Leave no trash behind. Bring your garbage with you. PLEASE.
---
If You Have More Time and Budget
Visit other attractions in Nasugbu like Fortune Island, Punta Fuego, Hamilo Coast, Kawayan Cove, Canyon Cove, or Tali Beach.
If you have a car, you can do a stopover in Tagaytay before heading back to Manila.
If you are into hiking, you can scale Mount Batulao or Mount Talamitam; both are located in Nasugbu, Batangas. As of writing, Mount Palay-Palay or Pico de Loro is still closed to the public.
---
Where to Stay
If you are not into camping or roughing it out in a tent, you can spend the night in one of the resorts at Calayo Beach. Here are other recommended resorts in Nasugbu according to Agoda users, in no particular order.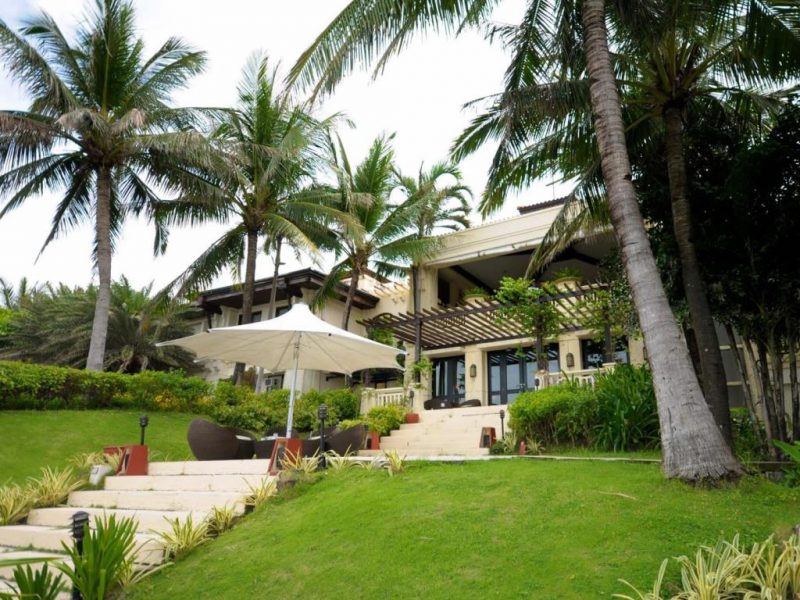 Reminders