2018 • 05 • 29
Nasugbu is one of those areas in Batangas that had an early taste of development. Its beaches are among those with long-established resorts and popular with locals and tourists alike. Some of its coves and beaches are tucked away in exclusive villages and subdivisions, requiring membership and/or advanced reservation to access them such as Hamilo Coast, Tali Beach Subdivision, Punta Fuego, Kawayan Cove, and Canyon Cove. While some are privately-managed, most are still open to the public with no need for prior booking. One such beach is Calayo Beach. Calayo is a fishing village that is slowly transforming into a beach destination. It has fine light brown sand with blue-green waters.
How to Get There
Nearest Airport: Ninoy Aquino International Airport, also known as Manila International Airport (Manila)
By Land
From Pasay, Buendia-Taft or Cubao, board a bus bound for Nasugbu, Batangas. The fare is P160-180. Travel time is about two to 3 hours, depending on traffic situation.
Alight at Nasugbu Bus Terminal (town proper), you have the option to ride a tricycle or a jeepney to Barangay Calayo. If your group is composed of two to four persons, you can hire a tricycle to take you to Calayo Beach for P300. This is fair since Calayo is more or less half an hour from the town center. If your group is big, you can hire a jeepney. Negotiate the cost based on the size of your group or the vehicle.
Once there, you can rent a room, a cottage or a table in one of the resorts lining the beach.
---
Entrance Fee and Other Charges
Entrance Fee: It's a public beach, so it's free, unless you are staying in one of the resorts or accessing the beach via one of them. The rate varies depending on the resort. It ranges from P50 to P250 per person.
Camping Fee: It depends on the resort. Some areas allow camping, some don't. Ask first before pitching your tent. The usual rate is P300.
Cottage Rental Fee: It depends on the resort. Rates range from P500 to P2500.
Island Hopping Tour: Starts at P1500/boat (good for 12 pax)
Calayo Environmental Fee: P20
Parking Fee: Around P50 (day trip); Around P100 (overnight)
---
Don't Miss
Swimming! The water is mostly calm. The sand is fine here, so you can just chill and lie on it for that summer tan or golden summer glow.
When we went there, there's a set up of the inflatable island or floating water playground. If it's still there, have fun challenging yourself while going through the different obstacles.
Go island hopping. Calayo Beach is the jump-off point to other beaches like the ones in Pulo Island (Loren Island), Kayraang Cove, and Bituin Cove (Angara Cove). Discuss your itinerary with your boatman.
---
Don't Forget
Bring sun protection like a hat, scarf, or coral-friendly sunscreen (those without oxybenzone, parabens, and benzophenone).
Bring also insect or mosquito repellent lotion.
Bring your own food and drinks to save money. You can make a stop at Nasugbu public market to buy your food before heading to Calayo. There are small stores and carinderias in Calayo selling food and drinks if you don't have enough food supply.
To save money, bring your own tent if you are planning to rough it out.
Bring an extra battery for your camera or bring power banks.
Leave no trash behind. Bring your garbage with you. PLEASE.
---
If You Have More Time and Budget
Visit other attractions in Nasugbu like Fortune Island, Punta Fuego, Hamilo Coast, Tali Beach, Canyon Cove, or Kawayan Cove.
If you have a car, you can do a stopover in Tagaytay before heading back to Manila.
If you are into hiking, you can scale Mount Batulao or Mount Talamitam; both are located in Nasugbu, Batangas. As of writing, Mount Palay-Palay or Pico de Loro is still closed to the public.
---
Where to Stay
If you are not into camping, Calayo Beach is lined with resorts — from budget to mid-range. You may opt to spend the night in one of the resorts here. Other recommended resorts in Nasugbu according to Agoda users are listed below, in no particular order.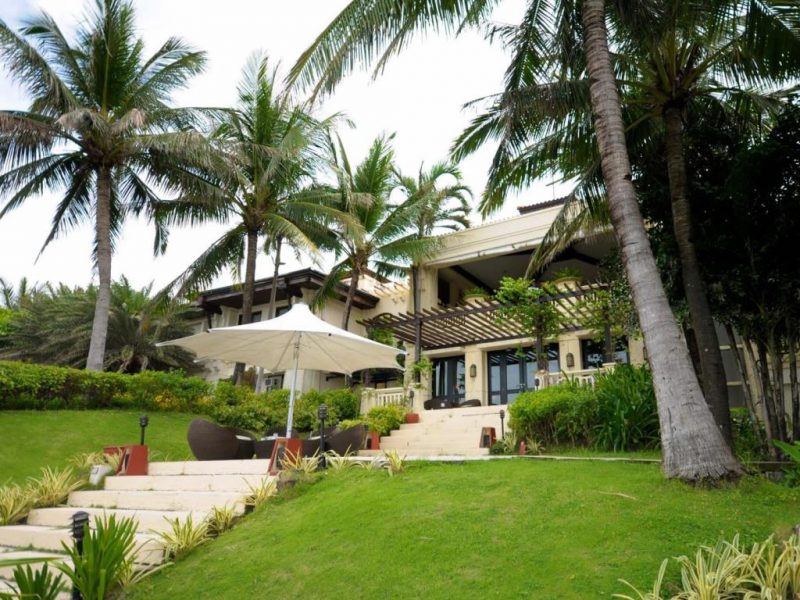 Reminders