2018 • 05 • 29
Known to locals as Pulo Island or Pulo-pulo, Loren Island is like that one person who is easy to get along with yet still retain some kind of mystery; she will intrigue you. The cove part is welcoming with its mixture of fine and course beige sand, but the sloping beach just beside the cove and the beach behind will either intimidate you or challenge you with their rugged appearance highlighted by the rocky shores and unspoiled islet. She is sugar and spice. The island is a private property, said to be owned by Loren Legarda, but tourists are welcome here for a minimal fee.
How to Get There
Nearest Airport: Ninoy Aquino International Airport, also known as Manila International Airport (Manila)
By Land
From Pasay, Buendia-Taft or Cubao, board a bus bound for Nasugbu, Batangas. The fare is P160-180. Travel time is about two to 3 hours, depending on traffic situation.
Alight at Nasugbu Bus Terminal (town proper), you have the option to ride a tricycle or a jeepney to Barangay Calayo. If your group is composed of two to four persons, you can hire a tricycle to take you to Calayo Beach for P300. This is fair since Calayo is more or less half an hour from the town center. If your group is big, you can hire a jeepney. Negotiate the cost based on the size of your group or the vehicle.
From Calayo, you can charter a boat for your island hopping tour. This will take you to Loren Island and other nearby attractions. Loren Island is just 20 minutes away from Calayo Beach by boat.
---
Entrance Fee and Other Charges
Entrance Fee: P25
Camping Fee: Overnight and pitching tent is not a popular activity on the island.
Cottage Rental Fee: No cottage as of writing.
Island Hopping Tour: Starts at P1500/boat (good for 12 pax)
Calayo Environmental Fee: P20
Calayo Beach Parking Fee: Around P50 (day trip); Around P100 (overnight)
---
Don't Miss
The cove area is good for swimming. The rocky part is far from the shore unlike the other areas on the island.
Ask your boatmen to take you to other parts of the island. The beach beside the cove is a good venue for chilling and lazing around. There are trees that serve as shade from the sun. There's this "sand strip" or sandbar that connects the island to a rocky islet. The sandbar also separates the island's two beaches.
Photo opportunities! The cove is good for swimming while the two beaches, the rocky islet, and the sandbar can be a good backdrop for your profile picture-worthy photos.
Go island hopping. Visit other attractions like Bituin Cove or Kayraang Cove. Discuss your itinerary with your boatman.
---
Don't Forget
The waves are gentler at the cove area. The beach beside the cove has stronger waves.
Wear aqua shoes or swimming footwear to protect your feet from the sharp rocks on other parts of the island should you decide to explore them.
Bring dry bags to prevent your stuff from getting wet or soaked.
Bring an extra battery for your camera or bring power banks.
Bring sun protection like a hat, scarf, or coral-friendly sunscreen (those without oxybenzone, parabens, and benzophenone).
Bring also insect or mosquito repellent lotion.
Bring your own food and drinks. You can make a stop at Nasugbu public market to buy your food before heading to Calayo. It's better if the food is ready-to-eat.
Leave no trash behind. Bring your garbage with you. PLEASE.
---
If You Have More Time and Budget
Visit other attractions in Nasugbu like Fortune Island, Punta Fuego, Hamilo Coast, Tali Beach, Kawayan Cove, or Canyon Cove.
If you have a car, you can do a stopover in Tagaytay before heading back to Manila.
If you are into hiking, you can scale Mount Batulao or Mount Talamitam; both are located in Nasugbu, Batangas. As of writing, Mount Palay-Palay or Pico de Loro is still closed to the public.
---
Where to Stay
You can choose to spend the night in one of the resorts at Calayo Beach. But if you plan to explore the town further, here are some of the recommended resorts in Nasugbu according to Agoda users, in no particular order.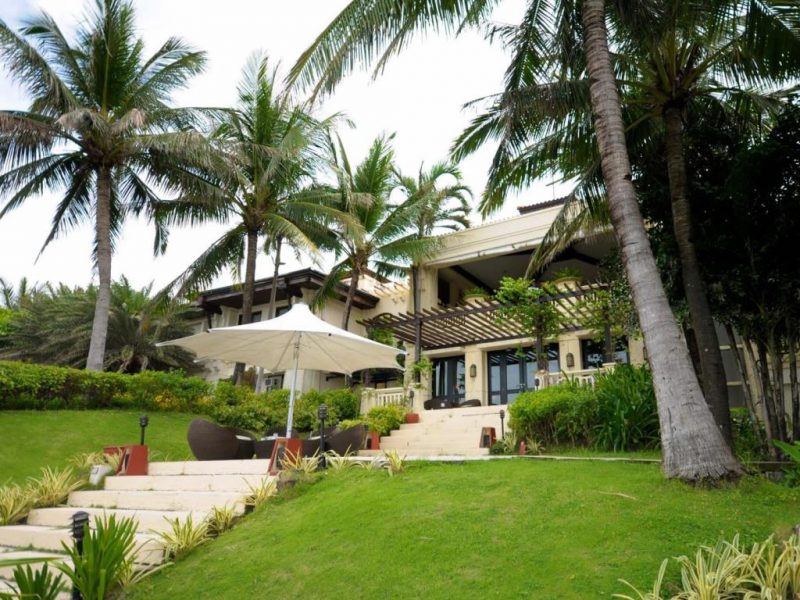 Reminders