Just a few hours away from Manila, Tagaytay has been a favorite destination for those who want to escape the hustle and bustle of the city. Because of its proximity to the metro, it is perfect for a quick weekend getaway or even a day trip if you only have a day to unwind. The cold weather and the marvelous view of Taal Lake and Volcano are enough to give you a relaxing time, but the food and other attractions definitely give tourists more reasons to visit.
Tagaytay temporarily closed the first few months of 2020 due to the eruption of the Taal Volcano in January and the community quarantine in response to the COVID-19 pandemic, but it has reopened since. Attractions and establishments have opened their doors again for tourists who want to get away from the heat of the city.
ATTENTION! Don't forget to accomplish all the requirements prior to your visit. Take note of the new normal travel rules and guidelines and make sure to comply with them. It's best to check the official websites or Facebook pages of the Tagaytay Tourism Office, the Tagaytay local government, and the Cavite Provincial Government for updates and announcements.
---
Best Area to Stay
There are many accommodation options in Tagaytay, but what you must know is that some hotels, guesthouses, or lodges labeled as "Tagaytay" may actually be located in nearby municipalities. This is something you have to double-check when looking for a place to stay.
Some of the best areas to stay when in Tagaytay and exploring surrounding towns are Tagaytay Rotonda Area also known as Olivarez, along Tagaytay-Nasugbu Highway, which has a stunning view of the volcano and the lake, and along Tagaytay-Calamba Road, which is close to popular attractions like People's Park in the Sky and Picnic Grove.
Top Hotels
If you're visiting Tagaytay for a romantic getaway or to simply have a relaxing time, a hotel with a serene ambiance would be the best place to stay in. Here are the top hotels you should consider.
Top Apartments
If you're looking for a more budget-friendly option, there are numerous apartments and condo units for rent in Tagaytay too. Here are some of the apartments/condo units you can choose from.
---
Getting There
NOTE: This section is a work in progress. Due to the pandemic, changes may have occurred. Please contact the LGU, terminal, or bus company directly for the latest schedule, routes, and fares.
By Bus
Because new routes and schemes are being implemented since the pandemic, you can find most buses bound for Batangas at Parañaque Integrated Terminal Exchange (PITX). According to the information displayed at the terminal, Batman StarExpress Corporation (BSC) and San Agustin Transport run the PITX-Nasugbu route via Aguinaldo Highway.
As of October 2020, here's the schedule.
You may inform the conductor that you are going to Tagaytay. Usually, the bus will drop you off anywhere along the Nasugbu-Tagaytay Road. Ask the driver or the conductor if there are specific drop-off points and alight at the bus stop near your specific destination in Tagaytay.
REMINDERS:
Do not board a bus bound to Lemery. This bus will take SLEX and STAR Toll and will not pass through Tagaytay.
If your hotel is along Tagaytay-Nasugbu Highway and you're on a bus going to Calatagan or Nasugbu, you can ask the conductor to drop you off at the hotel. You don't need to get off at Olivarez or Rotonda.
If you're on the way to SkyRanch, the bus won't actually pass by the amusement park. You will be dropped off at Petron Gas Station and from there, you can walk going to SkyRanch.
By Van
Another way to get to Tagaytay is by riding a shared van. You may get on a van going to Calatagan, Nasugbu, or Lemery and get off at Tagaytay. You may find these vans in front of Starmall Edsa-Shaw, at the terminal along EDSA, at Festival Mall Alabang, and at Metropoint Mall.
The fare ranges from P180 to P200 depending on which part of Manila you're coming from. These are more expensive than a bus ride because these vans work like point-to-point shuttles. Don't forget to ask the driver to drop you off in Tagaytay.
REMINDERS:
Vans don't have a fixed schedule and they don't leave the terminal until it's full. If you're in a rush and there's still a lot of empty seats, you can take the bus instead.
If you got on a van bound to Lemery, tell the driver to drop you off in Tagaytay. Vans to Lemery usually pass through Tagaytay, but to be sure the driver won't take a detour, let him know your destination.
---
Tourist Spots & Attractions
ATTENTION! Because of the pandemic, the opening hours and rates might change from time to time. Make sure you check the official websites or Facebook pages of the attractions and tourist spots prior to your trip.
Taal Volcano View
Tagaytay has a fantastic view of the Taal Volcano. Most of the private establishments and public roadside spots offer a fetching view of the volcano jutting out of the calm waters of the lake. You can choose to admire it while dining at a restaurant, sipping a drink from a café, from the balcony or window of your staycation hotel, or by stopping at a vacant roadside viewing spot. Tagaytay serves as a huge balcony for tourists and locals alike.
Tagaytay Food Trip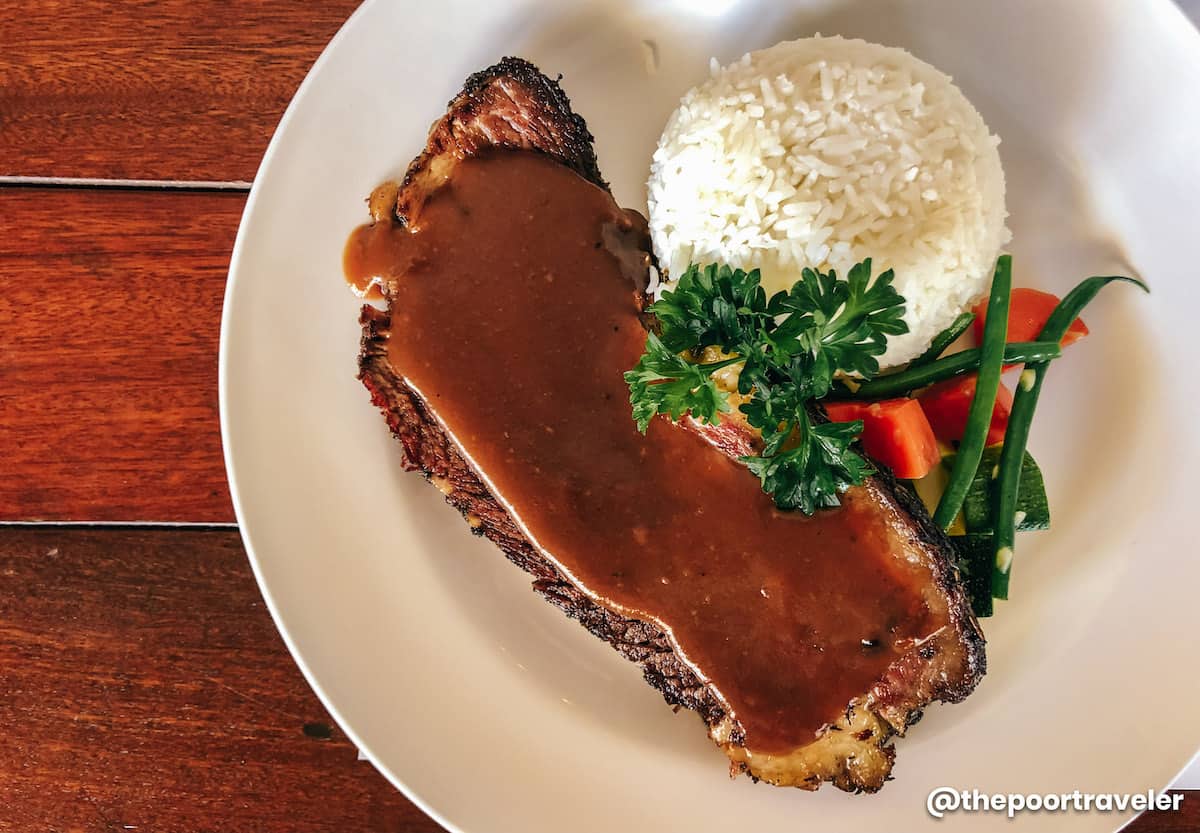 The food and beverage industry is very much alive in Tagaytay. Tagaytay is not only brimming with a wide spectrum of dining and food choices but also boasts a lot of gastronomic gems and top-rated restaurants. Whether visitors are on a budget or you have no problem splurging on food, they find something that keeps them returning to the place multiple times.
Indulge in the countless restaurants, cafés, roadside eateries, and even the stalls at Mahogany Market! Of course, your Tagaytay visit won't be complete without a sip of hot Bulalo.
Skyranch Tagaytay
Skyranch is an amusement park in Tagaytay, which sits atop a cliff, overlooking the lake. It's filled with rides and activities for the whole family, including the iconic SKyEye, a 63-meter Ferris wheel. There are also restaurants and food kiosks inside.
Opening Hours: 10:00 AM – 7:00 PM (Monday – Friday) / 8:00 AM – 8:00 PM (Saturdays and Sundays)
Entrance Fee: P80 (weekdays), P100 (weekends). Note that there are inidividual admission fees for the attractions inside the park.
Tagaytay Picnic Grove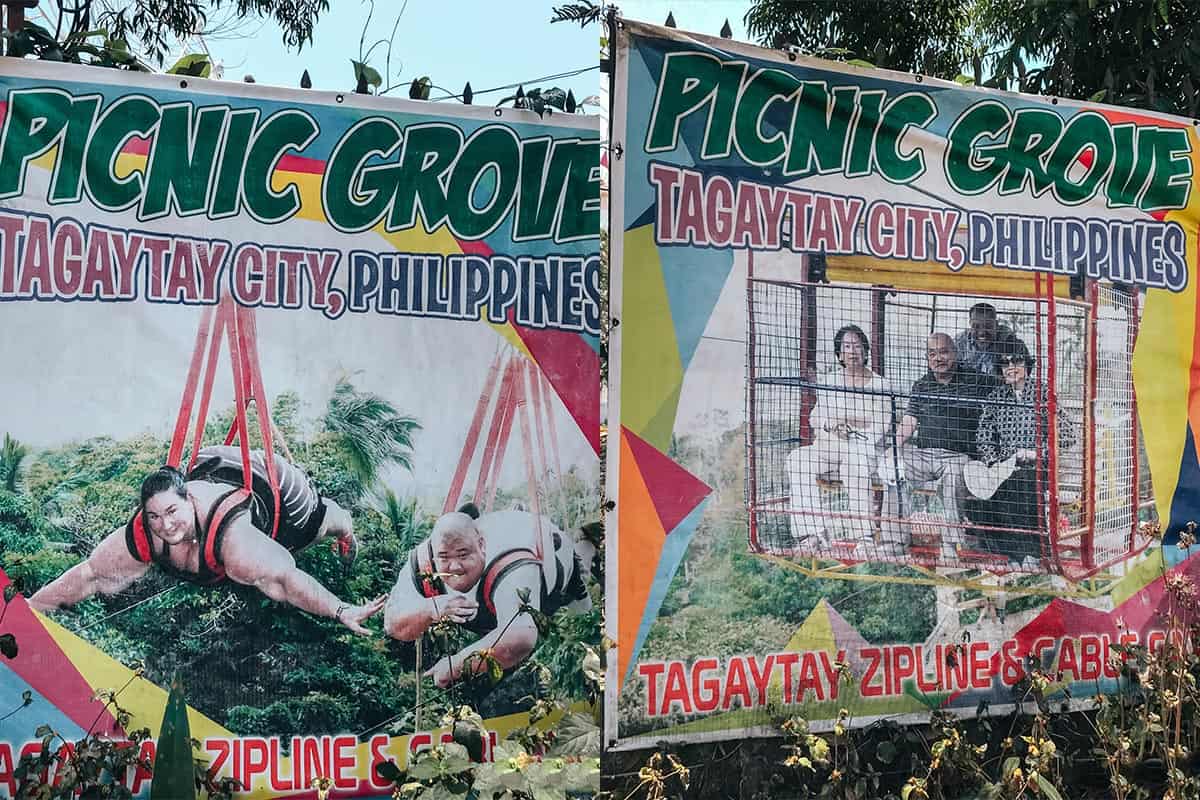 This is a vast park in Tagaytay that has been a go-to destination over the years, especially for those who are into picnics and bonding with family. Aside from the usual tables where you can have a picnic, you can also enjoy the zipline and cable car ride for a fee.
Operating Hours: 7:00 AM – 7:00 PM
Entrance Fee: P50
Parking Fee: P35 (cars), P50 (vans)
Hut/Cottage Rental: P100 – 500
People's Park in the Sky
Built in 1979, it was originally called Palace in the Sky. It was constructed during the Marcos era to be a guest house for US President Ronald Reagan, but the construction halted when the visit was canceled. People's Park in the Sky is still a popular attraction in Tagaytay until this day because of the amazing view.
Entrance Fee: P50
Getting There: Rent a tricycle at Olivarez to take you to People's Park in the Sky. The fare is P50 per person or P150 for special trip.
Puzzle Mansion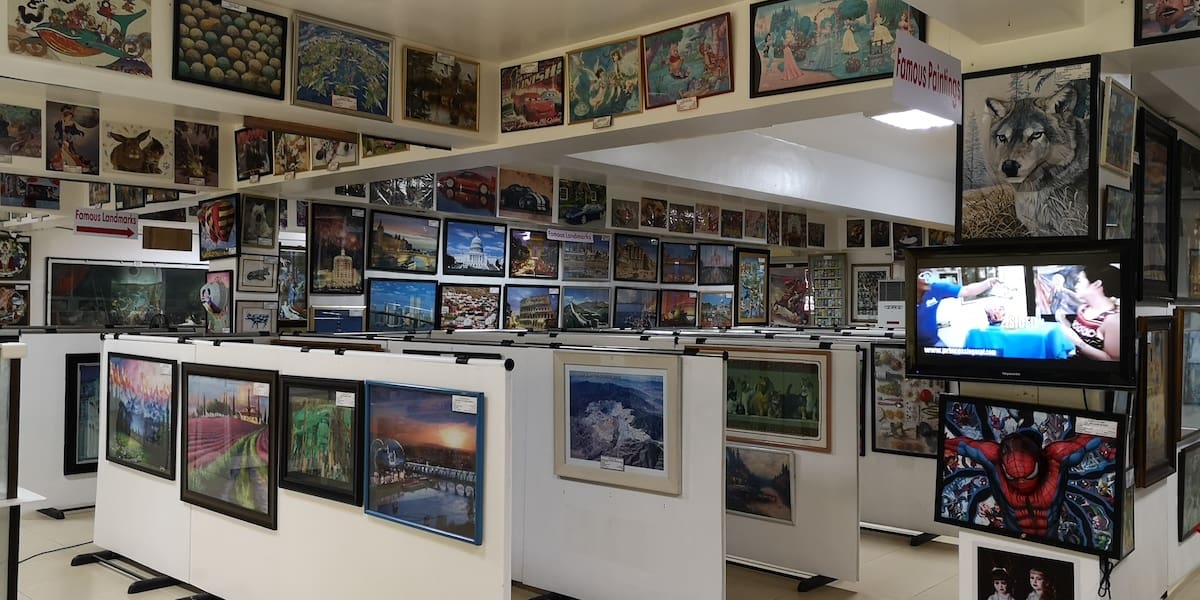 The Puzzle Mansion currently has the largest collection of jigsaw puzzles in the world as recognized by Guinness Book of World records. The museum holds over a thousand jigsaw puzzles owned by Georgina Gil-Lacuna. It is located in Barangay Asisan, in what used to be the rest house of the Gil-Lacuna family.
Opening Hours: 8:00 AM – 5:00 PM
Entrance Fee: P100
Getting There: Board a jeepney bound for Alfonso or Nasugbu at Olivarez/Rotonda (P15). Tell the driver that you'll get off at Barangay Asisan. Make sure that he will drop you off at the corner going to Puzzle Mansion. Then, take a tricycle to Puzzle Mansion (P100).
Fruit and Plant Shopping
Tagaytay is also home to numerous roadside fruit and plant stalls. Aside from the sweets, fresh produce and colorful flowers are some of the many things that tourists bring home from their Tagaytay trip. There's also the fruit market near the junction of Santa Rosa and Tagaytay. For plantitos and plantitas, some even go further the narrow barangay streets to buy cheaper plants.
Twin Lakes Shopping Village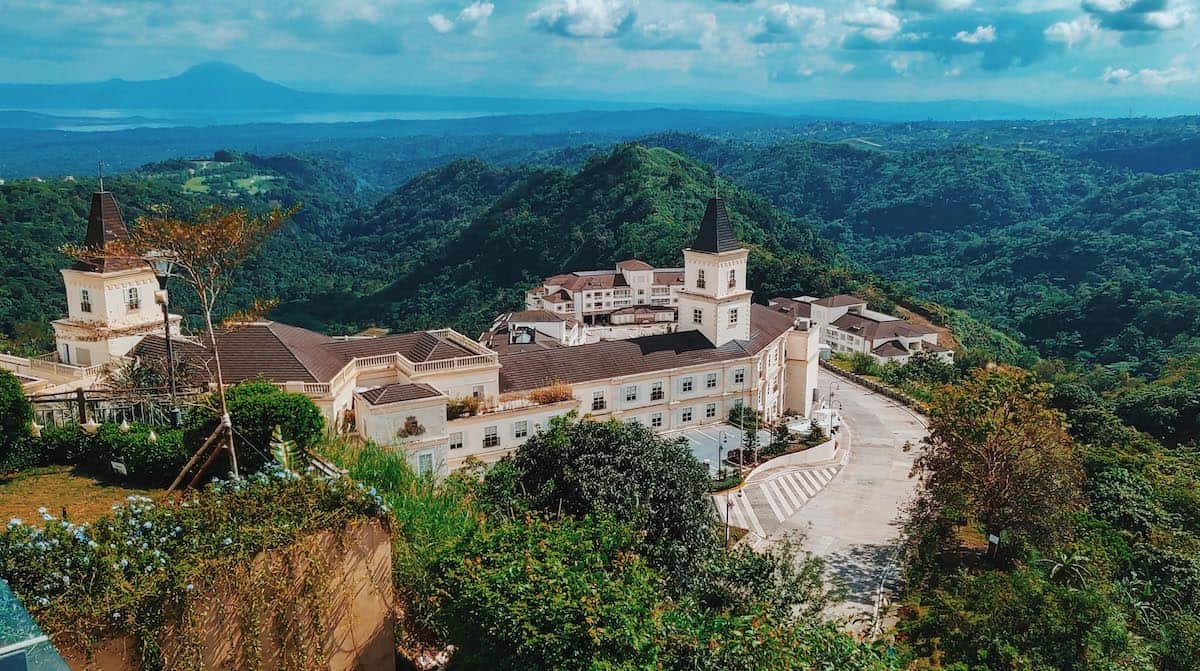 Contrary to popular belief, Twin Lakes is not really under the jurisdiction of Tagaytay but of Laurel, Batangas. But because of its proximity to Tagaytay, it is understandably labeled as such. Located near the boundary of Tagaytay in Cavite and Nasugbu in Batangas, it has become a favorite stopover or side trip for many road trippers. There are dining places, a convenience store, a supermarket, ATMs, restrooms, and great views of the Taal Lake and the Taal Volcano.
Caleruega
Also known as Transfiguration Chapel, Caleruega Church is one of the most well-known wedding venues in the Philippines. It is located in Nasugbu, Batangas, but you can easily visit from Tagaytay. This church also has retreat houses and beautiful gardens.
Opening Hours: 8:00 AM – 5:00 PM (Monday – Sunday), 11:00 AM (Sunday Mass Schedule)
Entrance Fee: P30
Getting There: Take a jeepney bound for Nasugbu at Olivarez/Rotonda (P25). Ask the driver to drop you off at Hillcrest/Evercrest. Take a tricycle from Hillcrest to Caleruega Chapel (P50).
---
Best Time to Visit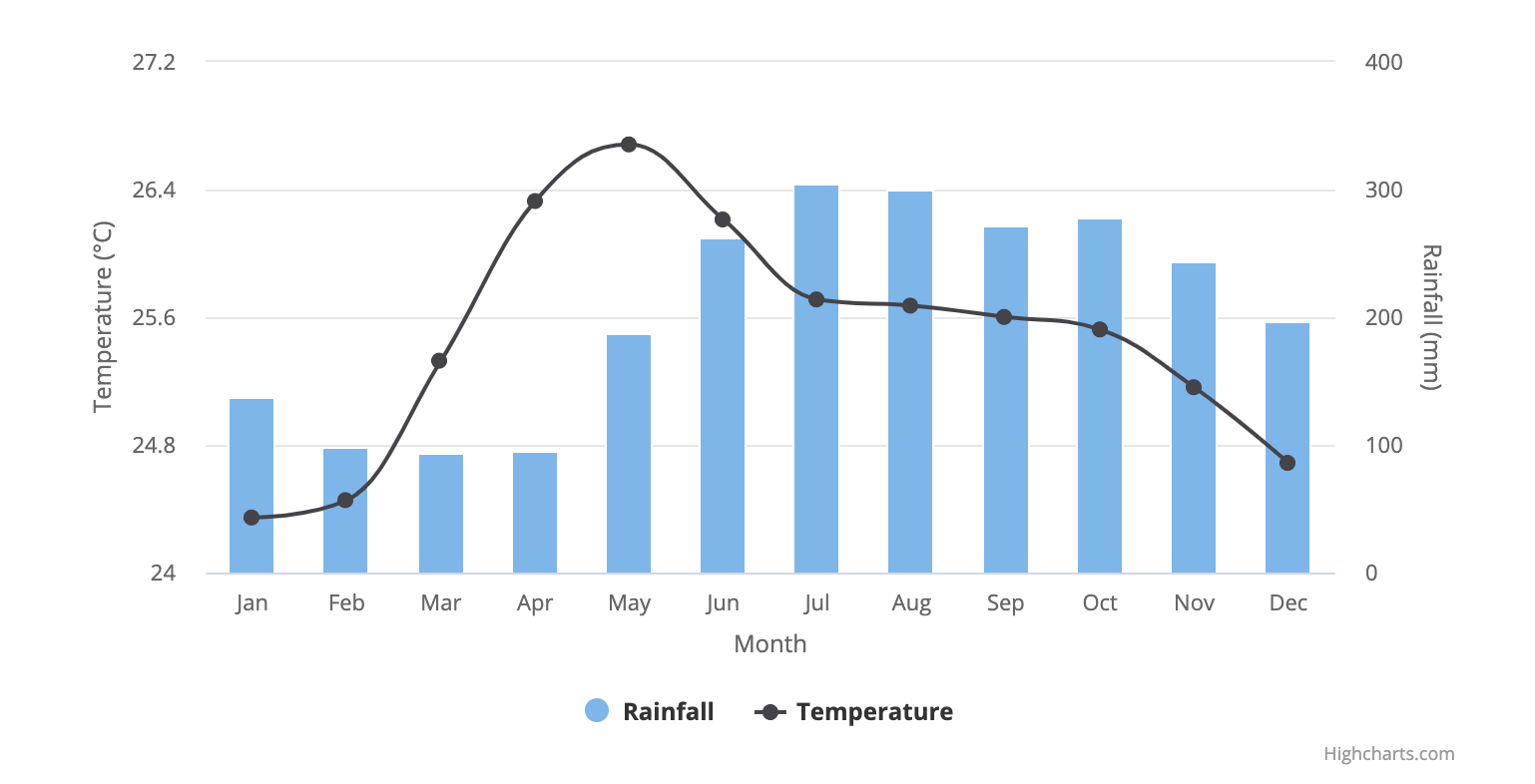 December and January are usually the coldest months, but the temperature is still pretty cool year-round. If you want to explore a few tourist spots during your visit, it is best to go from November to May when there's less chance of heavy rainfall.
---
Recommended Restaurants
Leslie's: Located in Tagaytay-Nasugbu Highway, Leslie's is a local favorite. Make sure you order a bowl of Bulalo that is perfect for the cold weather.
Josphine Restaurant: Another local favorite, especially for families, Josephine Restaurant is another place where you can get a hearty bowl of Bulalo or Bulalo Steak. Located along Aguinaldo Highway, the restaurant also offers a great view of the Taal Volcano.
Antonio's Restaurant: If you're celebrating a special occasion, Antonio's restaurant is an elegant place where you can dine. The parking lot seems full whenever we pass by. We love the Mayura Beef Burger and the Fresh Corned Beef. It's on the pricey side of the spectrum.
Sonya's Garden: Sonya's Garden has a restaurant, bed and breakfast, and spa. This garden located in Alfonso, Cavite is perfect for those who want a more relaxing ambiance.
Bag of Beans: This homegrown restaurant has already made a name for itself because of the generous servings of its dishes. They currently have 6 branches in Tagaytay with the main branch near Mendez Crossing.
Mushroomburger: Mushroomburger is a budget-friendly restaurant located along Tagaytay-Nasugbu Highway. It's a fast-food-style restaurant that features food with mushrooms as the main ingredients. This place is just a 10-minute walk from SkyRanch so you can have your early lunch here before going to the amusement park.
Balay Dako: This restaurant is famous for its freshly cooked piaya. This popular restaurant has spacious dining areas — both indoor and al fresco — and a great view of the Taal Lake and the Taal Volcano. It also has a pasalubong shop located near the waiting area.
---
Practical Travel Tips
Always check for updates. Some adjustments have to be taken for establishments and attractions to operate during the new normal. Don't forget to contact or visit the official websites or Facebook pages of the attractions and activities for announcements and updates before going.
Bring sun protection. Although Tagaytay has a relatively cooler temperature, the sun can be unforgiving sometimes, especially in summer. Don't forget to bring a hat/cap and sunglasses or apply sunscreen.
Practice Sustainable and Responsible Tourism. Support the local community by purchasing their products. Help lessen the trash by bringing reusable water bottles and eco-bags to avoid the use of single-use plastic.
Be mindful of others. Respect other people's personal space and time. When taking photos, don't take too long because others are waiting for their turn too. When walking on the street, make sure you are not blocking other passers-by. Avoid talking too loudly, especially if you are inside a museum or a sacred place.
Follow the town's rules and regulations. Make sure you know the travel safety protocols and requirements and follow them.
---
Sample Itinerary
Here's a sample overnight or 2-day itinerary for Baguio. Feel free to make adjustments depending on your preferences.
Day 1
-Go to Caleruega
-Caleruega
-Travel to Twin Lakes Shopping Village
-Lunch
-Travel to hotel
-Check in at the hotel
-Go to Skyranch
-Skyranch
-Downtime at a café or coffee shop
-Dinner
-Back to the hotel
-Relax
-Lights off
Day 2
-Check out of the hotel
-Travel to Puzzle Mansion
-Puzzle Mansion
-Travel to Picnic Grove
-Picnic Grove
-Lunch
-Pasalubong shopping
-Travel back to Manila
---
Reminders