Dubbed as the Summer Capital of the Philippines, Baguio is one of the destinations in the country frequented by tourists because of its cooler climate. Its cool temperature is attributed to its location which is 1,540 meters above sea level in Luzon's tropical pine forests ecoregion. It is the reason why Baguio is also known as the City of Pines.
Baguio is a highly urbanized city and the economic center of the Cordillera Administrative Region. It was built as a hill station at the beginning of the American Colonial Period in 1900. In 1903, Kennon Road was built and became the first road that connected the city to the provinces of Pangasinan and La Union. During the same year, Camp John Hay was constructed while the rest of the city was planned out in 1904 by Architect Daniel Burnham.
Today, Baguio is among the top tourist destinations in the country with many attractions like Burnham Park, Minesview Park, and Botanical Garden. From Baguio, you could also easily visit attractions in La Trinidad.
ATTENTION! Don't forget to accomplish all the requirements prior to your visit. Check the official websites or Facebook pages of Cordillera Tourism and Baguio Tourism for updates and announcements. Read more about Baguio's new normal travel policies and requirements here: BAGUIO TRAVEL REQUIREMENTS!
---
Best Area to Stay
If you picture Baguio on the map, Burnham Park is at the center of the city. A lot of attractions and other places of interest are somewhat surrounding it. Jeepney terminals are near the park and most key roads are connected to it too. So if it's your first time visiting Baguio and you want to see most of the attractions in the city, it is best to book accommodation near Burnham Park. But if you want some peace and quiet, you should book a hotel far from Burnham Park.
Top Hotels
There are many accommodation options in Baguio, but here are the top-rated hotels in the city.
---
Getting There
NOTE: This section is a work in progress. Due to the pandemic, changes may have occurred. Please contact the LGU, terminal, or bus company directly for the latest schedule, routes, and fares.
Depending on which part of Manila you're coming from, Baguio is usually four to six hours away. The travel time also depends on which route the bus takes and whether it would make a stop along the way.
There are several bus companies that have routes from Manila to Baguio. There are also regular buses and high-end buses like JoyBus and Victory Liner's first-class service. The first-class buses have wider legroom and free snacks. They also have a shorter travel time of 4-5 hours since they take NLEX, SCTEX, and TPLEX non-stop. The regular buses usually take Dau Exit (NLEX) or Conception Exit (SCTEX) and make at least one stop.
Here are the fares for the different buses:
Victory Liner (Cubao Terminal)

Regular Aircon: P485
First Class: P800

Victory Liner (Pasay Terminal)

Regular: P496
First Class: P800

JoyBus (Cubao Terminal)

Deluxe: P720
Premier: P740

JoyBus (Pasay Terminal)

Deluxe: P730
Premier: P760

Genesis Transport (Cubao Terminal)

Regular Aircon: P475

Genesis Transport (Pasay Terminal)

Regular Aircon: P485
ATTENTION! If you decided to take Victory Liner, read the new normal schedule and travel requirements here: 2021 VICTORY LINER BUS SCHEDULE & TRAVEL REQUIREMENTS
---
Tourist Spots & Attractions
ATTENTION! Because of the pandemic, the opening hours and rates might change from time to time. Make sure you check the official websites or Facebook pages of the attractions and tourist spots prior to your trip.
Camp John Hay
Camp John Hay was established in October 1903 as a rest & recreation station for the US Armed Forces in the Philippines. During World War II, the Japanese bombed the camp, eventually becoming the headquarters of General Tomoyuki Yamashita. After the war, Camp John Hay returned to the hands of the Americans until it was turned over to the Philippine government. Today, it is now both a tourist destination and a forest watershed reservation in Baguio.
Among the things you can do here are: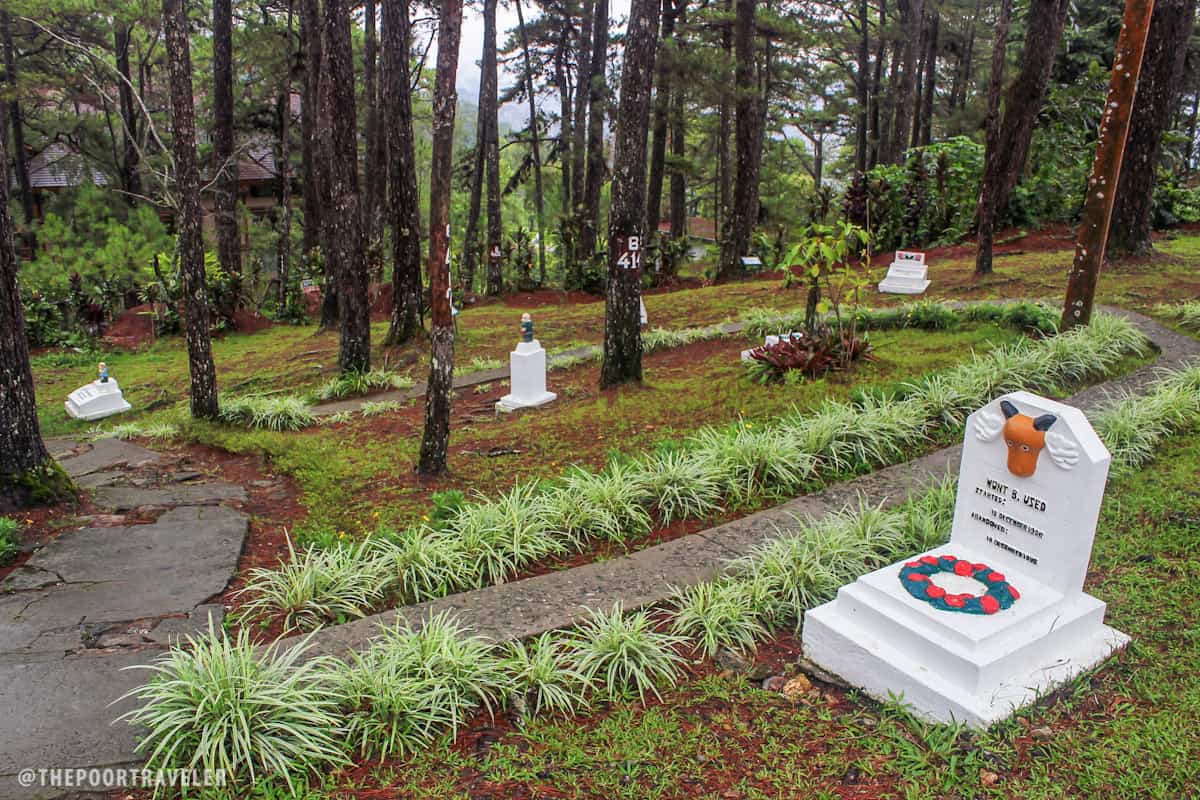 Treetop Adventures: With rides like the Superman Ride (zipline), Tree Drop or harnessed free fall, and Canopy Ride.
Yellow Trail: Also called the Forest Bathing Trail. It is a hiking path that will take you around the pine forest. The trek is 1.5km and takes around 2 hours. The usual route is uphill and starts at Le Monet Hotel and ends at Scout Hill, but you can do it the other way around if you think you won't be able to manage it.
Bell House: Served as the official vacation residence of the Commanding General of the Philippines. Now, it is a museum that features American colonial architecture.
Butterfly Garden: It's nice if you're with kids or if you've never been to a butterfly garden, but otherwise, you may skip this.
Cemetery of Negativism: Also known as The Lost Cemetery. It is a symbolic site for burying negative thoughts, emotions, and outlooks.
Mines View Park
Mines View Park is named such because it has a view of the gold and copper mines of Itogon below. You can also get a fantastic view of the sunrise from the viewpoint. And around the park are lots of souvenir shops.
Burnham Park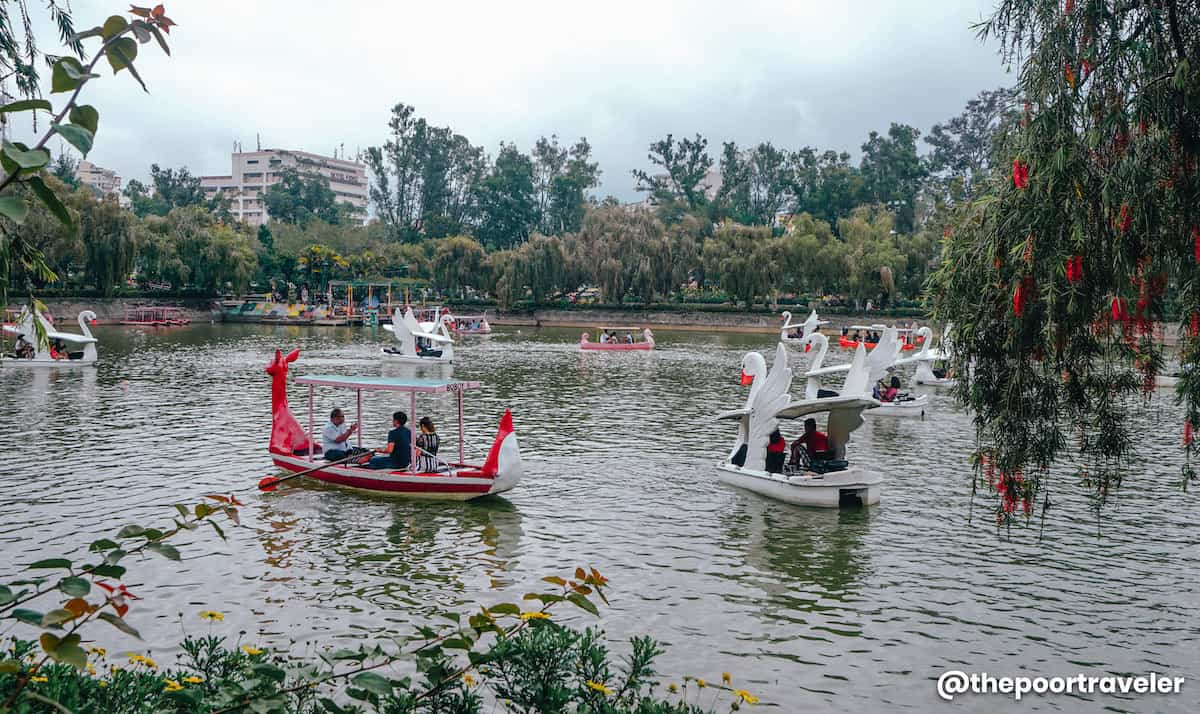 One of Baguio's well-known attractions, Burnham Park has a lot of activities that can be enjoyed by different types of travelers, especially those who are with their families. It also has several smaller places of interest like the Melvin Jones Grandstand, Orchidarium, and Children's playground. You can rent a bike or go-kart to go around the park. There are also swan boats that you can rent along the Burnham Lagoon.
Rental Fees: Go Kart (P50/30 mins); Chopper/Big Bike (P75/30 mins); Boat (P100/30 mins, good for 5 pax, additional P50 if with rower)
Botanical Garden
Another popular tourist spot in Baguio is Botanical Garden. Located along Leonard Wood Road, it is a spot where you can be surrounded by greenery not too far from the city center. The entrance to the garden is free.
La Trinidad Strawberry Farm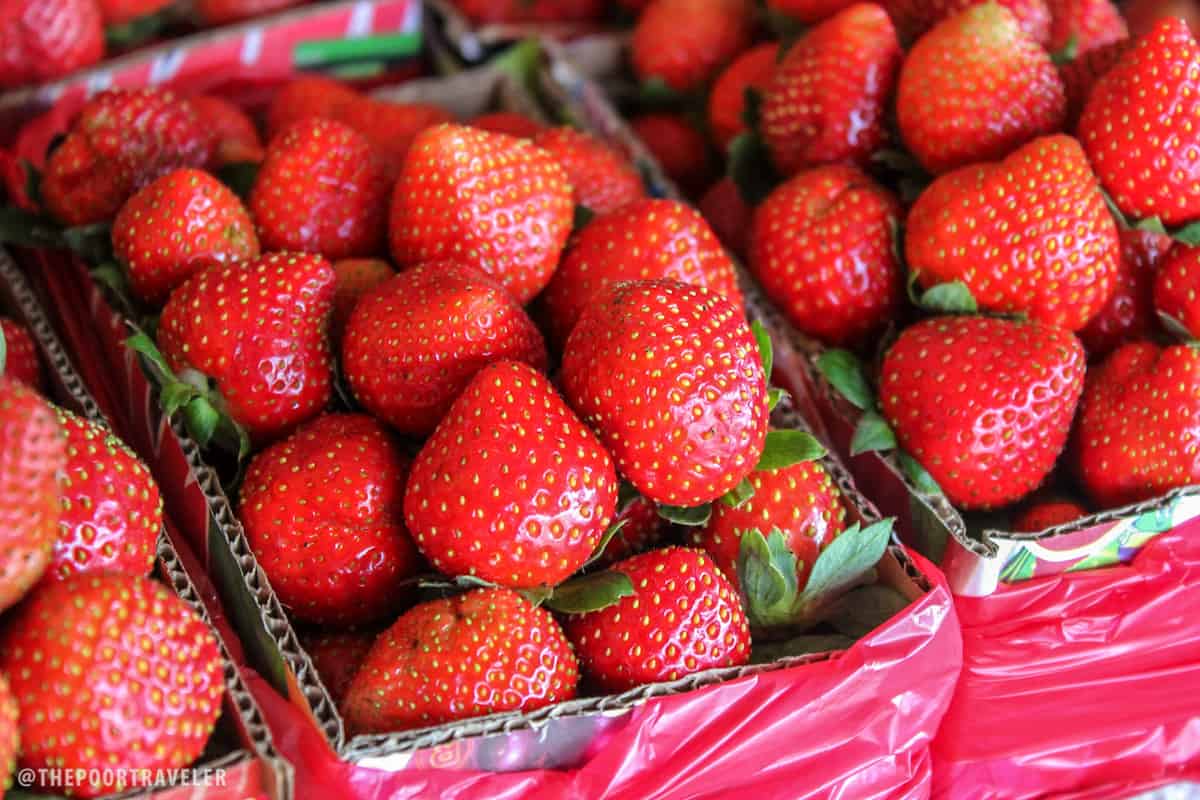 Baguio is popularly known for strawberries. However, the most visited strawberry farm is located in La Trinidad which is 30 minutes away from Baguio. You can buy strawberries here, but if you want to experience picking them yourself, you have to pay an additional fee.
The Mansion
The Mansion was built as the official residence of the US Governor-General in the Philippines in 1908. It now serves as the official summer palace of the President of the Philippines. It is located just a short walk away from Wright Park.
Colors of Stobosa (Mural Houses)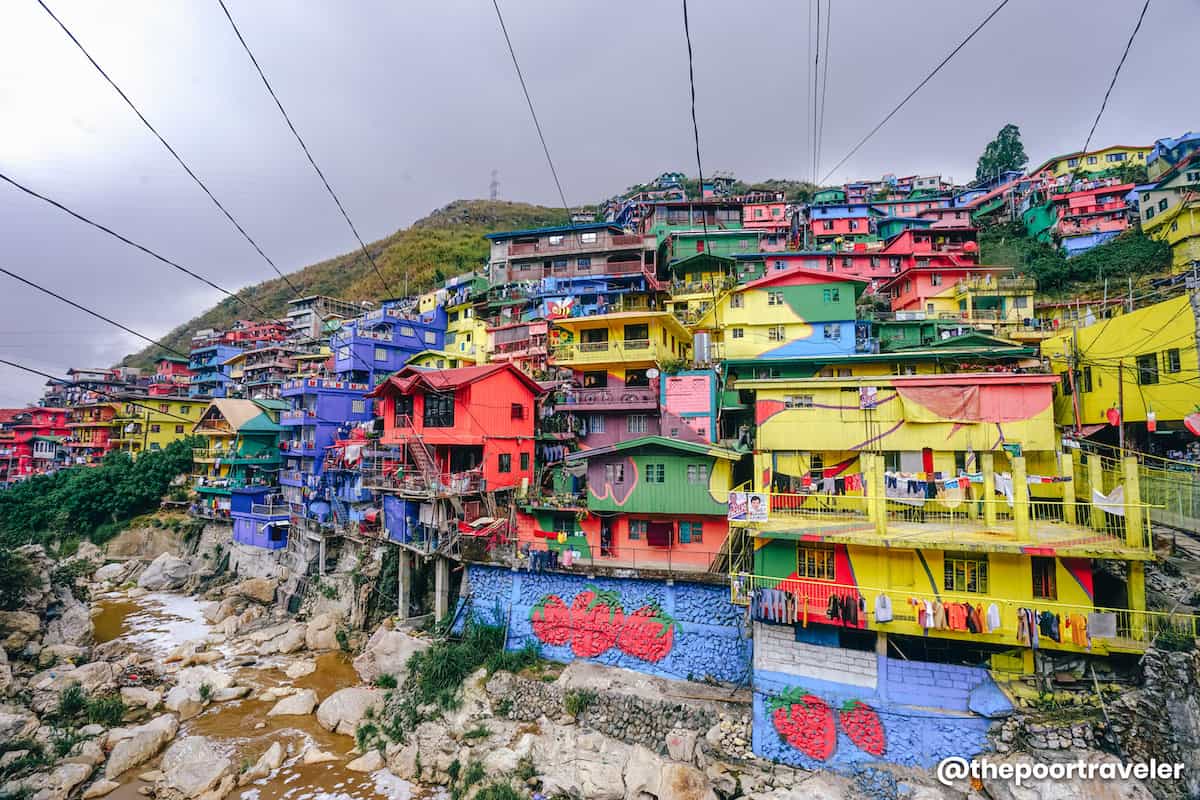 This is one of the newest attractions in La Trinidad situated not too far away from the strawberry farm. This cluster of colorful houses on a hillside is a community project formally called the Stobosa Hillside Homes Artwork. Stobosa stands for the names of the three sitios that make up this giant artwork by the designers of Tam-awan Village, Stonehill, Botiwtiw, and Sadjap.
Wright Park
Located just outside The Mansion, Wright Park is a forested area named after Governor-General Luke Edward Wright. There are a number of horses available here if you want to go horseback riding.
Horseback Riding Fee: P200/7 rounds
Bell Church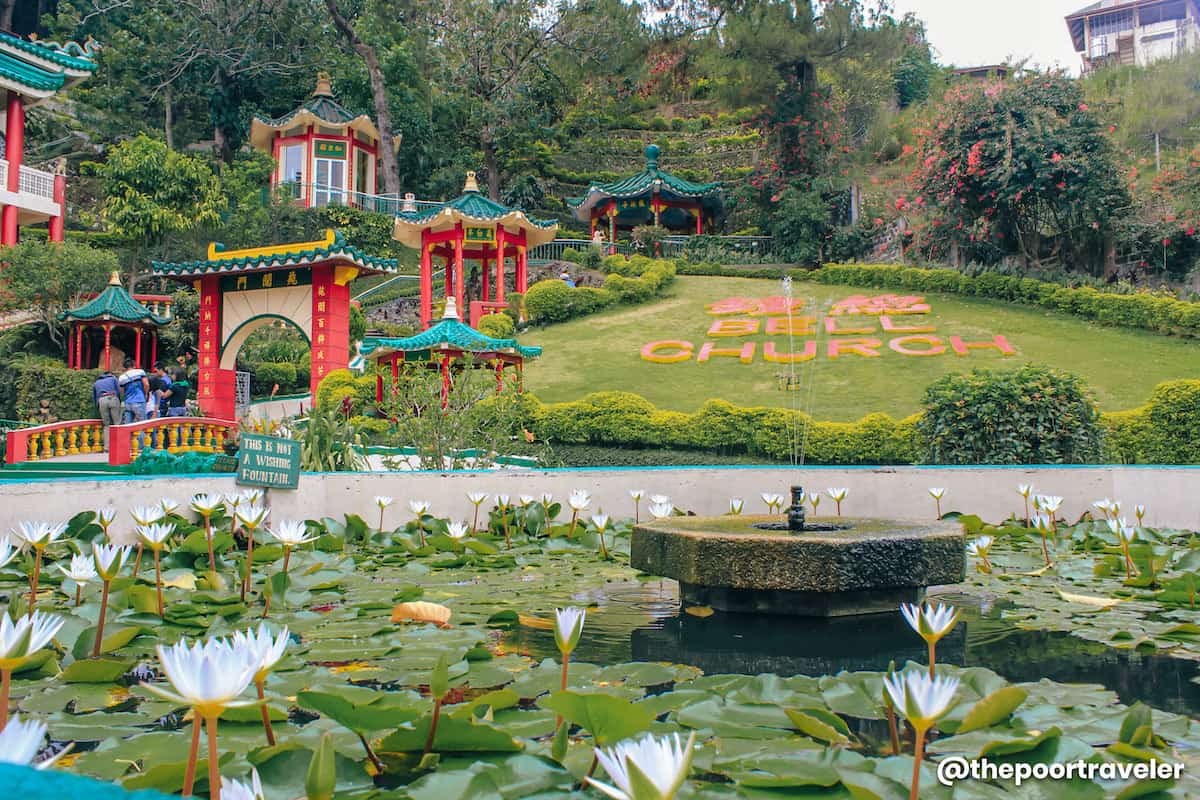 The Bell Church is one of the most well-known attractions in the Baguio-La Trinidad area. It is a Chinese Temple located within walking distance from the Stobosa Hillside Artwork. This temple is run and managed by a Filipino-Chinese religious organization established back in 1960 by immigrants from Canton or Guangzhou.
Tam-Awan Village
Tam-awan village is a reconstructed traditional Cordilleran village. Set in a forest, it is also called Garden in the Sky. It was established by the Chanum foundation in 1988 using only traditional materials to showcase the craftsmanship and aesthetics of the Cordillera. When you visit the village, you will see Ifugao and Kalinga model houses. The entrance fee costs P60.
BenCab Museum

A short drive from Baguio's city center is BenCab Museum which houses the works of Benedicto Reyes Cabrera, a National Artist for visual arts. The museum also displays works of other Filipino contemporary art masters.
Operating Hours: 9:00 AM – 6:00 PM (Tuesdays – Sundays, last entry at 5:30 PM); CLOSED (Closed on Mondays, Christmas, and New Year's Day)
Entrance Fee: P120
Getting There: At the public market, ride a jeepney bound to Asin (around P20).
---
Best Time to Visit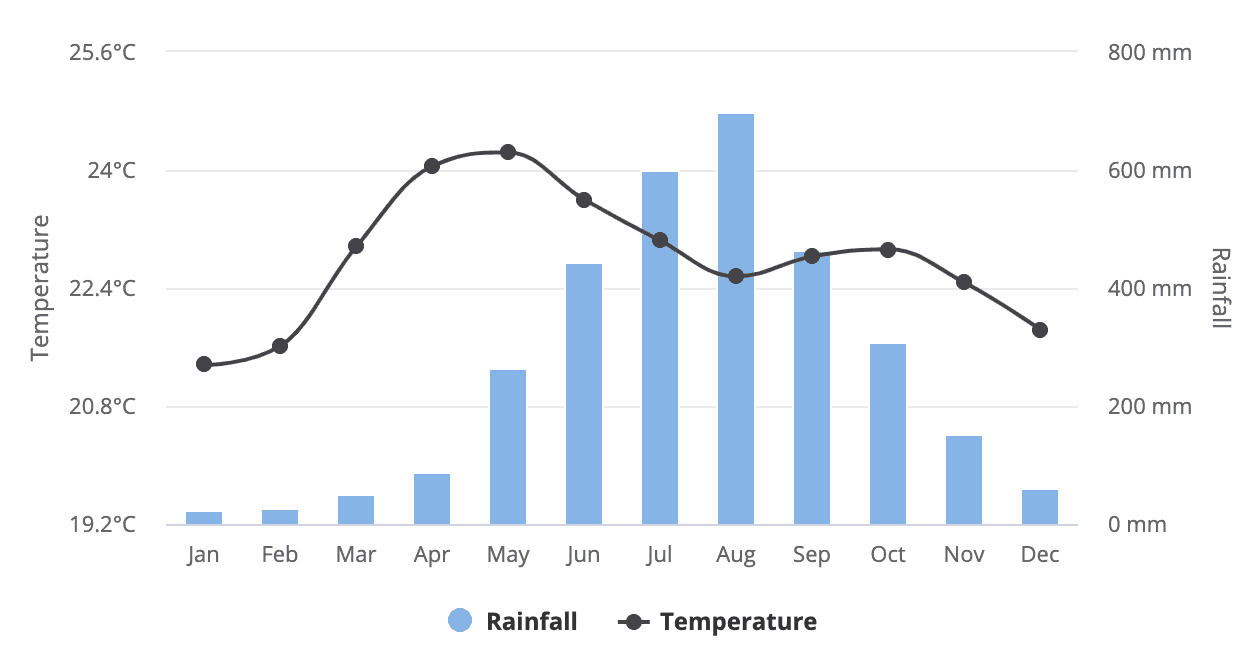 Baguio has a cool temperature year-round, but if you're planning on visiting various attractions, November to April are the driest months. There's a low chance of heavy rains which is ideal if you want to explore.
If you want to enjoy the Summer Capital at its coldest, you should visit around December to February. Moreover, if you want to experience the Panagbenga, the Baguio Flower Festival, it happens in February. However, expect that there will be huge crowds during this time.
The rainy period is from June to September. If you don't have plans to explore but simply want to have time to be alone and reflect, Baguio is still great around this time of the year.
---
Practical Travel Tips
Always check for updates. Some adjustments have to be taken for establishments and attractions to operate during the new normal. Don't forget to contact or visit the official websites or Facebook pages of the attractions and activities for announcements and updates before going.
Leave nothing but footprints. Let's do our part to keep Baguio clean. Make sure to throw away your trash properly and don't litter on the streets.
Practice Sustainability. Support the local community by purchasing their products. Help lessen the trash by bringing reusable water bottles and eco-bags to avoid the use of single-use plastic.
Be mindful of others. Respect other people's personal space and time. When taking photos, don't take too long because others are waiting for their turn too. When walking on the street, make sure you are not blocking other passers-by. Avoid talking too loudly, especially if you are inside a museum or a sacred place.
Follow the city's rules and regulations. Make sure you know the travel safety protocols and requirements and follow them.
---
Sample Itinerary
Here's a sample 3-day itinerary for Baguio. Feel free to make adjustments depending on your preferences.
Day 1
-Arrival in Baguio
-Check in at the hotel
-Lunch
-Go to Camp John Hay
-Chill at Burnham Park
-Back to the hotel
-Dinner
-Lights off
Day 2
-Breakfast
-BenCab Museum
-Lunch
-Bell Church
-Stobosa Houses
-Strawberry Farm
-Dinner
-Lights off
Day 3
-Early checkout at the hotel, leave bags
-Pass by Laperal White House
-Botanical Garden
-Wright Park
-The Mansion
-Lunch
-Pick up bags at the hotel
-Travel back to Manila
---
Reminders