La Union is one of the popular beach destinations in the Philippines. Located in Ilocos Region, it is also a known surfing spot and is dubbed as "the Surfing Capital of Northern Luzon". Only five to seven hours away from Manila, it is one of the most easily accessible surfing hotspots in the country. It may also be a jump-off point to other tourist destinations in the region like Ilocos, Baguio, and Pangasinan.
Over the years, La Union has evolved a lot as a tourist destination as the number of resorts and restaurants has steadily grown, and more attractions emerged. Aside from surfing and the beach, there are also other nature sites like waterfalls that you can explore in La Union. Some restaurants in the province have also grown popular, giving tourists more reasons to visit.
ATTENTION! Don't forget to accomplish all the requirements prior to your visit. Take note of the new normal travel rules and guidelines and make sure to comply with them. It's best to check the official website of La Union Provincial Government or the Facebook page of Region 1 Tourism for updates and announcements.
---
Best Area to Stay
The two most popular destinations in La Union are San Fernando and San Juan. These towns are just next to each other so if you're looking for a place to stay, you may choose depending on the type of accommodation you prefer and your itinerary.
If you want to stay in a luxury hotel, Thunderbird Resorts in San Fernando is your option. If you're going to La Union to surf or simply enjoy the beach, stay in San Juan. There are plenty of inns and hostels by the beach and along the national highway. If a beachfront hotel is your preferred accommodation, there are a number of hotels along Urbiztondo Beach in San Juan.
Top Resorts
If you're looking for a hotel to stay in, here are the top-rated hotels in the province.
---
Getting There
NOTE: This section is a work in progress. Due to the pandemic, changes may have occurred. Please contact the LGU, terminal, or bus company directly for the latest schedule, routes, and fares.
Whether you're driving your own car or taking a bus, La Union is very accessible from Manila. Travel time is five to seven hours, but if you're coming from Ninoy Aquino International Airport (NAIA), which is located at the southern end of the metro, it may take one to two hours longer, depending on the traffic.
If you're taking public transportation, there are several bus companies that offer the Manila-La Union route. Here are three of the most preferred operators.
Viron Transportation Co., Inc.
1209 Dapitan corner Blumentritt Streets, Sampaloc, Manila
Partas Transportation – Cubao
816 Aurora Boulevard, Cubao, Quezon City
Dominion Bus Lines
EDSA corner New York St., Quezon City
If your accommodation is in San Fernando, ride a bus going to San Fernando. The fare is around P400. If you're staying in Urbiztondo, board a bus going to Laoag or Vigan and tell the conductor that you will get off in Urbiztondo. The fare is P425. You may also take a bus to San Fernando and then ride a tricycle going to Urbiztondo (P100).
---
Tourist Spots & Attractions
ATTENTION! Because of the pandemic, the opening hours and rates might change from time to time. Make sure you check the official websites or Facebook pages of the attractions and tourist spots prior to your trip.
Urbiztondo Beach
If you want to surf in La Union, Urbiztondo Beach is the spot for you. There are different surf spots that cater to different types of surfers. If you haven't tried surfing before, there are a bunch of groups and resorts offering surfing lessons at P500/hour. If you know how to surf, there are also board rentals available.
Tangadan Falls
Located in San Gabriel, this waterfall is one of the many in La Union. The trek to the waterfall is 45-60 minutes and involves crossing the Baroro River so expect that you would get wet along the way. When you reach the waterfall, you may take a dip at the pool under the cascade. To get there from San Juan, ride a jeepney to San Gabriel (P16) and then charter a tricycle to the start of the trail (P30).
Ma-cho Temple
This Taoist temple, located in San Fernando, was built by the Chinese community in the city. The temple is perched atop a hill 70 feet above sea level and is facing the sea. It is befittingly dedicated to Ma-cho, the goddess of the sea. Although it is a Taoist temple, it is open to everyone regardless of religion.
Pugad: Pugo Adventure
If you want to do extreme activities, visit Pugad: Pugo Adventure in Pugo, La Union. Some of the things you can do are rappelling, ziplining, ATV driving, and wall climbing.
Tapuakan River
Another attraction in Pugo is the Tapuakan River, located not too far from Pugad. The stream has clear waters flowing through the river to the giant boulders. It's a panoramic spot where you can have a relaxing time.
Pebble Beach
This beach in Luna may not have fine sand, but it definitely has its own charm. While in Luna, you should also drop by Luna Watch Tower and Bahay na Bato. If you want to make a stop at another waterfall, Occalong Falls is only a short trek away. To get there from San Juan, hop on a bus bound to Laoag/Vigan and ask the conductor to drop you off at Balaoan. The fare is P30. Then, take a tricycle to Luna. The fare is P10.
---
Best Time to Visit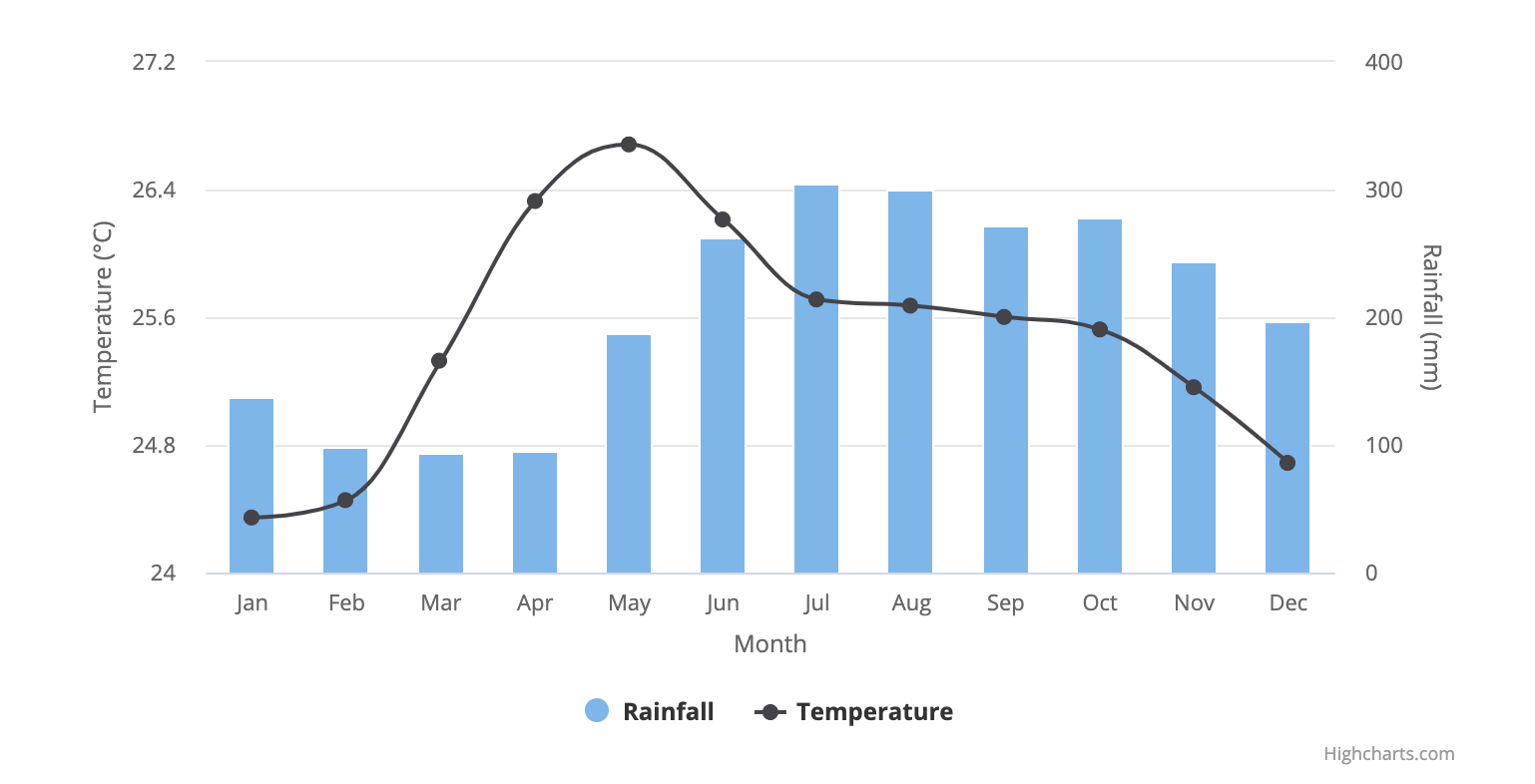 The best time will depend on your reason for going to La Union. If you're going there to surf, October to March is the season when the big waves are present in San Juan. However, October and November are rainy months so if you want to surf during fair weather, visit between December to March.
If you're taking a trip to relax on the beach, April to May is perfect. But keep in mind that these are summer months, and summer weekends are usually packed and rates are higher.
---
Recommended Restaurants
Flotsam and Jetsam Hostel: Apart from being a popular hostel in Urbiztondo Beach, Flotsam and Jetsam has a restaurant that's open to non-guests too. They offer a variety of dishes — pizzas, pasta, and local food.
Gefseis Greek Grill: If you like Greek cuisine, you'd want to try this restaurant. Aside from the food, this open-air resto has a great ambiance too.
Surf Shack: Surf Shack is a popular spot for both locals and tourists to drink and enjoy live music. They serve bar favorites like buffalo wings, pizza, and finger foods. You can also get kebabs and Pinoy barbeque from the stand by the entrance.
El Union Coffee: A known cafe in La Union, El Union Coffee serves local and international selections. Their signature drink is the Dirty Horchata, a rice-milk-based drink with a shot of espresso.
---
Practical Travel Tips
Always check for updates. Some adjustments have to be taken for establishments and attractions to operate during the new normal. Don't forget to contact or visit the official websites or Facebook pages of the attractions and activities for announcements and updates before going.
Leave no trace. Don't litter on the beach. If you have trash, make sure to throw it in a garbage bin. If you can't find any, take the trash with you until you can find one.
Practice sustainability. Help lessen the trash by practicing sustainability. Simple sustainable travel hacks like bringing your own water bottle is a start.
Use coral-friendly sunscreen. It is best to wear sunscreen to give your skin some protection against the harmful UV rays, but make sure to choose a sunscreen that is coral-friendly. Avoid products that contain chemicals that are harmful to marine life like oxybenzone, benzophenone, and parabens.
Follow the rules and regulations. Make sure you know the travel safety protocols and requirements and follow them.
---
Sample Itinerary
Here's a sample 3-day itinerary for La Union. Feel free to make adjustments depending on your preferences.
Day 1
-Arrival in San Juan
-Drop off bags at the hotel
-Breakfast
-Ride a jeepney to San Gabriel
-Take a tricycle to Tangandan Falls jump-off point
-Trek to Tangandan Falls
-Go back to San Juan
-Lunch
-Check in at the hotel
-Surf in Urbiztondo Beach
-Dinner
-Lights off
Day 2
-Breakfast
-Make your way to Luna
-Go to Luna Pebble Beach and Ruins
-Take a tricycle to Occalong Falls
-Occalong Falls
-Lunch
-Take a tricycle to Ma-cho temple
-Ma-cho temple
-Go back to San Juan
-Dinner
-Lights off
Day 3
-Breakfast
-Surf or swim at the beach
-Freshen up
-Pack up
-Check out
-Travel back to Manila
---
Reminders