La Union, commonly referred to as Elyu is a popular surfing spot in the Ilocos Region in the island of Luzon. Dubbed as the Surfing Capital of the North, the province has long been a destination frequented by both local and international surfers. Aside from the massive waves, Elyu's historical spots and other natural attractions also entice visitors to its shores.
A top pick for a quick escape from the city, Elyu's only a few hours' drive from Manila. Tourists mainly crawl the municipality of San Juan, particularly in Urbiztondo, for some beach bumming. Over the years, Elyu has staked its claim as a foodie haven as more and more restaurants pop up near the beach. Other parts of La Union also offer a diverse set of attractions that you can include in your itinerary. For the history buffs, a stop at San Fernando's historical landmarks like Poro Lighthouse and Pindangan Ruins will complete your itinerary. Other beaches like Darigayos Beach and Nalvo Pebble Beach can also be explored in northern La Union.
If you find yourself stuck in the metro looking for a quick break from its urban chaos, travel up north to La Union! Because many buses ply this route, it's easily accessible via public transportation. For the weary city-dwellers looking for a little sun, make use of this list of Manila to La Union bus schedules & operators.
---
Viron Transit
Viron Transit operates multiple routes to provinces in north Luzon including Pangasinan, Ilocos Sur, Abra, and La Union. They have daily scheduled trips from their Cubao terminal to San Fernando, La Union. If you're going to San Juan, La Union, you can board their Ilocos bound buses and ask to be dropped off at San Juan.
Cubao to San Fernando
7:30 AM
8:15 AM
9:30 AM
10:15 AM
12:00 PM
4:30 PM
7:00 PM
Cubao to Bangued, Abra
2:30 AM
8:45 AM
1:30 PM
10:30 PM
Cubao to Vigan, Ilocos Sur
4:30 AM
11:00 AM
3:00 PM
5:30 PM
9:30 PM
Cubao to Narvacan, Ilocos Sur
Manila to Bangued, Abra
Manila to Laoag, Ilocos Norte/ Vigan, Ilocos Sur
Manila to Narvacan, Ilocos Sur
Fare from Manila to San Juan, La Union is P592.
NOTE: These schedules are likely to change. To verify a trip schedule or other inquiries, give the terminal where you intend to board a call.
Cubao Terminal: (0932) 364-1487
Dapitan (Manila) Terminal: (0932) 3626-838
---
Partas
We've included Partas in this list of Manila to La Union bus schedules & operators as they have consistently transported passengers between Manila and provinces in northern Luzon since 1989.
This bus company also provides cargo delivery services to and from the provinces where they operate. They have different types of buses that you can board: regular aircon, deluxe, super deluxe, and luxury. The deluxe and luxury buses have less seats and a toilet on board, making it a more comfortable option. As trips from Manila to La Union take upwards of 4 hours, you may want to look into said options.
The last published trip schedules on the Partas Facebook page are months old, so we contacted their terminals for the updated schedule. Below are the details. Please note that these schedules might change so make sure to double check with Partas for the updated schedule. You may call their Cubao terminal at 0917 8193 909.
Cubao to La Union
According to the staff we talked to from their Cubao Terminal, these are their only fixed schedules going to La Union. However, they have buses leaving every hour to different provinces up north. Much like Viron Transit, Partas also allows passengers to board buses that ply Ilocos routes, with the option of being dropped of at La Union.
Here are Partas' fares coming from Cubao to San Juan or San Fernando:
To San Juan
Luxury: P783
Super Deluxe: P648
Regular Deluxe: P621
Contact Number: 09178193909
To San Fernando
Luxury: P754
Super Deluxe: P624
Regular Deluxe: P598
Sampaloc to La Union
When we contacted Partas' Sampaloc terminal, we were told they only release trip schedules for La Union the same day. Should you wish to board a bus from this terminal, you may contact them for the schedule. Here is the fare from Sampaloc to La Union.
To San Juan: P621
To San Fernando: P598
Contact Number: 09171096718
Pasay to La Union
If you're coming from Pasay, Partas operates from 2:30 AM to 12:00 AM with a bus leaving every hour. Aside from buses going to La Union, you can also board north bound buses going to Vigan, Laoag, and Abra, among others. If in doubt, just ask the attendant at the ticketing booth or the conductors at the terminal and tell them you destination. Here are Partas' fares for San Juan-bound and Fernando-bound buses coming from Pasay.
To San Juan: P670
To San Fernando: P648
Contact Number: 09178439394
Partas also accepts online bookings through www.biyaheroes.com. Just go to the website and enter your destination and origin along with your desired travel date. Payments can be made with GCash and credit or debit card through PayPal. Note that a service charge and payment processing fee will be added on top of the ticket price when you book online.
Internet access is a must when traveling. If you are a foreign tourist exploring the Philippines, you can either purchase a local SIM card or rent a pocket WiFi unit. SIM cards and pocket WiFi devices are available at the airport.
---
Fariñas Transit
Fariñas Transit ferries passengers from Manila to Laoag and vice versa. As La Union is naturally on the way to Laoag geographically, Farinas Transit routes to Laoag will allow drop-offs at La Union. Their terminal is located in Sampaloc, Manila and they have first class and super deluxe buses that both have on-board toilets.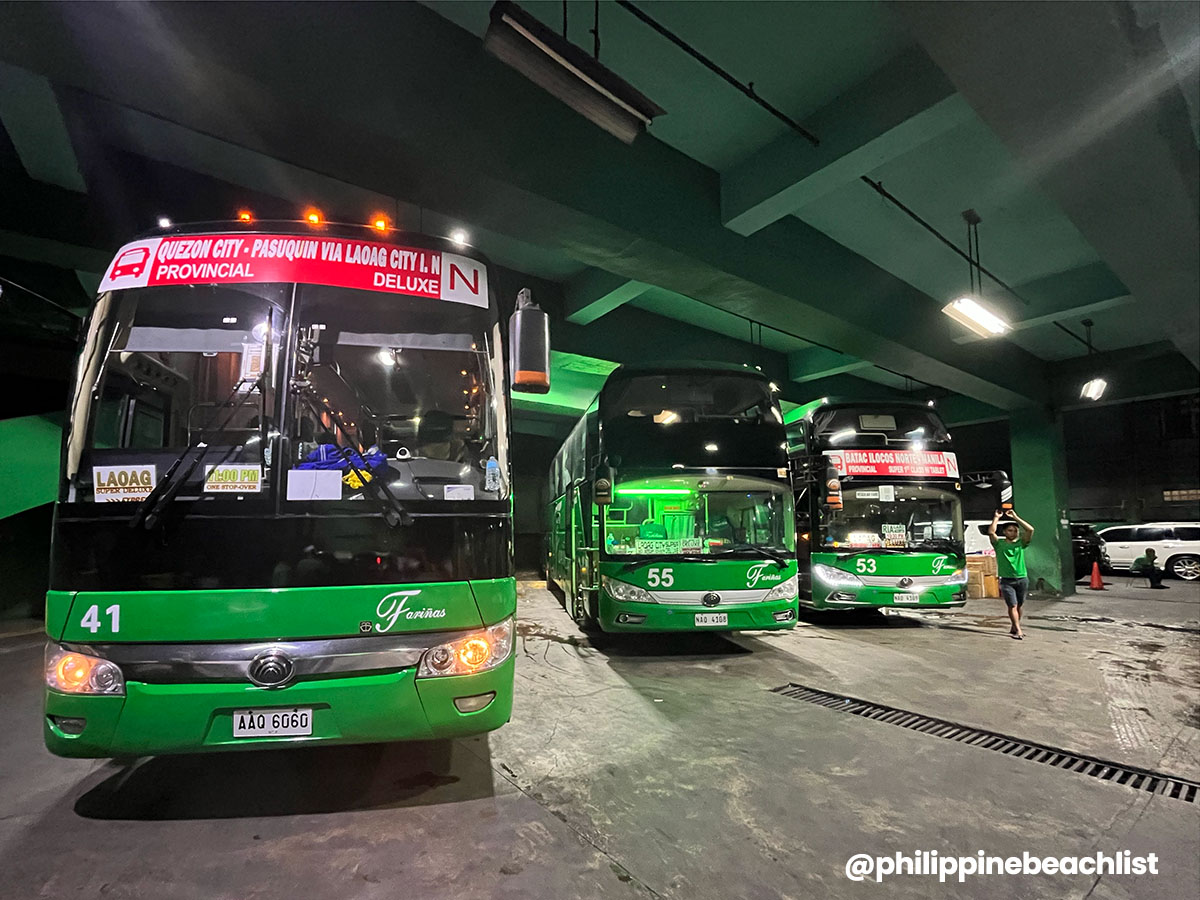 Manila Terminal to La Union
Daily, 6:00 PM to 11:00 PM (bus leaves every hour)
Fares
To San Juan: P570
To San Fernando: P550
---
Where to Stay in La Union
Aside from taking note of Manila to La Union bus schedules & operators, you'll be looking for accommodations next. Maximize your La Union beach trip by staying in San Juan or San Fernando. Having mastered the art of accommodating seaside excursions, these towns are usually just a tricycle or jeepney away from La Union's key tourist attractions.
Hotels, resorts, and hostels are easily available within these two towns of La Union. Here are some accommodations you should consider when you visit La Union:
---
Reminders