Pasay is a compact city bursting at the seams with business establishments, corporate offices, transportation hubs, shopping districts, and hotels. Some important national institutions are stationed here, including the Senate of the Philippines and the Department of Foreign Affairs.
Three of the busiest neighborhoods in the city are Pasay Rotonda, Bay City, and Newport City. Pasay Rotonda is the urban center where bus depots and train stations are located and major thoroughfares meet. Bay City in the reclaimed Manila Bay area hosts high-end hotels, shopping malls, and leisure parks. Newport City, which is just across NAIA Terminal 3, is peppered with luxury hotels and leisure joints.
The Ninoy Aquino International Airport lies between the boundary of Parañaque and Pasay. But most parts of the airport, particularly Terminals 2, 3, and 4, are nestled within the southern portion of Pasay. And because the airport is conveniently located here, getting from NAIA to other places in Pasay is relatively easier compared to other cities. For this article, we will use Pasay Rotonda (EDSA-Taft Junction) as a reference point, since this is basically the city's urban center.
---
By Ride-Hailing Service
Presently, this is the most convenient option for getting out of the airport. Why? Firstly, this is the most straightforward way to get to your destination since you will be dropped off at your pinned location. Secondly, the app will show your total fare instantly even before confirming the ride. Furthermore, you have the option to pay via cashless transactions.
However, note that during peak hours, finding a ride may take you longer than usual. The surcharge can also make your fare spike compared to when you book during non-peak hours.
As of the moment, Grab and Joyride are the only ride-hailing apps we can recommend for transportation to and from the airport. Some companies only offer motorcycle taxis for hire (e.g., Angkas), while others may not be as established as the two previously mentioned.
But before you could use ride-hailing apps like Grab and Joyride, you'll need internet connection. There may be free wifi at the airport but for safety, security and reliability, it's best to have your own private connection. If you are a foreign tourist exploring the Philippines, you can either purchase a local SIM card or rent a pocket WiFi unit. SIM cards and pocket WiFi devices are available at the airport
For Grab, you have four options: GrabTaxi, GrabCar 4-Seater, GrabCar 6-Seater, and Airport-To-Anywhere (ATA). The last option is available from Terminal 1, 2, and 3. This is a dedicated car service that allows a maximum of three passengers, plus three pieces of 23kg luggage.
For Joyride, you have two options: 4-Seater or 6-Seater. Joyride also offers motorcycle taxi rides, but, as mentioned, we don't recommend a motorcycle taxi ride if you're bringing luggage with you. It is, however, a great option for when you're roaming around the metro.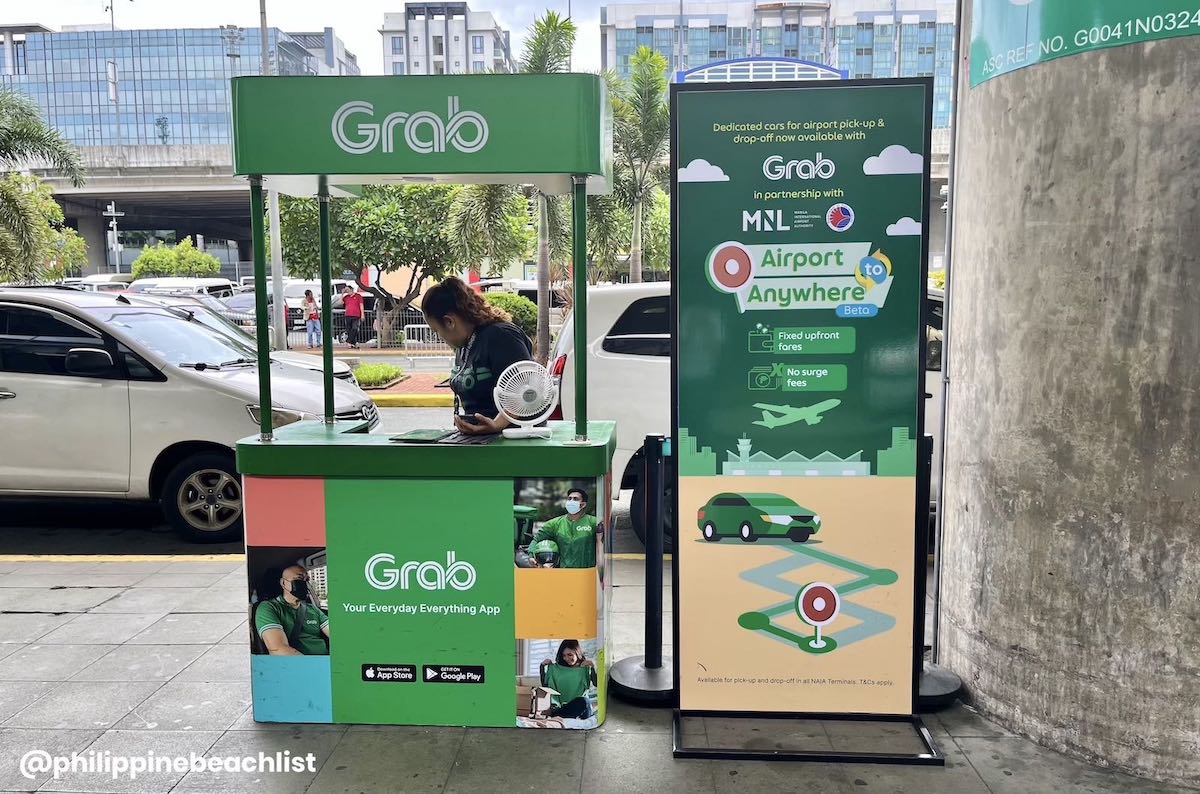 Fare and Pick-Up Locations
If you're booking from NAIA to Pasay Rotonda (or your specific hotel in Pasay), the fare sits between P150 to P380, depending on your specific drop-off point, the time of your booking, the type of car service you need, and the ride-hailing app you will be booking from.
You may choose from several pick-up locations in NAIA from the app. Make sure that you select the correct terminal!
If you prefer to use Grab, you can find Grab booths located near some terminals. Attendants are available to book your ride through their phones and answer any questions you may have. You can find said booths at these locations:
Terminal 1: Arrival Hall Exit
Terminal 2: Arrival Hall Exit Bay 6
Terminal 3: Arrival Hall Exit across Bay 4 (GrabCar) | Departure Hall Exit across Gate 6 (GrabTaxi)
Terminal 4: Departure Hall Exit
---
By Taxi
Another option for direct transfers from NAIA to Pasay Rotonda (or your specific hotel in Pasay) is via taxi. Both fixed-rate taxis and metered taxis have their designated lanes at NAIA, particularly outside the arrival area.
TIP: You can compare the reflected fare on Grab or JoyRide with the coupon taxi fixed rates to help you decide which ride is the cheaper option at the time of your arrival.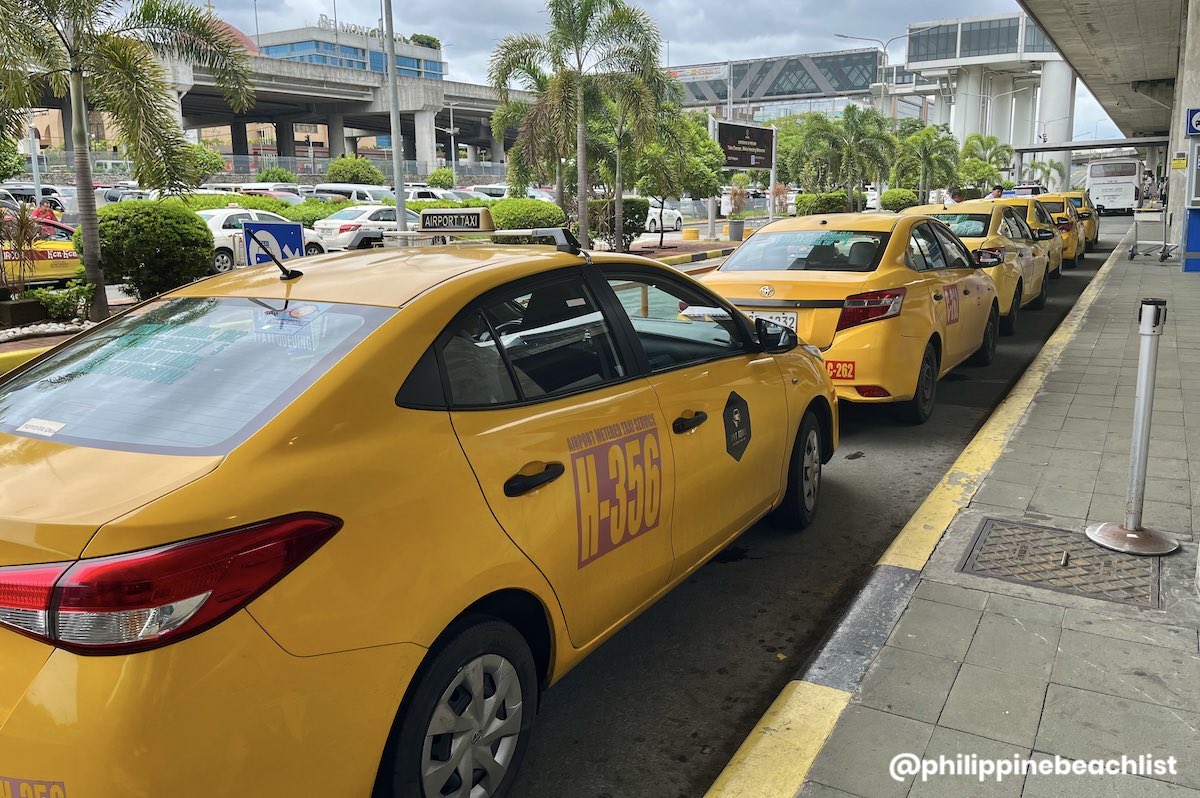 REMINDER! Like in any other country, be on your guard against scams, especially against taxis pretending to be regular metered taxis. Some drivers will entice you under the guise of being a regular metered taxi but will eventually insist on an overpriced fixed rate when the trip starts. Always be vigilant.
Coupon Taxi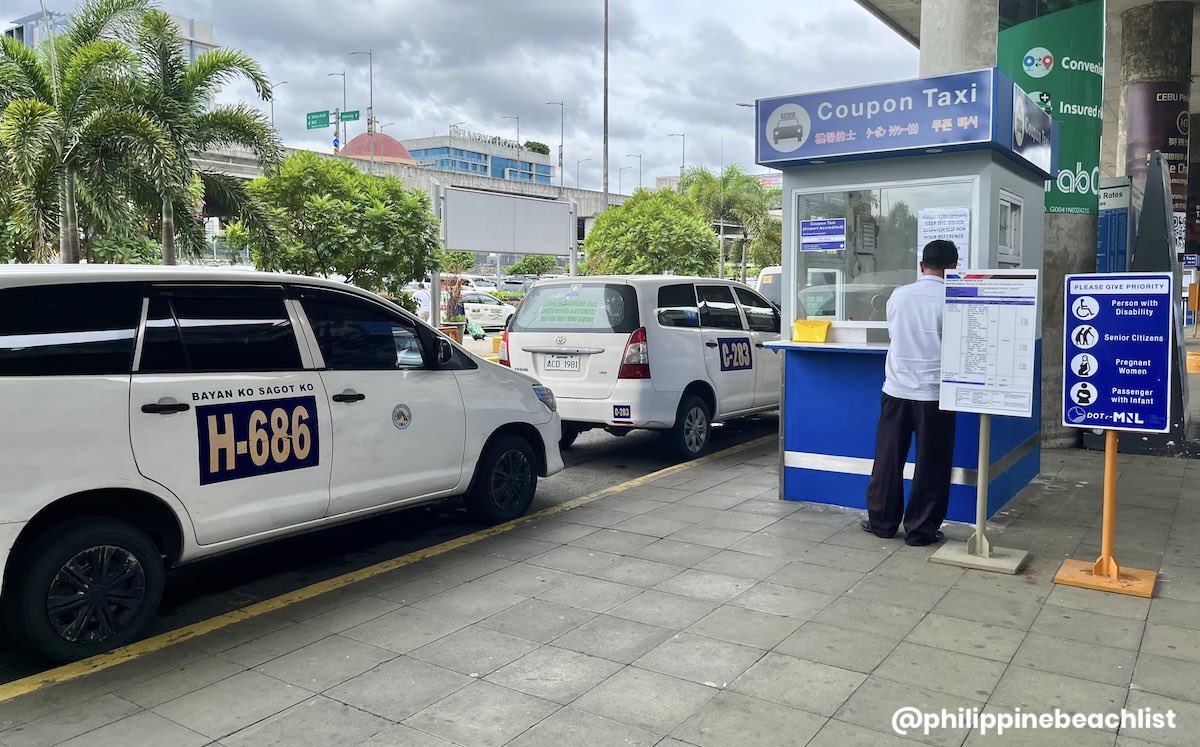 When using Coupon Taxis, the rates are predetermined based on where you're going. These rates are displayed at the designated coupon taxi transport lane. While some drivers may ask for a tip, it is not required to tip your driver.
You will be handed a dispatch coupon/slip at the booth. Keep it with you. The coupon taxi fare from NAIA to anywhere else in Pasay is between P150 and P440.
Here are the coupon taxi lane locations in NAIA:
Terminal 1: Arrival Hall Exit & Arrival Hall Exit Extension
Terminal 2: Arrival Hall Exit near Bay 11
Terminal 3: Arrival Hall Exit across Bay 6
Terminal 4: Arrival Hall Exit
Yellow Metered Taxi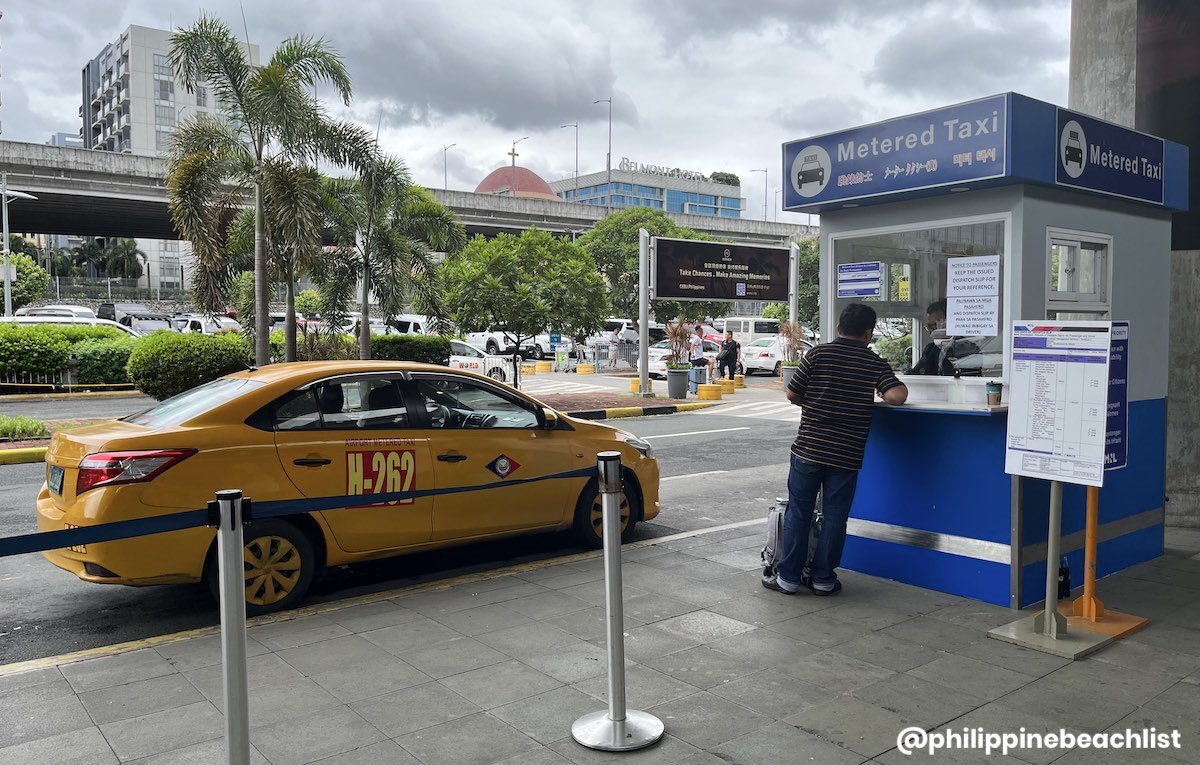 These taxis are generally pricier than regular metered taxis. However, if you're in a rush, you may choose to take a yellow taxi since the line is usually shorter. Sometimes, you may not have to wait at all.
You will be handed a dispatch slip with the taxi details and numbers to call if you have concerns about your trip. The fare from NAIA to anywhere else in Pasay can go from P150 to P400.
Flag-down Rate: P75 (initial 500 meters traveled)
Succeeding Rate: P4 (for every 300 meters) + P4 (for every 2mins waiting time)
Here are the yellow metered taxi lane locations at NAIA:
Terminal 1: Arrival Hall Exit & Arrival Hall Exit Extension
Terminal 2: Arrival Hall Exit near Bay 14
Terminal 3: Arrival Hall Exit across Bay 8
Terminal 4: Arrival Hall Exit
Regular Metered Taxi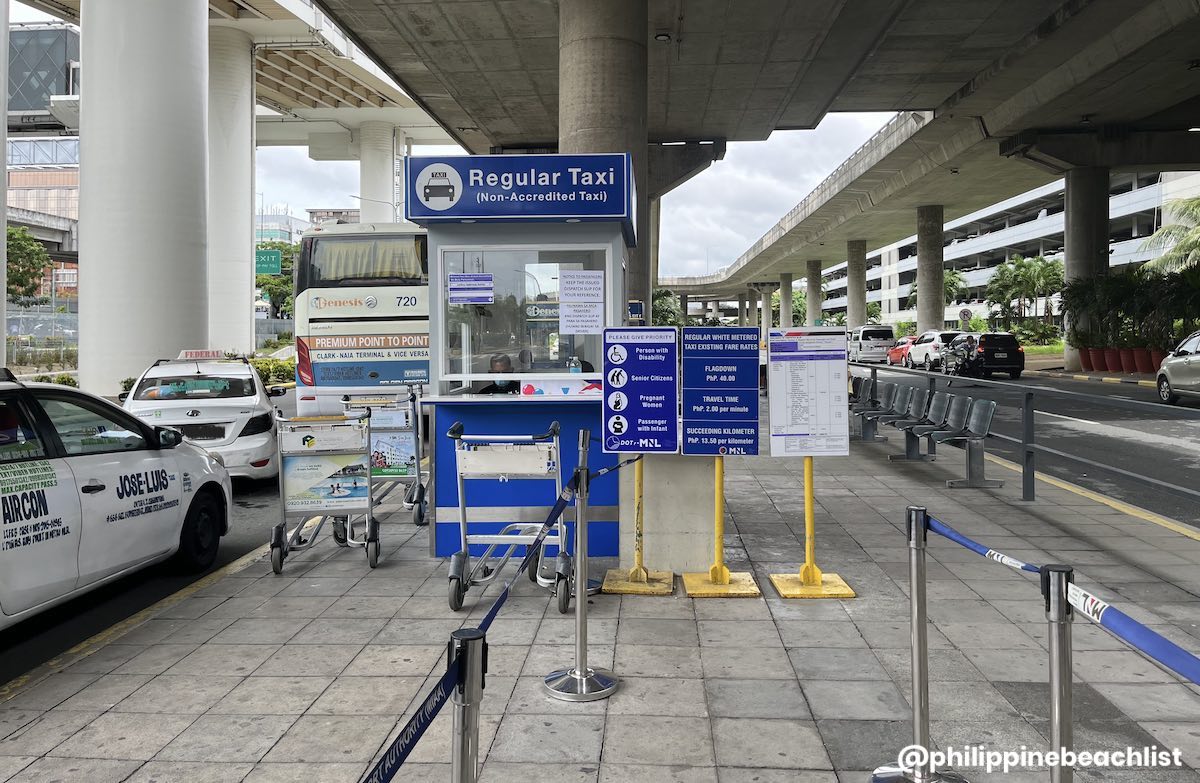 These particular taxis are less expensive compared to coupon taxis, yellow metered taxis, and car-hailing services. However, they have received numerous complaints regarding scams. These include tampering with the meter, overcharging upon drop-off, not turning on the meter and then requesting a fixed price once the trip begins, and taking longer routes to increase the fare.
If you find yourself in a situation where taking a taxi is your only option, be sure to confirm that the taxi meter is turned on at the start of your ride.
You will receive a passenger copy of the dispatch slip. DO NOT hand it over to the driver. Keep it. The fare from NAIA to anywhere else in Pasay is between P100 and P350.
Flag-down Rate: P45
Succeeding Rate: P13.50 (for every kilometer) + P2 (for every minute of travel time)
Here are the regular metered taxi lane locations in NAIA:
Terminal 1: Arrival Hall Exit
Terminal 2: Arrival Hall Exit near Bay 23
Terminal 3: Arrival Hall Exit across Bay 12
Terminal 4: Departure Hall Exit
---
By Bus
Point-to-point (P2P) buses are the only type of public buses that are allowed to enter NAIA. In Metro Manila, the main premium airport bus link is provided by UBE Express. It's important to know that all UBE Express routes only have one pick-up location, which is NAIA Terminal 3. The closest UBE Express P2P bus terminal for Pasay is located at Victory Liner Pasay.
From NAIA Terminal 3, go to the arrival hall exit. If you are arriving at Terminal 1, 2, or 4, note that the free inter-terminal shuttle buses are exclusive only for those who have connecting flights. Another alternative is to take the UBE Express NAIA Loop, which picks up passengers from Terminal 1, 2, and 4 to Terminal 3, but at no set time. In that case, taking a cab or booking a ride from a ride-hailing app may be a better option for you.
Find the UBE Express P2P Bus booth across Bay 12.
Buy your ticket going to Victory Liner Pasay. The fare is P150. You can also buy your ticket online through the UBE Express official website or through Klook: ✅ GET P2P TICKET HERE!
Go to the pick-up/drop-off point and wait for your bus. The pick-up/drop-off point is also located at the booth area across Bay 12.
Alight at Victory Liner Pasay. The terminal is located along EDSA southbound lane, about 10 minutes from Pasay Rotonda on foot. In case you were unable to secure a booking at any of the nearby hotels, you could opt to take a taxi or a Grab ride from this location to reach your hotel. You can also take the EDSA Carousel from the Tramo or Taft bus stop and alight at the nearest bus stop to your final destination in Pasay.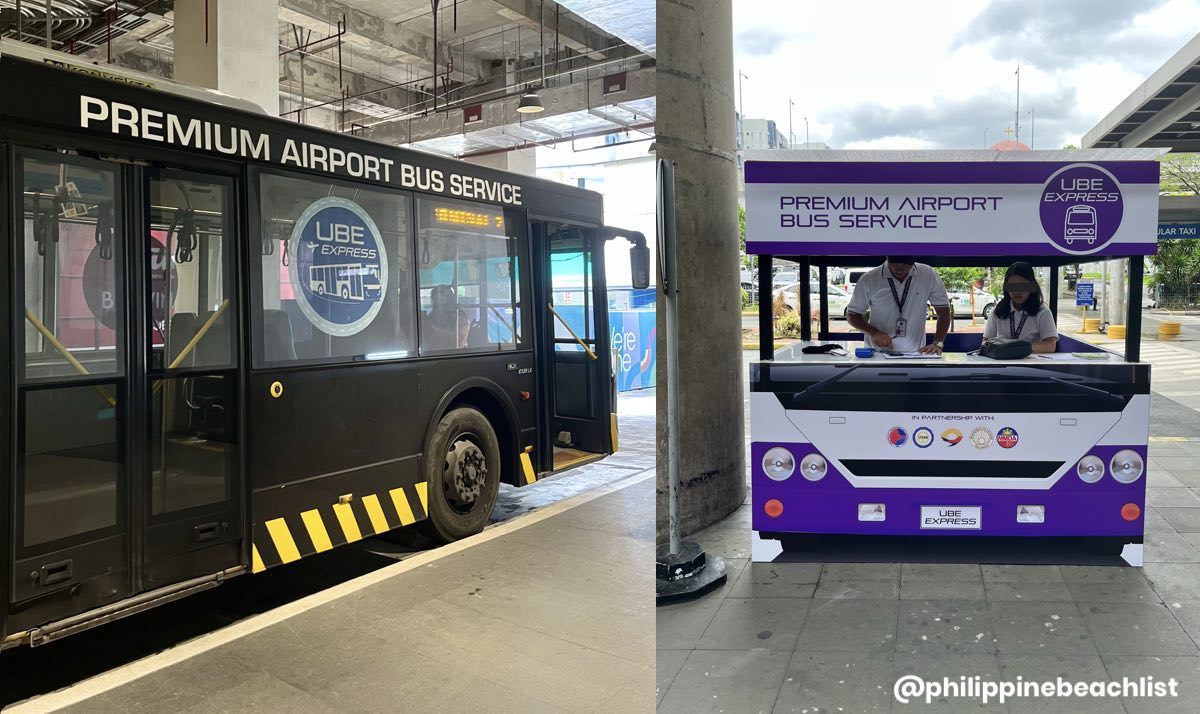 NAIA Terminal 3 to Victory Liner Pasay Time Table
This route has no fixed departure time. The bus will be running during operating hours and passengers should anticipate a waiting time of 30 minutes to an hour.
Note: Schedules may change from time to time. Please check the official UBE Express Facebook Page for updates.
---
Jeepney
While this option may be the most affordable among the choices listed in this post, it is also the least recommended. Commuting via jeepney in Metro Manila can be quite challenging, especially when carrying a lot of stuff with you. During rush hour, it can also become quite crowded and cramped. In addition, jeepney stops are not clearly marked, which increases the probability of missing your destination and getting lost if you are not familiar with your jeepney's route.
If you really want to try commuting from NAIA to Pasay Rotonda by jeepney, please be advised that both traditional and modern jeepneys are prohibited from entering the airport premises. If you wish to ride a jeepney, you will need to walk to the national road. The minimum fare is P12 for traditional jeeps and P14 for modern jeeps.
Anyway, here's how to travel via jeepney from the airport:
From any terminal in NAIA, walk to the designated jeepney stop outside the airport.
Get on a jeepney bound for Pasay Rotonda/EDSA-Taft Junction.
Alight at Pasay Rotonda — the junction of EDSA and Taft Avenue. You can take the LRT-1 train at Taft Station and alight at any of these stations in Pasay: Gil Puyat, Libertad, and Baclaran. Taking the EDSA Carousel bus is also another option. Within Pasay, the bus stops are DFA, Roxas Boulevard, and Taft for northbound stops, while Tramo
Taft, Roxas Boulevard, SM Mall of Asia, and DFA/Shell/Starbucks for southbound stops.
NAIA Jeepney Stops
Terminal 1: ICT Service Road (near T1 Pass Control Office)
Terminal 2: Near MIAA Admin Building Gate 2
Terminal 3: Andrews Avenue
Terminal 4: Domestic Road
---
Other Private Transfers
Renting a car or hiring one from NAIA to your destination is also an option. Rental companies are stationed near Grab's booth between Bay 4 & 5. Most of them run 24/7 and have fixed rates based on your drop-off point or specific destination. Cash is king when it comes to payment.
Should you decide to take this option, make sure to check and compare the rates first before settling for a specific car rental company.
Another private transfer alternative is by arranging with your hotel. Check if your chosen hotel offers airport transfer services.
---
Reminders