The Ninoy Aquino International Airport (NAIA), also known as Manila International Airport, is the main international airport in Metro Manila and the usual gateway of foreign tourists to the Philippines. This makes Manila the primary jump-off point to other parts of the country and the departure point to their next destination country.
While tourists mainly come to the Philippines for its beautiful sceneries and cultural delights, Bonifacio Global City (BGC) in Taguig is also a hit with international tourists, whether it be for a quick stopover or a prolonged stay. Apart from big corporations and modern high-rise residences, this hip and modern district's map is dotted with restaurants, cafes, bars, shopping malls, recreational spaces, public parks, and hotels.
BGC is located 35-45 minutes northeast of NAIA. The modes of transportation from the airport to BGC include travel via bus (P2P buses), ride-hailing app, taxi, or even jeepney.
---
By Ride-Hailing Service
You'll find a few ride-hailing services (also known as Transport Network Vehicles) in the Philippines, but the only ones we can recommend for transporting passengers to or from the airport at the moment are Grab and Joyride. All other TNVs in the Philippines are either not yet as established or only offer motorcycle taxis for hire (e.g., Angkas). Most of the time, passengers coming from the airport may have one or more pieces of luggage in tow, so we will focus more on Grab and Joyride in this section.
But before you could use ride-hailing apps like Grab and Joyride, you'll need an internet connection. There may be free wifi at the airport but for safety, security and reliability, it's best to have your own private connection. If you are a foreign tourist exploring the Philippines, you can either purchase a local SIM card or rent a pocket WiFi unit. SIM cards and pocket WiFi devices are available at the airport
Booking a car via a ride-hailing app is probably the most direct and convenient way of getting anywhere in BGC from NAIA, but this can also be the most expensive, especially during peak or busy hours. The advantage, though, is that you can see upfront how much your travel will cost you before you confirm your booking. Even tips may be coursed through the apps!
For Grab, you have four options: GrabTaxi, GrabCar 4-Seater, GrabCar 6-Seater, and Airport-To-Anywhere (ATA). The last option is available from Terminal 1, 2, and 3. These are dedicated car services that allow a maximum of three passengers, plus three pieces of 23kg luggage.
For Joyride, you have two options: 4-Seater or 6-Seater. Joyride also offers motorcycle taxi rides, but, as mentioned, we don't recommend booking a motorcycle taxi if you're bringing luggage with you. It is, however, a great option for when you're roaming around BGC.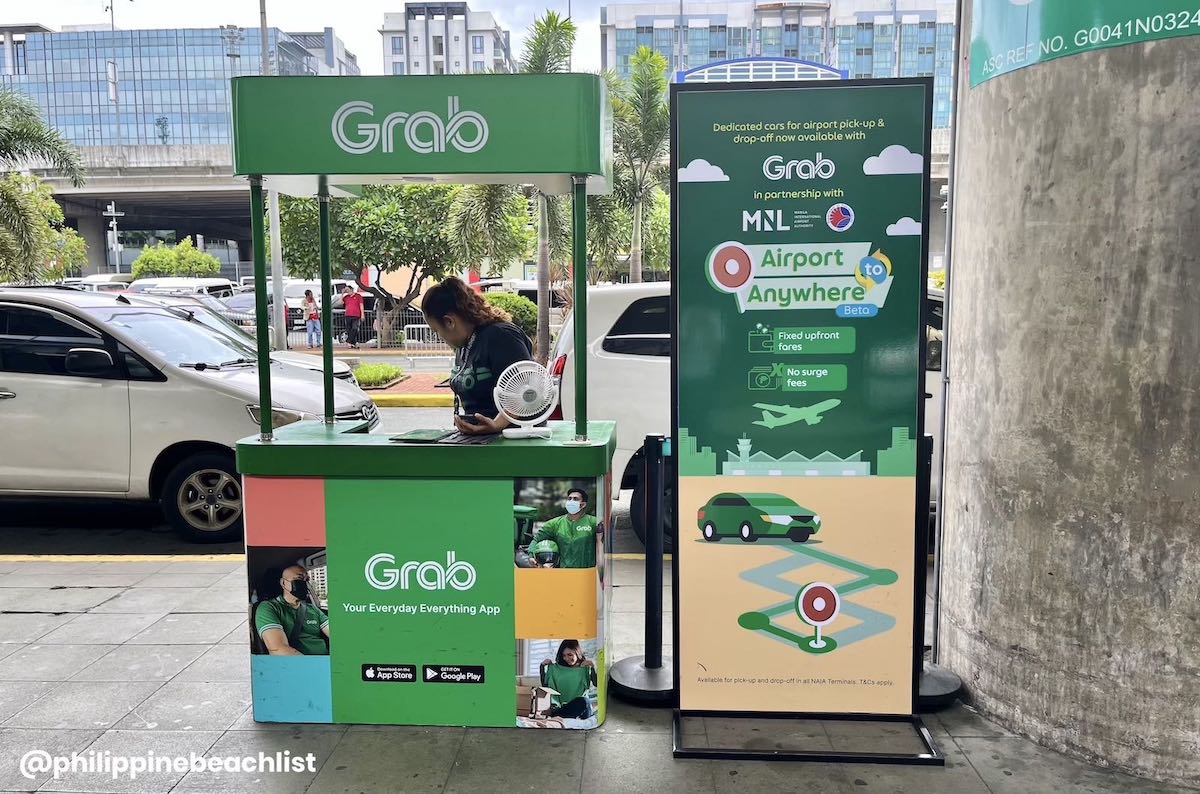 Fare and Pick-Up Locations
If you're booking from NAIA to BGC, the fare ranges from P250 to P500, depending on the time of your booking (non-peak or peak hours), the type of car service you need, and the ride-hailing app you will be booking from.
You may choose from several pick-up locations in NAIA from the app. Make sure that you select the correct terminal.
If you want to book via Grab, they have installed Grab Booths around some of the terminals with attendants to book for you through their phones. If you have any questions, you may ask the person manning the booth. You may find the booths in these locations:
Terminal 1: Arrival Hall Exit
Terminal 2: Arrival Hall Exit Bay 6
Terminal 3: Arrival Hall Exit across Bay 4 (GrabCar) | Departure Hall Exit across Gate 6 (GrabTaxi)
Terminal 4: Departure Hall Exit
---
By Taxi
Before ride-hailing apps became a thing in the Philippines (and we reckon in many countries across the globe), taxis were the main mode of transportation from airports.
In the Philippines, there are fixed-rate taxis and metered taxis. Is booking a taxi generally cheaper than other modes of transportation? Well, taxis are relatively more expensive than the P2P buses and jeepneys, but they are more convenient.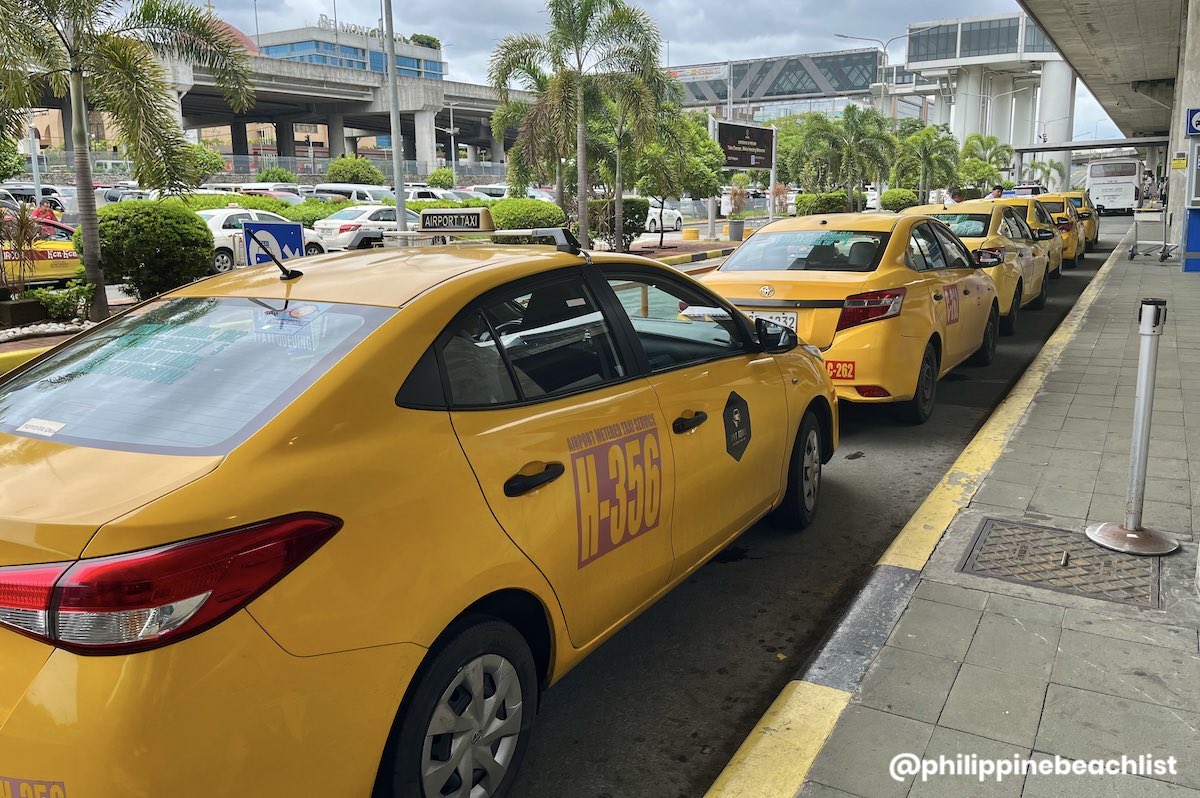 Should you take a taxi or book a ride from a ride-hailing app? The best course of action is to compare the fixed-price taxi's rate with reflected rate on your chosen ride-hailing app. For metered taxis though, it's hard to say if it will be cheaper than booking a car via a ride-hailing app because the fare really depends on the traffic condition and the time of booking (peak or off-peak hours). So, the answer here is: taxis can either be pricier or cheaper than booking a car via a ride-hailing app, so make sure to compare rates before deciding. It's really a case-by-case matter.
Much like in any other country, be on your guard against scams and dirty schemes, especially from taxis pretending to be metered taxis. Make sure that the moment the taxi starts its trip, the meter is up and running. The most popular scam here is when metered taxi drivers don't use the meter counter at all and will likely just slap you with an outrageous fare at your drop off.
Coupon Taxi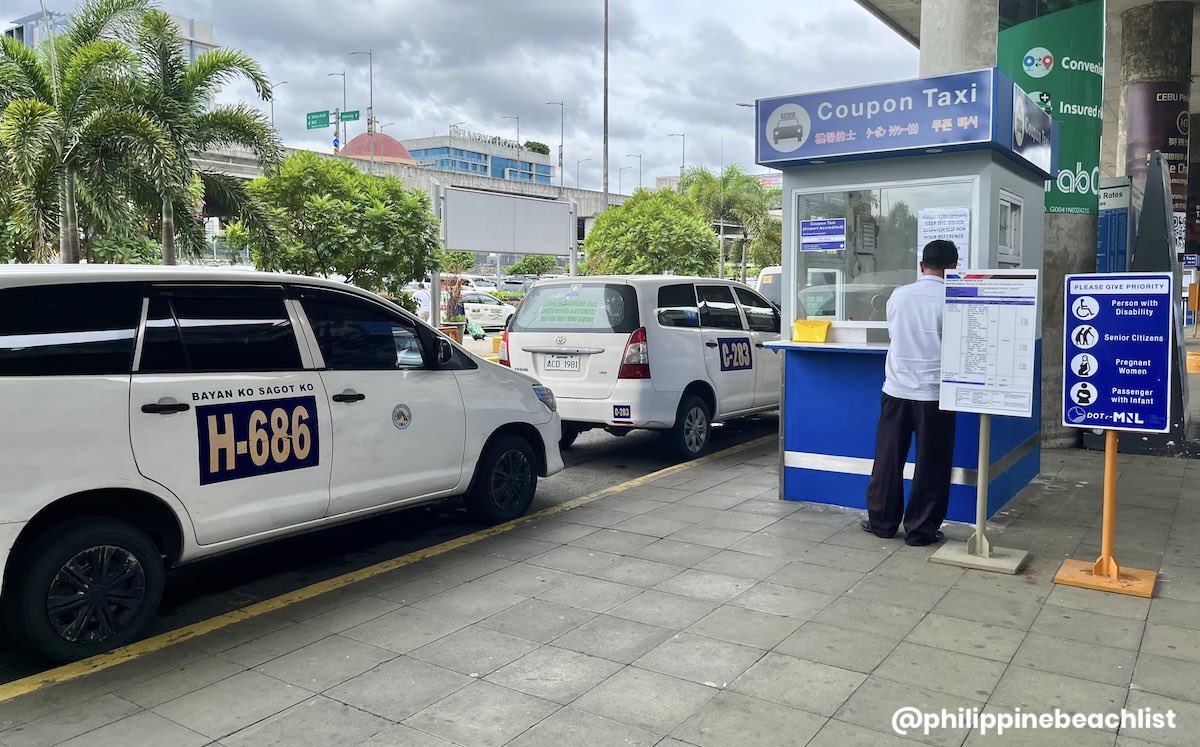 These taxis have fixed rates based on your destination. Some drivers might ask for additional fees or tips, but it's still up to you if you'll shell out a few bucks for fees or tips. Just remember that tipping the driver is not mandatory. You will be handed a dispatch coupon/slip at the booth. Keep it with you until you arrive at your destination. Coupon taxi fare from NAIA to BGC (Taguig) ranges from P330 to P530.
Here are the coupon taxi lane locations in NAIA:
Terminal 1: Arrival Hall Exit & Arrival Hall Exit Extension
Terminal 2: Arrival Hall Exit near Bay 11
Terminal 3: Arrival Hall Exit across Bay 6
Terminal 4: Arrival Hall Exit
Yellow Metered Taxi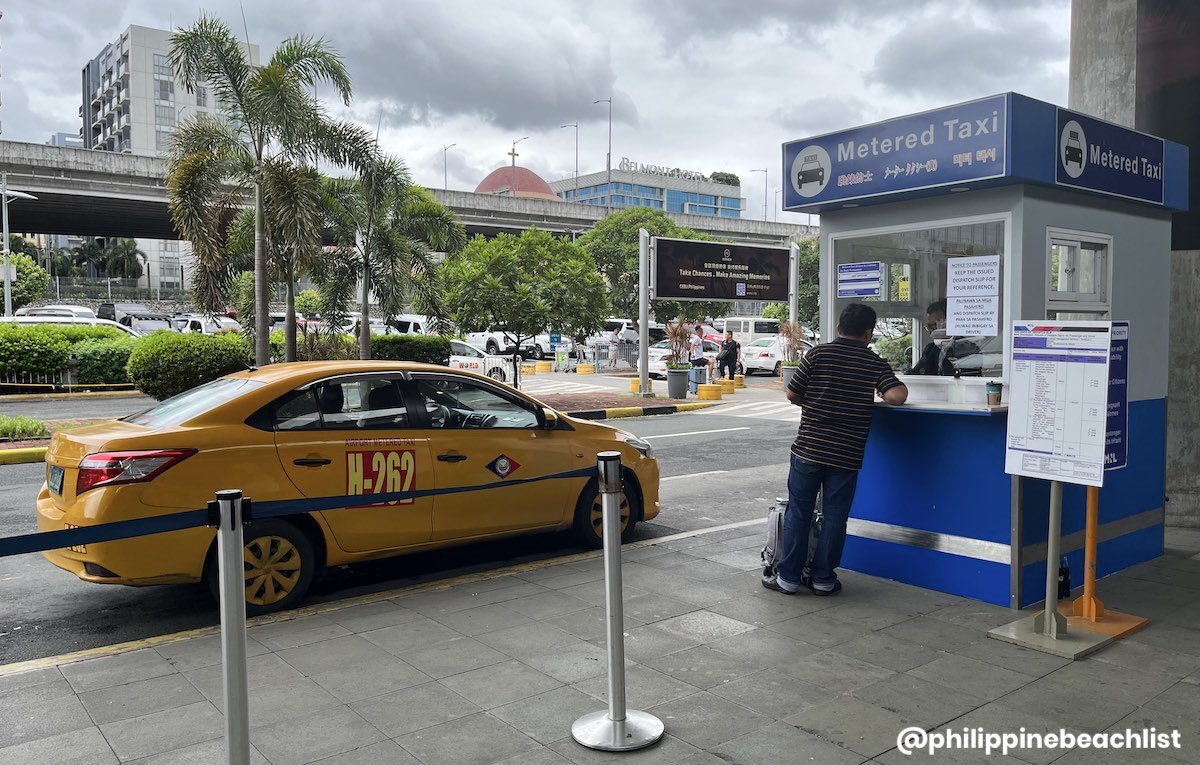 These yellow metered taxis are generally more expensive than regular metered taxis, but lines are usually shorter and units are more well-maintained. You will be handed a dispatch slip with the taxi details and numbers to call if you have concerns about your trip. Fare from NAIA to the BGC area ranges from P200 to P350.
Flag-down Rate: P75 (initial 500 meters traveled)
Succeeding Rate: P4 (for every 300 meters) + P4 (for every 2mins waiting time)
Here are the yellow metered taxi lane locations in NAIA:
Terminal 1: Arrival Hall Exit & Arrival Hall Exit Extension
Terminal 2: Arrival Hall Exit near Bay 14
Terminal 3: Arrival Hall Exit across Bay 8
Terminal 4: Arrival Hall Exit
Regular Metered Taxi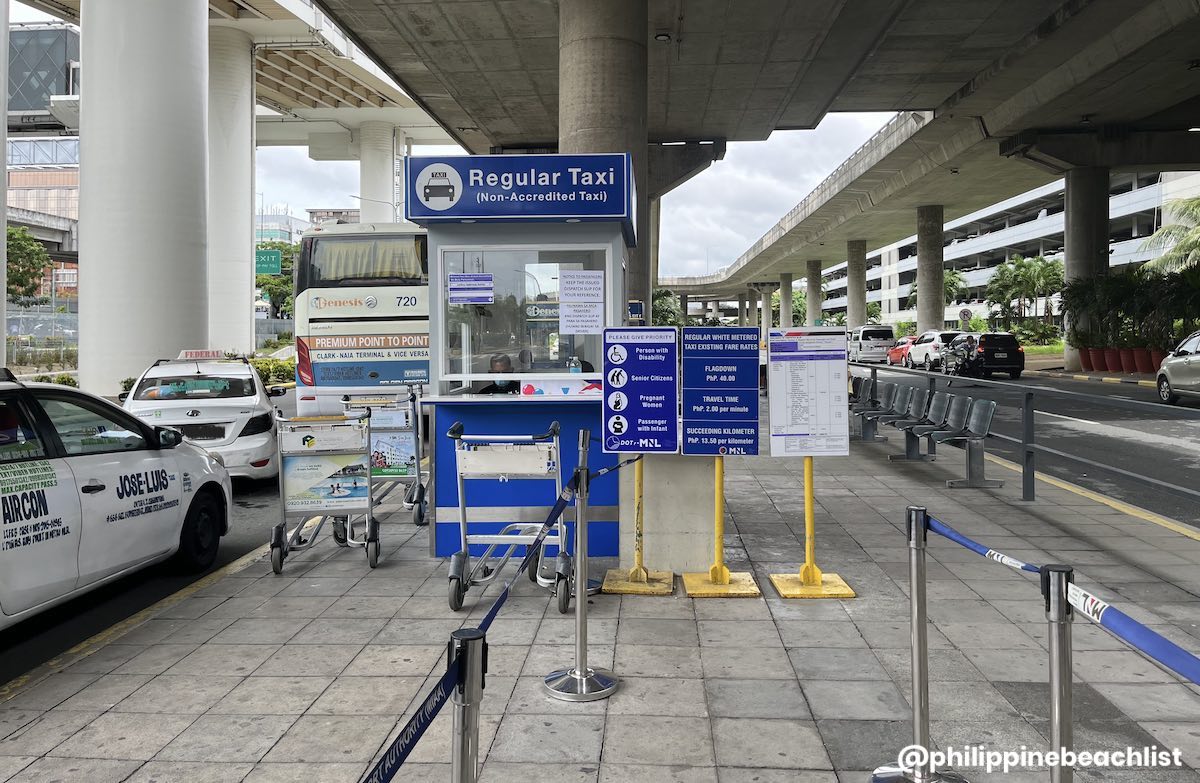 These regular metered taxis, often white sedans, are cheaper compared to coupon taxis and yellow metered taxis, but they receive the most passenger complaints about scams, such as not turning the meter on and asking for an over-the-top fixed price and taking longer routes with the meter on, among others. If you opt for regular metered taxis, make sure the taxi meter is turned on when your ride starts. You will also receive a passenger copy of the dispatch slip with the taxi. DO NOT hand it over to the driver. Fare from NAIA to BGC ranges from P180 to P300.
Flag-down Rate: P45
Succeeding Rate: P13.50 (for every kilometer) + P2 (for every minute of travel time)
Here are the regular metered taxi lane locations in NAIA:
Terminal 1: Arrival Hall Exit
Terminal 2: Arrival Hall Exit near Bay 23
Terminal 3: Arrival Hall Exit across Bay 12
Terminal 4: Departure Hall Exit
---
By Bus
The kind of buses available in NAIA are called Point-to-Point buses, or P2P buses for short. UBE Express is the Philippines' primary premium airport bus link in Metro Manila. It is cheaper compared to taking a taxi or booking a Grab car ride. However, you need to board from Terminal 3 and then get off at One Ayala, the nearest bus terminal to BGC. From there, you'll have to ride another bus, hail a taxi, or book a car from a ride-hailing app.
From NAIA Terminal 3, head to the arrival hall exit. If you are coming from Terminal 1, 2, or 4, the free inter-terminal shuttle buses are exclusive only for those who have connecting flights. Another alternative is to take the UBE Express NAIA Loop, which picks up passengers from terminals 1, 2, and 4 to terminal 3, but no set time. Thus, it's best to just take a cab or book a ride from a ride-hailing app.
Find the UBE Express P2P Bus booth at the outer lane of Bay 12.
Purchase your ticket going to One Ayala transport hub. The fare is P150. You can also buy your ticket online through UBE Express's official website.
Go to the P2P bus pick-up/drop-off point. It is located just across Bay 12 and wait for your bus or find your designated bus.
Alight at One Ayala in Makati. Take either the overpass or the MRT Ayala station foot bridge to get to the other side, where you can ride another bus, taxi, or Grab (near Jollibee) to BGC.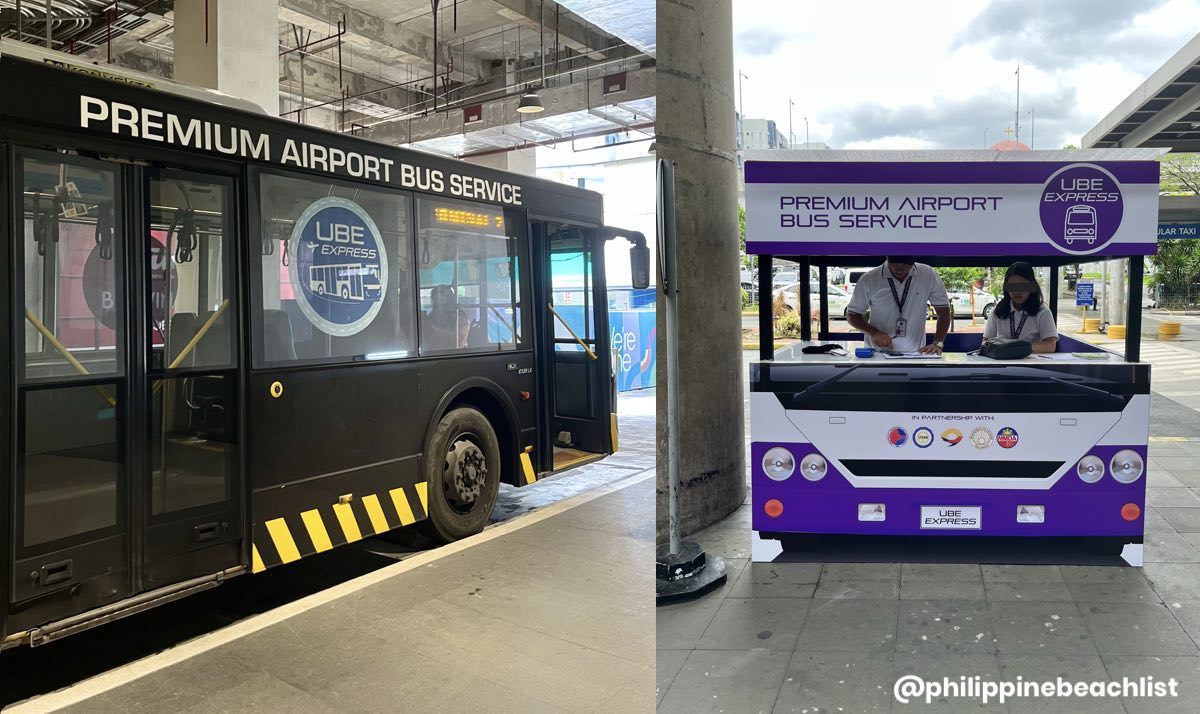 NAIA Terminal 3 to One Ayala Makati Time Table
05:30 AM
07:30 AM
10:00 AM
01:45 PM
04:15 PM
07:00 PM
Note: Schedules may change from time to time. Please check the official UBE Express Facebook Page for updates.
---
Jeepney
This option is the cheapest, but this is the least convenient, especially with luggage in tow. Jeepneys — traditional or modern — are not allowed within the airport premises. You need to walk outside until you reach the national road. From NAIA to BGC, you need at least two transfers. Minimum fare is P12 for traditional jeeps and P14 for modern jeeps. The fare is MILES away from booking a car or hopping on a bus, but it may be quite a challenge if you're not used to riding jeepneys.
In case you really want to try commuting via public transportation, here's how:
From any terminal in NAIA, walk to the designated jeepney stop outside the airport.
Get on a jeepney bound for Pasay Rotonda/EDSA-Taft Junction.
You can either take the MRT 3 Taft Station to Ayala Station or ride an EDSA Carousel Northbound bus from Taft to One Ayala, and then ride a bus, a taxi, or Grab to BGC.
Taking public transportation in Metro Manila can be really confusing, so as much as possible, avoid this option. If you're feeling a bit adventurous, best to try riding a jeepney when you don't have kilos and kilos of luggage weighing you down.
NAIA Jeepney Stops
Terminal 1: ICT Service Road (near T1 Pass Control Office)
Terminal 2: Near MIAA Admin Building Gate 2
Terminal 3: Andrews Avenue
Terminal 4: Domestic Road
---
Other Private Transfers
Car rentals or private cars for hire are also available at the airport. You can find their booking stations near Grab's booth between Bay 4 & 5. Majority of these car services are open 24/7 and have fixed rates based on your drop-off point or specific destination. The primary mode of payment is cash.
Should you decide to take this option, make sure to check and compare the rates first before settling for a certain car rental company.
Another private transfer alternative is thru hotel services. Before booking your hotel, it's also a good practice to check if they offer airport transfer services.
---
Reminders