With the many beach destinations in the Philippines, each still has its own appeal to tourists. Baler, the capital of the province of Aurora is a known surfing spot in the country. Located in Central Luzon, it is only a five- to six-hour drive from Manila.
Although Baler is the capital of Aurora, it remains to be a third-class municipality and keeps its simple and laid-back vibe. The town's history can be traced back to 1609 when seven Franciscan missionaries founded the settlement.
Apart from the beach and surfing, there are other natural attractions in Baler such as the waterfalls and rock formations. The town's map is also dotted with historical and cultural sites — Aurora House, Baler Museum, and Baler Church, just to name a few. Here's everything you need to know about Baler if you're planning to visit.
ATTENTION! Don't forget to accomplish all the requirements prior to your visit. Take note of the new normal travel rules and guidelines and make sure to comply with them. It's best to check the official websites or Facebook pages of the Aurora provincial government, Aurora Tourism, and Baler Tourism for updates and announcements.
---
Best Area to Stay
Baler is a small town, so if you're planning to visit on a weekend or a holiday, especially during summer, it may be packed with tourists. Make sure to book way ahead of your travel date because rooms may sell out easily during peak season.
Top Hotels
Here are the top-rated hotels in Baler that you can book for your stay. Most of them are also beachfront resorts.
---
Getting There
NOTE: This section is a work in progress. Due to the pandemic, changes may have occurred. Please contact the LGU, terminal, or bus company directly for the latest schedule, routes, and fares.
From Manila, Baler is easily accessible by bus. There are direct buses to Baler from Cubao. Here are your options:
GENESIS BUS
Typical air-conditioned bus with a few stops along the way.
Travel Time: 6-7 hours
Fare: P550
JOYBUS
A non-stop bus service with comfortable seats and bigger legroom. They also provide blankets, pillows, and snacks.
Travel Time: 5-6 hours
Fare: P750
If you want a much cheaper option, you may also take a bus to Cabanatuan (P185) and then ride a van to Baler (P220).
---
Tourist Spots & Attractions
ATTENTION! Because of the pandemic, the opening hours and rates might change from time to time. Make sure you check the official websites or Facebook pages of the attractions and tourist spots prior to your trip.
Sabang Beach
This is the most accessible and most popular swimming and surfing spot in Baler. The shallow water and strong swell make it an ideal place to learn how to surf. Surfboard rentals are available and you can also hire an instructor for surfing lessons.
Surfboard Rental + Instructor Fee: P350/hour
Surfboard Rental Only: P200/hour, P800/day
Ditumabo Mother Falls
This waterfall is located in San Luis. The trek to the cascade takes about 20 minutes, depending on your pace. If you want to avoid the crowd, visit here in the early morning. There are food stalls along the trail where you can grab breakfast on your way back.
Private cars can go up to the start of the trail. Some people will tell you that only tricycles can take you there, that's not true. The tricycle ride costs P200 roundtrip.
Entrance Fee: P30/person
Parking Fee: P30/vehicle
Tour Guide Fee: P200/guide
Diguisit Falls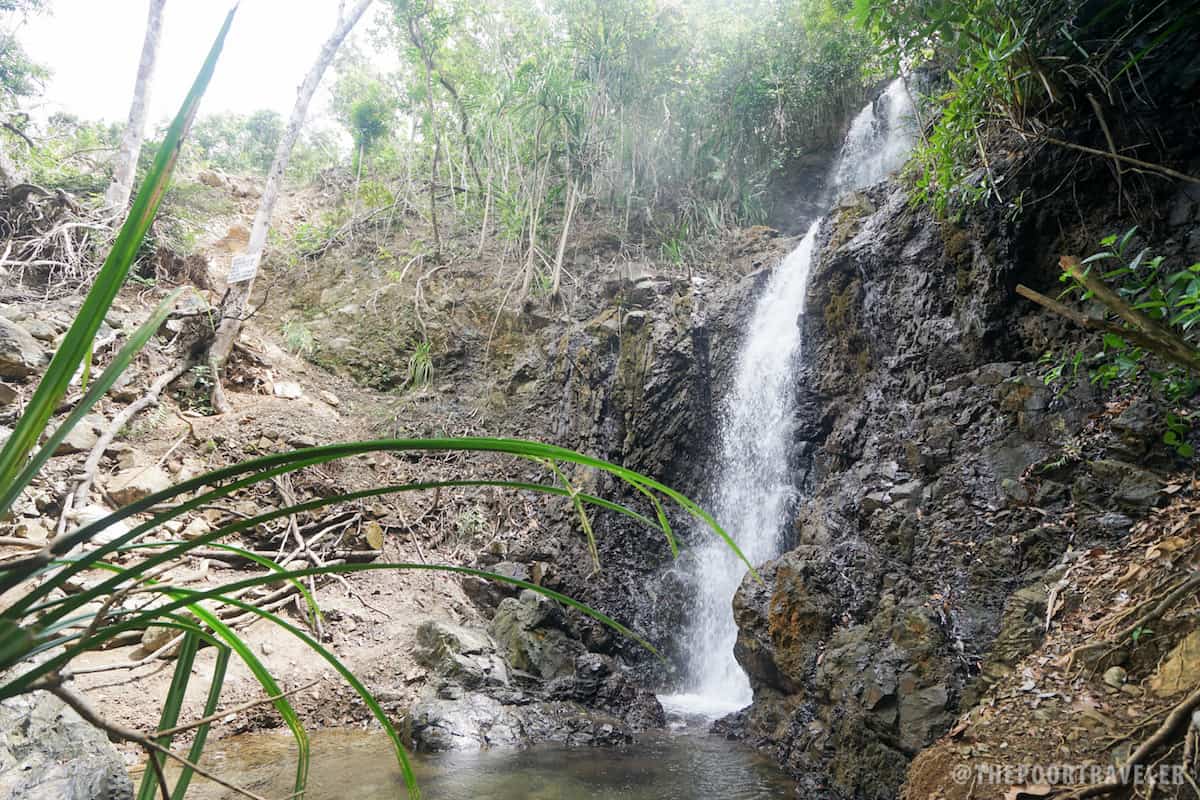 A quick, easy climb will take you to the falls. However, the trail can be slippery in the afternoon when drenched guests have passed through, so take extra precaution.
Entrance Fee: FREE
Cottage Rental: P200
Aniao Rock Formations and Lukso-lukso Islets
Also called Diguisit Islets, these are a couple of picturesque islets scattered on the rocky coast called Diguisit Beach not far from Diguisit Falls.
Entrance Fee: P20/head
600-Year Old Balete Tree
Entrance Fee: P15
Parking Fee:
P10/vehicle
To go inside the tree
: P10/head
Ermita Hill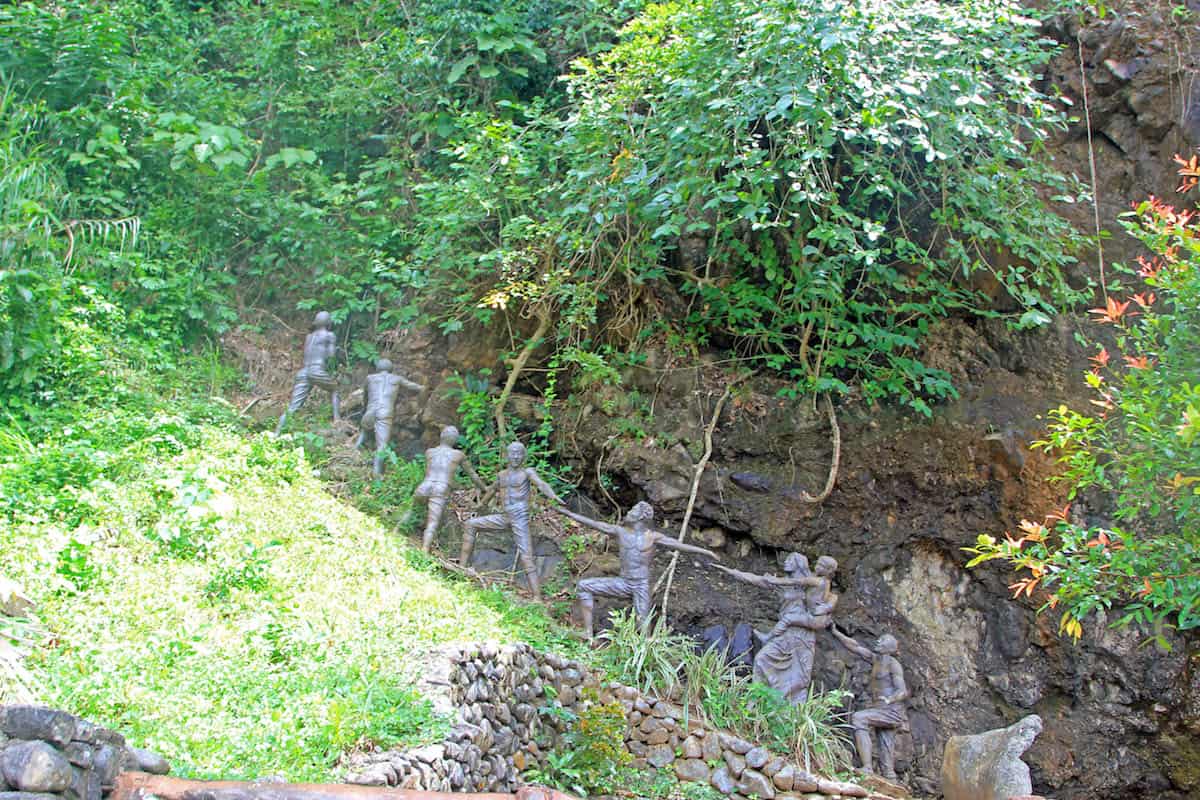 The is the historic hill where the six families who survived the tsunami in 1735 took refuge, running to the top of the hill. It is said that thousands were killed and only the members of the six families survived the tragic natural disaster.
From the hill, you can get a great view of the town, Sabang Beach, and other areas around it. The collected entrance fee is used for the scholarship of several students at a college nearby.
Entrance Fee: P15
Parking Fee: P10
Dicasalarin Cove
Located behind the hills of Baler is this private beach. If you have plans to visit, you must register at Costa Pacifica in advance. If you want to spend some time here, it is best to dedicate an entire morning. Make sure to arrange a habal-habal ride prior to your trip to the cove because tricycles can't access it because the road is too steep. The habal-habal will take you from the tricycle drop-off point to Dicasalarin.
Opening Hours: 8:00 AM – 5:00 PM
Entrance Fee: P300 (P100 for Costa Pacifica Guests)
Habal-habal Ride: P200 – P300 (roundtrip)
Other Tourist Spots
Ampere Beach
PAGASA Viewpoint
Baler Museum
Aurora House
Baler Church
Hanging Bridge
NOTE: All these places can be visited by chartering a tricycle or taking a van tour except Ampere Beach. If you're riding a tricycle, you would have to transfer to a habal-habal to reach Dicasalarin Cove or PAGASA viewpoint because the road is too steep. If you're staying near Sabang Beach, you can skip this and just spend another day at the beach.
---
Best Time to Visit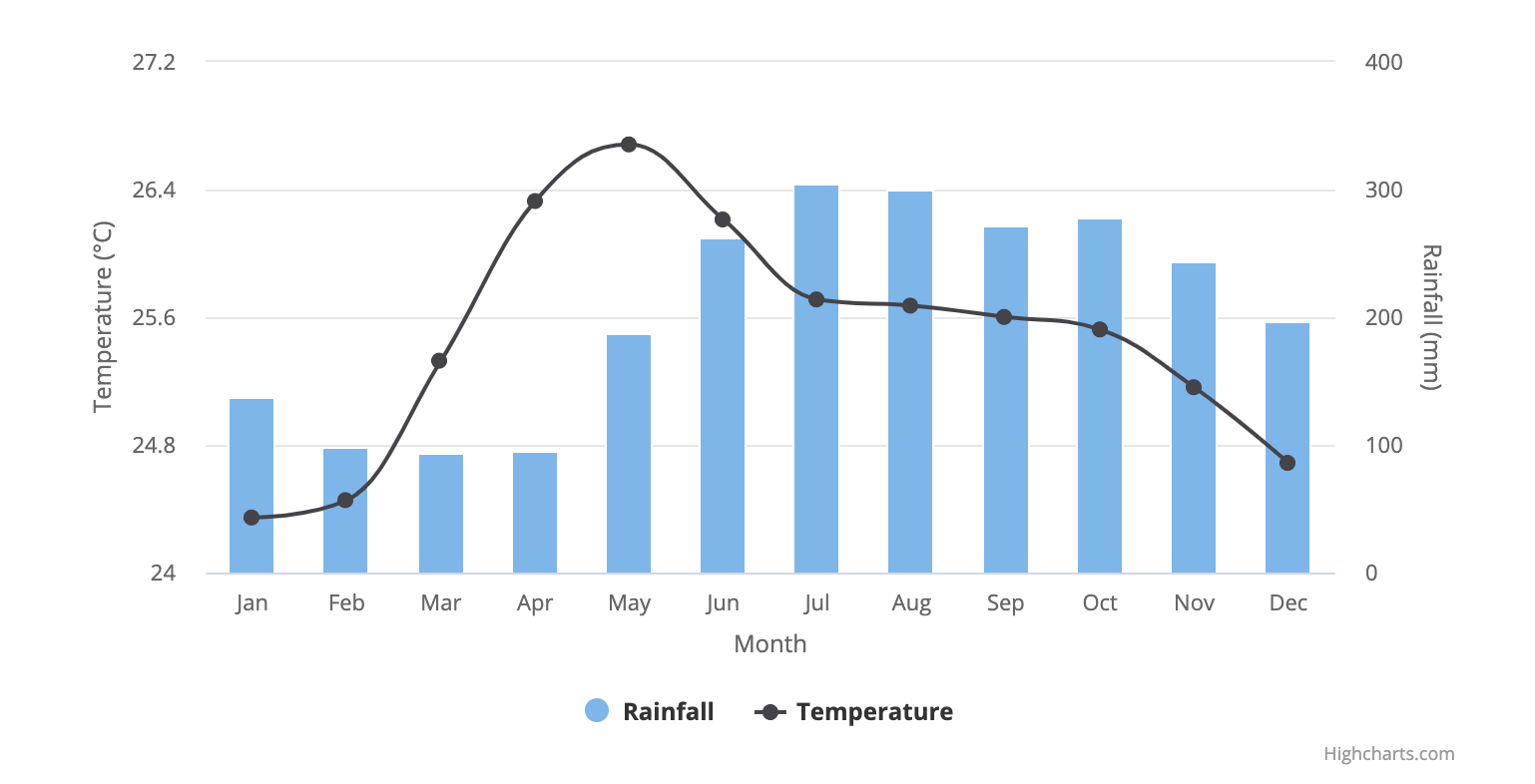 Surfing in Baler is consistent year-round, so if you're visiting Baler solely for surfing, any time would be a good time. But the best time of the year for surfers is between October and April.
If you're going to Baler to go around and do other activities, the dry months of the year are ideal. November to May period is the dry season with February to April as the driest period. However, keep in mind that it might get crowded around this time.
---
Recommended Restaurants
If you're looking for places to eat during your stay in Baler, here are three restaurants you can check out.
Kubli Bistro: A restaurant in Poblacion that would give you a great dining experience. Aside from the good food, their servings are huge too. The great service and clean place add to the reasons why dining here will definitely be worth it. Some of the items from their menu that you should try are buffalo wings, sisig a la bopes, barbecue skewers, and adwas iced tea.
Bayler View: This restaurant serves Filipino and Western Food. Being an open-air restaurant by the beach gives it a nice ambiance. Some of the food you should try is their Pinoy Spaghetti and Buttered Chicken.
Dialyn's Bakeshop: Dialyn's is an iconic establishment in Baler. It is popular for its brazo de mercedes, yema swirl, and asado buns.
---
Practical Travel Tips
Always check for updates. Some adjustments have to be taken for establishments and attractions to operate during the new normal. Don't forget to contact or visit the official websites or Facebook pages of the attractions and activities for announcements and updates before going.
Be conscious of time. End your tour early to be able to catch the Genesis bus leaving at 2 PM for Manila if you don't want to take the JoyBus.
Traveling via private vehicle is a better option for you especially if you're with a bigger group. This way, you don't have to depend on the bus schedule. This will cut back your expenses too.
Leave no trace. Don't leave trash on the beach and make sure to dispose of it properly.
Practice sustainability. To help preserve the beauty of our attractions, practice sustainable travel hacks. You may start with bringing your own water bottle to avoid buying plastic bottled drinks.
Use coral-friendly sunscreen. It is great to use sunscreen to protect your skin from the harmful UV rays, but make sure to protect marine life too. Avoid using products with chemicals such as oxybenzone, benzophenone, and parabens.
Follow the rules and regulations. Make sure you know the travel safety protocols and requirements and follow them.
---
Sample Itinerary
Here's a sample overnight itinerary for Baler. Feel free to make adjustments depending on your preferences.
Day 1
-Arrival in Baler
-Check in at the hotel or drop off bags
-Go around Baler via Tricycle Tour
-Dicasalarin Cove via habal-habal
-Aniao Rock Formations
-Diguisit Falls
-Lunch
-Go back to the hotel
-Rest
-Surfing at Sabang Beach
-Sunset watching
-Back to the hotel
-Freshen up
-Dinner
-Lights out
Day 2
-Start Tricycle Tour again
-Ditumabo Falls
-Balete Park
-Visit other attractions
-Lunch
-Go back to the hotel and check out
-Travel back to Manila
---
Reminders