When you think about travel destinations in the Philippines, Boracay will definitely be one of the firsts to come to mind. It's the most popular beach destination in the country and has been on top of the list of numerous publication's best islands not only in Asia but in the world.
Once you get to Boracay, you'll immediately understand why it attracts a lot of tourists. Its natural beauty, especially the gorgeous white sand is unmatched. And with the many different types of resorts all over the island, Boracay is a destination for everyone. There are also a lot of restaurants and shops that you can check out, and activities that you can try. Whether you're traveling with your friends, with your loved one, with family, traveling solo, or if you're a luxury traveler or a budget backpacker, there is something for you to have an amazing time in Boracay.
ATTENTION! Don't forget to accomplish all the requirements prior to your visit. Make sure that you are flying to the right airport too. Check the official websites or Facebook pages of Aklan local government, Aklan Tourism, and Boracay Tourism for updates and announcements. Read more about Boracay's new normal travel policies and requirements here: BORACAY & KALIBO TRAVEL REQUIREMENTS!
---
Best Area to Stay
Knowing the geography of the island would help a lot when looking for a place to stay. Boracay is comprised of three barangays, Manoc-manoc, Balabag, and Yapak. These names will come up when you're checking accommodations online, but for tourism purposes, it's easier to split the island by beach instead.
The most popular, and also the longest strip in Boracay is White Beach, but there are other beaches here too. When you look for accommodations, it is important to check which beach it is located in as well.
White Beach: The longest beach on Boracay Island and has the most accommodations. Here, you'll find many of the key attractions on the island like D'Mall, grotto, and the most popular restaurants. White Beach is split into three (3) stations — Stations 1 and 2 in Barangay Balabag, and most of Station 3 in Barangay Manoc-manoc. Station 1, located on the northernmost end of the beach, is quieter. In Station 2 and 3, you can find many shops and bars.
Bulabog Beach: A long stretch on the eastern side of the island. The sand here may not be fine, but it is a well-known jump-off point for many thrilling water activities in Boracay.
Diniwid Beach: Located on the north of Station 1 of White Beach. There are a few resorts and hostels here. From Diniwid Beach, you can access White Beach through a cemented walking trail along the beach.
REMINDER: If you're going to Boracay, the local government unit mandated a No Booking, No Entry policy. You must have proof of booking in an accredited accommodation.
Top Beachfront Resorts
Not all hotels and resorts in Boracay are beachfront. If that's what you prefer, here are the top beachfront hotels on the island.
Top Non-Beachfront Hotels
Top Hostels
If you're looking for hostels or budget accommodations, there are also many of them in Boracay. You may check the list below.
---
Getting There
NOTE: This section is a work in progress. Due to the pandemic, changes may have occurred. Please contact the LGU, terminal, or bus company directly for the latest schedule, routes, and fares.
Manila to Boracay
From Manila, flying is the fastest and easiest way to get to Boracay. There are 2 airports that you can fly to when going to Boracay and each has its own pros and cons.
Kalibo Airport: Cheaper fares, but travel time from the airport to Boracay is around 2 hours.
Caticlan Airport: Fares are much more expensive than Kalibo, but is only 15-30 minutes away from the island.
From Kalibo or Caticlan Airport, you will then make your way to Boracay.
Kalibo Airport to Caticlan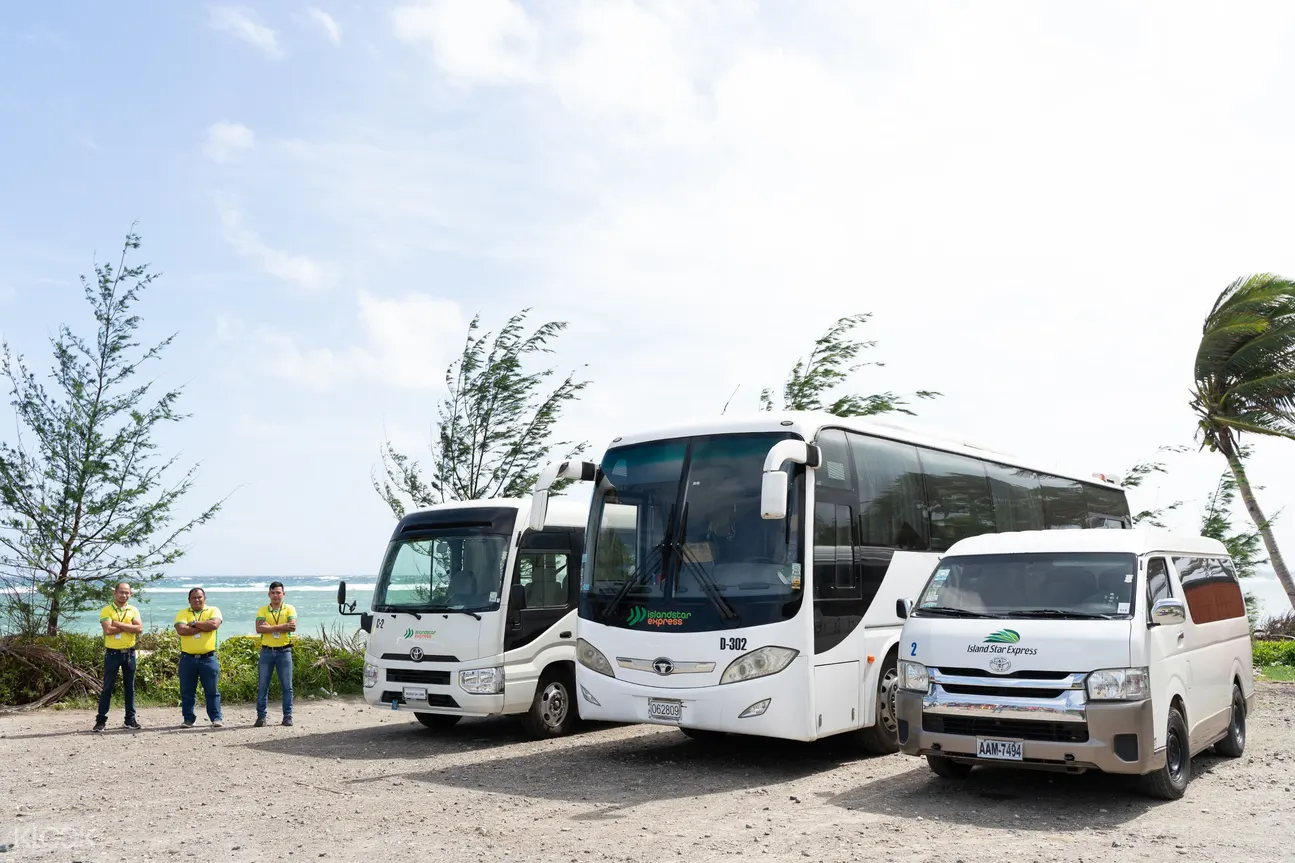 If you're flying to Boracay through Kalibo Airport, you need to travel an hour and a half to two hours to reach Caticlan Jetty Port. There are different options on how you can get there including packaged transfer to Boracay. Here are your options to reach Caticlan.
Local Bus: The cheapest way to get to Caticlan from Kalibo. From the airport, ride a tricycle to the bus terminal and board a Ceres bus bound for Caticlan. The bus fare is P120.
Tourist Bus/Van: There are "non-packaged" buses or vans that can take you to Caticlan Jetty Port. The fare is P200.
Packaged Bus/Van Transfer Service: If you don't want to do the transfers on your own, you can avail of the packaged transfer service. This is inclusive of transfer from Kalibo Airport to Caticlan Jetty Port, boat ride to the island, terminal fee, environmental fee, and hotel transfer. You will also be assisted through the process at the jetty port. Packaged transfer service costs P490 per person for van and P480 per person for bus. ✅ BOOK VAN/BUS TRANSFER HERE!
Caticlan to Boracay
Whether you are coming from Kalibo Airport or Caticlan Airport, you need to go to Caticlan Jetty Port. If you're flying to Caticlan Airport, take a tricycle to Caticlan Jetty Port. The fare is between P50 to P75, depending on the number of passengers. If you are flying to Kalibo Airport, take a bus or a van to Caticlan Jetty Port. Follow these steps when you arrive at the port.
Proceed to the Registration Area located in the tents set up outside the terminal building. For the monitoring of the number of tourists in Boracay, visitors need to write their names on a logbook.
Make your way to the Verification Area. You will be asked to present proof of accommodation or hotel booking. All tourists who are spending at least one night on the island are required to have a hotel booking.
Go to the payment windows to pay the fees. You may choose to either ride a pump boat or an oyster ferry. You'll then pay the boat fare (P25-30 for the pump boat or P100 for the oyster ferry), along with the following fees: terminal fee (P100), environmental fee (P75).
Enter the port building. Before entering the building, there will be a security check. After that, you may proceed to the Passenger Waiting Area to wait for boarding.
When it's time for boarding, look for your boat and line up. The travel time to the island is 10-15 minutes.
Ride a tricycle to your accommodation. The boat will take you to Cagban Port or Tambisaan Port. When you arrive at either port, there will be tricycles in the area. Take a tricycle to your hotel or resort (P100-P150).
If you also prefer a convenient transfer to your hotel when you arrive on the island, there are also transfer services that offer van airport transfer from Caticlan Airport to the Caticlan Jetty Port, boat crossing, and multi-cab hotel transfer. Klook is offering options that cover an English-speaking driver, fuel fees, luggage allowance, insurance provided by the operator, a one-way transfer from Godofredo P. Ramos Airport to Boracay hotel, shared land and boat transfer, terminal fees, environmental fees, and boat ticket.
---
Tourist Spots & Attractions
Island Hopping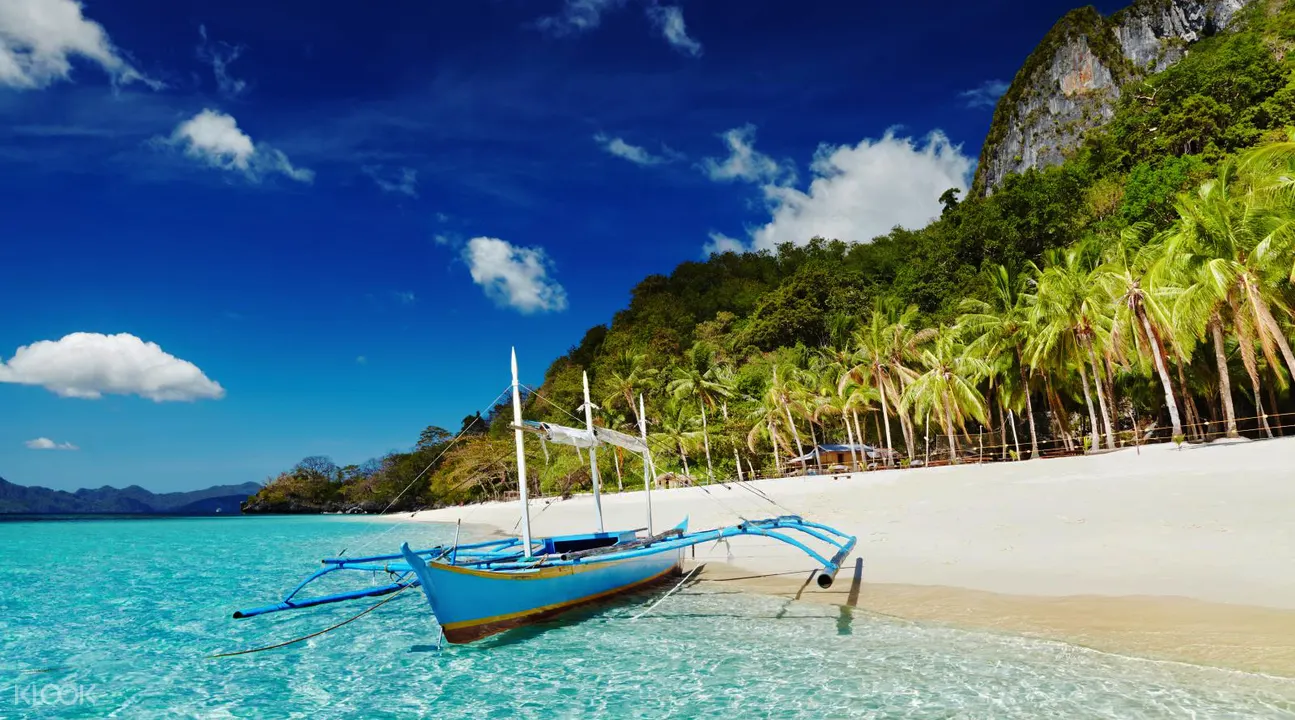 Aside from the White Beach, Boracay has a lot of other stunning beaches. It is also surrounded by smaller islands.
When you're on the island, there will be a lot of touts offering an island hopping tour. It usually costs P500-600 per person and the stops include Puka Beach, Crocodile Island, and Crystal Cove Island. However, Crystal Cove Island is temporarily closed and you'll only be admiring the Crocodile island from the boat. This leaves your tour with Puka Beach and a snorkeling site.
You can either charter a private boat for your group, especially if yours is a big one, or you can join a group tour. Klook is offering both private and regular island hopping tour packages that include a guide and BBQ lunch.
✅ CHECK PACKAGE OPTIONS & RESERVE HERE!
Ariel's Point Cliff Diving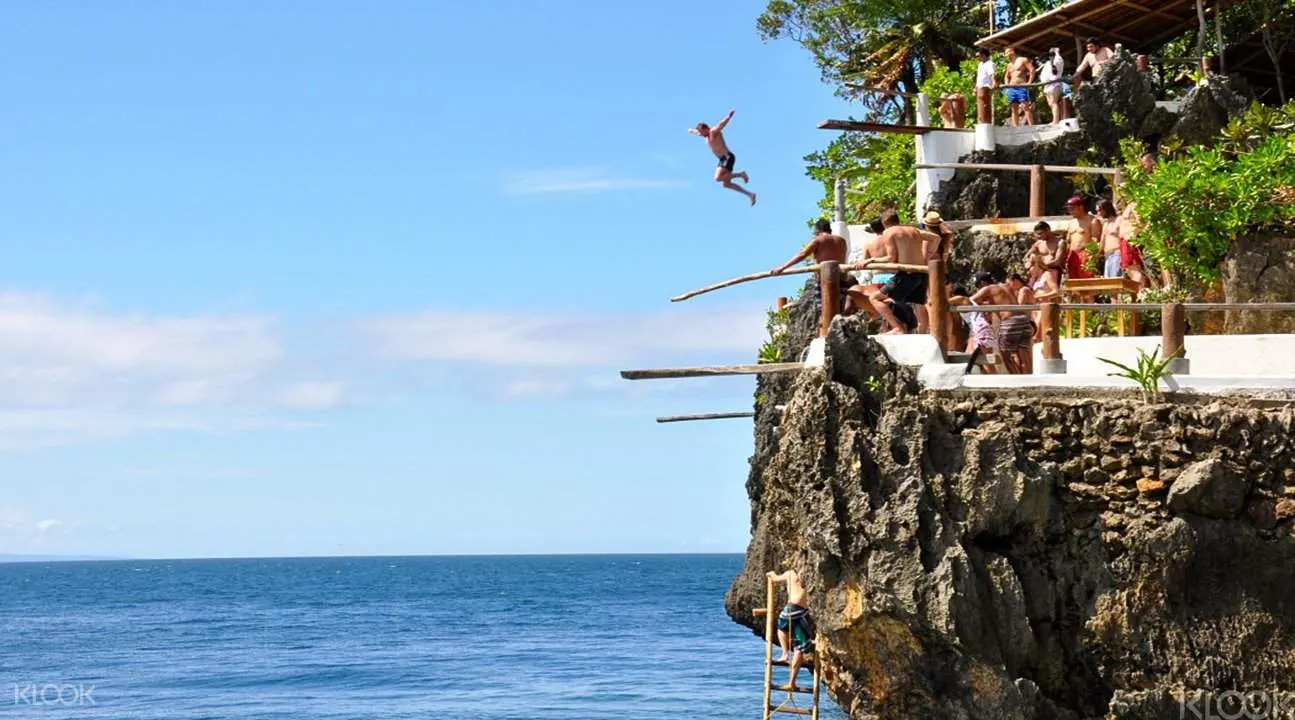 If you're seeking adventure, you shouldn't miss Ariel's point. You can jump from the five cliff diving platforms into the clear blue waters below. According to their website, the highest platform is 13 meters and the others are at seven (7) meters, six (6) meters, five (5) meters, and three (3) meters. If you don't want to jump on the platforms, they also have a floating dock you can use to get in the water.
Rate: P2,800/person. This rate is for a package inclusive of a round-trip outrigger ride, BBQ lunch buffet, afternoon snacks, unlimited drinks, and use of amenities and activities in Ariel's point, and local environmental fee, and snorkeling fee.
Paraw Sailing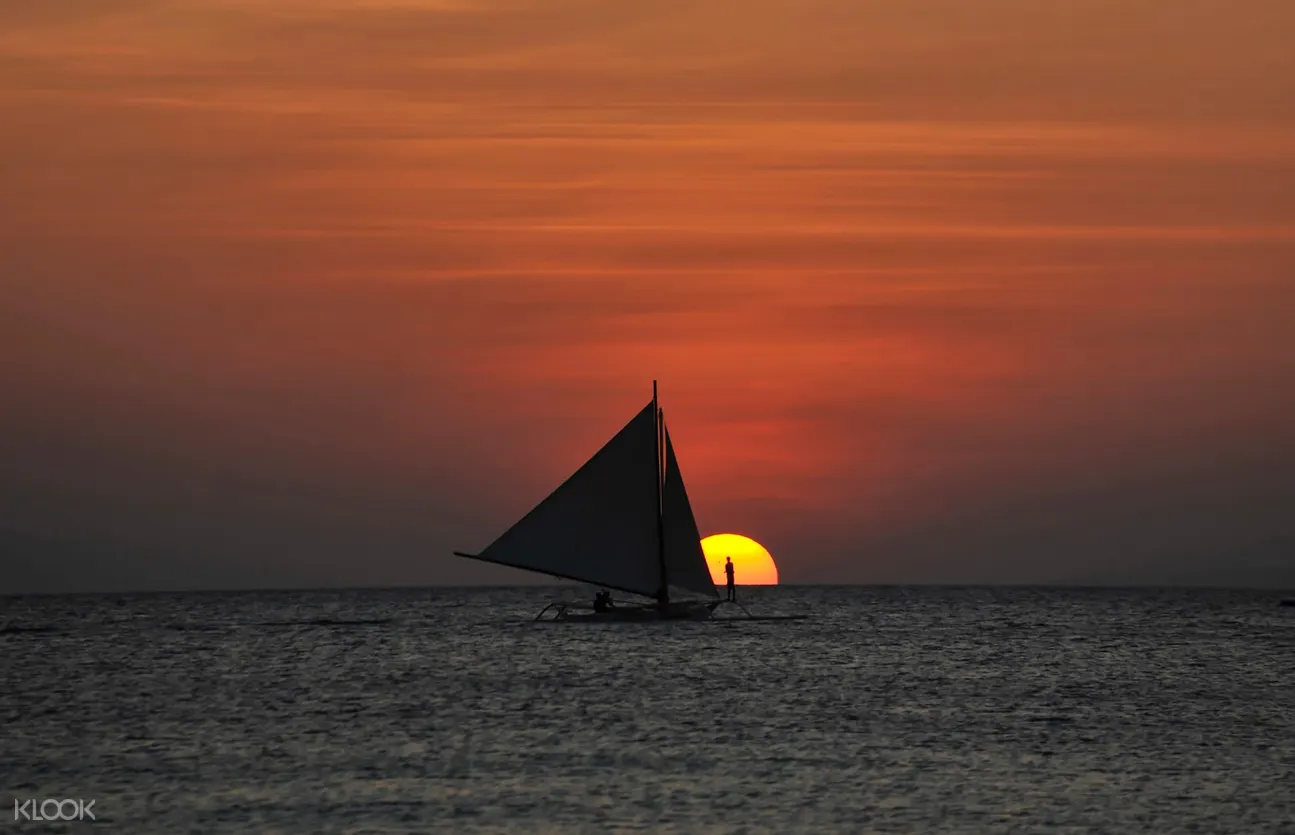 Paraw is an outrigger boat with two sails. You can sail the old school way with these sailboats, which have become one of the most well-known icons of Boracay. You can go sailing during the day or at sunset!
✅ BOOK DAY PARAW SAILING HERE!
✅ BOOK SUNSET PARAW SAILING HERE!
Parasailing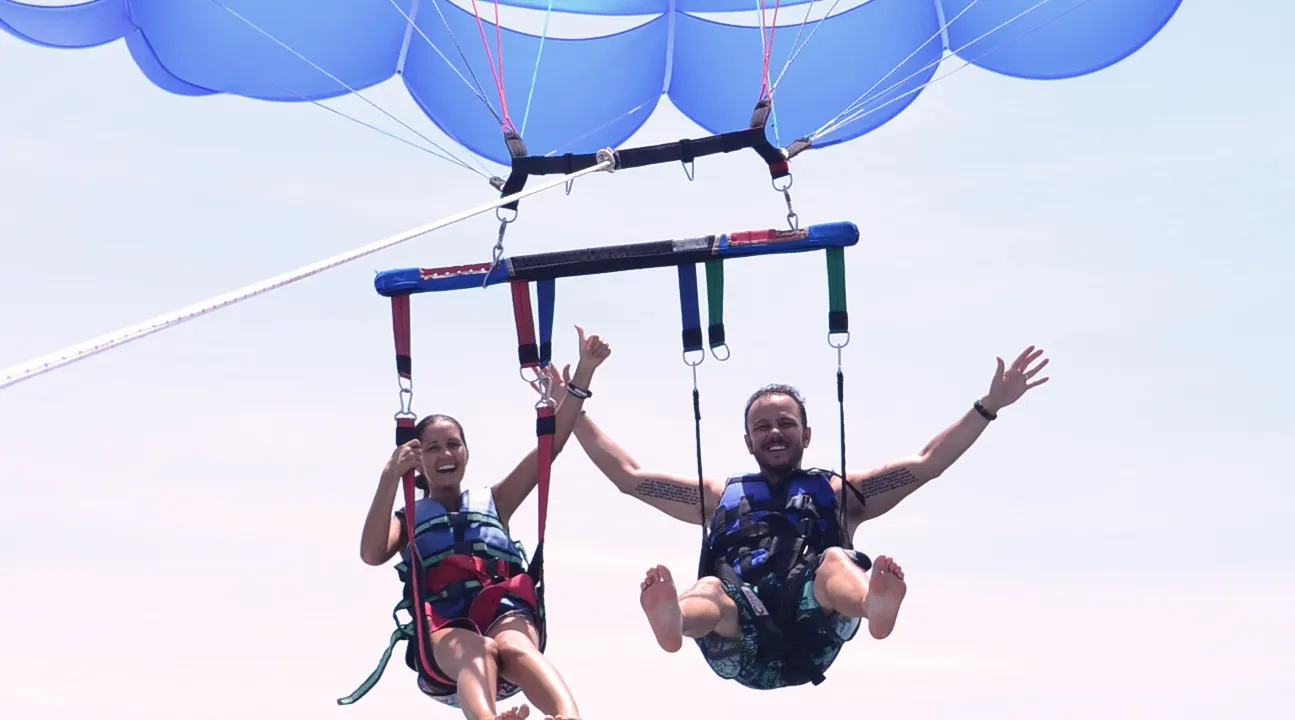 For a more thrilling and amazing view of Boracay, soar high above by parasailing. Make sure to have a camera ready because the boat staff will gladly take your photos while you're flying over the beach.
Rate: P2500/person
But you can score a good deal when you book with Klook! Check for the discounted packages. You may opt to do a solo parasailing or do it with someone for the tandem parasailing. The packages usually include the 15-minute parasailing experience, boat ride, parasail equipment, safety gear, and a guide.
Banana Boat and UFO Rides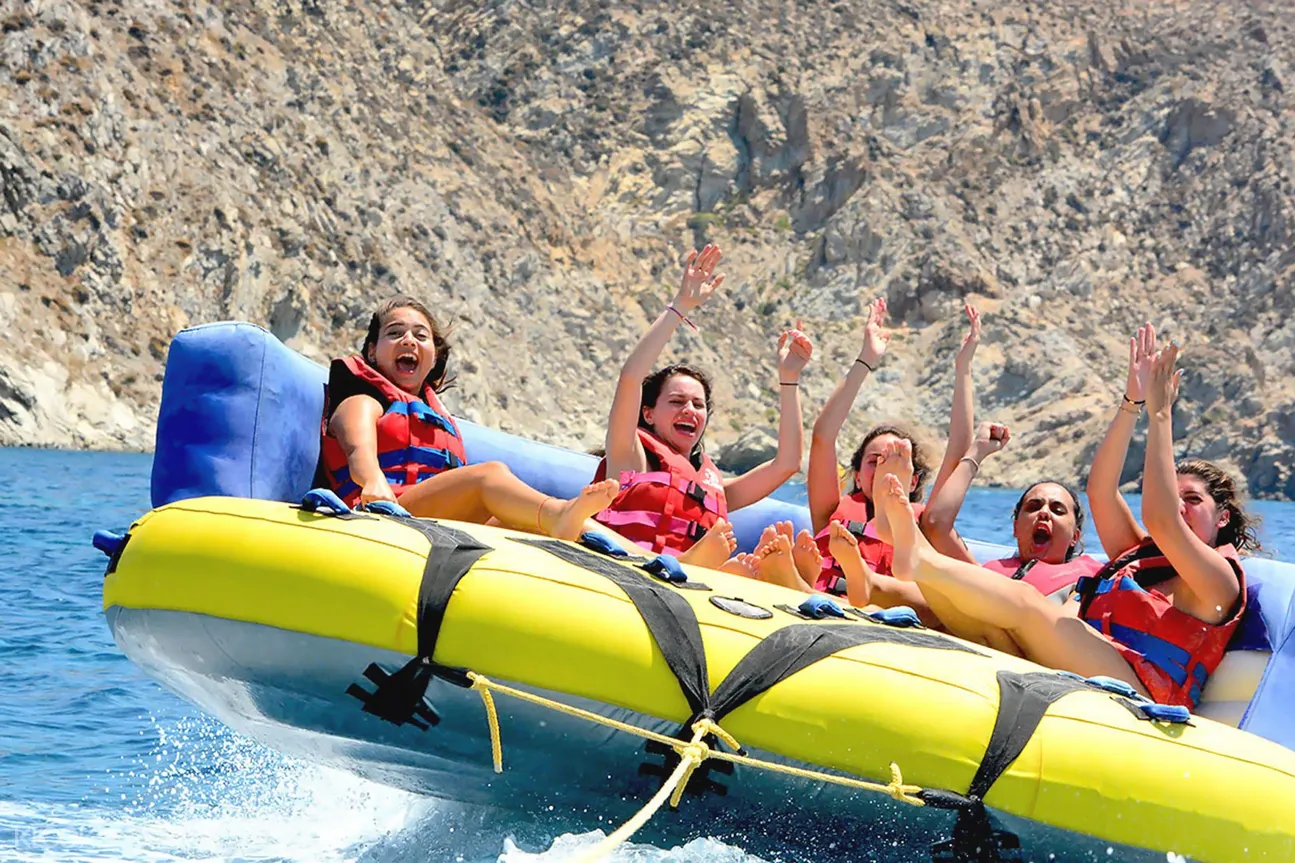 For more adrenaline rush, you can ride a giant inflatable vessel pulled by a speed boat. This is an exhilarating ride that you can do with your friends. The ride is not recommended for 18 years old and below.
Stand Up Paddleboarding (SUP)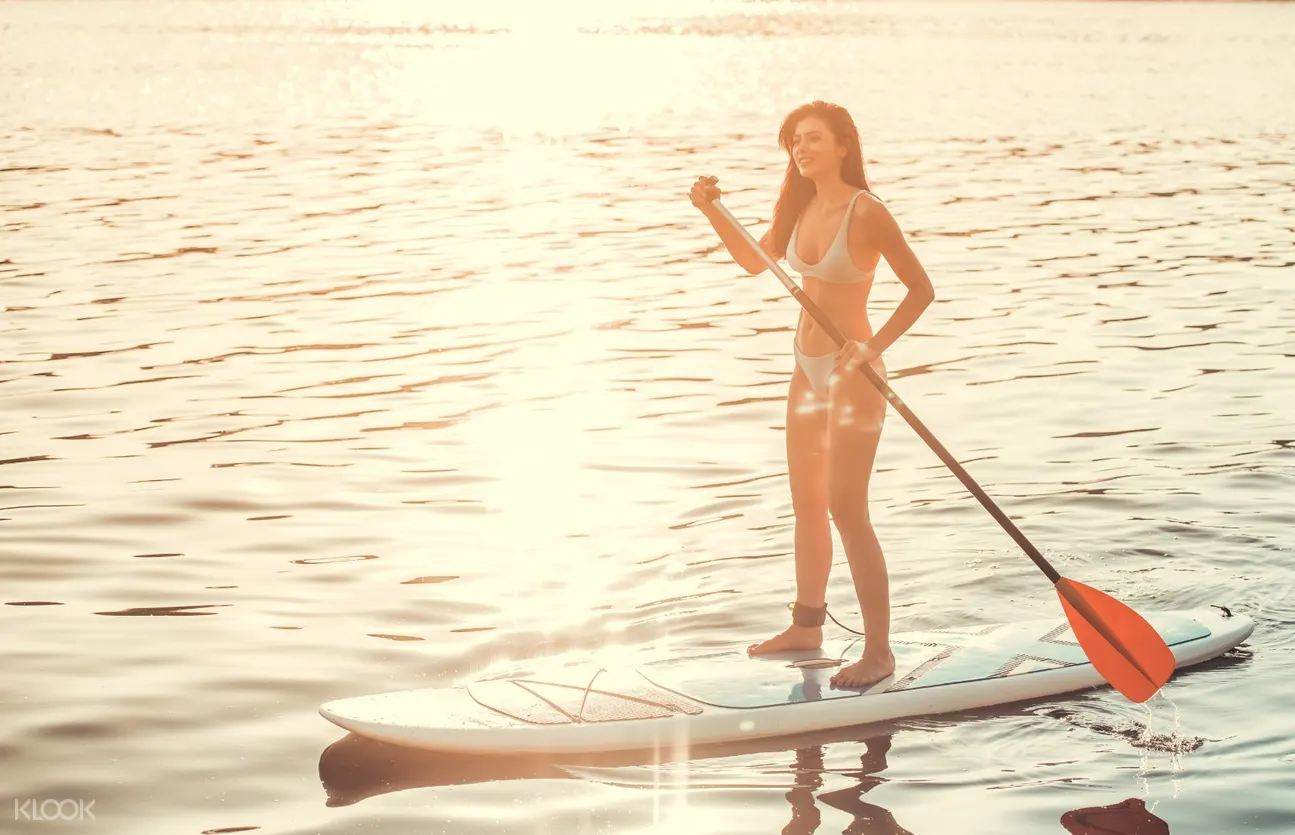 The calm waters of White Beach make it a great place for stand-up paddleboarding. This is an activity you can do in Boracay even if you're a beginner or if you want to learn. SUP is up!
Haqqy Boracay Pub Crawl
Apart from the beautiful beach, Boracay has been known for its nightlife. After its shutdown in 2018, many wondered if the nightlife would stop, but the clubs and bars remained when it reopened. If you want to get a dose of the nightlife on the island, joining a pub crawl is a great way to do that.
Haqqy Pub Crawl will take you to different bars and allow you to party with other travelers from different parts of the world. There will also be a guide and a professional photographer with you during the pub crawl.
---
Best Time to Visit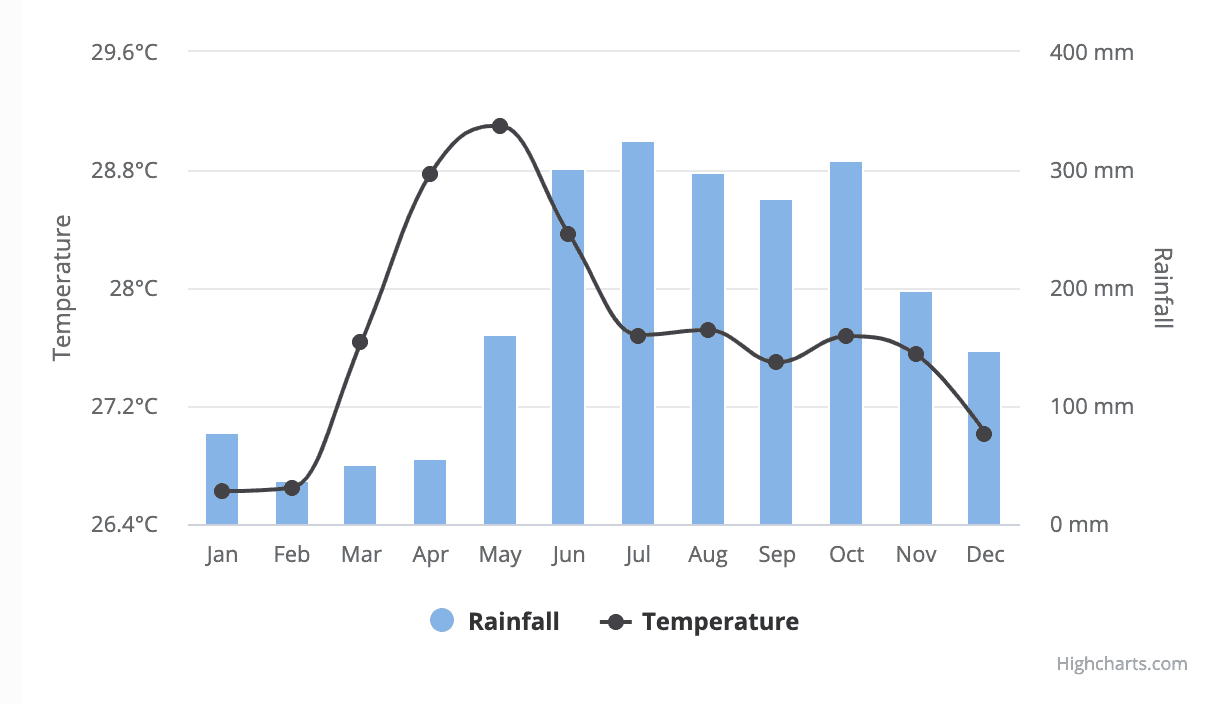 The dry season is the best time to visit Boracay. February to May are the driest months, but keep in mind that the period between April and May is considered peak season, especially during Holy Week.
If you don't want the rain to ruin your itinerary and avoid the crowd too, you can consider the months of November to January. However, you might want to avoid the days around Christmas and New Year because they are busy months too.
---
Recommended Restaurants
Jonah's Fruit Shake: This is the most popular fruit shake on the island. It guarantees using fresh ingredients for these rich and delicious fruit shakes. Many tourists are raving about it, and fans are claiming that this one should not be missed when on the island.
Real Coffee and Tea Cafe: The home of Boracay's popular calamansi muffin. Real Coffee and Tea Cafe has been serving freshly brewed coffee and their home-baked calamansi muffins since 1996. You can find the shop on the 2nd floor of Sea World at Station 2.
Halomango: A popular dessert house in Boracay, Halomango is located in D'mall in Station 2. They are known for their mango-flavored desserts especially their mango soft serve ice cream. Halomango's ice cream is available in cups, cones, and big bowls, which you can share if you're a group.
Los Indios Bravos: Los Indios Bravos is a gastropub along White Beach. They serve local handcrafted beers and classic pub food from different places. If you want to try their different handcrafted beers, order their beer sampler.
Merly's BBQ Boracay: This is not a restaurant but a barbecue stand along White Beach. It has been in business since 1988 and has become a popular food spot on the island. Aside from the barbecue, the chori burger and longga burger are a must-try too!
---
Practical Travel Tips
Always check for updates. Some adjustments have to be taken for establishments and attractions to operate during the new normal. Don't forget to contact or visit the official websites or Facebook pages of the attractions and activities for announcements and updates before going.
Leave nothing but footprints. Boracay has been shut down for rehabilitation in 2018, and now that it's back, let's do our part to keep its beauty. Make sure to throw away your trash properly and don't litter on the beach.
Practice Sustainability. Support the local community by purchasing their products. Help lessen the trash by bringing reusable water bottles and dry bags/ eco bags to avoid the use of single-use plastic.
Use coral-friendly sunscreen. When choosing a sunscreen, choose one that doesn't only protect your skin from the harmful UV rays but also doesn't harm the environment too. Use products that don't have chemicals like oxybenzone, benzophenone, and parabens that harm corals.
---
Sample Itinerary
Here's a sample 3-day itinerary for Boracay. Feel free to make adjustments depending on your preferences.
Day 1
-Arrival at Caticlan Airport
-Travel to Jetty Port
-Registration, Verification, and Pay fees at the port
-Boat transfer to Boracay
-Boracay Arrival
-Travel to your hotel
-Check in or drop bags at the hotel
-Lunch
-Stroll or swim at White Beach
-Watch Sunset
-Dinner
-Walk around D'mall
-Lights off
Day 2
-Island Hopping Tour
-Freshen up at the hotel
-Watch Sunset
-Dinner
-Haqqy Pub Crawl
-Lights off
Day 3
-Check out of the hotel
-Go to the port
-Buy a ticket and pay the terminal fee
-Tricycle to Caticlan Airport
-Departure
---
Reminders