There's something about sunsets that make one stop and stare, watching the blue skies turn into a faint red and then into a fiery orange that lights up the sky, before settling into a moon and starlit night.
A sunset may signify a lot of things to different people; it may be a new start or the end of something beautiful, tragic or simply just another day. Whatever it may mean to you, watching it in a particular place (or with a particular someone) make the moment all the more special. Here are some of the best beaches to watch the sunset.
Boracay
Boracay has turned into a highly commercialized destination with restaurants and resorts for all kinds of budgets dotting the small island; you will no longer just hear Aklanon, Bisaya, or Tagalog but will also hear all the variants of English, Arabic, Korean, German, and Spanish. Despite the island's transformation in the last few decades, there's something about its sunsets that make visitors and locals alike to stop what they're doing and just watch in wonder. The skies turn from white and blue to a faint red, then into a blazing mix of yellow and orange. The silhouette of paraws (sailboats) adds to the island's iconic sunset. (SEE FEATURED PHOTO)
Where to Stay: Boracay Hotels and Resorts
---
Marimegmeg Beach (El Nido)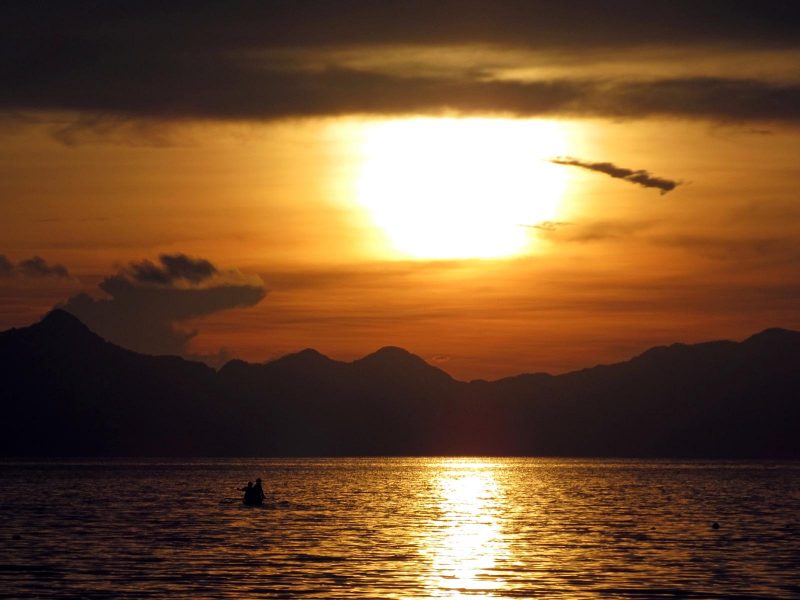 El Nido is famous for its beautiful islands with turquoise and glass-like waters, bone-white powdery sand beaches, and frontier-like beachscapes of towering limestone formations. After swimming, snorkeling, and lazing on the beach, go to Marimegmeg (also known as Las Cabanas) to watch the magnificent sunset while drinking a cold bottle of beer or your favorite drink. Watch the sky melt into the background of rock formations and the open sea.
Where to Stay: Palawan Hotels and Resorts
---
Urbiztondo Beach, San Juan (La Union)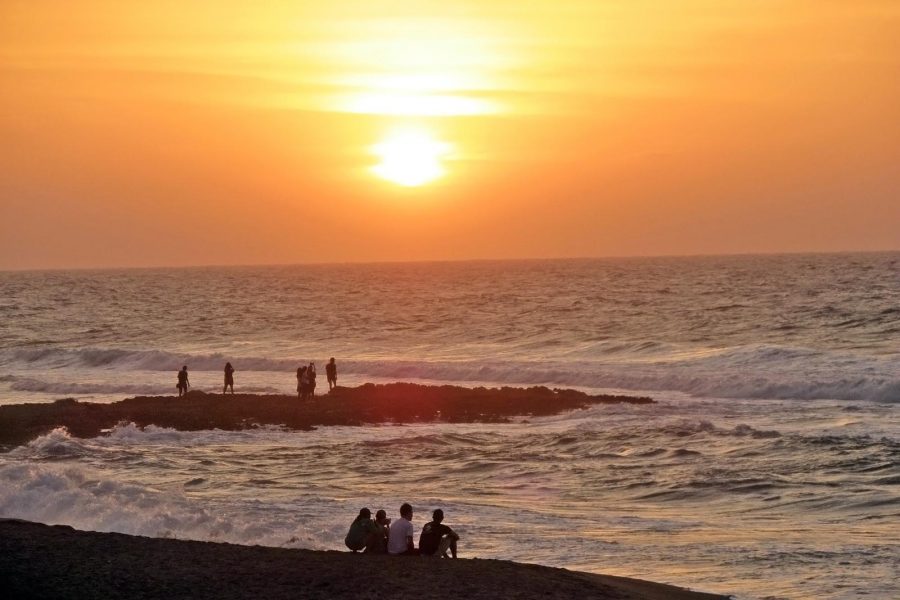 La Union is famous for surfing; people from different parts of the country and the rest of the world go to this province to test their mettle on the waves. Other than becoming a better surfer, Urbiztondo Beach has a sunset that is nothing short of spectacular. There are no rock formations or towering buildings to block the view or create silhouetted images; it's just the sun setting over the horizon and the open sea. There's something poetic about the sky turning from a clear blue and white into a blazing red, and then later into a hazy orange.
Where to Stay: La Union Hotels and Resorts
---
Bonbon Beach (Romblon)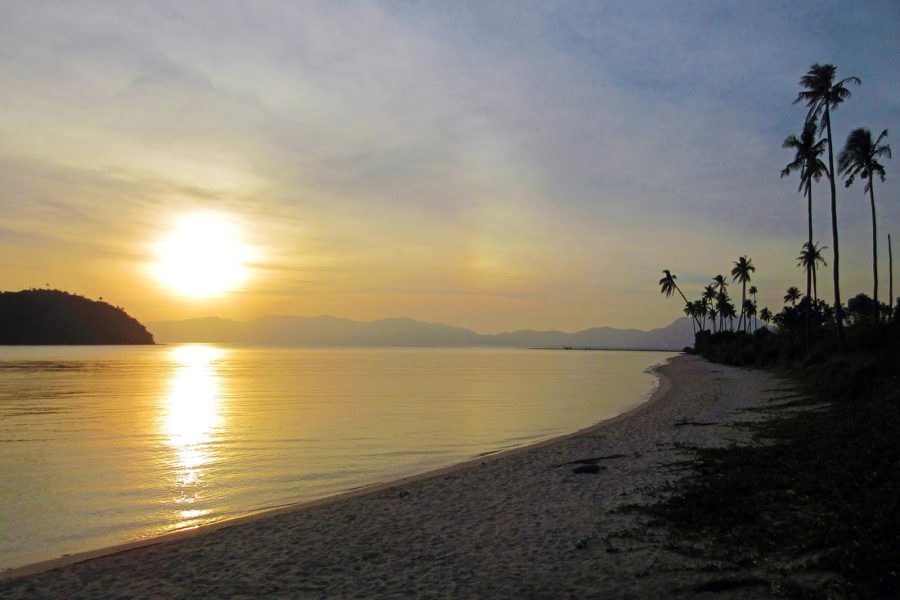 If you want a place to get away from the hustle and bustle of the city and the crowds found on famous beaches, go to Bonbon Beach in Romblon. There are very few people coming and going. Also, there is no sign of immediate commercialization, meaning there is a higher possibility of having nobody else while you watch the magical sunset. The last rays of the sun will bathe the beach with its soft reddish light while it casts shadows on the surroundings.
Where to Stay: Romblon Hotels and Resorts
---
Tiamban Beach (Romblon)
Tiamban Beach may be small in size compared to Bonbon, but watching the sunset here is just as beautiful. There are also few people coming and going; there might be days that only a handful will be by the beach taking the view in.
Where to Stay: Romblon Hotels and Resorts
---
Anawangin (Zambales)
Weekend warriors are familiar with Zambales, especially Anawangin Cove. After the day's activities such as viewing the cove and swimming, end the day by watching the blue skies turn into various hues of purplish, reddish, yellowish, and orange light before becoming completely dark.
Where to Stay: Zambales Hotels and Resorts
---
Calaguas (Camarines Norte)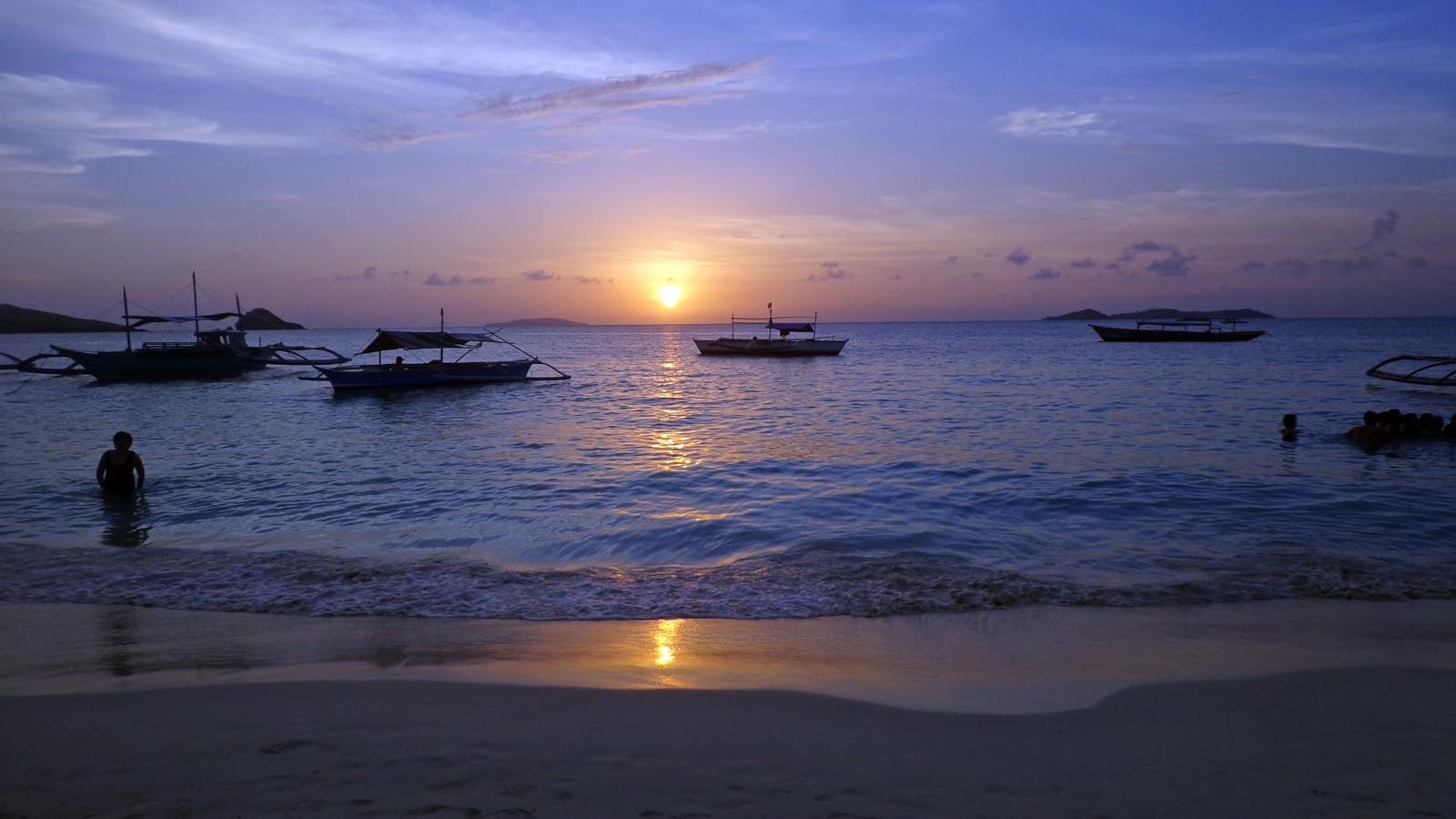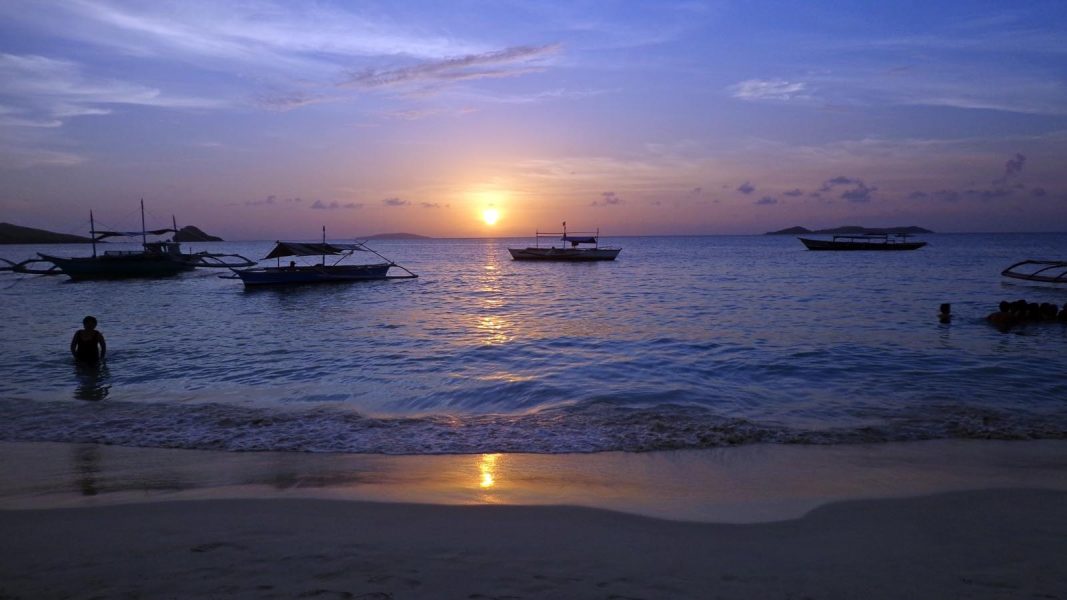 Calaguas is a popular destination for many coming from Manila because it is a possible day trip over regular or long weekends. The sand is fine and bone white; the waters, cool and clear. It may have changed from a once idyllic beach destination to a more famous one (and all it brings, whether positive or negative), yet Calaguas can still elicit wonder from its visitors once the sun sets. With no buildings blocking your view, you have front-row seats to nature's work of art.
Where to Stay: Calaguas Hotels and Resorts
---
Patar Beach (Pangasinan)
Patar Beach is the go-to place of the weekend warrior because of its accessibility from Manila, either by public or private transportation. After exploring the attractions near Bolinao, kick back and relax while sipping on your favorite drink while watching the golden sunset.
Where to Stay: Bolinao Hotels and Resorts
---
Mabua Pebble Beach (Surigao del Norte)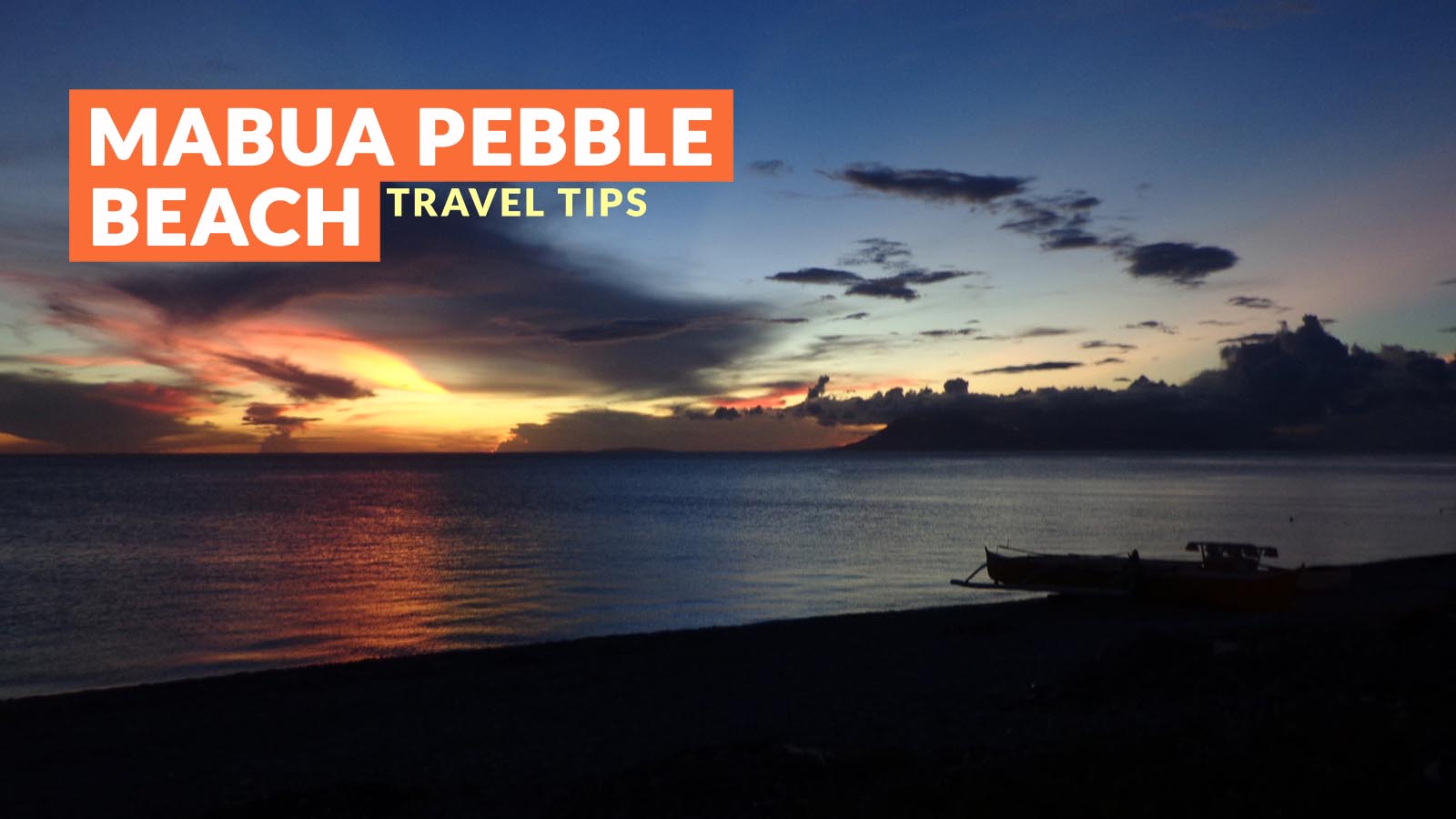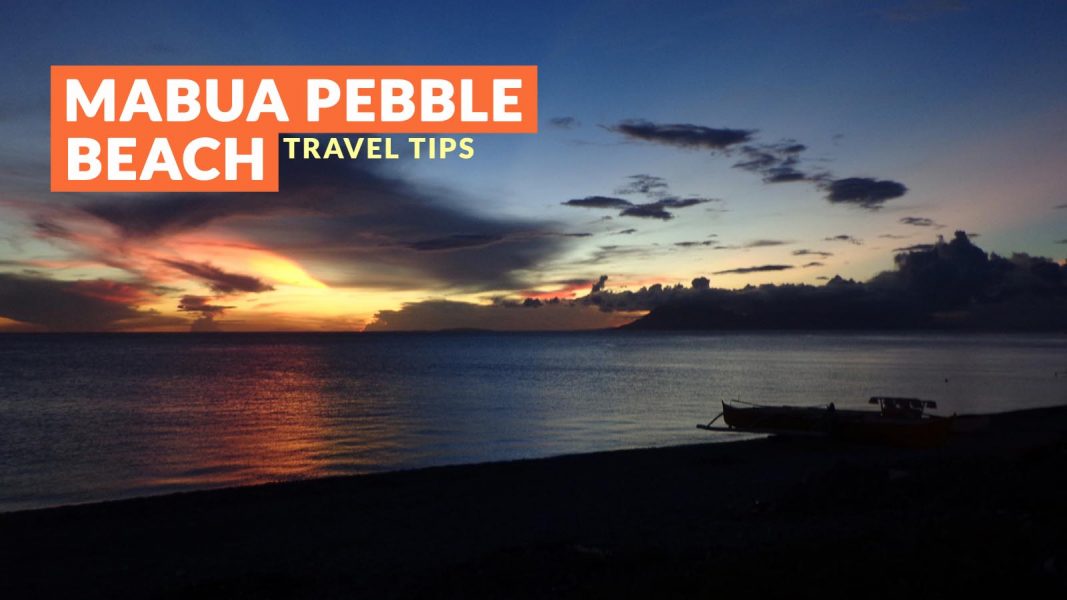 Mabua isn't your typical beach destination; the biggest difference between this and the others is that pebbles instead of sand line the shore. Locals and tourists alike make their way to the outskirts of Surigao City not just to swim and have a picnic but also to watch the majestic sunset. This is the perfect way to end your day just before your flight back to Manila or your next stop in the region.
Where to Stay: Surigao City Hotels and Resorts
---
Bounty Beach, Malapascua Island (Cebu)
Cebu has many islands and beautiful beaches; one of which is Malapascua. After a day around the island and plenty of activities such as swimming, snorkeling, or just relaxing on the beach, cap the day off by watching the sunset on the island at Bounty Beach.
Where to Stay: Cebu Hotels and Resorts
—–
The Philippines has many other beaches where you can watch the sunset, from Luzon to Visayas to Mindanao. Take your pick. Whether you are traveling on your own, with friends or a special someone, there's something about sunsets that makes you stop, stare, and just take the experience in.
Reminders