Guimaras is famous for yielding the sweetest mangoes in all of the Philippines. However, this isn't the only reason to visit this small, beautiful island province in the western Visayas. There are beautiful beaches, stunning bird's eye views of the surroundings, and places to chill after a tiring day of exploring.
Guimaras is accessible from Iloilo City via a short boat ride from Parola in Iloilo to Jordan in Guimaras. The fare is cheap at P14. This is the primary reason why some would just go on a day trip to the province. But the island deserves at least one night. If you plan to visit the island, here are some of the attractions to visit as well as things to do.
---
Alubihod Beach
This beach is your likely first stop because of the many accommodation options within the area. The cream-colored sand and azure waters make for a perfect setting for swimming as well as just chilling out. This is also a possible jump-off point for island hopping.
View this post on Instagram
---
Guisi Beach
This raw but beautiful beach is picturesque with its cream-colored shoreline, turquoise waters, and rock formations. Take a leisurely stroll on the shores, wade in the waters to douse the afternoon heat, or just relax and unwind. Its remote location makes it an ideal stop for those who want a quiet getaway. Guisi Beach is a possible addition to your land tour, renting a tricycle with driver costs approximately P1200+++. The tricycle can accommodate up to five persons.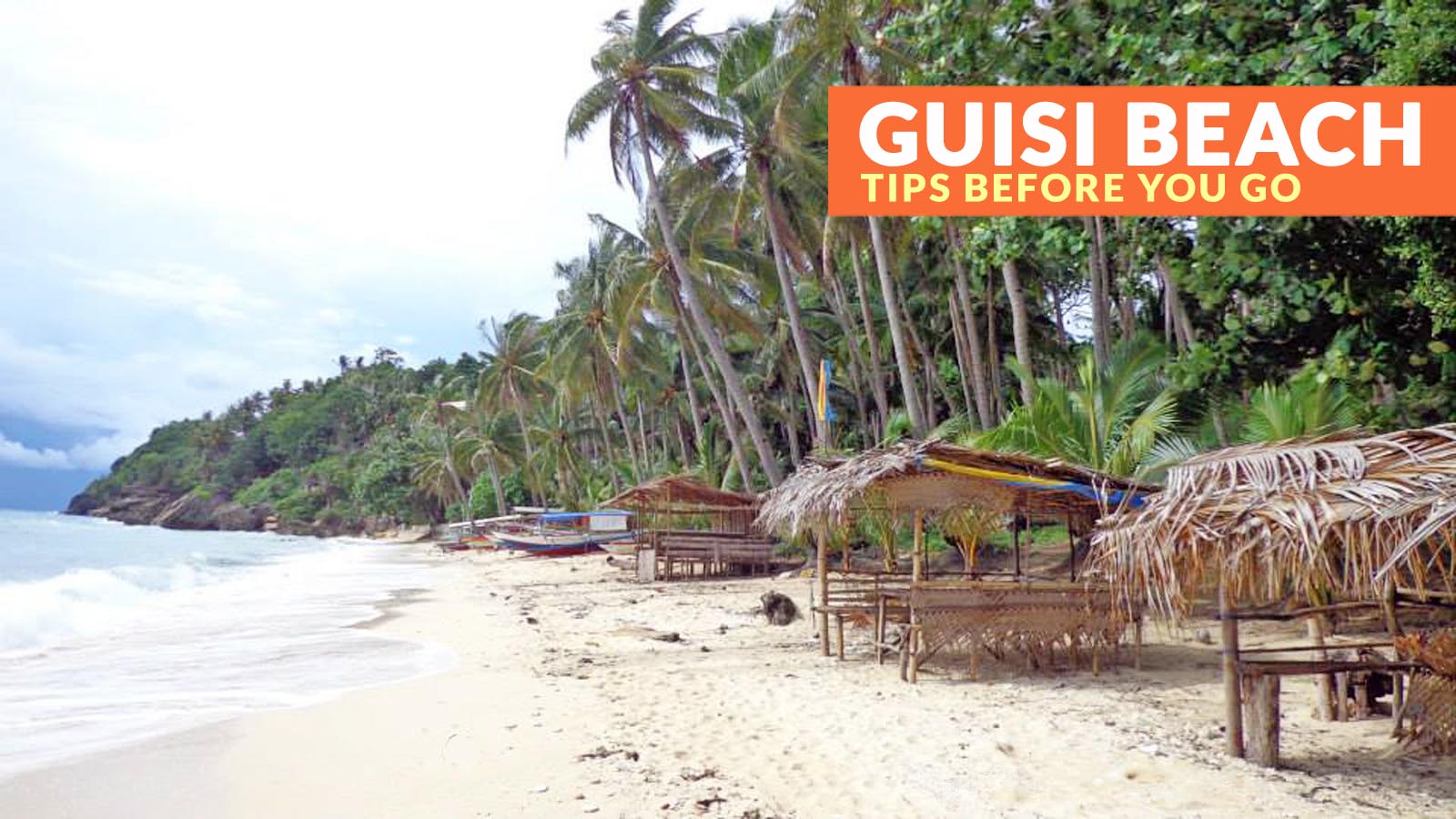 ---
Guisi Lighthouse
The towering lighthouse overlooking Guisi is one of the country's oldest. The creaky steps leading to the viewing deck will remind you of how old this structure is. After reaching the platform, you'll get a 360-degree view of the island. Take a couple of photos before moving to your next stop. You can include this destination in the tricycle tour that costs around P1200+++.
View this post on Instagram
---
Sadsad Waterfalls
After you enjoy and explore the beaches, visit Sad Sad Waterfalls. There is a short trek before you reach the cascade and natural pool. The moss-covered rock formations and the surrounding trees give the waterfall a raw but stunning appearance. The tricycle tour (that costs around P1200) includes this destination.
View this post on Instagram
---
Trappist Monastery
The Cistercian Order of the Strict Observance operates the monastery. They are known for their strict and simple lifestyle. This a short stop where you could purchase souvenirs and mango products. Shopping here helps the monks earn a living.
View this post on Instagram
---
The Pitstop
As you already know, Guimaras is famous for its mangoes. If you want to try mango products, make your way to The Pitstop. The restaurant serves unique mango-infused food such as pizzas, adobo, burgers, shakes, and pasta just to name some. Drop by for a meal after exploring and enjoying the island's attractions.
View this post on Instagram
---
Island-hopping
Like many tourist destinations in the country, island-hopping is a must while in Guimaras. Your possible jump-off point is Raymen Beach Resort near Alubihod Beach. They offer boat rentals to nearby islands for solo travelers and groups. Rates start at P500 for the initial hour and then P150 for every hour afterward. You can also rent a snorkel and mask for P100. The inclusions of this trip are:
SEAFDEC – this stop is an institute that studies marine ecosystems. It provides you with a glimpse of the research done by locals to educate government personnel, fish farmers, and students.

View this post on Instagram

Turtle Island – this small island has a cream-colored beach and azure waters perfect for swimming and sunbathing.

View this post on Instagram

Baras Beach – this destination may not have a stunning shoreline, but it makes up for it with beautiful views of nearby islets. There is a cliff diving spot here, but avoid jumping when the waves are too strong.
Natago Island – this privately-owned island has a raw but fetching appearance with its jagged rock formations and ochre shore. It also has a small sandbar connecting one islet to another.

View this post on Instagram
---
San Lorenzo Windmills
There are more than 50 windmills in Guimaras. These generate more than enough energy for the whole island. The excess capacity is transferred to nearby provinces. The view of the windmills coupled with the countryside scenery makes for stunning photo backgrounds.
View this post on Instagram
---
Holy Family Hills
This religious attraction is an ideal place to say a prayer and reflect. You'll see a chapel, a shrine, and a collection of holy statutes. It is also a possible retreat and recharge destination.
View this post on Instagram
---
Manggahan Festival
If you find yourself in Guimaras during summertime, particularly on the month of May, you'd get to enjoy and experience the Manggahan Festival. Here, you'll get to witness a parade, concerts, and exhibitions. There are other activities such as trade fairs and the famed mango-eating contest.
View this post on Instagram
---
Where to Stay in Guimaras
Guimaras has a number of accommodations for all budgets. Most of your options will be in or near Alubihod Beach, Nueva Valencia. There are resorts here that have competitive prices. If you want to get away from the crowds, head on over to Guisi.
Here are some of the recommended resorts in Guimaras according to Agoda users, in no particular order.
For more options, search here: Guimaras Hotels
Reminders