Batangas has always charmed seasoned and non-seasoned travelers alike. This place has all kinds of that beach and mountain vibes that everyone deserves and wants. For the past years, it has risen to fame for its varied types of go-to places for the people from all walks of life. May you be a family, couple, or lone traveler, Batangas has a sure destination for you.
Unbeknown to the greater population, tucked a couple of hours away from the city center of Batangas is Verde Island (or Isla Verde). It is not as popular as Fortune Island or Tingloy Island, but it has its own charm and beauty that one who comes here the first time would want to keep coming back. Here are some of the reasons why I do:
1. A Few Hours Drive from Manila
Nowadays, going to the beach is a much-needed sweet escape from the weekday 9-5 hustle. The sun, sand, and salty waters are therapeutic enough for that tired body that longs for relaxation away from the city buzz. But even the long drive of 10-12 hours is also too tiring; buying a plane ticket is too expensive. If only there are vacation destinations near Manila eh? Oh, wait. There actually is!
That's what Batangas is famous for. Imagine driving for only 3 hours away from the metro and riding a boat for an hour or less, and you get that anticipated vacation. Verde Island gives our tired soul that easy getaway from the hustle and bustle of Metro Manila's pollution. All without having to sacrifice a vacation leave!
2. The Crystal Clear Blue Waters
Let's face it, who doesn't love crystal clear blue waters? It's usually the second, if not the top, reason why people flock to the beaches. It's always a treat when you bathe in the salty water that's visually clear underneath, all the while maintaining its bluish color. It's perfect for that photo op and that much-coveted post.
Verde Island is surrounded by clear waters and if you come on a nice weather, you get that calm waters for a treat all day. It tends to be stormy and windy in this part of Luzon, but it is indeed a great bonus if you catch the sun and bathe in its clean waters.
3. The White Sand
Many travelers want white sand to accompany the blue waters. Well, it is certainly a beautiful combination — the white sand and blue waters. There are parts of Batangas where the sand is gray-black or brown while there are some that are white sand too. Like a halo, Verde Island's circumference is lined with off-white sand. And what a good way to end your day by simply lying down on that sand, eyes closed, listening to the waves, right?
4. The Rich Marine Life
Verde Island is a part of the very rich marine life and famous Verde Island Passage. The Verde Island Passage, or VIP, is part of the Coral Triangle — one of the greatest centers of Earth's biodiversity. It also has the highest species richness of fish in the world. This place is paradise to all divers, freedivers, and scuba divers. Just a plunge beneath the waters' surface, one will see how rich and diverse its underworld is. Different types of colorful corals inhabit Verde Island, big and small.
Another proof that the waters of Isla Verde are healthy is the presence of species like turtles, stingrays, and dolphins. Yep, you read that right, there were sightings of dolphins passing through. We were lucky enough to have seen a pod (a group of dolphins) while we were snorkeling. The locals said that they usually pass through every morning. Turtles, or Pawikan as it is locally termed, are also present. We saw a youngling while we were diving and some of my friends tried to get closer, but it sure was fast!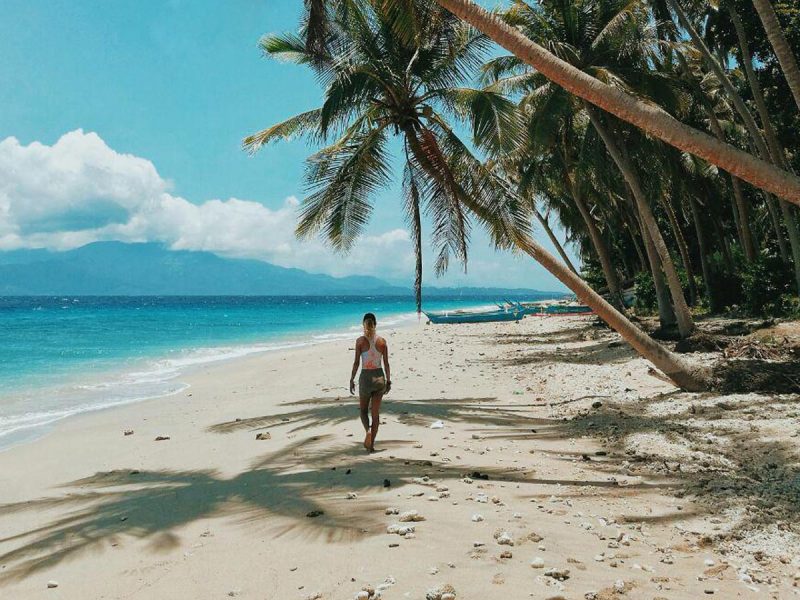 Important Tips
It is best to come here during the summer as it tends to have big currents during the off-season. But if you're feeling adventurous, just make sure to constantly check the weather and wave forecasts on the island before coming.
It is also best to be in constant communication with your contact person from the resort of your choice; they would give the best updates coming from the island and the boatmen.
Boats to the island differ in time schedules. There is only one schedule going to the island and it leaves at exactly 8 o' clock, so make sure to be there early. Also, confirm the port where the boat is docking; there are three ports in Batangas with a 45-minute to an hour away difference from each other. The farthest is in Dela Paz, which is an hour or so away from Batangas Grand Terminal.
Buy your supplies from the mainland. Because it is an island, expect all of the supplies to be more costly than the ones you buy from the mainland market. Little sari-sari stores are also scarce on the island, and far away from each other, so make sure that even your littlest needs such as toiletries are complete before coming to the island.
Reminders