2019 • 02 • 21
The beautiful underwater ecosystem of Apo Reef is one of the famous diving sites in the Philippines. You'll see and may even swim with turtles, see multi-colored (from yellows to blues to greens) and differently shaped corals (from the brain to hand to table shapes). This destination provides you with the respite you need from the hustle and bustle of the city.
How to Get There
Nearest Airport: San Jose Airport (Occidental Mindoro)
By Air
Cebupacific has flights from Manila to San Jose, which takes less than an hour.
From the airport get on a bus or van traveling to Sablayan, the ticket costs roughly P190 and P220 respectively.
From town you can rent a boat to either Pandan Island or Apo Reef, or you can do both on the same tour.
By Sea
OPTION 1
The simplest way to get to Sablayan is to board a Dimple Star bus from Cubao, Sampaloc, or Alabang; the fare for the trip is about P800.
From town you can rent a boat to either Pandan Island or Apo Reef, or you can do both on the same tour.
OPTION 2
You can board a bus traveling to Batangas Pier from Buendia (P167 one way), Kamuning (P175 one way), or Alabang (P137 one way). This may take any time from an hour and a half to three hours.
After arriving at the pier, get on a RoRo heading to Abra de Ilog. This may take around three to four hours per way; you also have to pay a terminal fee of P30 before boarding.
Once in Abra de Ilog, get on a van (around P220 one way) or bus (around P190 one way) heading to Sablayan; the trip may take about two to three hours.
From town you can rent a boat to either Pandan Island or Apo Reef, or you can do both on the same tour.
---
Entrance Fee and Other Charges
Pandan Island Fee: P220 (tour guide entrance); P325/pax (for a maximum stay of 48 hours)
Guide Fee: P1000 (max of 8 pax per guide)
Boat Rental Rate: P7000 – P10000 (depending on the size of your group; your group will incur an additional P2500 for the succeeding days)
Others: P500 (Pandan Island boat rental if done separately from your Apo Reef tour)
---
Don't Miss
Apo Reef's beauty is beneath its glassy waters; the reef has many colorful corals and a thriving marine ecosystem where you can see different kinds of fish, baby sharks and you even have the chance to swim with turtles. You might even see dolphins during your trip if you're lucky.
The beach is also a great place to spend an hour or so in just relaxing and swimming.
---
Don't Forget
Bring cash for your trip, as you may not find an ATM to withdraw from and most transactions are cash only in town and on the island.
Buy enough food and drinks in town, if you plan to spend the night on Apo Reef Island.
Bring your own camping, snorkeling gear, toiletries, and plate and utensils.
Charge your devices because there is no electricity on Apo Reef Island.
Leave nothing but memories and foot prints.
---
If You Have More Time and Budget
After exploring Apo Reef and beach bumming on Pandan Island, explore the other attractions of this part of Mindoro such as the lake and waterfalls.
You can also head to Puerto Galera for more beach time.
---
Where to Stay
There are decent accommodations on the nearby Pandan Island, Pandan Island Resort being the most popular; however, if you want to explore the mainland, here are some of the recommended places in San Jose and other nearby municipalities in Occidental Mindoro according to Agoda users, in no particular order.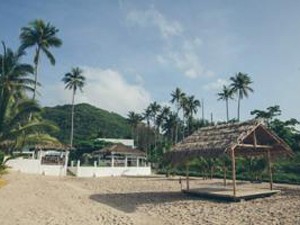 Reminders