2019 • 02 • 21
The idyllic Pandan Islands (North Pandan and South Pandan) are a noteworthy addition to your itinerary if you plan to go to Mindoro. This destination offers you the respite you need from the stress and busyness of life in the city. It has powdery soft sand, clear waters for swimming, and a middle-of-nowhere feeling because of the quiet surroundings. Many visitors to this part of the country often include the island with Apo Reef.
How to Get There
Nearest Airport: San Jose Airport (Occidental Mindoro)
By Air
Cebupacific has flights from Manila to San Jose, which takes around an hour.
From the airport get on a bus or van traveling to Sablayan, the ticket costs roughly P190 and P220 respectively.
From town you can rent a boat to either Pandan Island or Apo Reef, or you can do both on the same tour.
By Sea
OPTION 1
The simplest way to get to Sablayan is to board a Dimple Star bus from Cubao, Sampaloc or Alabang; the fare for the trip is about P800.
From town you can rent a boat to either Pandan Island or Apo Reef, or you can do both on the same tour.
OPTION 2
You can board a bus traveling to Batangas Pier from Buendia (P167 one way), Kamuning (P175 one way) or Alabang (P137 one way). This may take anytime from an hour and a half to three hours.
After arriving at the pier, get on a RoRo heading to Abra de Ilog. This may take around three to four hours per way; you also have to pay a terminal fee of P30 before boarding.
Once in Abra de Ilog, get on a van (around P220 one way) or bus (around P190 one way) heading to Sablayan; the trip may take about 2 to 3 hours.
From town you can rent a boat to either Pandan Island or Apo Reef, or you can do both on the same tour.
---
Entrance Fee and Other Charges
Pandan Island Fee: P205
Camping Fee: It depends on the place. Some of them allow camping, some don't.
Cottage Rental Fee: Rates vary from one resort to another, but usually range from P800 to P1500.
Boat Rental Fee: P500 – P600 (RT, good for 15 pax)
---
Don't Miss
Laze on the beach and douse the heat by swimming in its cool waters.
Swim with a turtle or two; the island provides you with a good opportunity to do so. But do not get too close or even touch them.
---
Don't Forget
Bring enough cash for the trip because you might be unable to withdraw once you start your activities.
Bring extra batteries and/or a power bank to keep your devices charged while on the island.
Bring your own snorkeling gear as Pandan has a good spot to see and even swim with a turtle or two.
Bring snacks and drinks for your trip; you can also buy some because there is a store on the island.
Leave nothing but memories and foot prints.
---
If You Have More Time and Budget
After beach bumming on Pandan Island, you can spend a day or overnight in Apo Reef to go snorkeling or even swim with a turtle or two.
There are also other attractions in this part of Mindoro such as a lake and waterfalls.
Puerto Galera is another destination to add to your itinerary for more beach time.
---
Where to Stay
There are decent accommodations on the island, Pandan Island Resort is the most popular; however, if you want to explore the mainland, here are some of the recommended places in San Jose and other nearby municipalities in Occidental Mindoro according to Agoda users, in no particular order.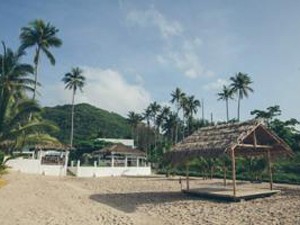 Reminders