"Don't you get tired of beaches?"
It's a question that foreign friends have asked me more than a few times upon learning that I come from an archipelago of 7107 islands. "No, not really" is what I usually answer. Beach fatigue is possible especially if you're constantly traveling around the Philippines, hopping from one island to another. Yes, most beaches look similar — white or gray sand beach gently sloping down into turquoise water. Sometimes there's a mountain towering in the background. Sometimes there's a sandbar sticking out into the sea.
But sometimes, you find beaches that feature a little something — natural or manmade — that makes it more captivating and sets it apart from the rest. While some of these are hardly unique, they are certainly out of the ordinary. Here are some unusual beach destinations in the Philippines and what makes them special.
1. Pink Beach, Zamboanga City
Yes, pink! Well, just to manage your expectations, it is not bright pink. From afar, it looks like your ordinary white beach but the pink glow becomes more obvious as you come closer. Fringing an edge of Sta. Cruz Grande Island (Great Sta. Cruz Island) in Zamboanga City, the pink particles are pulverized red organ-pipe corals (Tubipora musica) swept to the shore. And yes, you'll also see these bright red corals in the vibrant reef nearby. More about Pink Beach here >>
| | |
| --- | --- |
| The red grains. Photo by Marcos Caratao | Red organ pipe coral. Photo by Marcos Caratao |
How to get here: Book a boat trip to Great Sta. Cruz Island at the Zamboanga Tourism Office at Lantaka Hotel, Valderossa St., Zamboanga City. Roundtrip costs P1000. The boat can accommodate up to 10 peeps so you can save much if you're part of a big group.
2. Nagsasa and Anawangin Coves, Zambales
If pink sand isn't odd enough for you, how about volcanic ash spewed out by the mighty Mt. Pinatubo when it was awakened from its long-time sleep in 1991? Anawangin's coast used to be rocky but was transformed into an ashen beach since. What's more interesting is that agoho trees — sea pine trees (Casuarina equisetifolia) — have risen from it, dominating the landscape. The result: a tropical paradise that fosters a Boracay-meets-Baguio vibe. Read more about it here >>
How to get here: Ride a Victory Liner bus going to Sta. Cruz or Iba, Zambales (P251) and get off at San Antonio Public Market. Hail a trike for Pundaquit (P60) and rent a boat to Anawangin Cove (P1500 per boat, divided among the group if you're with one).
3. Valugan Boulder Beach, Batanes
An active volcano is also responsible for the unusual charm of Valugan Beach in Basco, Batanes. It is not strewn with fine sand but boulders, lots and lots of them, dumped by the neighboring Mt. Iraya during its 400 CE eruption. The boulders were rough andesite rocks that were smoothened and polished by the waves and tides. This is just one of the many breathtaking sites in the northernmost province of the country!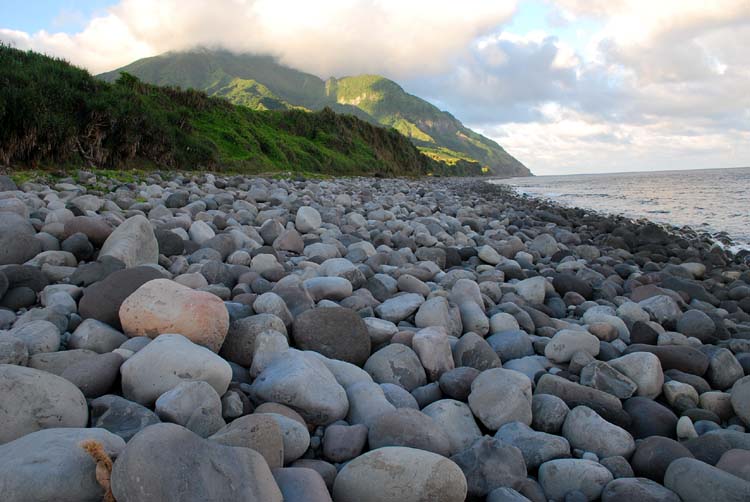 How to get here: From Basco, you can take a 45-minute walk to Valugan Beach. You can also bike or take a tricycle.
4. Biri Island, Northern Samar
Six massive rock formations speck the coast of Biri Island, one of the 18 islands of the Balicuatro Group in Northern Samar. These rock formations, masterfully sculpted by nature, referees the fierce waters of San Bernardino Strait and the Pacific Ocean. The waves here are gigantic, whipping the rocky shore. There are also natural pools nestled by the shore that are more friendly to swimmers! Biri Island is also a fantastic diving destination so pack your gears! More about Biri Island here >>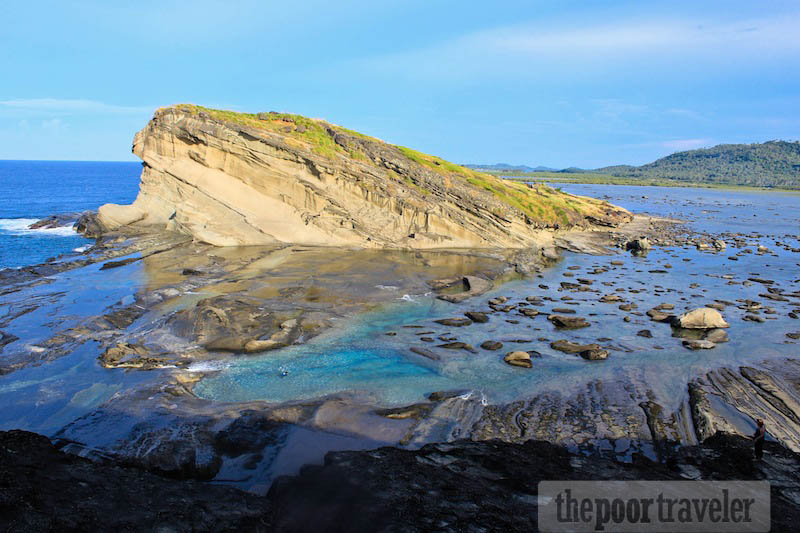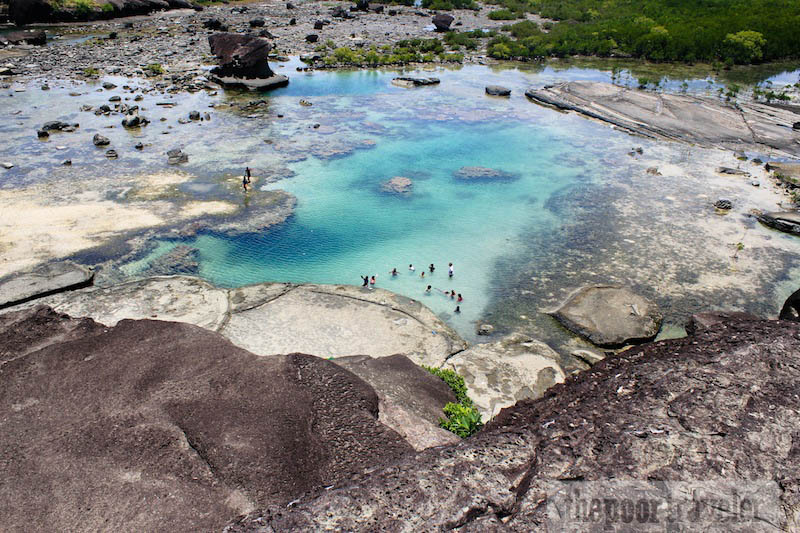 How to get here: From Catarman airport, take a trike to the main terminal (P100), a 1-hour jeepney ride to Lavezares pier (P50), then a 45-minute boat ride to Biri Island (P50).
5. Laswitan Lagoon, Surigao del Sur
Waterfalls, very common in the Philippines. Saltwater falls? That's something. In Cortes, Surigao del Sur, there's a place called Laswitan Lagoon cradled in the middle of a rocky sanctuary. The surrounding rocks are constantly hampered by the ferocious splashes by the Pacific Ocean that the saltwater still manages to overflow into the other side, creating a faux waterfall as it cascades to the lagoon.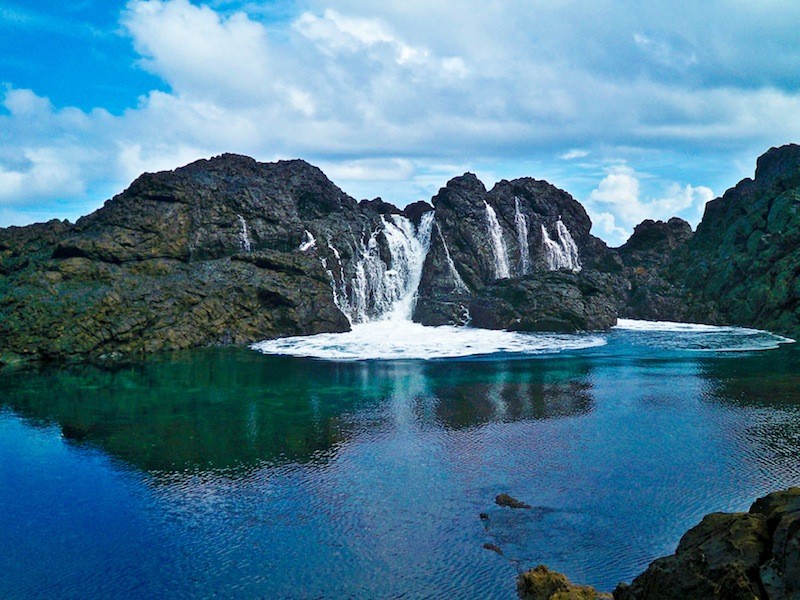 How to get here: From Cortes town proper, you can ride a habal-habal to take you to Laswitan in Barangay Madrelino.
6. Paoay and La Paz Sand Dunes, Ilocos Norte
Since we're already in Ilocos Norte, treat yourself to an incredible adventure in the sand dunes of Paoay and La Paz. The former is an 88 sq km sandy desert that lies adjacent Suba beach, allowing a spectacular view of the sunset. Prepare to get physical because the 4×4 jeepney ride across the arid ground will shake all the muscles in your body, even the ones you didn't know you had. You can also try sandboarding and get down and dirty. Indulge the artist in you by admiring the installations throughout the site. Or, humor your vain side (you know you have it) and take Temptation Island-ish photos! (Marian Rivera much?) And oh, bring lots of water.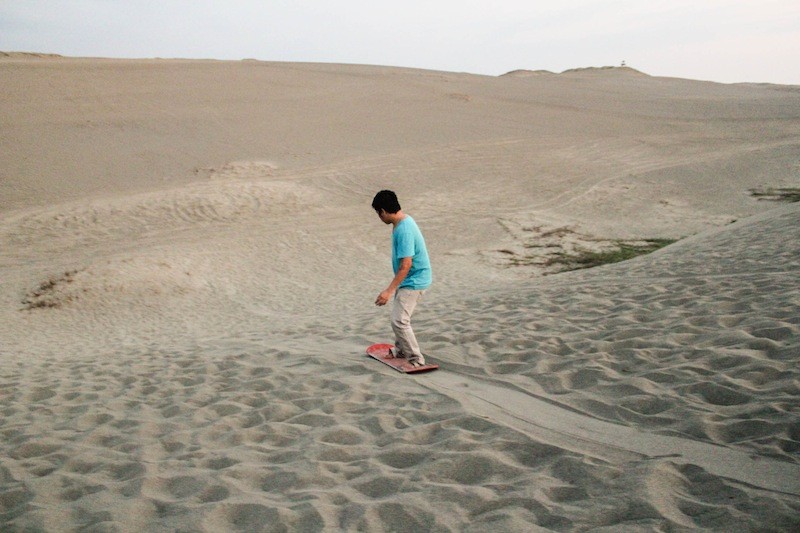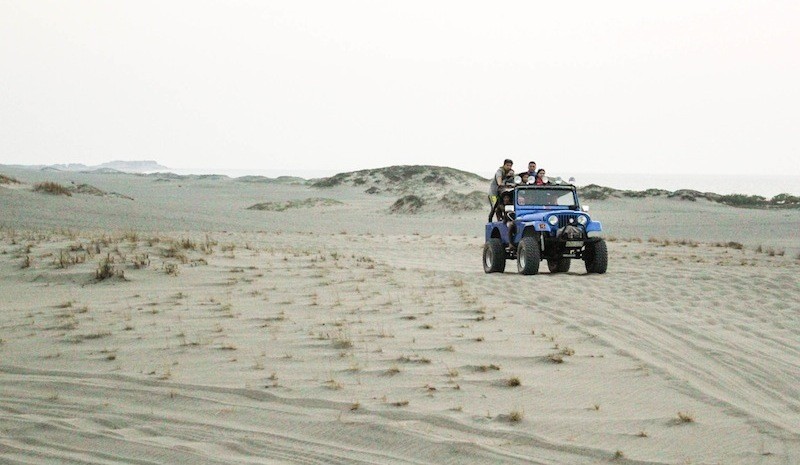 How to get here: From Laoag, you can take a tricycle to Paoay or La Paz Sand Dunes. Cost of the tour is P2500 inclusive of the 4×4 ride and use of sandboard. The rate is to be divided among the group. The vehicle can accommodate up to 5 pax.
7. Culion Island, Palawan
Once known as the Island of No Return, Culion used to be a leper colony, the biggest in the world. But since the development of the cure in the 1980s, this island in Northern Palawan has transformed slowly into a rising tourist destination. (Don't worry, it is safe here. The World Health Organization declared the place leprosy-free in 2006.) The buildings that used to house the patients and health workers are impressively preserved. Don't leave the island without a visit to Culion Museum and Archives for a greater understanding of the illness and the struggles of the patients, and the Aguila Viewpoint for a breathtaking view of the town and its nearby islets. Read the Culion Travel Guide here >>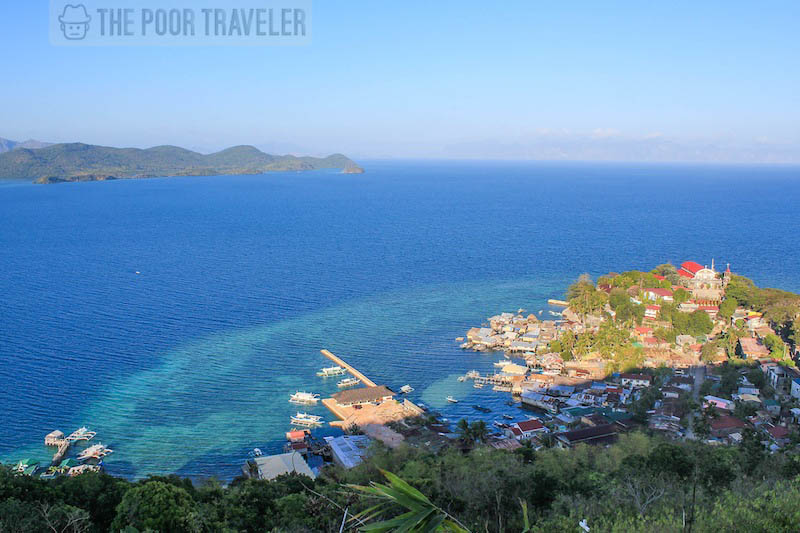 How to get here: From Busuanga airport, travel by van to Coron pier (P150) and take the 1:30pm boat to Culion town (P180). There's only one boat per day so make sure you catch it.
8. Calauit Safari Park, Busuanga, Palawan
Also in Northern Palawan, Calauit Safari Park lies on a peninsula of Busuanga Island. President Marcos established the park through a presidential decree to house giraffes, zebras, and six species of antelopes that were imported from Kenya. The residents were relocated and the bamboo forests cleared to accommodate the animals. The antelopes have all died out but there are still a good number of zebras and giraffes, providing a glimpse of Africa to visitors. Also in the park are a thousand Calamian deer, an endangered species endemic to Palawan that has thrived in the island. More about Calauit here >>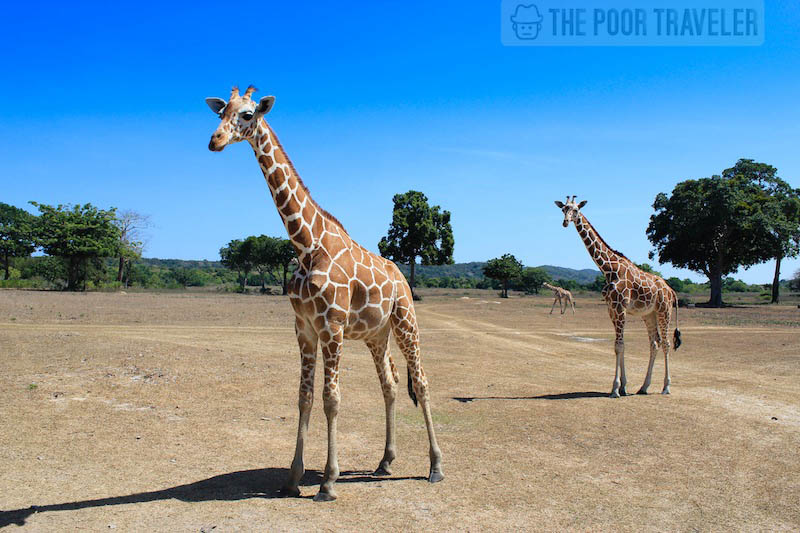 How to get here: From Coron town, charter a boat to Calauit and other islands on the way for P7500 (can be divided among a group of 4). Alternatively, you can join a group tour for only P2500 per head.
9. Danjugan Island, Negros Occidental
Danjugan isn't a resort island. It's a well-managed protected area and marine sanctuary. You don't have to be a diver to appreciate what Danjugan Island in Cauayan, Negros Occidental has to offer. Even from above the surface, the beauty of what's underneath the waves radiates through the calm, crystal clear waters surrounding it. And when you dip your face, you get bombarded by colors you didn't imagine existed before. Colorful fish, giant blue clams, sea turtles, black tip sharks, and corals, all alive and vibrant, make up the wide array of wildlife that is nurtured by Danjugan. The island is solar-powered and you will stay in one of the mud houses should you choose to spend the night, which makes this back-to-basics experience an intimate affair with nature! More about Danjugan Island here >>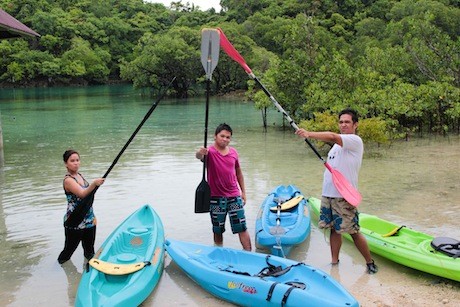 How to get here: From Bacolod City, take a Ceres bus bound for Hinoba-an (P155) and get off at Barangay Cartagena, just before you enter Sipalay. From here, take a habal-habal to Bulata (P100), where you can charter a boat to take you on a 15-minute glide to Danjugan Island. A day tour costs around P1750 inclusive of meals, kayak use, and tour guide.
10. Sunken Cemetery, Camiguin
Swimming with the dead. Not really but close. Located in Catarman, Camiguin, this is where the line between fun and creepy blurs. In 1948 and 1953, the island's old volcano erupted again, pushing the then capital's public cemetery sink underwater. Since then, corals have covered the gravestones 20 feel below sea level, making this a one-of-a-kind snorkeling and diving destination. While gazing over tombstones may not be for everyone, it certainly is an experience to remember! More about this site here >>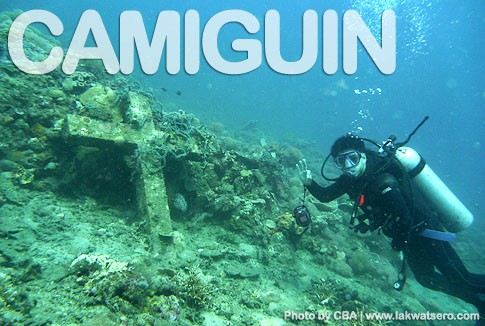 More about diving at this site here: Diving in Camiguin
How to get here: From Cagayan de Oro airport, take a cab to Agora Bus Terminal and then hop into a bus going to Balingoan Port (3 hours travel time). From here, take a ferry to Benoni Port where you can hire a multi-cab to take you on a round-the-island tour for P1200. The multicab can accommodate up to 10 pax. Alternatively, you can skip the 3-hour bus ride to Balingoan by taking the OceanJet fastcraft to Benoni at Macabalan Port in the city center.
Reminders