The scenario is you're traveling to the Philippines and you only have two weeks to spare before heading elsewhere. You do a quick search online and see all these beautiful beaches with picturesque sunsets, cerulean waters, and thriving underwater ecosystems. It's difficult to plan just two weeks to visit all the places on your shortlist. However, this guide will help you make up your mind on which destinations to tick-off during your stay in the country.
---
1. Palawan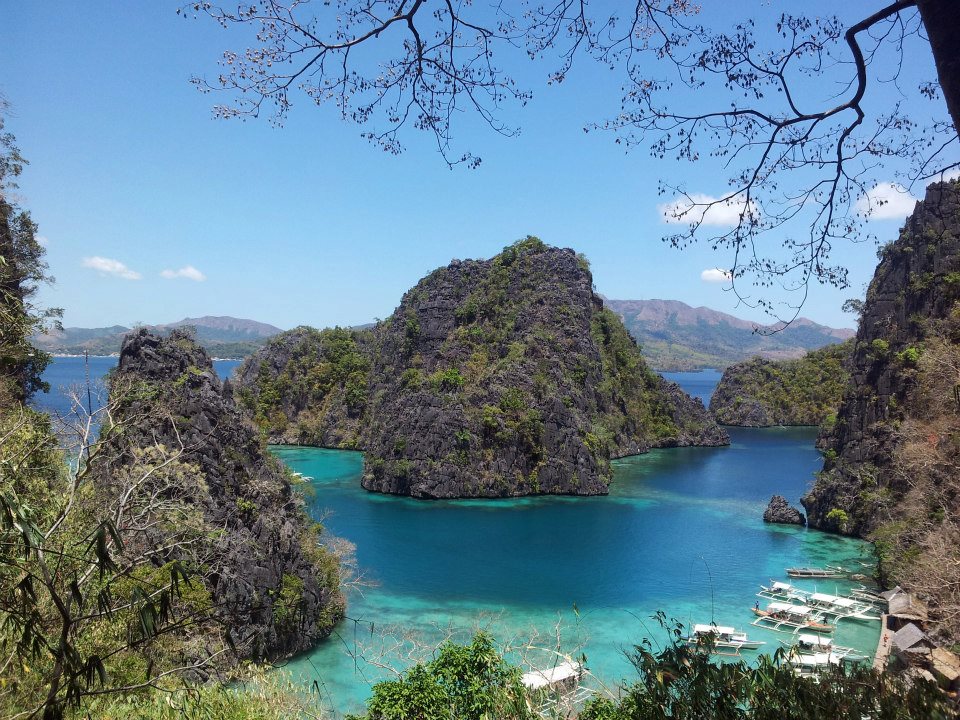 Palawan will provide you with the best of what the Philippines has to offer, whether it is just bumming around the beach or getting a dive license. Staying the entire two weeks on this island is definitely worth it. To reduce the number of flights you need, book a ferry via 2Go from Manila to Coron. Once there, you can work your way down to El Nido via boat, then by van or bus to other destinations such as Port Barton, Puerto Princesa for the Underground River, or other places further south before flying back to Manila after your trip.
Just in Coron, you'd have your fill of white-sand beaches with glass-like bluish waters. The must-visit places during your trip are Banol, Bulog Dos, Banana Islan, Dibutunay, or Black Island.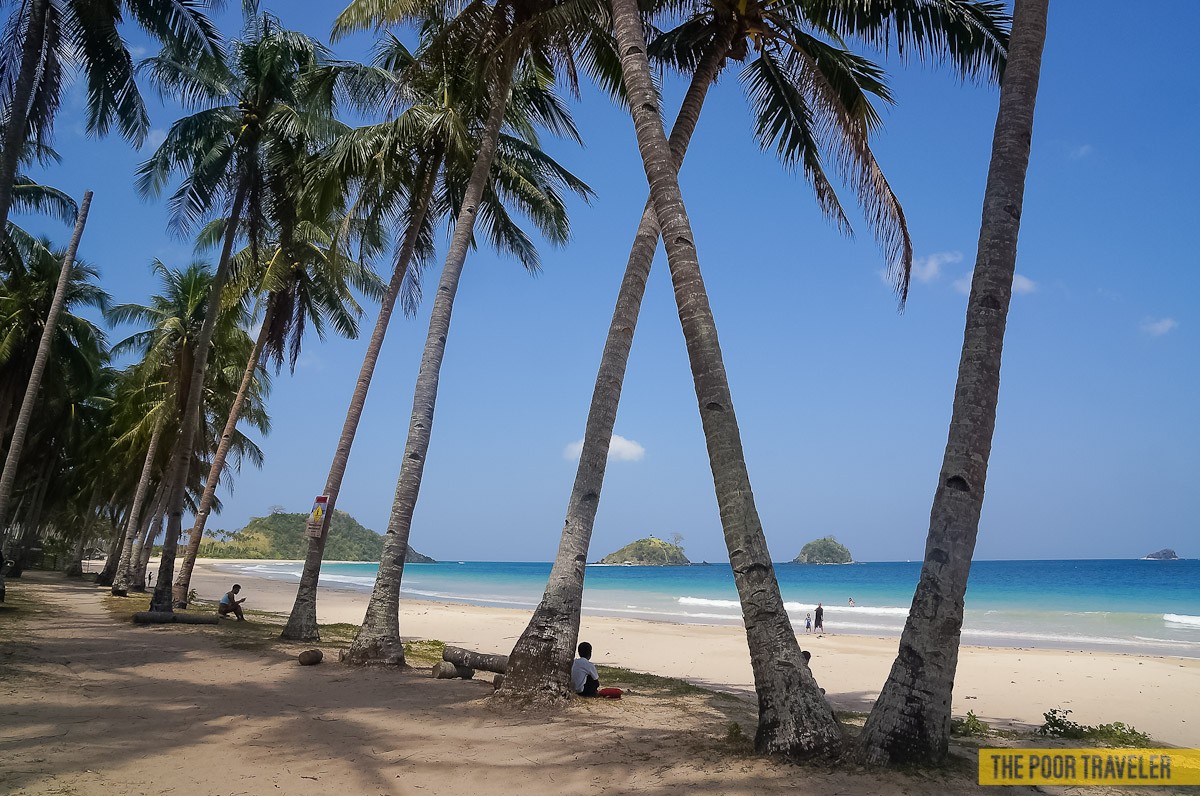 One of El Nido's draws is that you don't have to always go on a boat tour to see its best beaches. Rent a bike or tricycle to take you to Las Cabanas to watch the skies turn from blue to the different hues and tones of red and orange as the sun sets. Visit Nacpan Beach to see the iconic two beaches atop a hill or just beach bum the day away. If you're going on any of the tours, here's what you should look out for:
Tour B
Snake Island: this island provides you with a unique snake-like sandbar when you go up the viewpoint.

Pinagbuyutan Island: the beach is nothing to write home about, but what's underneath it will amaze you. You will see corals of different shapes and sizes as you try to swim to shore. Boats don't dock in certain parts of the island because they might destroy the fragile ecosystem near it.

Tour C
Hidden Beach: this beach may be far, but it is worth the trip. The towering limestone formations give it a sense of rawness, the soft white sand just fits perfectly between your toes and the glass-like waters perfect for swimming
Tour D
Cadlao Lagoon: this lagoon is eerily quiet, with only the sound of the waters lapping onto the lone beach if you visit during a certain time of day. However, the clear waters and picturesque façade are worth the trip.

Paradise Beach: I had the fortune of traveling to this tropical paradise (its moniker is true!) with no other tourists. The waters were a sparkling emerald and the sand, white and powdery.
If you want rawness, the place to be is Balabac; this destination is only gaining popularity among locals. There are very few lodgings and the ones around offer only very basic amenities. However, you're here not for the suite life, rough it out and enjoy the sunset, laze on the bone-white sand beach, swim to douse the heat, and maybe even see a turtle.
Where to Stay: Palawan Hotels and Resorts
---
2. Cebu – Bohol – Dumaguete – Siquijor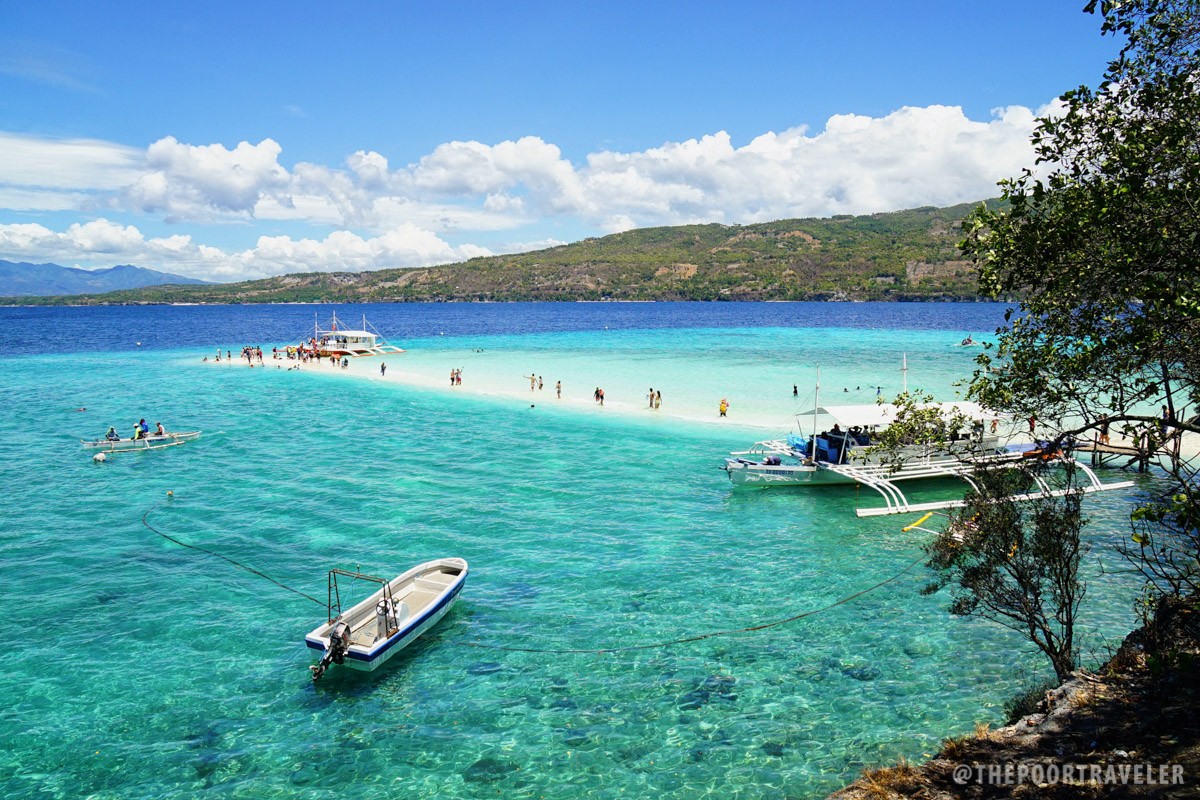 For travelers with only two weeks, the nearness of these provinces makes for a good two-week itinerary. There are direct flights from Manila to Cebu, Dumaguete or Bohol. Siquijor is only a short boat ride away from Dumaguete so it doesn't matter where your entry point is.
Cebu has noteworthy beaches to simply laze the day away or spend some time in the water: Bantayan Island is a great place to start as it provides you with a great beach and cerulean waters to swim in; if you want a little adventure, head to Malapascua to catch a glimpse of thresher sharks when you get in the water; Moalboal is another noteworthy destination not because of the beach but because of the breathtaking sardine run.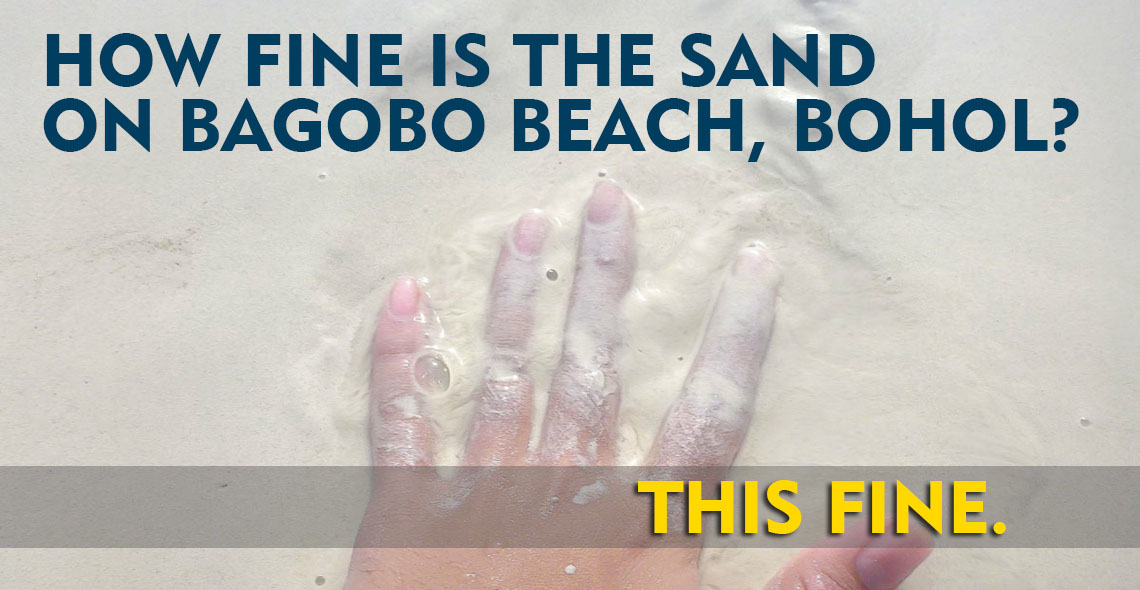 Bohol is one of the main tourist attractions splashed on advertisements on TV and print. It comes as no surprise because this province is home to quite a number of beautiful beaches worth including in your two-week trip: Visit Alona Beach to do touristy things such as booking island hopping, countryside tours, or water sports; nearby Dumaluan Beach has the same white sand as Alona but is bigger and better (in my opinion); Balicasag Island's beach isn't anything spectacular, but you go here because of the snorkeling; if you want to get away from the usual tourist spots, head to Anda for some beach fun.
After you explore the beautiful beaches of Cebu and Bohol, head to another nearby island, Dumaguete. It is home to one of the most beautiful sandbars in the country, Manjuyod. You may have seen this white clump of sand with bluish waters online. Make your dream trip a reality by heading to Bais. Another noteworthy destination is Apo Island; tourists visit this destination to swim with turtles.
Siquijor may be small in size, but it doesn't lack beauty. Salagdoong Beach's turquoise waters are perfect for swimming in; if you have enough courage try jumping off a platform into the clear waters of this beach. The beach along San Juan has one of the whitest and finest in the province.
Where to Stay: Cebu Hotels and Resorts, Bohol Hotels and Resorts, Dumaguete Hotels, and Siquijor Hotels and Resorts
---
3. Siargao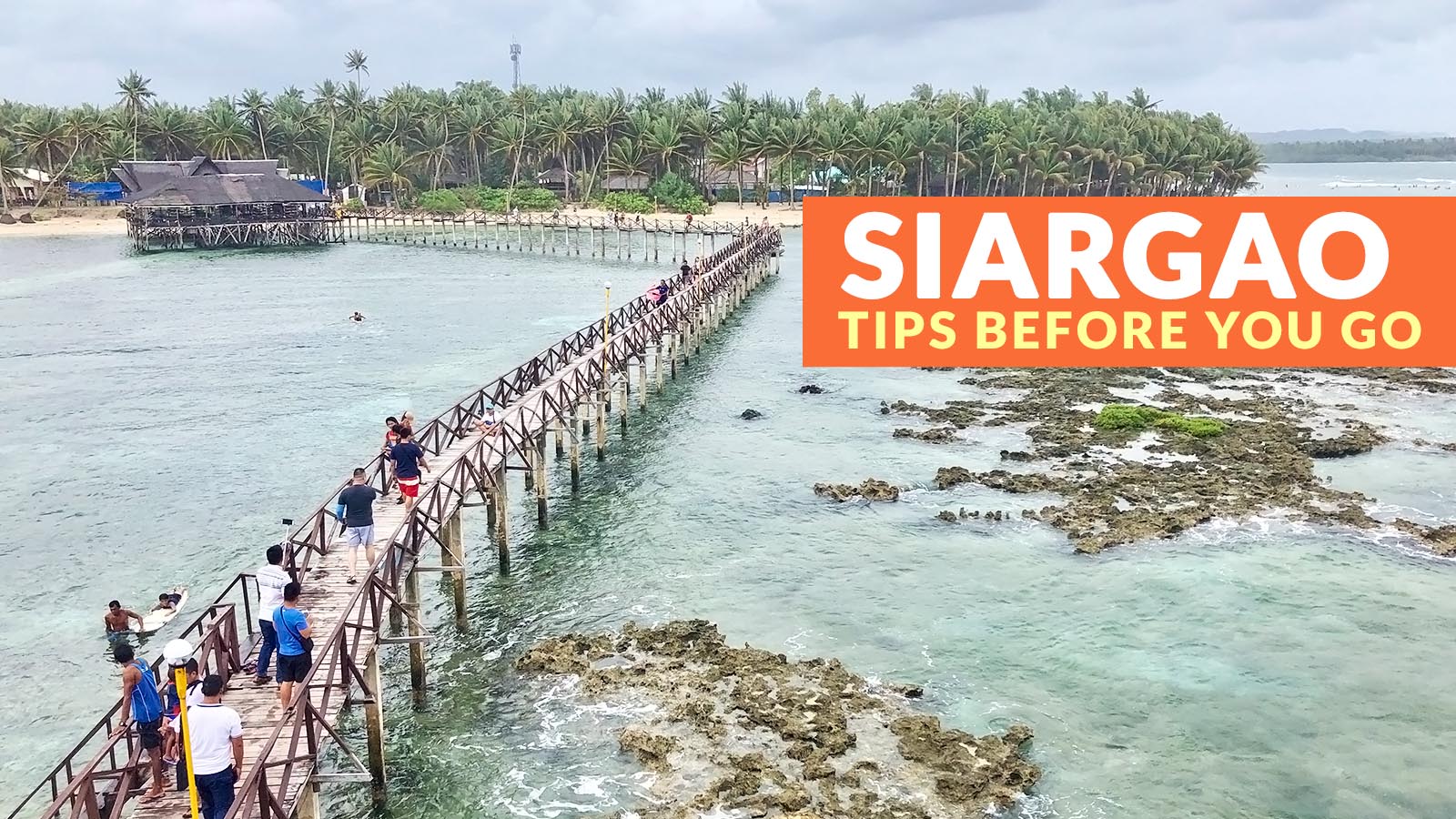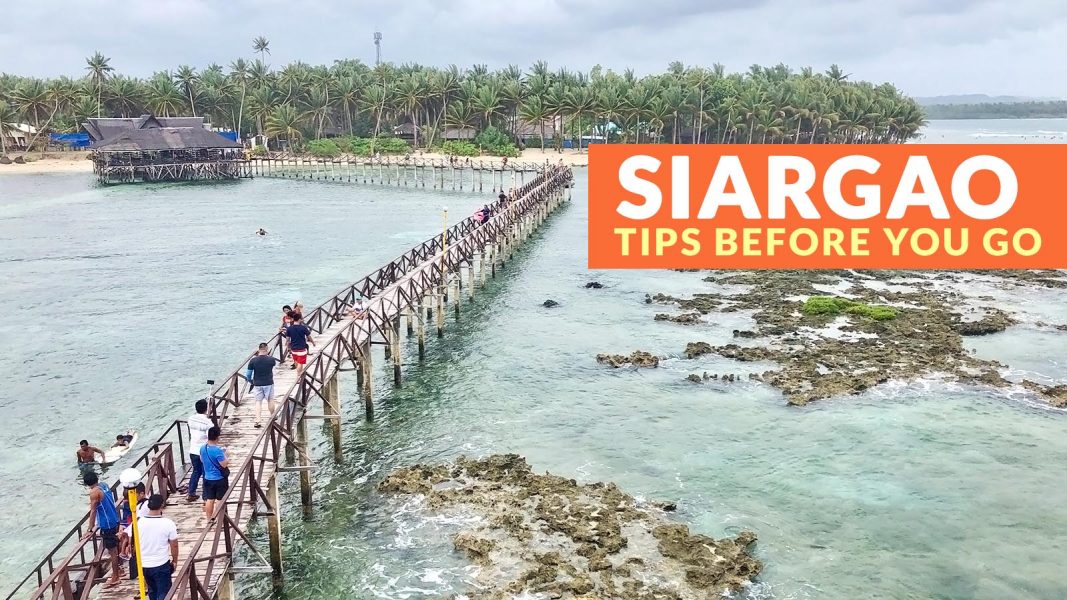 Last but not the least, Siargao is fast-becoming a popular tourist destination. Luckily for visitors who are in the country for a short time, there are direct flights from Cebu to this province.
Siargao is known for its surf beaches; depending on the season, head to Cloud 9 to ride the waves. If you're not keen on surfing, Naked, Daku, and Guyam Islands are noteworthy destinations. The former, true to its moniker, is a clump of white sand in the middle of the sea; there are no establishments on it. Daku is the biggest of the three and is personally my favorite. It has fine white sand and clear waters perfect for swimming in. Guyam is the smallest of the trio; its idyllic appeal is just right to sit back and enjoy the day.
Where to Stay: Siargao Hotels and Resorts
—–
The Philippines has so many other beaches and destinations to explore and discover. Two weeks will only scratch the surface, but it still provides you with enough time to see what the country has to offer.
Reminders