2014 • 04 • 13
We asked some of your favorite travel bloggers: What is the best beach in the Philippines?
It's a difficult question, to say the least. After all, the Philippines is made up of over 7000 islands, fringed by miles of shoreline. Picking just one out of countless coves and beaches is no easy business. Besides, how do you judge a beach? The fineness of the sand? The clarity of the water? The richness of its wildlife? The grandeur of the landscape? In the end, we told them: pick the one that allowed the best, most unforgettable experience. And here are their answers. In no particular order.
---
---
21. Manjuyod Sandbar, Negros Oriental
Location: Manjuyod, Negros Oriental
Blogger: Gael Hilotin of The Pinay Solo Backpacker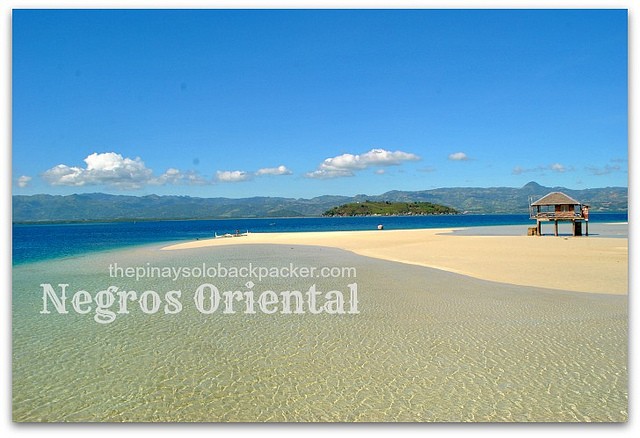 Scribbling the waters of North Bais Bay is the Manjuyod white sand bar. "It is a typical stop-over during the Bais dolphin and whale watching tour," shares Gael. "It is highly advisable to visit the sandbar early in the morning to catch its momentous appearance. There is no sign of plush resort here, only three native cottages dotting the sandbar, and they all offer a gorgeous tropical isle scene."
Read more about it here: Manjuyod Sand Bar
22. Black Island (Malajon Island), Palawan
Location: Busuanga, Palawan
Blogger: Kirk Acebron of Kirk Anatomy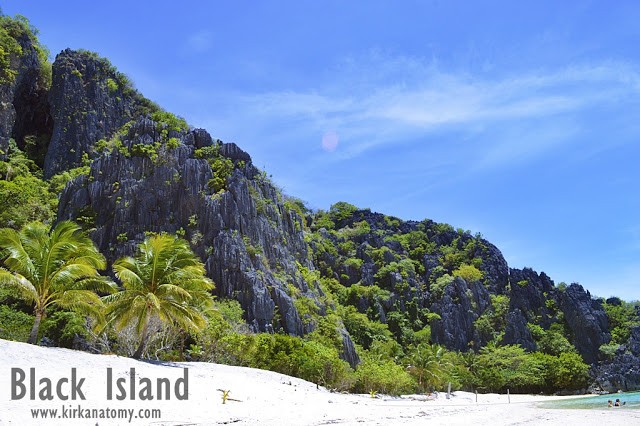 Everything you want in a beach destination you can find on and around Black Island — a wide bed of white sand, coral gardens, limestone cliffs, and even a cave that houses a natural pool! Black Island (or Malajon Island) is located off the coast of Busuanga, Palawan.
"Surprisingly, shimmering fine white sand welcomed us, apprehension gone," Kirk shares. "Sparkling crystal clear water also showed their most treasured vibrant coral garden underneath with colorful fishes dancing gracefully. We couldn't help but succumb ourselves to this beautiful paradise."
What's more, there is also a Japanese ship that was submerged during World War II near the coast, adding another treat for snorkelers.
More about this island here: Bizarre Black Island
23. Malcapuya Island, Palawan
Location: Coron, Palawan
Blogger: John Marx Velasco of Marxtermind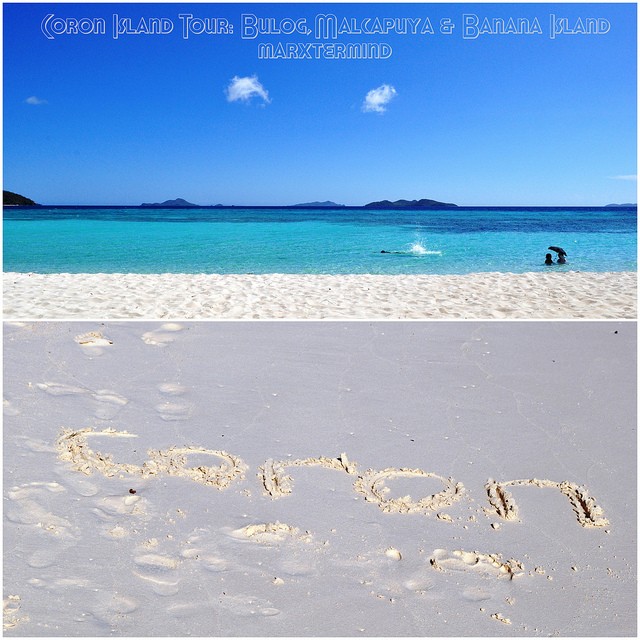 Of all the provinces in the country, Palawan probably has the most to boast about when it comes to the shoreline pulchritude. Palawan has two beaches in this batch and six overall. (Other beaches that made it to this list are: Nacpan-Calitang, Port Barton, El Nido's Secret Beach, and Cuyo's Quiminatin Island.)
Coron is represented by Malcapuya Island; thanks to John Marx, who just couldn't get enough of it during his visit. "With its long stretch of powdery sand and very clear waters, I couldn't resist but to take a dip!" Malcapuya is usually part of an island hopping tour that includes Bulog and Banana Islands.
More about Marx's visit at: Coron Island Hopping
24. Apo Reef, Occidental Mindoro
Location: Apo Reef Natural Park, Sablayan, Occidental Mindoro
Blogger: Claire Madarang of Traveling Light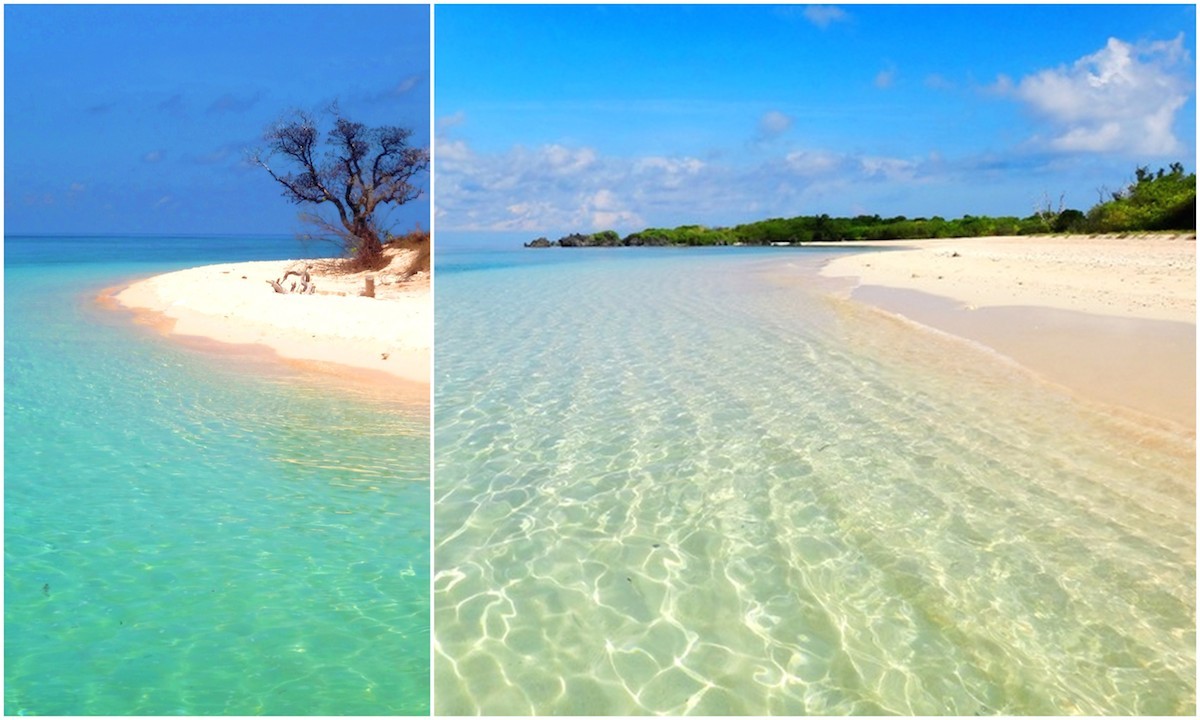 Covering an area of 34 square kilometers, Apo Reef Natural Park is the second largest contiguous coral reef in the world (next only to the Great Barrier Reef). Although more widely-known for the natural trove of treasure hidden underneath its waves, Apo Reef has some of the country's finest beaches, too!
"Do explore Apo Island," Claire recommends. "There are waters so clear you can see the sandy bottom, creamy pinkish-white sand similar to the popular pinkish Sta. Cruz Islands in Zamboanga, a mangrove forest, a quiet lagoon, rock formations, and a stunning view from the lighthouse."
Read more: 10 Things to Do to Have a Fun, Smooth-Sailing Apo Reef Adventure
25. Alona Beach, Bohol
Location: Panglao Island, Bohol
Blogger: Micaela Rodriguez of Senyorita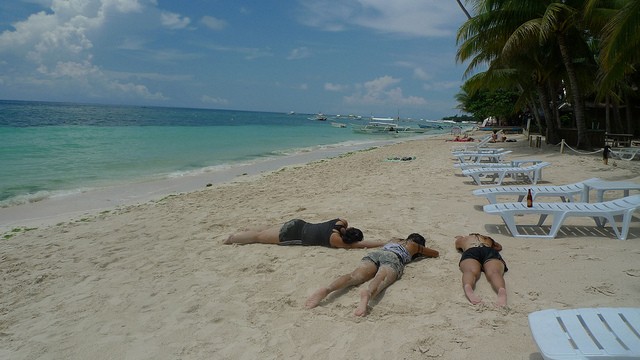 Panglao Island has some of Bohol's best beaches. The most popular of them all? Alona Beach. This powdery paradise is just a short tricycle ride away from the provincial capital Tagbilaran. It remains the most famous, most crowded, and the most developed, but it still retains much of what makes it well-loved.
More about it here: Bohol Trip Itinerary
26. Patar Beach, Pangasinan
Location: Bolinao, Pangasinan
Blogger: Darwin Cayetano of Tracking Treasures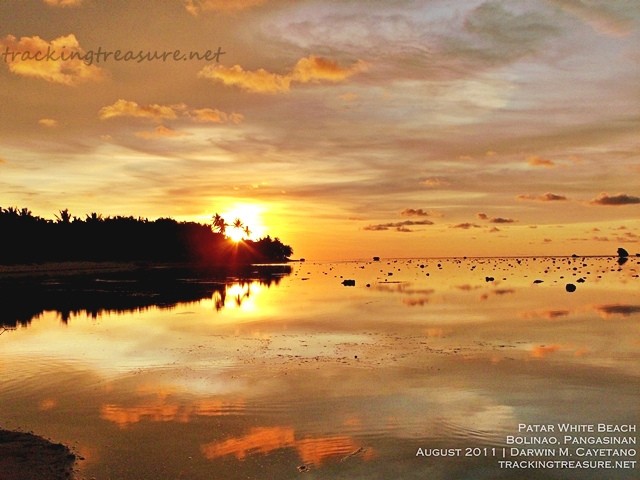 "This jaw-dropping sunset is truly magical," Darwin recalls one of his best moments at Patar Beach. The place was not yet developed during this visit, making his stay very laid-back. "No loud music, only waves. No screaming, only whistles from the leaves of trees. I've been to this place three times and still hoping to go back. I find this beach as my perfect hideout whenever I'm tired and stressed from the hassles of city life. In Patar, you can also visit the lighthouse, the Rock View, and lagoons inside a cave."
Darwin has listed down his other favorite beaches in the country: Of White, Gray, and Gold; Of Fine and Pebbled
27. Bucas Grande Islands, Surigao del Norte
Location: Socorro, Surigao del Norte
Blogger: Olan Emboscado at The Travel Teller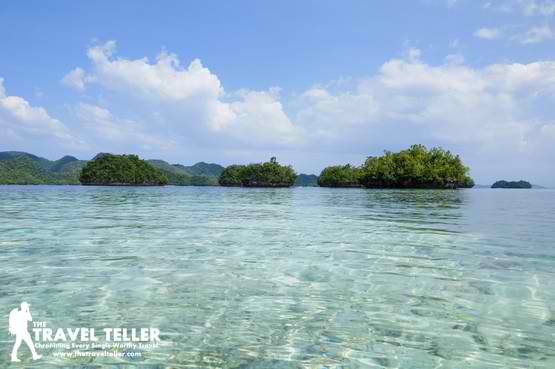 There's so much to love about Bucas Grande Islands: mystic coves, enchanted lagoons, and a jellyfish sanctuary, to name a few. But when it comes to pearly whites, it has something under its belt, too. Some of the sandy beaches in the area are Markaa, also a great snorkeling site, and Bubon. "Bubon Beach offers a great view of Bubon Group of Islets that appears like gigantic green mushrooms sprouting from the seawaters," shares Olan.
More about it here: The Sandy Beaches of Bucas Grande Islands
28. White Island (Medan Island), Camiguin
Location: Mambajao, Camiguin
Blogger: Ivan Brinas Cultura of Batang Lakwatsero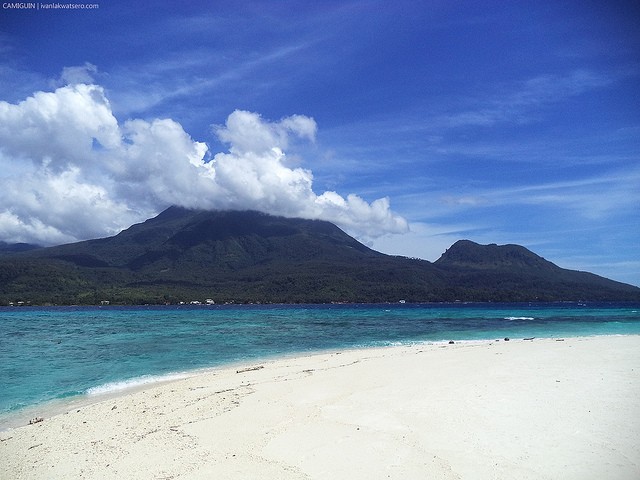 White Island (locally known as Medano Islet or Medan Island) lies just 1.4 km, about 10 minutes, off the coast of Mambajao. It is Camiguin's most popular tourist attraction. Some of the finest white sand you'll ever see makes up this glittery bend. A naked island, it is uninhabited — no houses, no huts, no trees — but umbrellas are available for rent.
"White Island is so beautiful and picturesque," Ivan writes. "Every corner is worth taking a photo. We even planned to stay in the island until dusk hoping that we will capture the majestic sunset."
More about his adventure in Camiguin at: From Summit to Sea, Off to White Island
29. Lampinigan Island, Basilan
Location: Isabela City, Basilan
Blogger: Mark Rodel Dela Rosa of Kurtzky.com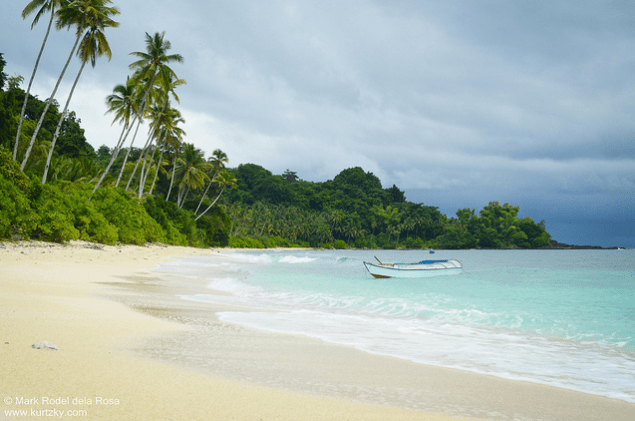 Despite its dangerous reputation, a remote island in Basilan earns a nod from Mark of Kurtzky.com. "Basilan has many potential tourist destinations that remain pristine," he notes. "The presence of rebels in the province somehow helps in preserving the virginity of most areas, but sadly, not everyone can see the bright side of Basilan… Our quick 1-hour stay at Lampinigan was all worth our time, money, and effort considering the fact that we could have been possibly observed by militants while we were on the island. We felt secure in the duration of our visit, thanks to the armed guys who were there with us."
Mark shares more here: Lampinigan Island, Basilan
30. Pamuktan Beach, Cagayan
Location: Calayan Island, Cagayan
Blogger: Melo Villareal of Out of Town Blog

Palaui Island is the prized jewel of Cagayan these days — Thanks to Survivor — but one less famous but no less alluring paradise is Pamuktan Beach. "It's one of the most inaccessible islands in the Philippines and probably the most beautiful island I've visited," Melo declares. It is part of the five-piece Babuyan Group of Islands.  "These islands are a place where you live the dreams of island life. There really isn't anyplace else like them. The island (Camiguin Norte) doesn't have a public market. Why? Because they catch their own fish!"
Melo shares more here: Babuyan Islands, The Ultimate Northern Adventure
That wraps it up! How many of these 30 beaches have you set foot on?
---
Reminders