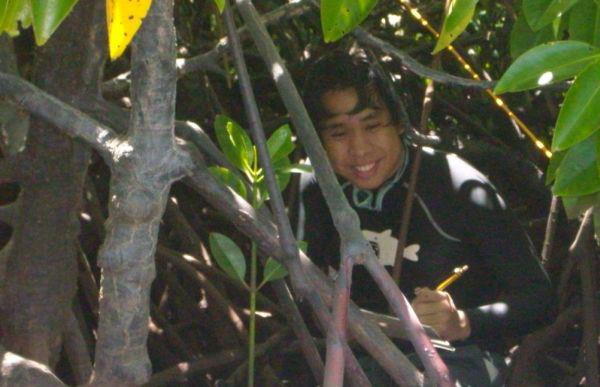 2013 • 04 • 17
"Our seas are integral to our survival."
Kester Yu is best known in the environmental circles for his passion, er, obsession with marine turtles. Known as "Kestertle" to his close friends, he is arguably one of the most prolific youth environmental champions of the Philippines. He co-founded Isko Cleans UP, a waste management project that successfully banned the use of Styrofoam on the campus and institutionalized monthly Recyclable Fairs for the UP community; helped organize coastal cleanups that emphasized behavioral change instead of events that were "just" cleanups; co-authored a workbook entitled An Introduction to Climate Change for Filipinos, which has sold approximately 20,000 copies; and has given talks to thousands of Filipinos on biodiversity, conservation, and waste management. His efforts have also made waves internationally as a representative of the Filipino youth to the UN Climate Change Conferences in Cancun and South Africa.
Which 3 words would you use to describe yourself?
Curious, proactive, and geeky.
What do you like best about the seas?
Other than the sea turtles and the fact that there is still so much about the sea that we still don't know, it would be the richness and diversity of the sea, specially the Philippine seas. When I went diving in Mexico, the locals asked me if the visibility in [the] Philippines was just as good. I said, "No, but it's only because every single drop of water is full of so much life."
What made you start caring about the seas?
Growing up, my family had an annual trip to the beach in Calatagan, Batangas. This was the time of the year that l looked forward to the most, even more than the Christmas holidays. With the annual trips to the exact same beach, I got to see and experience so many changes, like new corals and algae growing on fresh concrete slabs and sand bars being replaced with seagrass beds. But as the years went by, my excitement for the beach trips started to wane. Not because I was getting jaded, but because of all the other negative changes that I knew we were somehow responsible for. The number of small fishing communities along the shore started increasing and what was once a white sand beach became a parking lot for fishing boats. Many coral beds and sea creatures were no longer there, the beach had an exponentially increasing amount of trash scattered on the shores, and part of the beach where I used to make sandcastles with my cousins became muddy and smelled like fresh sewage.
How did you decide on the role you're doing now?
I just see to it that I'm exposed to and try to understand the marine environment the best way I can and share it with others. It's important to understand how our daily actions, like throwing our trash, can affect the marine ecosystem. Many environmentalists opt to become pescatarians (seafood and veggie diet) because they can't completely give up meat. I practice the opposite. I tend to avoid seafood instead of meat, especially the ones with sustainability issues. With all the crazy fishing methods we practice within Philippine waters, it is no surprise that fisheries have been identified as one of the greatest threats to the marine ecosystem.
What do you find most challenging about the work you do?
The sad news. Every now and then, I come across news about poaching, ship groundings, oil spills, and marine species going extinct. I hate the feeling that these things could've been easily avoided.
What is the most rewarding part of the work you do?
Meeting other people who care about the sea as much as I do and knowing that our collective efforts are making a difference in protecting our seas.
What would you advise Filipinos do to save the seas? Why should they help save our seas?
Be more conscious of how we Filipinos affect our marine ecosystem. Practice solid waste management, don't buy corals and seashells as souvenirs, and learn how to swim. As Filipinos, we live in islands, and our seas are integral to our survival. When our seas disappear, so will we.
(Interviewed by Anna Oposa)
---
Reminders