"Garbage that pollutes our seas is a compelling issue that Filipinos should unite against" said Karl Ramirez, songwriter‐musician and campaign officer of the Earth Island Institute Philippines. "Pollution of our seas is endangering our archipelago, home to numerous marine wildlife species. In fact, a Food and Agriculture Organization (FAO) report in 2005 puts us at the epicenter of marine biodiversity on the planet."
Earth Island Institute Philippines will be joining Plastic Bag Free Day on July 3, 2014, an initiative led by the Ecowaste Coalition. Together with Greenpeace Philippines, Global Alliance for Incinerator Alternatives (GAIA), Mother Earth Foundation, and Save the Bay Movement, they press for a national plastic bag ban.
"Garbage is more than just an eyesore for tourists in search of picture perfect views of Manila Bay" said Raymund "Mong" Palatino, former Youth representative in the Philippine congress and convenor of Save the Bay Movement. "Garbage, especially plastic, is destroying the livelihood of thousands of fisherfolk living in the coastal communities of Mega Manila. Meanwhile, reclamation, which is an irreversible project, poses a greater threat to the lives of these residents. Failure to restore Manila Bay, and the aggressive push for reclamation, would mean more misery and even death for the country's poorest sector."
Save the Bay Movement together with Save Freedom Island Movement have been doing regular coastal clean‐ups at the Las Pinas – Paranaque Critical Habitat and Ecotourism Area (LPPCHEA). They are also struggling against reclamation projects affecting the area. "Garbage and reclamation are indicators of haphazard urbanization and the continuing dominance of a dirty and deadly model of development," Palatino ends.
"In a recent discards survey of the Ecowaste Coalition conducted in Manila Bay, it is alarming to know that a big chunk of garbage are made up of plastics and plastic bags," said Ramirez referring to Ecowaste Coalition's 2006 and 2010 discards survey. In the said report, plastic bags comprise 51.4% and 27.7% respectively of the flotsam in Manila Bay. A discard survey in September 2011 shows that plastic bags top the debris in Laguna De Bay at 23%.

"This greatly affects marine mammals by polluting their habitat. There were alarming reports of dolphins and whales swallowing plastic bags, mistaking them for their prey" Ramirez said. Just last year, a sperm whale that stranded and died in Tershelling, an island in the Netherlands, was found to have plastic bags in its stomach after it was taken for necropsy. In 2012, a 10‐meter sperm whale washed up in Spain was found to have had 59 different plastic items in its stomach. According to scientists, plastic bags when eaten by marine mammals block their digestive system leading to their starvation and eventually death.
"We have to protect the ocean for the sake of the future generation. We have to maintain balance in the ecosystem. We must protect marine mammals and marine life" said Ramirez. "One thing that kills their habitat is garbage. Plastic bags pollute our seas, endangering the habitat of dolphins and whales. Care for their habitat and stop producing and using single‐use plastic bags!"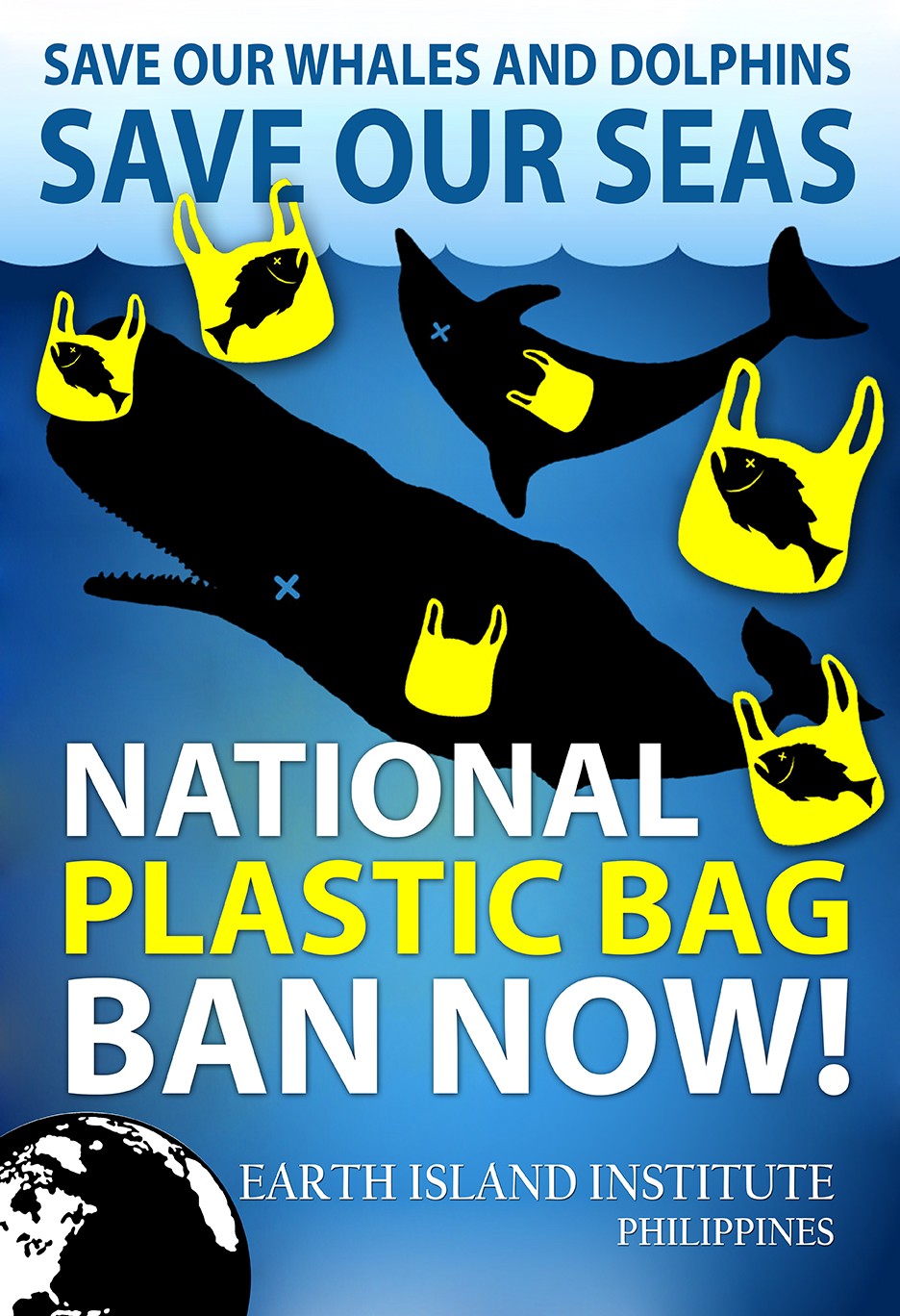 International Plastic Bag Free Day will be celebrated in the Philippines this July 3, 2014 along Roxas Boulevard. An assembly of groups led by the Ecowaste Coalition will have a program and garbage audit of Manila Bay in partnership with the Philippine Coast Guard at the Manila Yacht Club. Assembly starts at 7 AM, with a program at 7:30 AM.
Reminders