There's always that one place that would linger on in our memories for some unexplained reasons other than its unending beauty; that's Siquijor for me. I know everyone would agree that it possesses a certain mystical charm that goes on end for generations now. From the famous myths that circulate not only in the island but also anybody who wants to experience what Siquijor has to offer to the many different things that one can do here, one is definitely in for one great adventure.
No one would think that a place as small as Siquijor would be filled with so many places to explore and things to do. Did I mention that the whole circumference of the island is white sand? Let me just enumerate some more of the things that are on top of my list that came from my last visit:
---
1. Cliff-jumping at Salagdoong Beach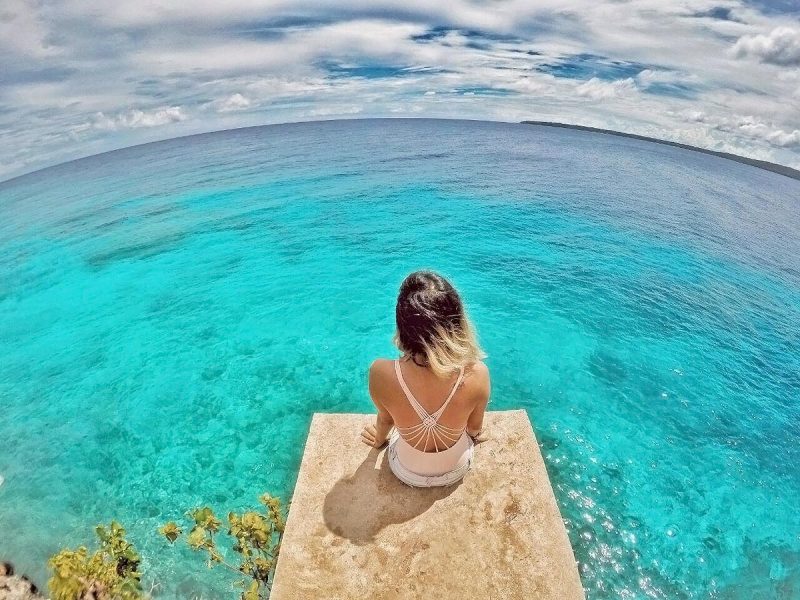 Anybody coming to Siquijor would definitely recognize this beach. It is one of the most visited places on this island. People flock this place — solo and couple travelers who want to find heart-racing activities; it is perfect for a family getaway too! This beach resort is famous because of the 20-feet and 35-feet (maximum) adrenaline-rushing drop. These are two separate man-made ledges, so it lessens the scare of the jump. It gives one the release that the anticipation of waiting for your heart to give you that tiny window of calm just so you could rush in, run, and jump off that pedestal. It is really one refreshing release.
---
2. Salagdoong Man-made Forest
Most probably, you would overlook this forest upon entering Salagdoong, but make sure to stop by it on your way back. It's quite a long stretch (80 hectares of land!) of green Molave trees that arch facing each other, creating an illusion of a mystical forest. Apparently, this manmade forest is part of DENR's (Department of Environment and Natural Resource) National Greening Program in 2011. Aside from providing shade for the vehicles and people passing by this tree-tunnel, these lush green trees are Instagram-worthy! So when coming to the beach resort, don't forget to get off, strike a pose, and snap that photo!
---
3. Cambugahay Falls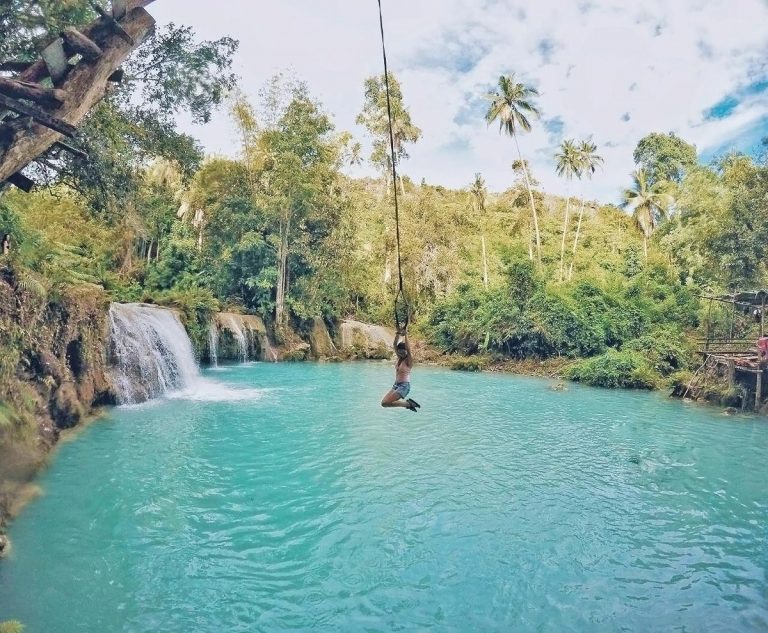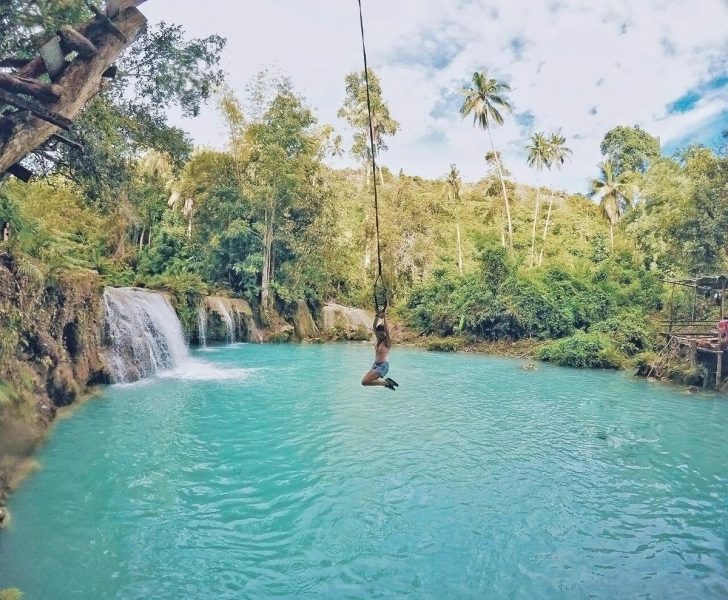 Probably the next most visited place in Siquijor would be this majestic bubble-gum-colored falls. Cambugahay Falls is a three-tiered waterfall and the lowest of the three is where most people swim. It is made even more interesting by a rope hanging off a tree that is used for swinging by locals and tourists alike. You only have to give the locals "donation" because they are the ones facilitating the swing. It is not short of any fun. The waters are cold enough to refresh you from the sweat-inducing stairway that one has to tread before reaching the falls.
---
4. The Big Old Balete Tree and Fish Spa (and Monkeys!)
The century-old Balete Tree is also a must stop-over. Below the majestic tree is a pool of fish where you can dip your feet so they can "feed" on your "dead skin cells." Legend says that these fish are the guardians of the old tree and vice versa. My feet didn't last long in the water because it was too ticklish for me. There's also a small forest-like line of trees nearby where wild monkeys live. One has to go a short uphill plight of stairs to be able to see the monkeys.
---
5. Paliton Beach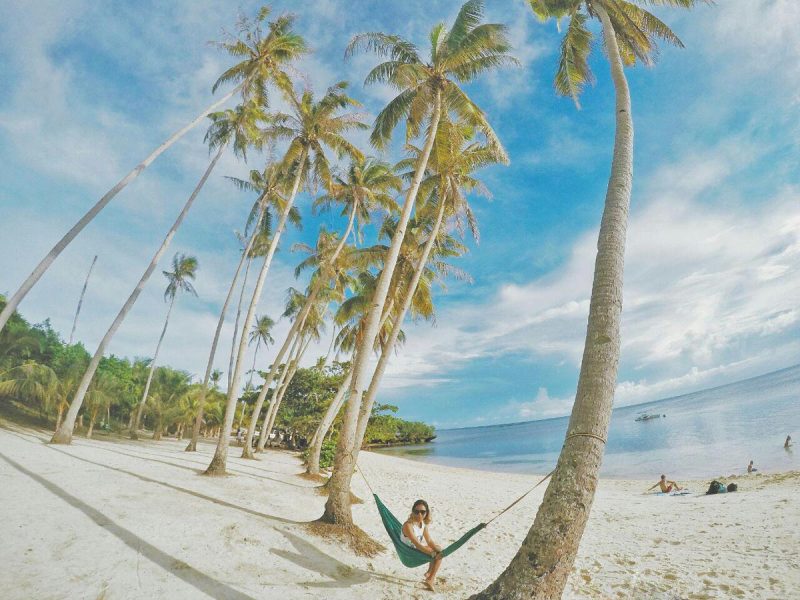 This must be one of my most favorite beaches so far. Paliton Beach has that serene ambiance that one could not easily find amidst the city buzz. It has a beautiful fine white sand, coconut trees, and blue waters. We were tired from our whole day of roaming around Siquijor and making it our last was the best decision. We stayed there for the rest of the afternoon, just lounging and chilling. The waters are so calm and perfect for swimming and playing, and that we did.
---
6. Kagusuan Beach
It was a bit difficult to find Kagusuan Beach if you're not a local of Siquijor. It was so hidden that you'd have to descend a forest-like uneven and unmade steps before finally seeing the beach. It's like a treasure safely tucked away from the public eye so that it can stay precious and a kept secret. The presence of the broken barbecue pits, concrete seats, and tables made us conclude that it must have been an abandoned resort. Nonetheless, it doesn't make this place any less beautiful. The beach is laced by big rough boulders amidst the white sand that is mixed with corals. It was a long stretch, but we decided not to walk further because the waves were strong that day. But we did not mind getting lost a few times before we're able to get here. It was all worth it. (Update: The beach is currently fenced off by the private management.)
---
And oh! Be sure to have time to stay for the sunset because I have never seen a sunset quite like Siquijor's. It was like the place was proving us what most people who have been here said — it is truly mystical and beautiful. Our two days stay in Siquijor wasn't enough for us to see what the whole island can offer. There were still more beaches and waterfalls waiting for us. We surely will be back.
Reminders