Jumping off a cliff is an adrenaline-pumping activity; at first, one is reluctant to take the plunge because of uncertainty. However, once one has overcome this initial fear, the jump, and the succeeding plunge into the waters below lead to elation.
The Philippines has a number of locations perfect for thrill seekers looking to test the limits of their fears.
Here are some of the places to go cliff jumping in different parts of the country.
---
Salagdoong Beach
Siquijor is a mystical island that is getting a lot of attention, fast! It comes as no surprise because this idyllic island in the Visayas has a handful of beautiful beaches, waterfalls, and snorkeling and dive sites. For adrenaline junkies, this is a must-visit because of the several-meter high cliff that you can jump from. Salagdoong Beach has a makeshift platform for those who want to take the plunge.
Where to Stay: Siquijor Hotels and Resorts
---
Fortune Island
There used to be a luxury resort on Fortune Island in Batangas. The Acropolis-like columns are the only remnants of the hotel and have become an attraction whenever visitors go to this island destination. After taking as many pictures, you can jump off the cliff and dive into the waters below. You can jump again and again during your stay. This is also a very accessible alternative because of its proximity to Metro Manila.
Where to Stay: Nasugbu Hotels and Resorts
Related topic: Fortune Island Important Travel Tips
---
Tangadan Falls
This majestic waterfall in La Union is another place where adrenaline junkies can visit to get their fix of cliff diving. A short trek will take you to the actual cliff diving spot. Visitors cannot jump off the main waterfall anymore but can still do so at the cliff and pool just above it. Although not as high as the other spot, the jump is still quite high at more than 10 feet.
Where to Stay: La Union Hotels and Resorts
---
Siitan River
Quirino brands itself as an eco-tourism destination; this is the perfect place to go to for adventure seekers. One of the activities you can do here is cliff diving. The boat trip along the Siitan River will take you to a handful of rock formations high enough for you to test your courage. Your boatman will tell you the ideal places to make the leap, whether it is just a low 3m jump or as high as 10m.
---
Buho Rock
Cebu is a famous beach destination because of the thriving underwater ecosystem and the pristine shorelines. One of the things you can do during your stay is to go cliff diving. You can get your adrenaline fix in Buho Rock in Camotes Island. The rock formation where cliff divers jump off from resembles a ship. Like the other destinations on this list, there are sites of varying heights for thrill seekers and for those who want to accomplish a shorter height first before jumping from a higher spot. You can start diving at a 10-feet high before taking the plunge from 20 to 30 feet.
Where to Stay: Cebu Hotels and Resorts
---
Magpupungko
This is a popular destination for those who want to take a break from surfing. The area where these tidal rock pools are formed also have a handful of rock formations that are ideal jump-off points for taking the plunge. The height may not be high, but it still provides a similar adrenaline rush once you fly through the air even for a few seconds.
Where to Stay: Siargao Hotels and Resorts
---
Sugba Lagoon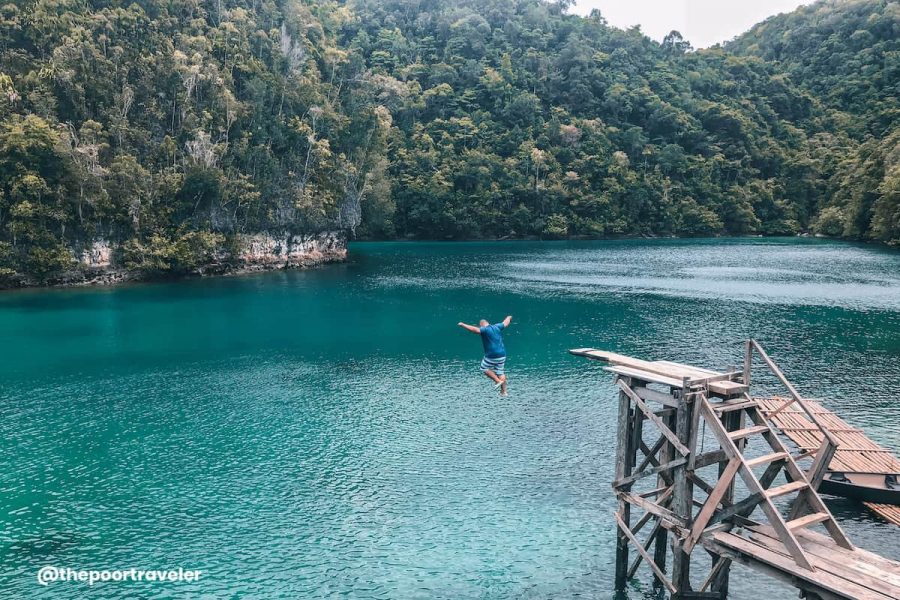 This is another destination worth adding to your itinerary while exploring Siargao. The lagoon has emerald waters with towering rock formations surrounding it. The area resembles popular destinations like El Nido and Coron. Go up the wooden platform and take as many jumps as you'd like into the waters below. You can visit this attraction as a day trip from General Luna.
Where to Stay: Siargao Hotels and Resorts
---
Magic Island
Boracay is a famous party island and is probably the most developed tourist destination in the Philippines. For thrill seekers looking to get a momentary high of 'flying', Magic Island is the place to do it. The island has towering cliffs and wooden planks for those ready to take the plunge. There are different heights where visitors can jump off from; you can start with 3m then 5m then 8m. Once you get used to jumping and diving, you can push your limits and jump off a higher platform, which is around 10m high.
Where to Stay: Boracay Hotels and Resorts
---
Ariel's Point
Ariel's Point is probably the most popular cliff jumping destination in Boracay. It is the go-to destination for adrenaline junkies who want an immediate rush. It is an accessible attraction because it is only around 40 minutes away by boat from the mainland. There are different platforms with varying heights; first-timers can try the 5m dive. As you gain enough confidence, you can try the 8m and/or the 15m high platform. If you can't muster enough courage, you can get an alcohol-induced one before taking the plunge. But watch your alcohol intake.
Where to Stay: Boracay Hotels and Resorts
---
These are some of the places where you can get your fix of adrenaline rush by jumping off a cliff or platform. Thrill seekers will love these locations not only because of the temporary high they get but also the beautiful environment they are in.
Reminders