Apayao boasts of a dynamic landscape marked by pristine waterways, thriving old-growth forests, and subterranean wonders. In addition to this, as the home of the Isnag tribe, the province also celebrates a vibrant indigenous culture and noteworthy environmental conservation policies. A cultural practice called lapat, where a patch of land or body of water is declared off-limits for a certain period of time, has been incorporated into the province's legislation, leading to places being declared as Protected Indigenous Areas. This allows the many wild places in its folds to continue to thrive and survive. Undoubtedly a system worthy of emulation all over the country.
Getting here is usually via a 12-hour bus ride from Florida Bus Terminal Cubao. Taking the sleeper bus is highly recommended. As of March 2019, the one-way fare is Php1350.
While it mostly remains unknown to many, intrepid travelers would be delighted at the treasures that Apayao plays host to. Aside from the historical and cultural destinations, the natural places are just extraordinary. If you are especially a sucker for the outdoors and incredible landscapes, this province would not disappoint. Should you plan a visit anytime soon, here are six activities to try.
---
Explore Lussok Cave
In Brgy. Dagupan in the town of Luna, there's a 200-meter cave system called Lussok. Before being developed as a tourist destination, Japanese soldiers, as well as local rebels, used the cavern as a hideout. Now, its many rock formations can be enjoyed by everyone. Exploring the cave begins with a short boat ride across a clear river leading to the mouth of the cave. From the entrance, the rock-scrambling begins. Crouch, inch, and clamber through the cave while marveling at the numerous rock formations.
View this post on Instagram
---
Take Some Instagram-worthy Photos at the Marag Hanging Bridge
A long hanging bridge hovers a crystalline river at the village of Marag in Luna. The bridge affords visitors a breathtaking 360-degree view of the mountain ranges and river system. The river below it is a favorite among locals – they can often be seen swimming or having a picnic here. Floating cottages are available for rent. You may join the locals and have your lunch here or just take a few moments to take some photos and enjoy the panoramic view.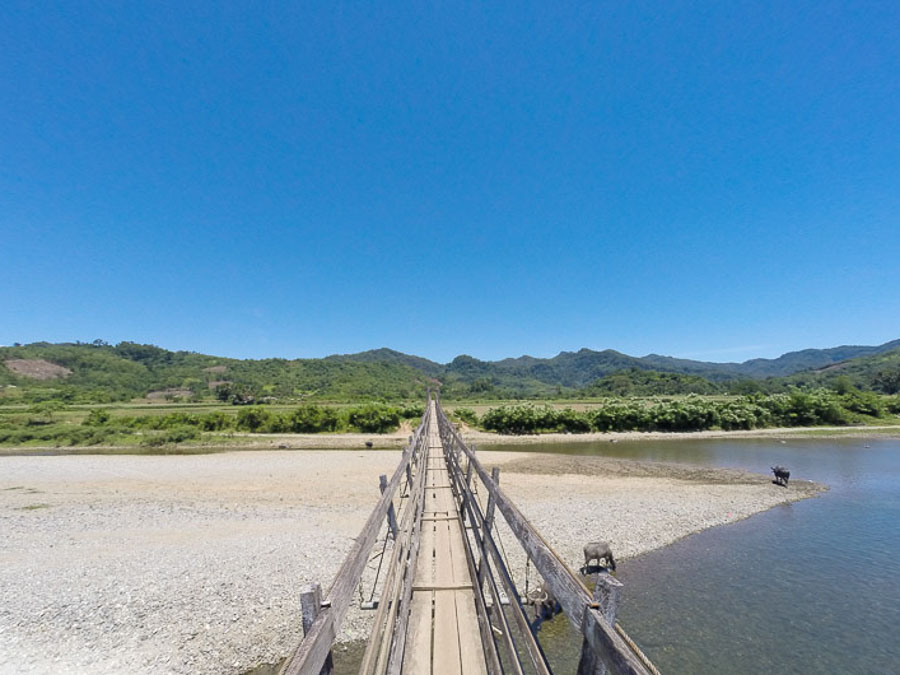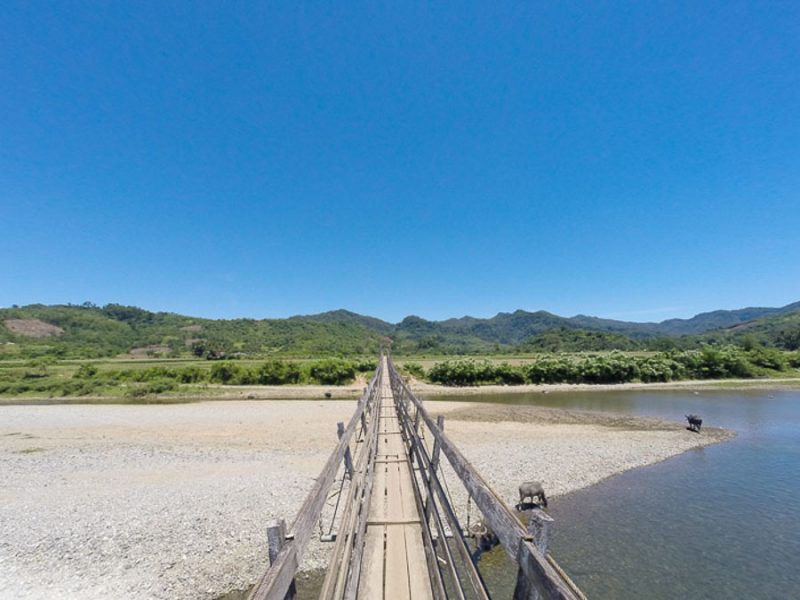 ---
Cruise through Manacota Underground River
Another cave system in Luna is Manacota, but compared to Lussok it is more river than a cave. Guests will go on a short trek to the mouth of the cave where they will board a boat that will charter them to the river. The water in the river is cool and surrounded by lush canopies. After passing a tunnel, guests will alight the boat and enjoy walking through the runnel, under thick canopies and up huge boulders. Be sure to take a dip in the cool waters of the river and let your weariness wash away.
View this post on Instagram
---
Cool down at Gololan Falls
About an hour trek down through a thriving rainforest in the town of Kabugao would lead you to the 33-meter Gololan Falls. The raging water is slender and set on a sheet of mountain rock. It is picturesque and is definitely worth the one-hour jungle walk. Plus, once you see the gushing falls, it'll be difficult not to take a dip into the azure basin below it.
View this post on Instagram
---
Check out the Mataguisi Church Ruins
Dating to as far back as 1608, the Mataguisi Church Ruins in the town of Pudtol is one of the few mortar-and-brick structures remaining in the province. It stands as a reminder of the colorful past of the province and a testament to the outstanding architectural skills of the locals. Through the efforts of the local government, the ruins have been cared for and are being maintained. Mass is also regularly being conducted here.
View this post on Instagram
---
Boulder-dive at the Maton River
Also in the town of Pudtol, Maton River is deemed as one of the cleanest rivers in the Philippines. Surrounded by trees and dotted by huge boulders, the river is a popular bathing spot for locals. Daring adventurers can often be seen clambering up the boulders and jumping into the clear waters. Take time to wade in the clear, turquoise-emerald waters to shake off the day's heat. If you're up for it, you may join in the locals for a round of boulder-diving.
View this post on Instagram
---
Where to Stay in Apayao
Apayao may be a less-traveled destination but there are already plenty of accommodations available. In the town of Luna, the local government runs its own lodge. There is also a resort called Star Jewel which is right beside the main thoroughfare where buses and other public transportation pass by. Furthermore, Luna also has a lot of commercial establishments so making it a home base is ideal. However, if you want to venture further, Pudtol would be a great place to stay, too. It's a nice town to explore especially if you're into unspoiled wild places. RDJ Farm is an affordable and value-for-money place to stay when in this town.
For those who are also exploring Mountain Province, Sagada is a good base. There are lots of accommodation and dining options, good for families and solo (or duo) travelers. Before heading back to Manila, another favorite stop is Baguio City in Benguet. This has become a highly urbanized area in the region. If you plan to stay a night or two in Baguio, here are some of the top hotels as rated by Agoda users, in no particular order.
For more options, search here: Baguio Hotels
Reminders