Stressed out from your week-long 9 to 5 day job? Whenever you close your eyes, do you imagine the comforts of pristine blue waters embracing you while basking under the sun with the fine white sand touching your feet beneath?
Yep, you need Vitamin Sea and Vitamin V-cation.
When fine white sand beaches are mentioned, Boracay, Bohol, El Nido, and Puerto Galera will most likely pop up in the conversation. These are the usual island beaches destinations that are popular to those who want to spend a full-on vacation mode to unwind. Ever heard of Camiguin?
One of the 7,000+ islands of the Philippines, about 10 kilometers away from the coast of Northern Mindanao is Camiguin—an island province located in the Bohol Sea which is mostly off the radar of travelers' bucket list destinations. Unbeknownst to some wanderers, Camiguin is not only known for its white sandbar called White Island, it is also brimming with waterfalls and hot and cold springs. The island is full of friendly locals willing and ready to help the travelers who dare wander in their territory, which makes coming here all the more exciting experience. Here are 10 places to see in Camiguin.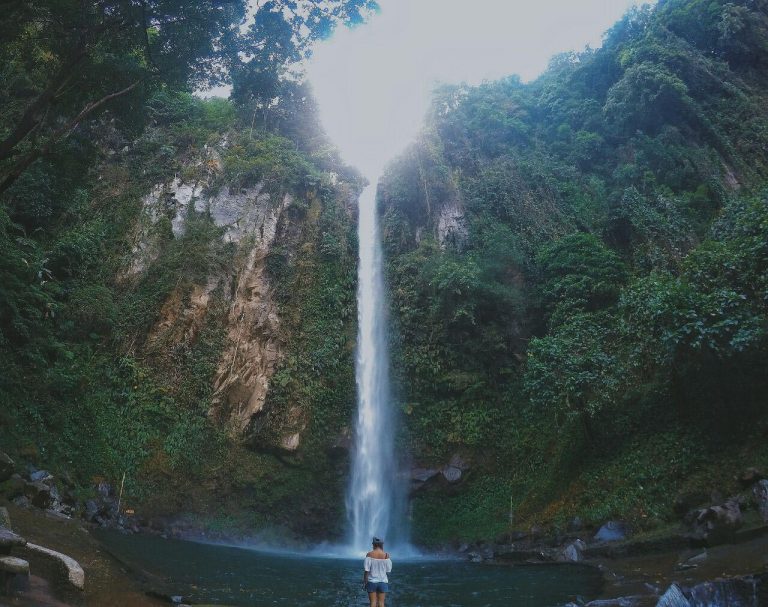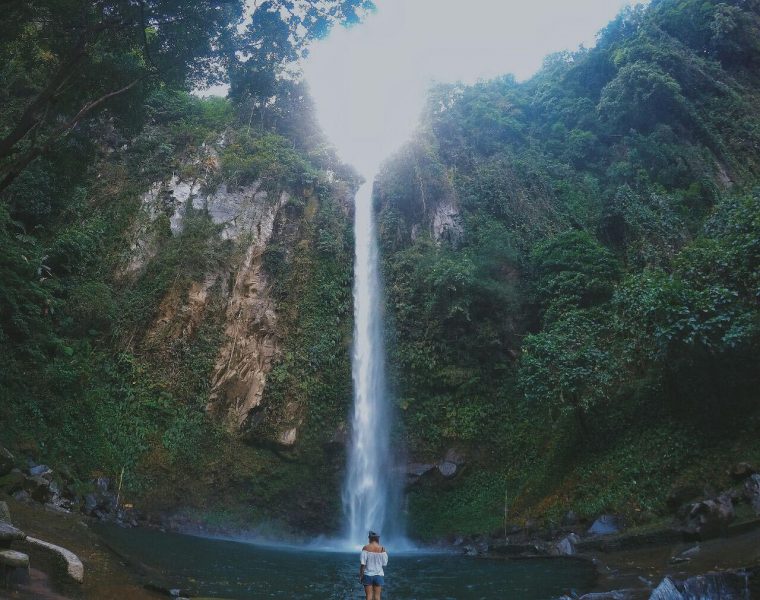 ---
1. Katibawasan Falls
This 250-meter waterfall is a gentle giant. Its nature doesn't silently ask for your attention, the waterfall commands it. The moment you step inside its premises, you'll know why it is a crowd favorite. Upon entering the gate, its grandeur can already be seen. You'll have to walk a flight of stairs down to get to the waterfall's basin. It is surrounded by trees and plants on either side, all seemingly part of a curtain. The waters are cold, sometimes too cold for bathing.
---
2. Tuasan Falls
Tuasan Falls must be my favorite waterfall. It was a hot day when I got there, so it was a refreshing sight that I was tempted to plunge into its waters. Unlike Katibwasan, this waterfall isn't gentle at all. Its waters are loud roars gushing on the way down, trickling down to a thin stream when it overflows from its basin. Its waters are bluer than the waters of Katibwasan. But what makes it extra special is the view getting there, where rows of boulders and cliffs with matching palm trees line both sides of the road.
Tuasan used to be such a hidden gem since it is about two kilometers away from the main road of Camiguin. Thankfully, a road has been paved recently so getting here is easier now.
---
3. White Island
This is probably the most photographed and documented tourist spot in this province. When visiting Camiguin, one must not miss coming to White Island whether sunup or sundown. This long stretch of white sand is surrounded by crystal clear blue waters. Fifty shades of blue will envelop you once you're here. Lack of natural shade should not discourage one from witnessing a beauty such as White Island. (SEE FEATURED PHOTO/IMAGE)
---
4. Mantigue Island
"Ah, Mantigue Island is very much like White Island, only that there are trees there so there is shade," said one of my fellow traveler when I asked them what differs White Island from Mantigue. These are the only two white sand beaches (or islands as their locals would like to call it) located in the province, and because of that, the two islands have always been compared to each other. Having seen both, I think it's unfair to do so. Each of the white-sand beaches has its own allure and beauty to boast; comparing isn't actually a choice.
---
5. Sto. Nino Cold Spring
If the Ardent Hot Spring's hottest pool is about 40 degrees, Sto. Nino's coldest is at about 20 degrees Celsius. It has one big pool and one kiddie pool for both the adults and kids to enjoy. The big pool is measured 25 x 40 meters with a depth of about 3 to 7 feet while the kiddie pool is the shallower and smaller version with the water coming from the overflowing water from the big pool. The crystal clear waters would be very irresistible once you enter the premises.
---
6. Ardent Hot Spring
The mountainside of Camiguin is brimming with hot and cold springs where locals and tourists alike go to for a different kind of bathing experience. The most known hot spring is the Ardent Hot Spring. The resort has several pools with different temperatures, and the common go-to for the people is the one with the "hottest" temperature —40 degrees Celsius. The resort is dotted with huts and tables. There is also a restaurant where visitors can order their food.
---
7. Soda Water Pool
This attraction is peaceful during weekdays as it is busy during weekends. Families and group of friends flock the place to experience its refreshing waters which taste like watered-down Sprite. Not only does it have a wide pool, the place also has tables and grass area around it with swings and slides perfect for that weekend or weekday picnic.
---
8. Sunken Cemetery
Although people come here to hear the different angles of stories involving this attraction, what makes Sunken Cemetery remarkable goes beyond its history — it was the people. The people greeting you warmly when you walk the premises will surely make a mark on your visit. Moreover, my habal driver-slash-tour guide spoke on my behalf all the time; he's the one who translated most of the stories that these boatmen and vendors told me.
---
9. Old Spanish Church and the Century Tree
Camiguin is such a rich province, filled with different springs, white sand beaches, waterfalls, and so much history. I appreciate the stories my driver/tour guide had told me for every stop. Being a lover of churches, seeing an old one is actually a plus. But to see a century-old tree too? Man, that's so much bonus in one visit! The whole place was very green from the grass and plants covering the whole property, which is very well taken care of. However, one can see that the structure has gone through a lot too.
The caretaker was even kind enough to teach me a new camera trick (from my own phone, mind you) of taking panoramic photos vertically to be able to capture the gigantic tree!
---
10. Moro Watch Tower
But of course, my habal driver's stories encompassed everything, even the Moro Watch Tower. He told me that this is one of the frontier structures that this province has. It's where the locals used to be on the lookout for the Spaniards trying to invade their land. He had me try to climb the stairs to see it for myself. Indeed! Whatever's coming to the island can be seen from that point of view. One has to be very careful in climbing because the steps are very slippery.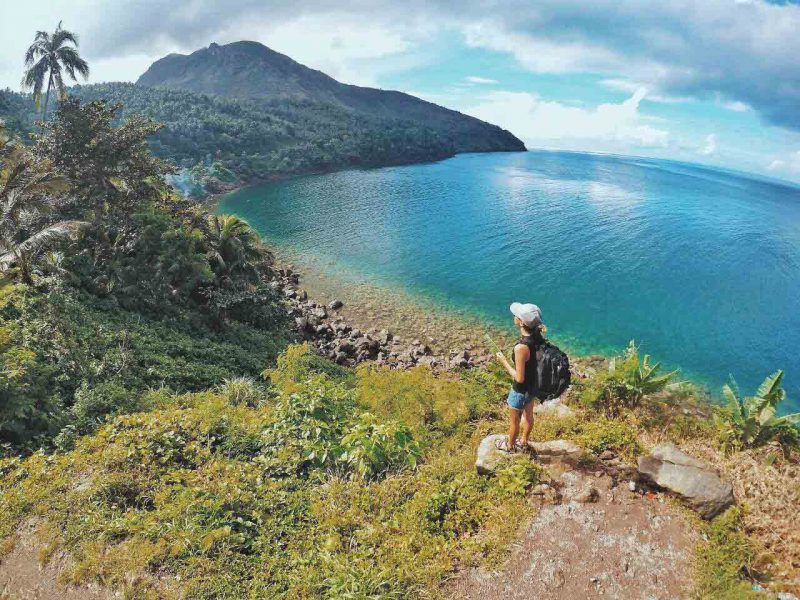 The Camiguin land tour experience is capable of infusing enjoyment while learning history. Visiting Camiguin should surely be on every backpacker's bucket list. Paired with an experienced and friendly habal driver, you're ready for a great experience of the land. If you're lucky, you still might get a good haggle afterward. 😉
Reminders