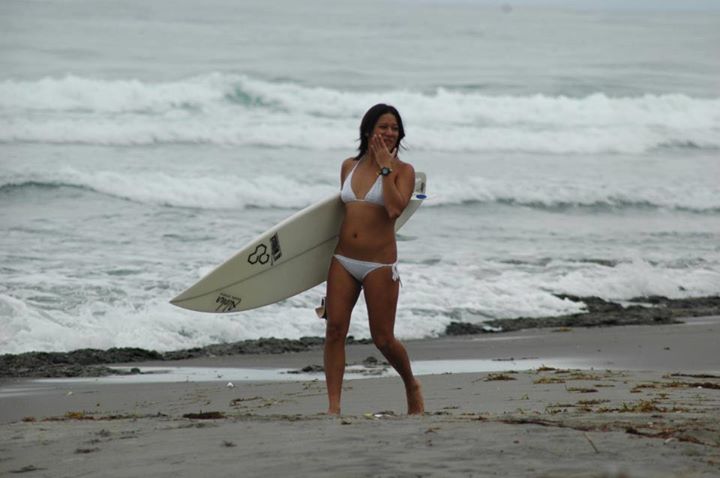 2013 • 03 • 12
A few weeks ago, Mickey Galang went to the beach and saw something that shouldn't be there: thick patches of oil and tar. An oil spill off the Ilocos Norte coastline had arrived in La Union. She called her La Union Surf Club buddies to help her clean up the mess. And they continued doing so for several days. This initiative was acknowledged by other locals and the LGU, and inspired many to go to LU to help in the cleanup.
Which 3 words would you use to describe yourself?
I'm active, passionate and rebellious.
What do you like best about the seas?
I like the fact that it constantly changes. There's nothing static or boring about it. And because I surf, the sea has become a perpetual factor in my life. Everything revolves around the ocean (more particularly the waves). Family obligations, work and other things take a back seat when the waves start calling. The fact that it's home to marine life and other stuff are pluses. The sea is nature at its finest.
What made you start caring about the seas?
When I started surfing 12 years ago, I realized the ocean was my playground. And like that old quote says, "Don't shit in your own backyard." I just don't like to see unnatural stuff floating around when I'm in there. And now that I have a son, I'd like him to experience the joys of frolicking in the water without fear of getting sick or mutating into something gross.
Why do you help save the seas?
As one of the leaders of the surfing community of San Juan, La Union, I would like ensure the environmental sustainability of the area. Now that surfing in the Philippines has become a developing industry, I would like to see our community maintained and preserved as it is now. As development brings with it an unending process of sewage, sanitation and garbage collection, it is inevitable that this area will soon succumb to the environmental problems encountered by surfing areas around the world. As of now, movement towards ecological sustainability is not prioritized, although it should be. And if surfers could respond to the role of "beach warden", why not? After all, no one is really doing anything about it.
Is this your first time to do volunteerism?
Nope. I grew up in Bacolod City and we always had to volunteer for something during family Christmas celebrations. My brother and I…generally we were exposed to people less fortunate than we were. But these experiences developed in me a strong sense of volunteerism and initiative in terms of social and environmental problems.
What do you find most challenging about the work you do?
It is educating and disseminating information at the grassroots level. For most residents, the beach has always been there and there is no need for them to protect it. Some, don't really care about throwing their trash about or having their sewage flow onto the sand at the beach. It is talking to the generation that still burn their garbage and chuck their laundry water into the canals.
What was challenging about cleaning up oil patches?
They refuse to stop coming in! When the waves are flat, you think they're gone. But with the next big swell, you can see the shoreline littered once again with tar balls.
What is the most rewarding part of the cleanup?
When the local surfers were able to finish cleaning up the mess in 2 hours before the sun came up to melt them. Everyone was out helping each other. And each was very concerned.
What would you advise Filipinos do to save the seas? Why should they help save our seas?
All we need is the implementation of the solid waste programs launched in every barangay. We need a proper sewage filtration system or ensure that toxic substances don't find their way into the sea. We should save our seas simply because it's the only sea we have.
(Interviewed by Nix Nicolas)
---
Reminders