2019 • 02 • 22
The province of Quezon is no stranger to island paradises and pristine white-sand beaches. But for those looking to stray a bit from the well-trodden path, the town of Alabat is at your service. Located on the eponymous finger-shaped island, right on the heart of Lamon Bay, the town of Alabat plays host to a number of natural wonders; one of which, Kabila Beach in Brgy. Villanorte, opens up to the Pacific Ocean, making it quite temperamental, but its waters are perhaps some of the clearest this side of Luzon.
How to Get There
Nearest Airport: Ninoy Aquino International Airport (Manila); Alabat Island Airport (for Seaplanes)
By Land
From Manila, take a Lucena-bound bus and alight at the Lucena Grand Terminal (P200-250).
From the terminal, there are several options that could take you to Atimonan Port: vans, jeepneys, buses (P50-75).
Once in the port, board a ferry or a Roll-on/Roll-off vessel to Alabat Island (P90-110).
Get off at the town of Alabat and hire a tricycle to Kabila Beach (P50/person/way).
Total travel time is around 10 hours so it's best to spend a night or two on the island.
To shorten the travel time to a mere twenty-five minutes, nine-seater seaplanes that could take you directly to Alabat port are available at the CCP Complex in Pasay, Manila (4500/person/way).
---
Entrance Fee and Other Charges
Entrance Fee: Free
Camping Fee: Free
Cottage Rental Fee: P250 – P300 (Open Cottage); P500 (Cottage)
---
Don't Miss
Sipping on buko juice picked straight from one of the trees that line the shores is one way to fully enjoy the island vibes of Kabila.
---
Don't Forget
Since the beach is far from the town proper, only a handful of stores are in the vicinity. If you're planning to have a meal, make sure to buy one from the market or pack some food before coming.
Washing up is no problem as there are a couple of beachside resorts with decent bathrooms for a minimal fee.
---
If You Have More Time and Budget
For those who enjoy a bit of trekking, Tumiis Falls is easily accessed from Kabila Beach; just ask the locals for someone to guide you up the falls.
Alabat is also famous for agri-tourism. Coconut farms, calamansi farms, and chili farms are open for visits, so you might want to try to check that out.
More detailed travel guide here: The Quintessentially Laid-back Town of Alabat, Quezon
---
Where to Stay
There are few resorts in Alabat Island where Kabila Beach is located. If you are planning to go anywhere else in Quezon besides Kabila Beach, here are some of the top accommodations in the province of Quezon according to Agoda users, in no particular order.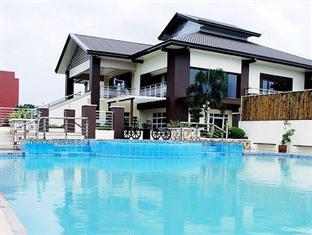 For more options, search here: Quezon Hotels
Reminders