2019 • 07 • 02
Marinduque is a popular weekend destination because of its accessibility from Metro Manila. One of the best places to soak up some sand, sun, and water is Maniwaya Island. This idyllic place has a beautiful beach and clear waters, ideal for those who just want to sit back, relax, and forget about their worries. This picturesque island is far away from the hustle and bustle of the city and is only an hour boat ride from the mainland.
How to Get There
Nearest Airport: Marinduque Airport (Gasan), Ninoy Aquino International Airport, also known as Manila International Airport (Manila)
By Air
For the longest time, the main mode of transportation from Manila to Marinduque has been land-to-sea transfer. But there's a more convenient option now that Cebu Pacific Air officially launched its Manila-Marinduque route early this month, bringing Marinduque closer to Manila and vice versa. From more or less eight hours of traveling, Marinduque is just about an hour from Manila via air. The roundtrip airfare ranges from P3000 to P4000, depending on the season. Cebu Pacific flies Manila-Marinduque route three times a week — Monday, Wednesday, and Saturday.
By Land
Board a bus bound for Lucena Grand Terminal; fare is around P270. From the terminal, get on a van traveling to General Luna; this costs approximately P170. The total travel time of these transfers and trips may take up to six hours.
Board a tricycle from General Luna to the port, which takes a few minutes and may cost you around P10-P20. There is a boat that goes to Maniwaya Island which costs around P150, but only leaves once a day.

Alternatively, you can board a bus bound for Dalahican Port (P230-270), and then get on a ferry traveling to Balanacan Port (P150-390; P30 terminal fee). From the port, board a jeep bound for Sta. Cruz (P100). Once in town, take a tricycle to Buyabod Port then get on a boat (P70 including landing fee) to Maniwaya Island. If your group is big, you can charter a boat for P1000 – P1500, one way.
---
Entrance Fee and Other Charges
Entrance Fee: Entrance fees will vary depending on the resort you stayed in, but it's P50 at Wawie's Resort
Camping Fee: It depends on the resort, but it's P300 tent pitching fee at Wawie's Resort
Cottage Rental Fee: Rates vary from one resort to another.
Maniwaya Landing Fee: P20
Boat Rental Rates: Approximately P1500 (from Maniwaya to Palad Sand Bar & Ungab Rock Formation); Approximately P4000 (from Buyabod Port to Palad Sand Bar & Ungab Rock Formation)
---
Don't Miss
Maniwaya Island is an ideal place to laze on the beach and swim in the clear waters.
Rent a boat and visit Palad Sandbar and Ungab Rock Formation. The sandbar is a good place to go swimming; sink your toes in the soft sand and relax.
There are snorkeling spots where you can see some corals and marine life.
The island is also one of the best places to see the sunset.
---
Don't Forget
Go as early as possible for the boat ride to and from Maniwaya Island as they leave early and just once a day. If you miss it, you will have to charter a boat or leave the next day.
Bring a tent if you want to go camping and snorkeling gear.
Buy food at the local market to save money. As the cliché goes, leave nothing but footprints.
---
If You Have More Time and Budget
After relaxing on Maniwaya Island, there are a number of things you can do and places to visit such as island hopping (Tres Reyes Islands), visiting the old church of Marinduque, experience the Moriones Festival (during Holy Week), and explore the attractions of Quezon on your way back to Manila.
RELATED ARTICLE: Marinduque: Important Travel Tips
---
Where to Stay
There are few resorts on the island, but if you plan to explore the mainland, here are some of the accommodations in the province of Marinduque.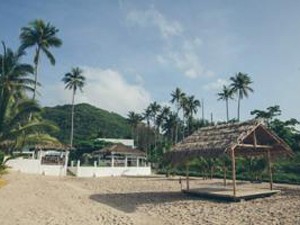 Reminders