2019 • 07 • 02
The Tres Reyes Islands — Melchor, Baltazar, and Gaspar (the biggest) — sit off the coast of Gasan in Marinduque. The islands have soft sand and blue waters where you can spend a couple of hours taking photos, swimming, and beach bumming. This destination is an ideal weekend or summer getaway because of its proximity and accessibility from Metro Manila. You don't have to book a flight because you can go there on a whim via bus and ferry.
How to Get There
Nearest Airport: Marinduque Airport (Gasan), Ninoy Aquino International Airport, also known as Manila International Airport (Manila)
By Air
For the longest time, the main mode of transportation from Manila to Marinduque has been land-to-sea transfer. But there's a more convenient option now that Cebu Pacific Air officially launched its Manila-Marinduque route early this month, bringing Marinduque closer to Manila and vice versa. From more or less eight hours of traveling, Marinduque is just about an hour from Manila via air. The roundtrip airfare ranges from P3000 to P4000, depending on the season. Cebu Pacific flies Manila-Marinduque route three times a week — Monday, Wednesday, and Saturday.
By Land
VIA DIRECT BUS
Ride a bus from Cubao traveling to the province. Jac Liner has regular direct trips to Marinduque that cost around P1000.
Once in Balanacan, there are many jeeps traveling to the municipalities of the province, for the island hopping, get on one bound for Gasan.
VIA LUCENA GRAND TERMINAL
Get on a bus from either Buendia or Cubao bound for Lucena Grand Terminal; the fare is around P150 to P270 depending on the class of the bus.
From the terminal, get on a jeep traveling to Dalahican Port, which costs approximately P10.
You have the option to either ride the RORO or the fast craft to get to Marinduque:
the RORO ticket costs around P150 to P260
the fast craft's fare is approximately P280 to P390 to Balanacan Port per way.
Note:The terminal fee at Dalahican Port is around P30.
Once in Balanacan, there are many jeeps traveling to the municipalities of the province, for the island hopping, get on one bound for Gasan.
---
Entrance Fee and Other Charges
Island Hopping Rates: P1000 – P1500 (Gaspar Island, Baltazar Island, and Melchor Island); P500 – P600 (Gaspar Island only)
Camping Fee: It depends on the place/island.
Cottage Rental Fee: Rates vary.
---
Don't Miss
The islands of Melchor, Gaspar, and Baltazar are great places to go swimming, snorkeling, diving, and beach bumming in.
Lay on the sand for sunbathing and douse the heat in its clear cool waters.
The islands are also picturesque, which is ideal for those who want to take pictures of beachscapes.
---
Don't Forget
Bring enough cash for your trip to Tres Reyes Islands and a power bank to charge your gadgets with.
You can rent gear or bring your own if you want to go snorkeling.
Brings snacks and drinks, but leave no trace behind after enjoying the islands.
---
If You Have More Time and Budget
After island hopping, you can spend an afternoon or overnight at Poctoy Beach.
Marinduque also has some old churches worth visiting in Boac, Gasan and other municipalities.
Participate in the activities of the Moriones Festival, if you visit during Holy Week.
You can also visit the attractions of Quezon such as the old houses in Sariaya, Borawan Beach and others on your way back to Metro Manila.
RELATED ARTICLE: Marinduque: Important Travel Tips
---
Where to Stay
If you plan to explore the mainland, here are some of the accommodations in the province of Marinduque.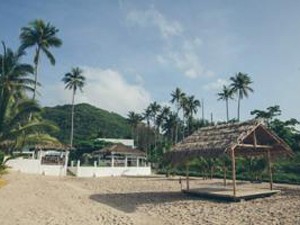 Reminders