2019 • 04 • 19
We updated this article! Read it here: POCTOY BEACH, MARINDUQUE: IMPORTANT TRAVEL TIPS (2019)
Marinduque is a couple of hours away from the hustle and bustle of Metro Manila, making it one of the go-to weekend getaway destinations for those living in the city. Poctoy Beach is one of the places you can visit for some sun, sand, and good times. The beach has fine, cream sand, and blue, cool waters, ideal for swimming, playing beach volleyball in and picnicking.
How to Get There
Nearest Airport: Ninoy Aquino International Airport, also known as Manila International Airport (Manila)
By Land
Board a bus from Cubao bound for Marinduque. Jac Liner has a direct route that costs around P880. Another option is to get on a bus from either Buendia or Cubao traveling to Lucena Grand Terminal; the fare is around P159 to P230 depending on the class of the seat of the bus.
From the terminal, get on a jeep going to Dalahican Port, which is around P10.
You can ride the RORO or the fast craft to get to Marinduque; the RORO ticket costs around P130 to P260, while the fast craft's fare is approximately P280 to P312 to Balanacan Port. There is a terminal fee of around P24 to P30 at Dalahican Port.
Once in Balanacan, jeeps regularly travel to different municipalities; board a jeep (P50) or a van (P80) bound for Sta. Cruz.
At Sta. Cruz Terminal, ride in a jeepney with route going to Torrijos (P40, 1hr travel time).
---
Entrance Fee and Other Charges
Entrance Fee: Entrance fees will vary depending on the resort you stayed in, but the minimum is P25.
Camping Fee: It depends on the resort or area, but it usually starts at P150.
Cottage Rental Fee: Rates vary from one resort to another. Rate is usually around P200.
---
Don't Miss
Enjoy the cream-colored and fine-sand beach and the cool azure waters.
There will be a lot of people, especially during regular and long weekends with holidays. However, there are still spots away from the crowds, where you can chill, enjoy the beachscape and go swimming.
---
Don't Forget
Bring enough cash to pay for accommodation, if you will spend the night, and for food and drinks at the shops and restaurants nearby.
You can bring your own tent if you plan to go camping.
You can also bring your own snacks and drinks for a picnic or overnight stay. Leave nothing but footprints.
---
If You Have More Time and Budget
After enjoying Poctoy Beach, explore and go island hopping in Tres Reyes' Gaspar, Melchor, and Baltazar Islands.
The province has a couple of old houses and churches that have withstood the test of time and are noteworthy additions to your itinerary.
Moriones Festival is one of the must-see occasions on the island during the Holy Week.
If you are into mountains, you can hike Mt. Malindig.
---
Where to Stay
There are a number of resorts, inns, and homestays in the vicinity. If you want more options, here are other accommodations in the province of Marinduque.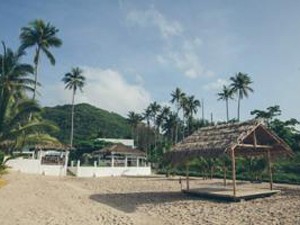 Reminders