2019 • 03 • 16
Images of the chocolate hills and tarsiers are what most people imagine when they think of Bohol. But for me, Bohol is someplace that I would return to when I want to enjoy the sea breeze and feel fine, white sand on my feet. It is the perfect place to enjoy both nature and the beach. The locals are so friendly and how the Boholanos cook their dishes is unique and surely a gastronomic delight for visitors.
---
How to Get to Panglao (Alona Beach)
From the New Bohol-Panglao International Airport
Since all of the commercial flights have been transferred from Tagbilaran Airport, we will show you directions on how to get to Panglao (Alona Beach) from the newly-opened and operational Bohol-Panglao International Airport.
UPDATE: The new Bohol-Panglao International Airport has just started its operations last November 28, 2018. And the Civil Aviation Authority sent out a bulletin stating that at 6:00 in the evening of November 27, 2018, the Tagbilaran Airport will be officially closed for operation. Official flight operations shall be transferred to Bohol-Panglao International Airport effective November 28, 2018 at 6:00 in the morning. You can refer to the bulletin below: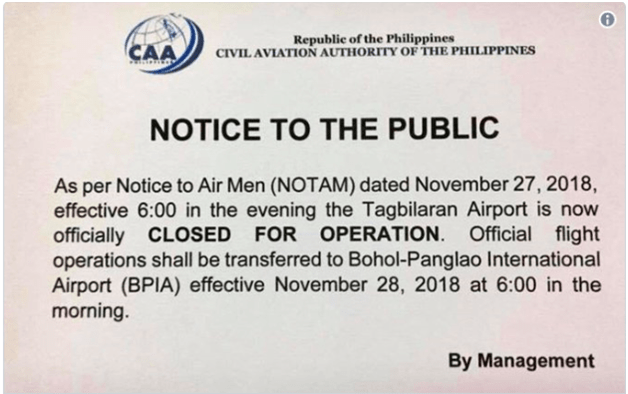 Transportation from the new Panglao Airport is still very limited and the best way to reach your hotel or resort is by taxi. Once you set your foot out of the airport, there will be a taxi lane where you can take a ride going to your accommodation in Panglao. The travel time between the airport and Alona Beach and Danao Beach is around 15 to 20 minutes. You should also check with your hotel or resort if they offer shuttle services between the airport and their property for your convenience.
From Cebu via Tagbilaran
If you're coming from Cebu, you can take a ferry at Pier 1 going to Tagbilaran. The ferry ride could take 2 hours depending on the weather condition. The most popular ferry companies that charter passengers from Cebu City to Tagbilaran City are Oceanjet and SuperCat. There are hourly schedules for this route. The fare is at P500 for tourist class and P1,000 for business class.
Upon arriving at the ferry terminal in Tagbilaran, you can either take a taxi or tricycle going to your hotel in Panglao or Tagbilaran City proper. If you're with a larger group, you can hire a van to take you to your accommodation.
From Dumaguete
From the Dumaguete Sea Port, you can go on a fast craft ferry going to Tagbilaran. Travel time is around 2 hours. The estimated fare is P700 for tourist class and P1,020 for the business class via Oceanjet. There are 2 available schedules for this route. One in the morning at 9:50 am and one in the afternoon at 2:30 pm.
Once you reach Tagbilaran Port, you can either take a taxi or a tricycle. You may also book your own private van or car transfers.
---
Where to Stay in Bohol
One of the best places to stay in Bohol is in Panglao. It is a coastal community that is about 20 kilometers away from Tagbilaran City. This is where you can find the famous Alona Beach and Danao Beach, where most of the resort hotels are located. If you're staying in Panglao but you want to visit the chocolate hills and the tarsiers of the Philippine Tarsier Sanctuary, you can ask your hotel if they offer countryside tours that will take you to these destinations.
Another great place to stay while in Bohol is in Tagbilaran City. Because it's a fairly modern city, the accommodations here are relatively cheaper and transferring between towns are easier because this is where the main transportation hub is located.
If you want to explore more of the best beaches in Bohol, you can also consider Anda. Anda is an off-the-beaten-track destination, located at the eastern part of Bohol. It is around 110 km away from Tagbilaran City. It might be a little far from everything but the three-hour travel time is worth it once you get a glimpse of Quinale Beach, the most famous beach in Anda that stretches to almost 3 kilometers of fine, white sand. Here are some of the top accommodations that you can find in Bohol as rated by Agoda users, in no particular order.
For more options, search here: Bohol Hotels
Reminders