Due to the frequent changes on the quarantine classification and protocols, you can never be sure when you'll be able to travel. This makes planning difficult because the situation and the travel restrictions are unpredictable. To give travelers more flexibility and convenience, Cebu Pacific released CEB Super Pass last May as part of their 25th anniversary celebration.
But here's more GOOD NEWS! The CEB Super Pass is back! But just like last time, for a very limited time only, starting September 9 until September 16, 2021! This 99-peso (one-way base fare) pass is a perfect holiday treat from Cebu Pacific. This could help you make plans even if you have no destination or travel date in mind yet. The Ceb Super Pass allows you to buy all you can and fly when you can. Here are the details: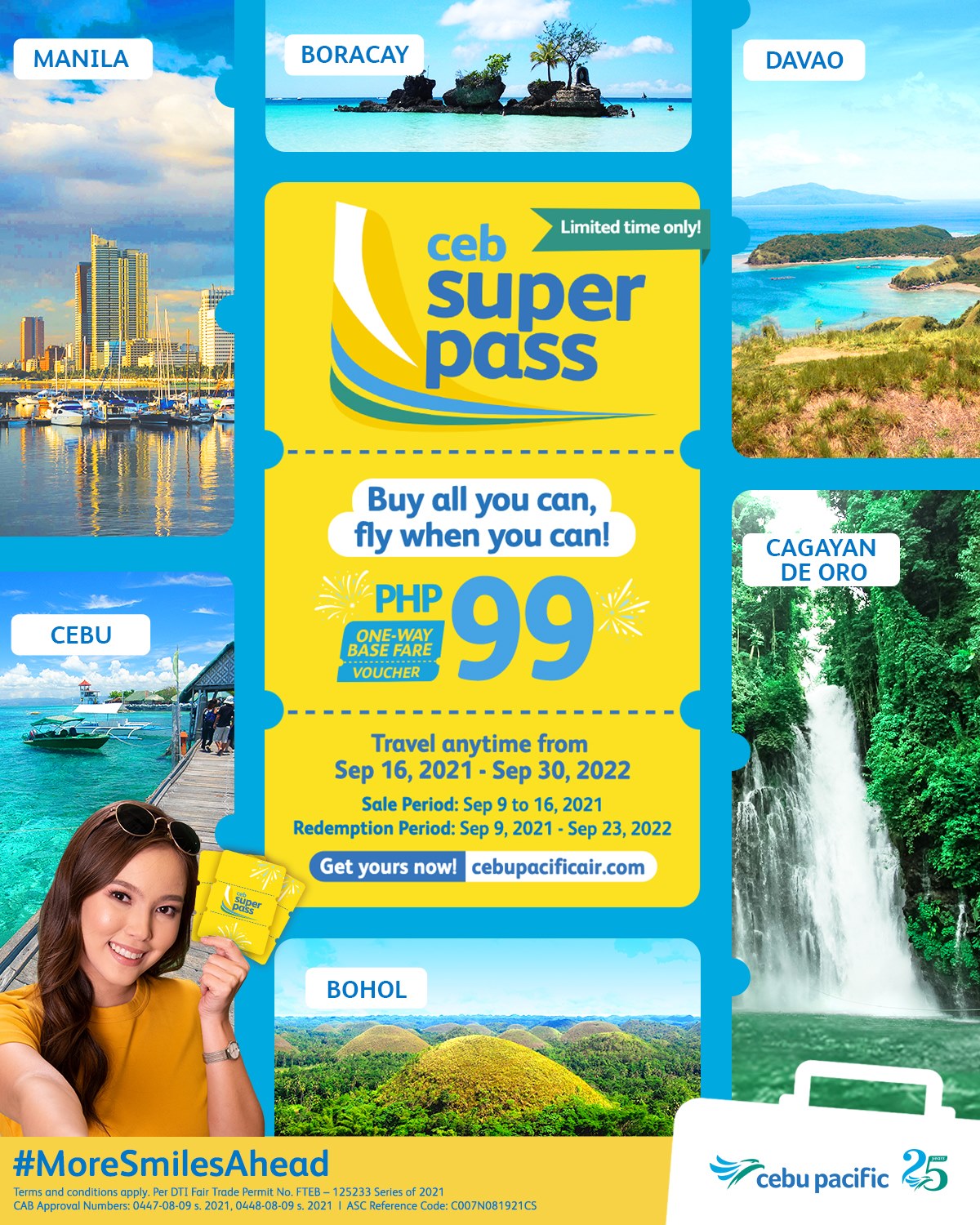 There is no limit to the number of passes you can buy and you can purchase for your family and friends too. If you don't have ideas for holiday gifts yet, this could be it! The CEB Super Pass can be used for ANY Cebu Pacific domestic destination. Travel period is from September 16, 2021 to September 30, 2022.
How to Buy CEB Super Pass
Here's how you can purchase the CEB Super Pass:
Go to the CEB Super Pass page.
Enter the number of passes you want to purchase. A maximum of 10 passes can be purchased per transaction. If you're going to purchase more than 10, you can make another transaction.
Type the passenger names. If you're buying passes for your friends or family, just indicate their passenger details during purchase. Take note that the CEB Super Pass is NON-transferable. Make sure to enter the correct details and that it matches the details on your government-issued IDs.
Pay for your passes. You can pay using credit card, PayPal, and Travel Fund. Once successful, your CEB Super Pass will be sent to your email.
---
How to Redeem CEB Super Pass
You can use your CEB Super Pass to book a flight as early as 30 days before your chosen travel date or until 7 days before the flight's departure, as long as there are available seats. You may redeem your vouchers from September 9, 2021 to September 23, 2022.
You can follow the steps below to redeem your vouchers.
Visit cebupacificair.com, then go to the 'Redeem CEB Super Pass' tab.
Type the booking reference you received during purchase and the last name of any passenger in the booking reference.
The CEB Pass vouchers you purchased will be displayed. To book a round-trip flight, tick the round-trip box. Then, click the voucher/s you will use.
Note: 2 vouchers are required to be used for a round-trip flight. Multiple guests travelling together may be booked at the same time by selecting their vouchers.
Search your desired flight and choose based on the available list of flights.
Enter the necessary details on the Guest Details page.
Purchase add-ons if you need any. This is subject to additional fees and charges.
Pay for the remaining amount.
Once the payment is successful, you will be redirected to a confirmation page where you will get a new booking reference number.
---
Reminders