Intramuros is one of, if not the most, historic place in Manila, the capital city of the Philippines. Its name literally translates to "within the walls" in Spanish, which is why it's also referred to as the walled city.
Situated by the mouth of the Pasig River, its walls and other fortifications protected Manila from foreign invaders during the Spanish colonial period. Its construction began in the late 16th century and concluded in the beginning of the 19th century.
Today, Intramuros carries the old-world charm of Manila in the historical buildings and landmarks that decorate its (mostly) cobblestone streets. You won't go far into the walled city without catching sight of a historical marker greeting you at every corner. Visitors can check out the thick stone walls, gates, and other defense structures that protected what was once considered the entire City of Manila. Museums, old churches, and other historical buildings are also sprinkled all over its map.
Whether you're a history buff or you're simply looking for something to do in Manila, add Intramuros to your itinerary and allot a day to get lost within its walls. In this post, you'll find some of the best things to do and historic spots to visit as you walk along the streets of old Manila.
---
Intramuros Pass
If you're touring Intramurous, you could save a few bucks by availing the Intramuros Pass, which will give you access to up to five (5) activities and attractions. This is perfect for those planning to visit multiple attractions within the historic walled city. We highly recommend availing the pass to save on entrance fees.
Don't forget to activate your pass by reserving a date and a time slot for at least one attraction within 30 days from booking confirmation date. You can choose from any of these attractions:
Fort Santiago
Museo de Intramuros
Casa Manila Museum
Baluarte de San Diego
✅ GET YOUR INTRAMUROS PASS HERE!
---
Fort Santiago
Fort Santiago, the primary fortress in Intramuros, is one of the city's oldest forts. Initially built as a palisaded fort by Rajah Soliman, it was later reconstructed with stone by Miguel Lopez de Legazpi between 1590 and 1593. Throughout history, it served as the headquarters for various occupying forces, including the Americans, British, and Japanese, as well as functioning as a prison.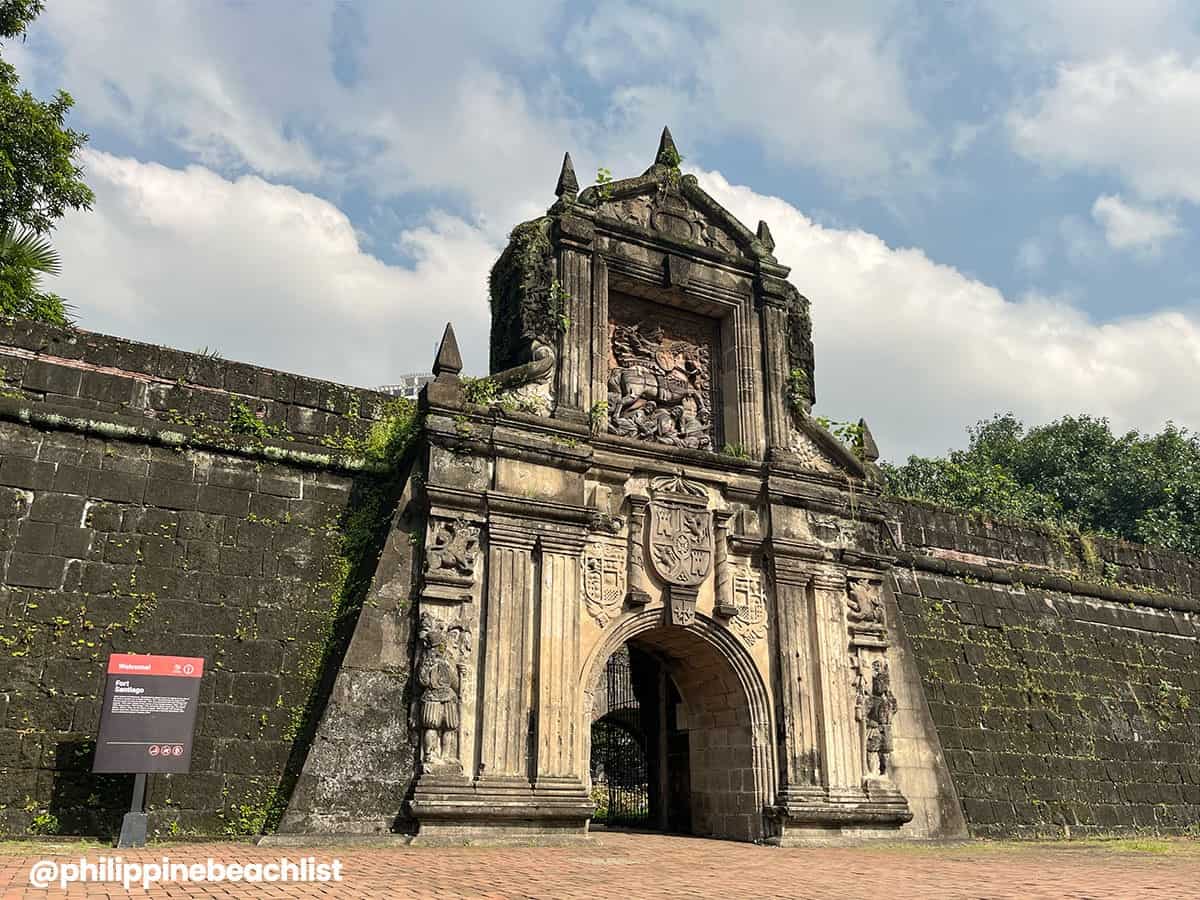 Before his execution in 1896, Jose Rizal, the country's national hero, spent his last days at this fort. Eagle-eyed guests will spot his final footsteps marked on the floor from his prison cell. Museo ni Rizal, dedicated to the revolutionary, is also located inside Fort Santiago, specifically in the building where Rizal's prison cell once stood.
Aside from the Museo ni Rizal, Fort Santiago boasts several points of interest, including barracks ruins, numerous bastions, the Rajah Sulayman Theatre, Plaza Armas, a memorial cross, and more. Near the entrance, a visitor center offers maps of the fort, refreshments, and souvenirs.
During our visit, we found a gem of a coffee shop towards the back of Fort Santiago, past Plaza Armas. Papa Kape sits inside Aljibe de la Fuerza, a 400-year-old water cistern. Nowadays, the only water you'll find is in the machines brewing local coffee. They offer hot and iced coffee drinks, some featuring Filipino delicacies, such as their Tahoat, inspired by the local snack "taho" made with silken tofu.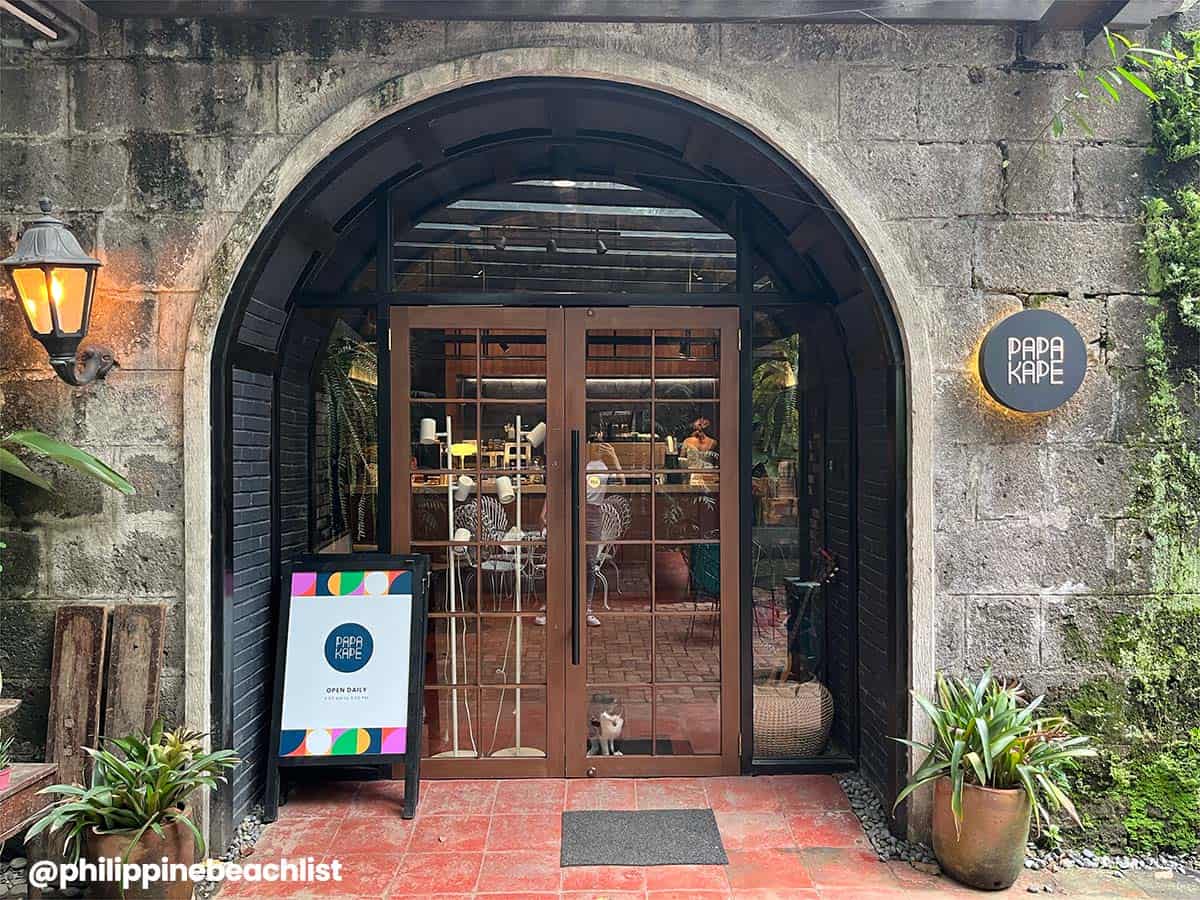 Grab your tickets at the entrance or from Klook! Fort Santiago is also covered by Klook's Intramuros Pass.
✅ GET YOUR FORT SANTIAGO TICKET HERE!
Opening Hours: Monday to Friday, 8:00 AM – 10:00 PM (last entry at 8:00 PM); Saturday & Sunday, 6:00 AM – 10:00 PM (last entry at 8:30 PM)
Entrance Fee: Regular, P75; Children, Student, Senior Citizen, PWD, P50
Location: Sta. Clara Street, Intramuros, Manila City
---
Baluarte de San Diego
Identified by its circular fort, Baluarte de San Diego is another bastion in Intramuros. Its unassuming entrance hides the Torre de Nuestra de Señora de Guia, tower-turned-bulwark following the demolition of its upper portion after suffering from cracks. This spade-shaped structure is what we call Baluarte de San Diego today.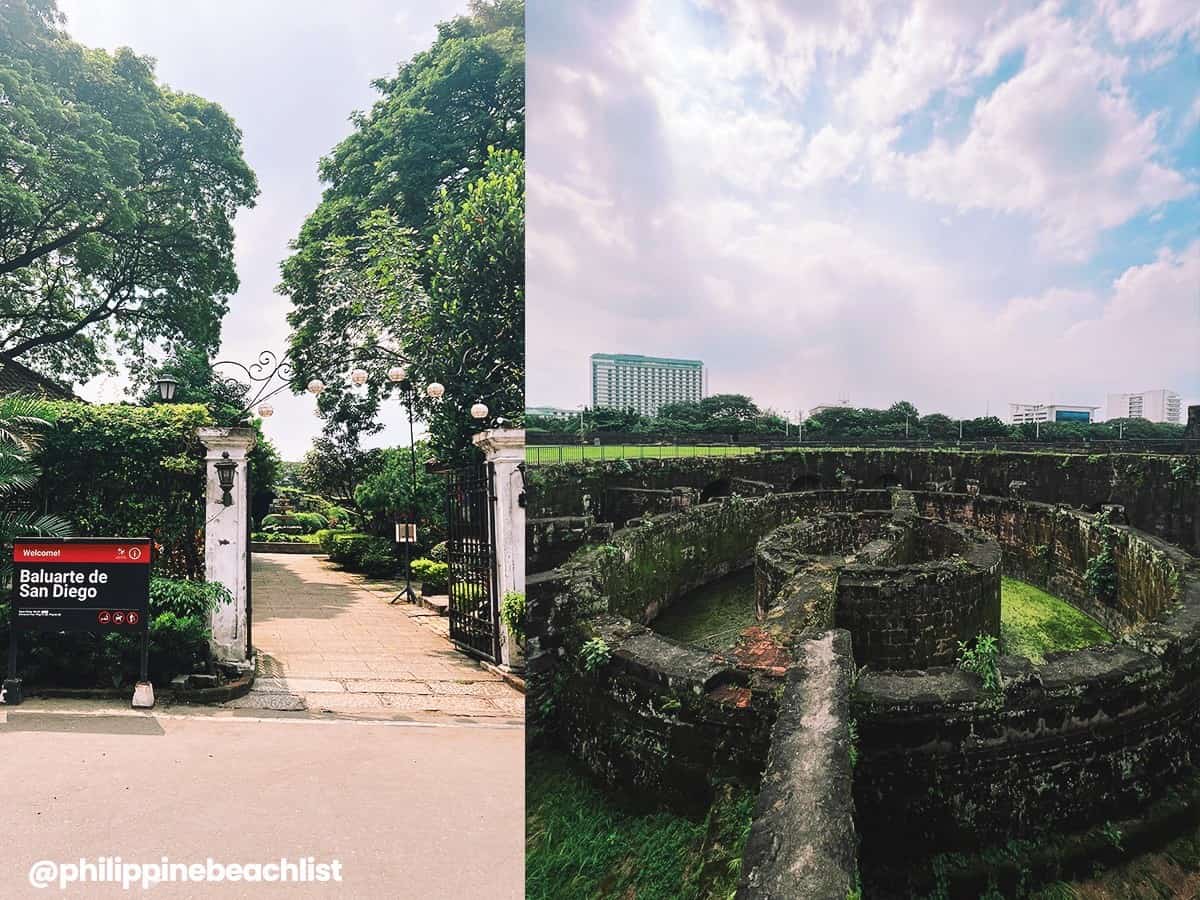 In 1863, it was destroyed by an earthquake and was subsequently abandoned. This effectively buried the circular fort under layers of soil during the country's American colonization. In 1979, it resurfaced after excavation. Today, the restored baluarte is surrounded by a garden, placing it among the top rentals for events.
While the garden itself is perfect for pictures, most Google searches will bring up the pictures of the baluarte's remains. And for good reason! Seeing it in person gives you a better grasp of how this adobe structure protected Intramuros.
On days without events, Baluarte de San Diego is open to visitors for a small entrance fee. You can buy your tickets at the entrance or from Klook. Baluarte de San Diego is also covered by Klook's Intramuros Pass.
✅ GET YOUR BALUARTE TICKET HERE!
Opening Hours: Monday to Sunday, 8:00 AM – 5:00 PM (last entry at 4:00 PM)
Entrance Fee: Regular, P75; Children, Student, Senior Citizen, PWD, P50
Location: Sta. Lucia Street corner Muralla Street, Intramuros, Manila City
---
Casa Manila
Located across San Agustin Church, Casa Manila is a museum that represents the life of an affluent Filipino family during the Spanish colonial period. It sits within the Plaza San Luis Complex. Casa Manila's facade takes inspiration from a house that stood in the Chinese district of Binondo in the 1850s.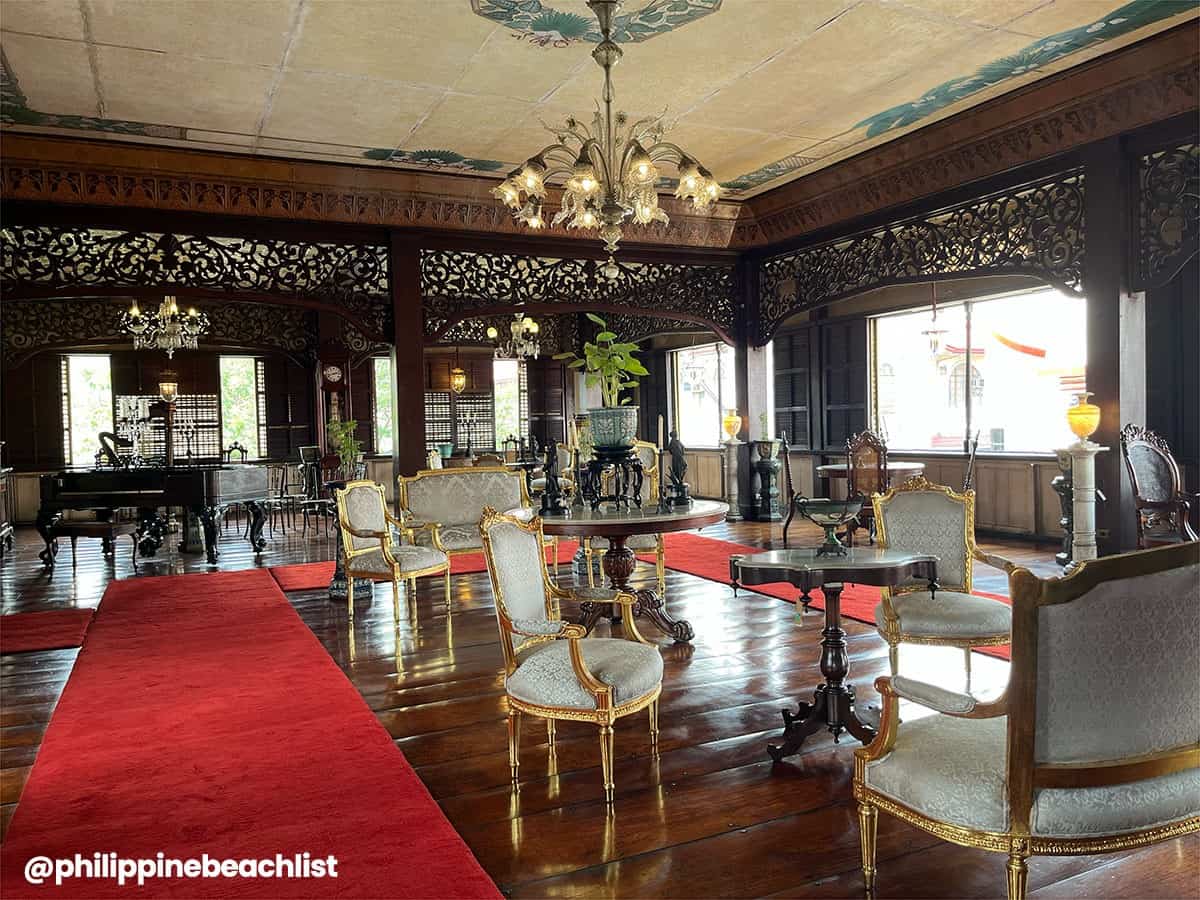 In the museum, you'll observe 19th-century elegance in the form of hardwood floors, furniture, and chandeliers. Museum goers must keep their feet within the carpeted area, except at the accessible kitchen or cocina. Despite these restrictions, it's a captivating glimpse into Spanish-period housing. The well-preserved furniture takes you back in time, allowing you to envision life in that era.
When you visit, you can buy tickets at their ticket booth located inside Plaza San Luis Complex. However, you can also purchase your tickets in advance through Klook. Casa Manila is also covered by Klook's Intramuros Pass.
✅ GET YOUR CASA MANILA TICKET HERE!
Opening Hours: Tuesday to Sunday, 9:00 AM – 6:00 PM; Monday, CLOSED
Entrance Fee: Regular, P75; Children, Student, Senior Citizen, PWD, P50
Location: Real Street corner General Luna Street, Intramuros, Manila
---
Bambike Ecotours Intramuros
There are multiple ways to do a tour of the walled city: walking, a pedicab tour, or a guided bike tour. If you are more into cycling, Bambike Ecotours Intramuros offers another fun way to go around Intramuros. Bambike has guided bike tours which will take you to the historic spots in the area while riding a bamboo bike.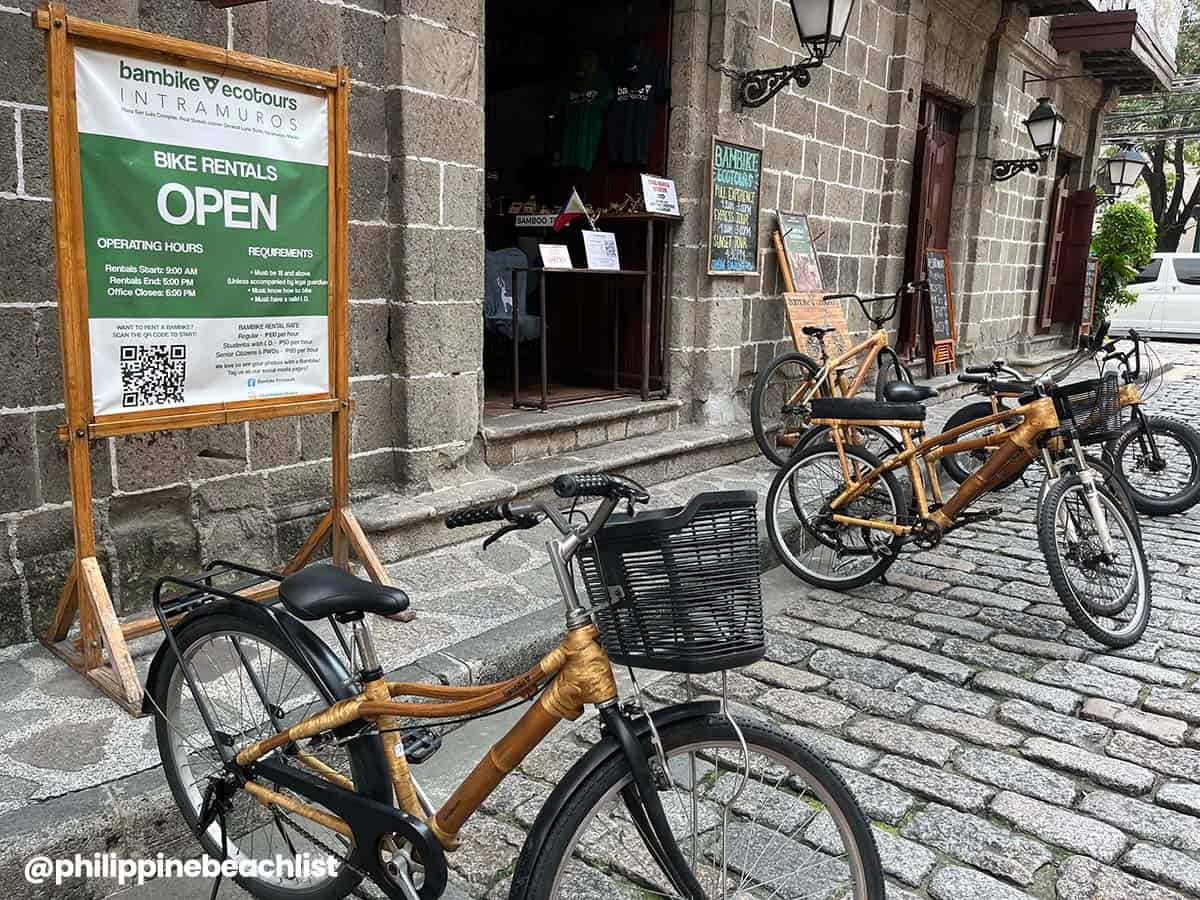 Bambike Ecotours offers 3 types of tours:
Intramuros Experience: This is a two and a half hour tour of Intramuros.
Intramuros Express Tour: This lasts for one and a half hours.
Intramuros Sunset Tour:This is a late afternoon tour that ends at the rooftop of the Bayleaf Hotel where guests can enjoy a complimentary drink while watching the sunset.
All three tours come with guides so you can learn about each stop and have a deeper appreciation for them. Alternatively, you can also rent bambikes per hour if you want to explore Intramuros on your own.
Walk-ins are welcome for both the bike rentals and the tours. Just make sure to arrive before the scheduled tour you want to avail. However, it is best to book a tour in advance since they have limited bicycle units available. You can book your Bambike Intramuros Tour via Klook. You can choose to book just the bambike tour alone, but you can also bundle it with the Intramuros Pass.
✅ BOOK INTRAMUROS BAMBIKE TOUR HERE!
Opening Hours: Daily, 9:00 AM – 5:00 PM
Tour Schedules:

Full Experience: 9:30 AM & 3:00 PM
Express Tour: 9:30 AM & 3:00 PM
Sunset Tour: 4:30 PM

Rates:

Rental: Regular, P100/hr; Student, P50/hr; Senior Citizen & PWD, P80/hr
Full Experience: P1,700/person
Express Tour: P1,000/person
Sunset Tour: P1,800/person

Location: Real Street corner General Luna Street, Intramuros, Manila City
---
White Knight E-Chariot Tours
If you're not looking forward to walking or biking across Intramuros, White Knight Hotel's E-Chariot Tours may catch your eye. "E-chariot" is just a fancy term for electric scooters (Think: Segway). Its wide chariot-like wheels will have you rolling around Intramuros through their 30-minute or 60-minute tours. Some of the sites included in this tour are the Manila Cathedral, Fort Santiago, and San Agustin Church.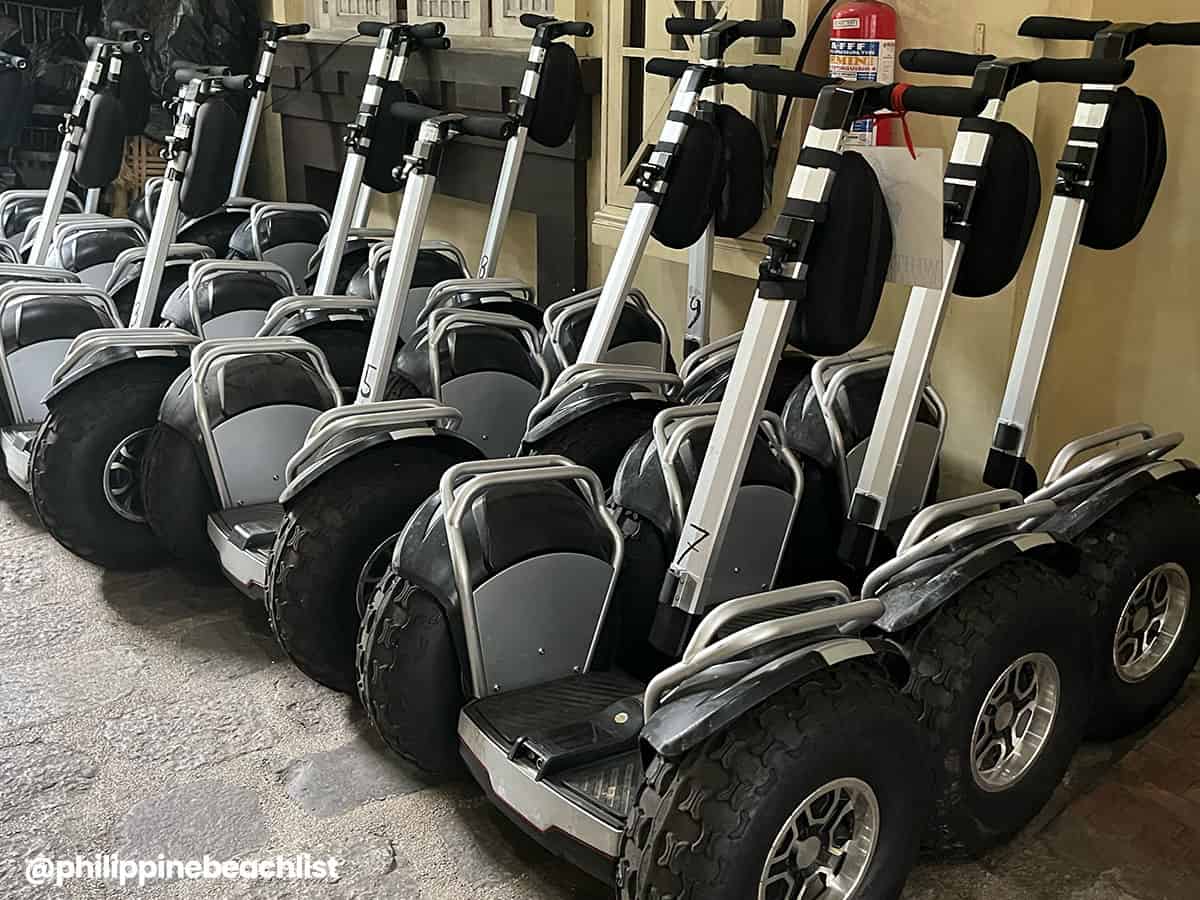 You will find White Knight E-Chariot Tours at White Knight Hotel located within Plaza San Luis Complex. Walk-ins are welcome, but you can also book in advance through Klook. Klook also offers discounted rates so you can save a little bit when you book through them. If you're interested in booking an E-Chariot Tour, you can click the link below. You can also choose to bundle your E-Chariot tour with the Intramuros Pass which will give you access to multiple attractions in the walled city.
Opening Hours: Daily, 8:00 AM – 5:00 PM
Rates: P1,000/hr per person
Location: General Luna Street, Intramuros, Manila
---
Museo de Intramuros
Housed in the reconstructed San Ignacio Church and the Mission House of the Society of Jesus, Museo de Intramuros displays the ecclesiastical collection of the Intramuros Administration. Aside from the collection exhibited here, the building itself is historical. San Ignacio Church is one of the two churches that the Jesuits built in honor of St. Ignatius of Loyola.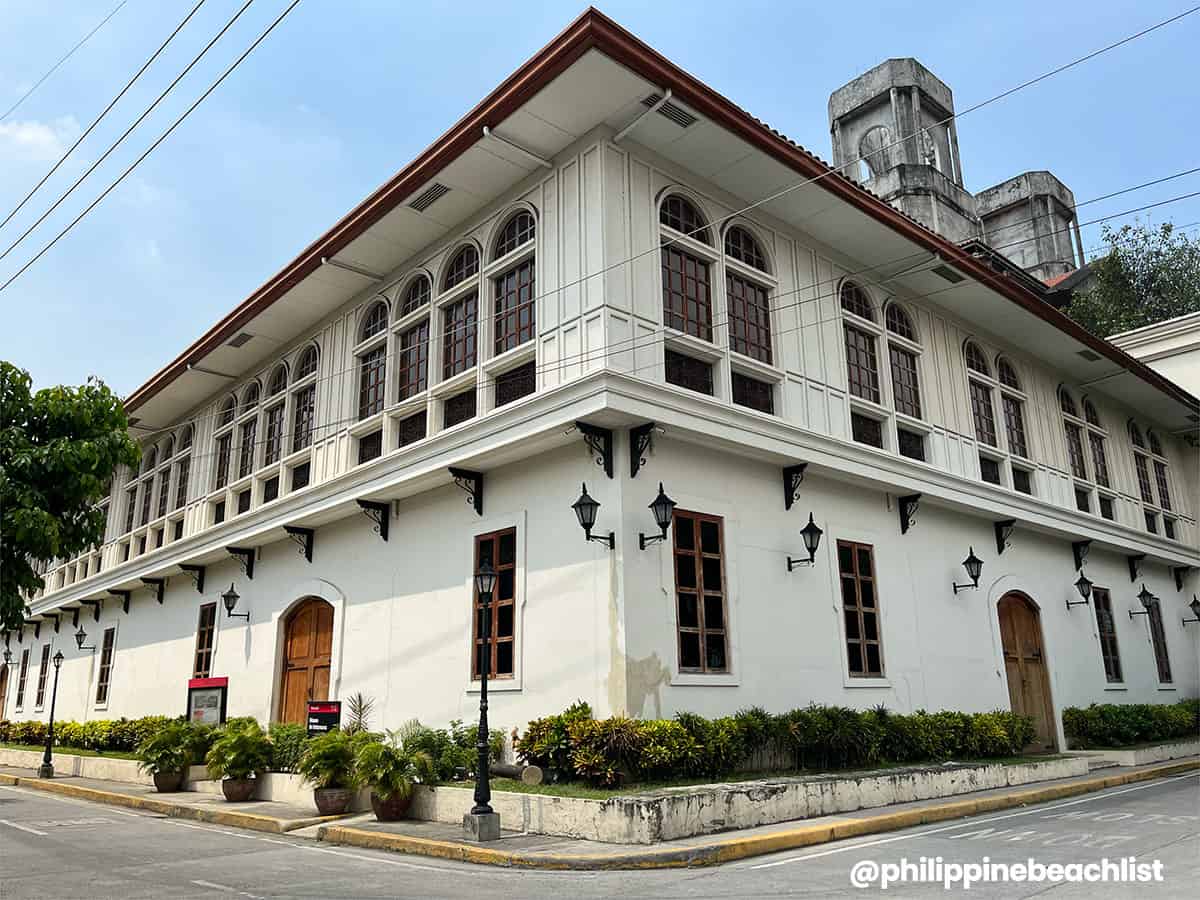 The second San Ignacio Church broke ground in 1878, guided by the designs of Don Felix Roxas, a renowned architect during that time. This church wowed with its carved wood interiors, but much like most of the landmarks in Intramuros, World War II leveled the church. It wasn't until the creation of the Intramuros Administration in 1979 that the plan to reconstruct the church materialized.
If you're planning a weekday visit, you may want to exclude Museo de Intramuros from your plans, unless you're a group with a minimum of 10 participants. These Exclusive Tours must be reserved at least 2 days in advance. For inquiries, you may send an email to [email protected] or call 0915 717 4115, 0936 840 3225, or 0915 599 4483.
For regular weekend visits, tickets are available at the entrance. However, you can also purchase tickets in advance through Klook. Museo de Intramuros is also covered by Klook's Intramuros Pass.
✅ GET YOUR MUSEO DE INTRAMUROS TICKET HERE!
Opening Hours: Saturday & Sunday, 9:00 AM – 5:00 PM; Monday, CLOSED; Tuesday to Friday, for exclusive tours ONLY
Entrance Fee: Regular, P75; Children, Student, Senior Citizen, PWD, P50
Location: Arzobispo corner Anda Street, Intramuros, Manila
---
The Manila Cathedral
Formally called Minor Basilica and Metropolitan Cathedral of the Immaculate Concepcion, the Manila Cathedral is the cathedral church of the Archdiocese of Manila. First established in 1571, it was initially a parish church under the Archdiocese of Mexico established by Fray Juan de Vivero. Then, in 1579, the Diocese of Manila was erected and the church was acknowledged as a cathedral.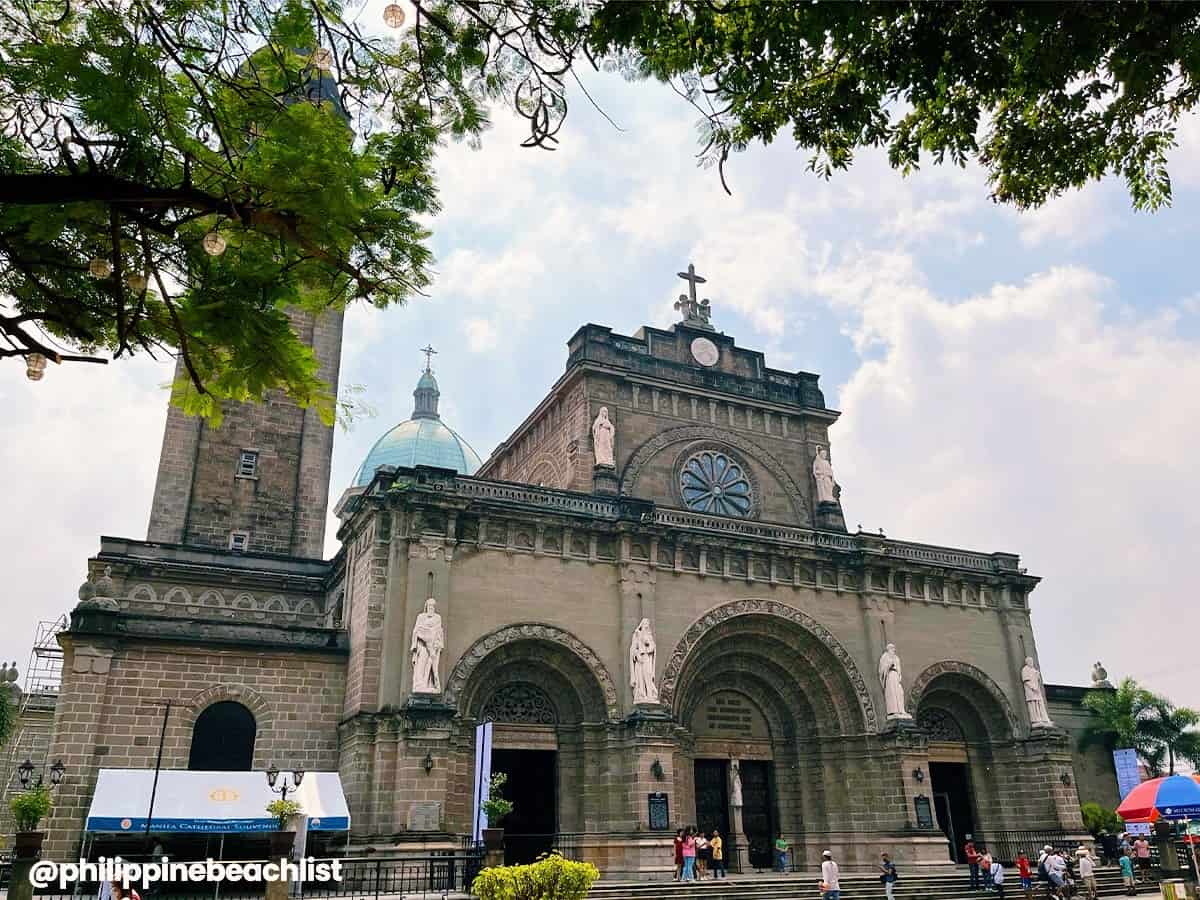 The cathedral, initially built in 1581, succumbed to fire in 1583. Reconstructed with stone in 1592, the cathedral eventually collapsed due to an earthquake in 1600. From then on, it developed a history of reconstructions due to earthquakes, typhoons, and the second world war. Pope John Paul II elevated the cathedral to a minor basilica in 1981, shortly after his visit and mass celebration, marked by a medallion with the papal arms beneath the cross on the facade and above the high altar.
For first timers, the security protocols at the entrance may surprise you, but these are just necessary precautions due to the high volume of visitors to the church. These contemporary additions honestly match the Neo-Romanesque architecture of the current reconstruction of the church. As "revival" architecture, Neo-Romanesque structures hoped to bring the past into the more modern present. Seems very fitting for this deeply historic yet oddly modern-looking church!
Location: Cabildo corner Beaterio Street, Intramuros, Manila
---
San Agustin Church
San Agustin Church is the oldest stone church in the Philippines. Built from 1586 to 1607, the church took on the name "Church of St. Paul of Manila." Today, it also called the Immaculate Concepcion Parish or the Archdiocesan Shrine of Our Lady of Consolacion and Cincture. In 1976, it became a National Historical Landmark. San Agustin Church is also one of the churches designated as a UNESCO World Heritage Site in 1993 under the collective title Baroque Churches of the Philippines.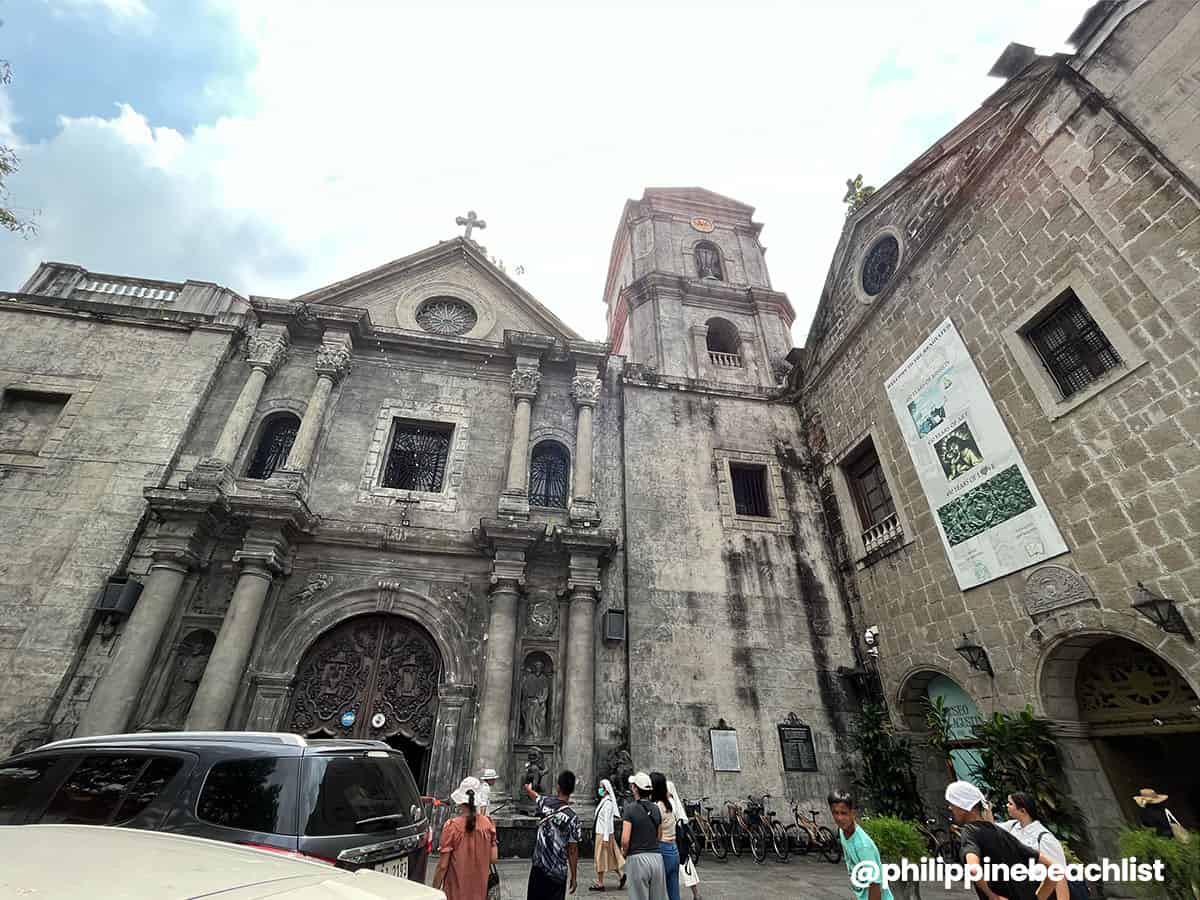 After the Battle of Manila, the original stone church underwent renovation in 1854. Despite enduring multiple major earthquakes, one of which necessitated the permanent removal of its left tower, San Agustin Church has also functioned as a hospital and served as a concentration camp during the second world war under Japanese occupation. At present, the church is under the Augustinian friars of the Province of the Most Holy Name of Jesus of the Philippines. Its monastery is now a museum adjacent to it, which tourists can also visit.
Do yourself a favor and look up when you enter the church. I honestly wouldn't have known that the carvings on the ceiling weren't even carvings at all, but rather trompe-l'œil paintings! This mind-boggling view alone made this a must-see for us.
Location: General Luna Street, Intramuros, Manila
---
Museo de San Agustin
Located next to San Agustin Church, Museo de San Agustin houses religious artifacts, carvings, books, and more. It occupies two floors and features several galleries. When you enter the museum, massive religious paintings will greet you at the door. A replica of the Sto. Niño de Cebu that was gifted by Ferdinand Magellan to Rajah Humabon's wife, Juana, also sits in the hallowed halls of this museum.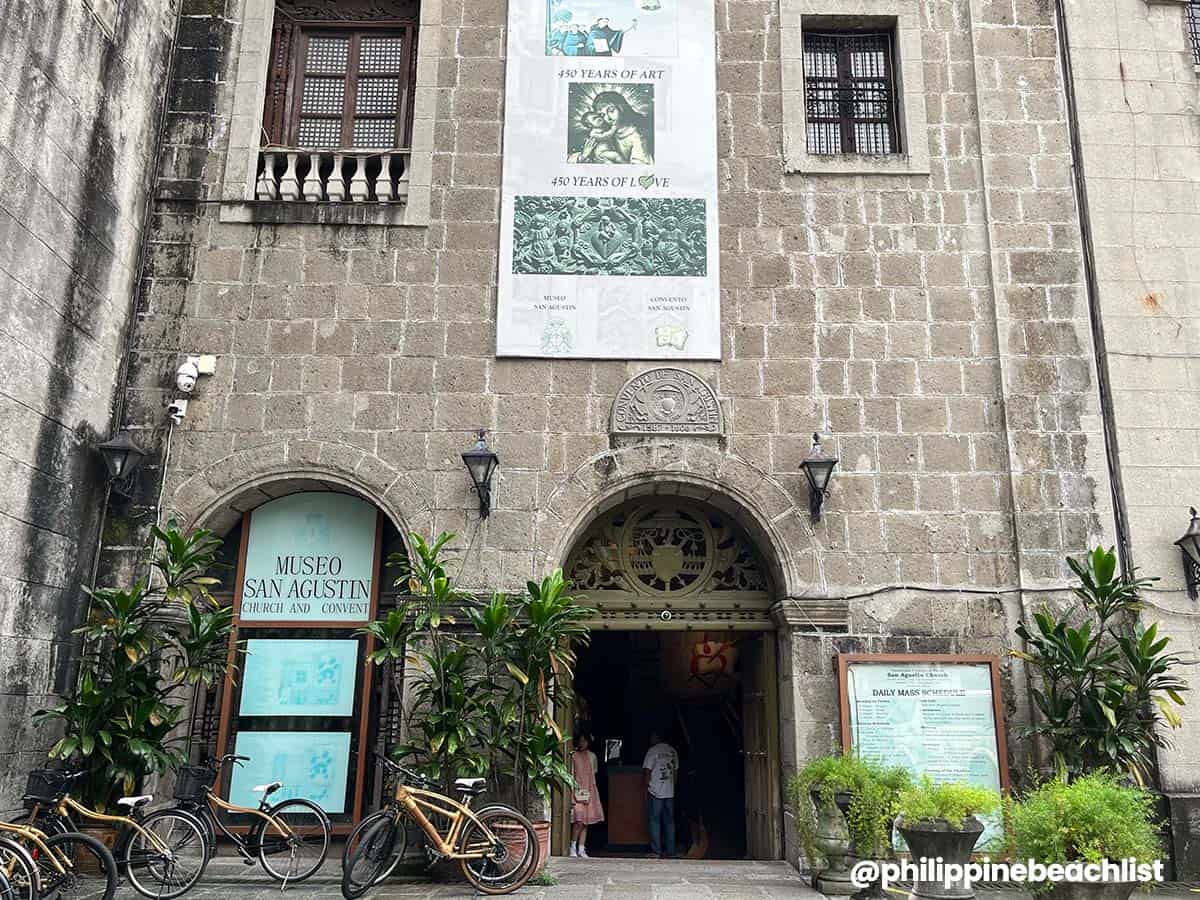 Inside the museum, a section includes a library exhibiting books and manuscripts dating from the 16th century to the present. Displays of medicinal plants used as remedies in the past are also featured. Art and history enthusiasts can explore the crypt, the final resting place of Juan Luna. Visitors can access the inner garden of the church from the museum, making it an extensive exploration that merits at least an hour's visit.
Opening Hours: Daily, 8:00 AM – 12:00 PM; 1:00 PM – 5:00 PM
Entrance Fee: Regular, P200; Children, Student, Senior Citizen, PWD, P160
Location: General Luna Street corner Real Street, Intramuros, Manila
---
Bahay Tsinoy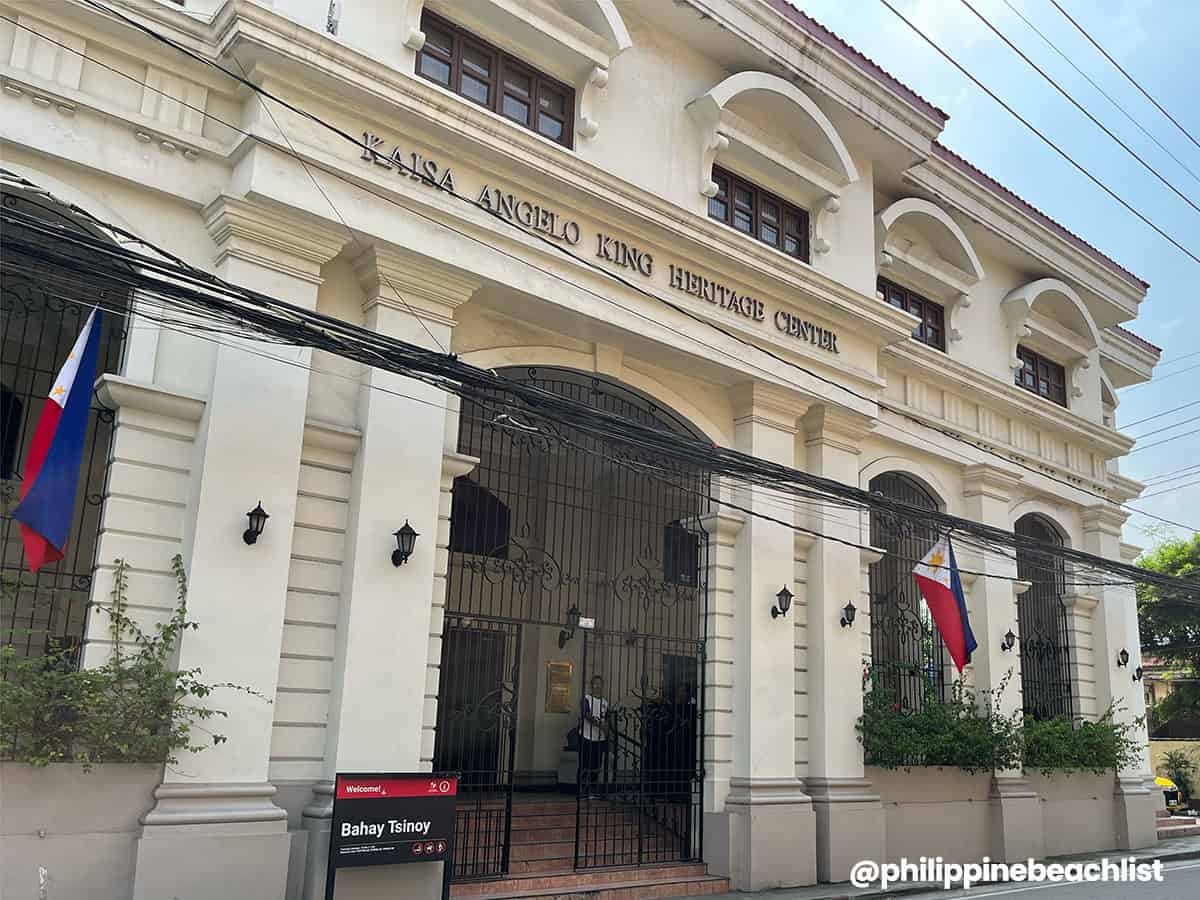 Bahay Tsinoy or Museum of Chinese in Philippine Life is another museum situated within the walls of Intramuros. It is home to the Kaisa-Angelo King Heritage Center, which documents and showcases the life of the ethnic Chinese in the Philippines over the years.
Since 1999, the museum has stood on the corner of Anda and Cabido street. Inside, the museum features multiple sections including The Parian, Colonial Culture, Emergence of the Chinese Community, and Life in the 1800s. You will also find a gallery of rare prints and photographs and Martyr's hall. A collection of ceramics and rare Philippine shells also make an appearance in the museum.
Opening Hours: Tuesday to Sunday, 10:00 AM – 5:00 PM; Monday, CLOSED.
Entrance Fee: P100
Location: Anda corner Cabildo Street, Intramuros, Manila
---
Destileria Limtuaco Museum
Destileria Limtuaco is the oldest distillery in the Philippines. Along San Juan de Letran Street in Intramuros, you will find their museum in a stone house. Opened in 2018, Distileria Limtuaco Museum tells the history of the company and their products. When you visit, you have the option to just pay the entrance fee to enter the museum or pay an additional P100 for a liquor tasting at the end of your museum tour.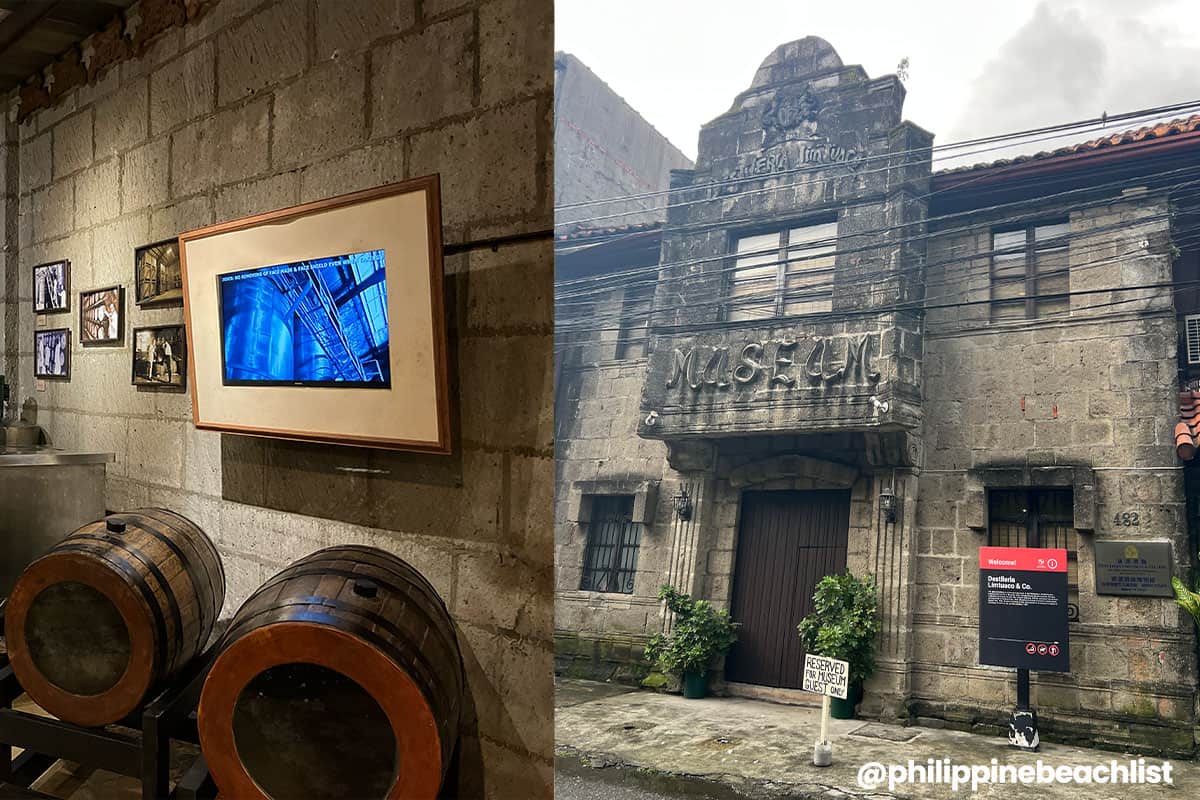 Our visit at the Destileria Limtuaco Museum is easily topped our Intramuros itinerary. When we entered, their friendly staff greeted us at the entrance. Then, their museum guides — whom we later found out were student-interns from nearby universities! — toured us around the two floors of the museum. They told us about the history of the company and ran us through the process of making different types of liquor. We appreciated how fleshed out this tour was, considering how most attractions in Intramuros don't really have in-house guides. It's perfect for D-I-Y-ers who aren't accompanied by hired guides.
Proudly displayed in the Destileria Limtuaco Museum are the countless products under the brand, starting from their very first product, a Chinese herbal wine commonly known as sioktong, to their most popular product, the White Castle Whiskey. Their craft spirits also made quite the impression, with Filipino flavors like mango, calamansi, dalandan, coffee, and cacao, and their unique packaging.
We're telling you now: avail the liquor tasting! You'll get to try 6 of their products, four of which you can choose for yourself. Personally, we went for their craft spirits and the Intramuros or Liqueur de Cacao turned out to be our favorite!
Opening Hours: Tuesday to Sunday, 9:00 AM – 5:00 PM; Monday, CLOSED
Entrance Fee: Regular, P100; Children, Student, Senior Citizen, PWD, P50; Liquor Tasting, additional P100
Location: San Juan de Letran Street, Intramuros, Manila
---
Walk Around Intramuros
If we're being honest here, this list barely covers the rich history of Intramuros. But the best tip we have to remedy this is simple: if you're looking for more things to do and places to visit, just walk around the walled city!
Keep an eye out for historical markers that narrate the brief history of the buildings or areas you will come across. Most of the more classic markers (usually made of stone or metal, in a gray or brown shade with white font) will be accompanied by Intramuros Administration's more modern markers in red and black. Better yet, you can grab a map from the Fort Santiago Information Center to see where exactly you can find these historical sites.
More fortifications, military installations, and gates can be seen around here. You will also come across monuments, public installations, and plazas. Government buildings, residences, and palaces are also all over the district, some of which are already reconstructed or harbor no existing structure at all. We will list some of these spots below.
Overall, it's best to visit Intramuros early in the morning or late in the afternoon to avoid extreme heat, especially if you're visiting during the dry months.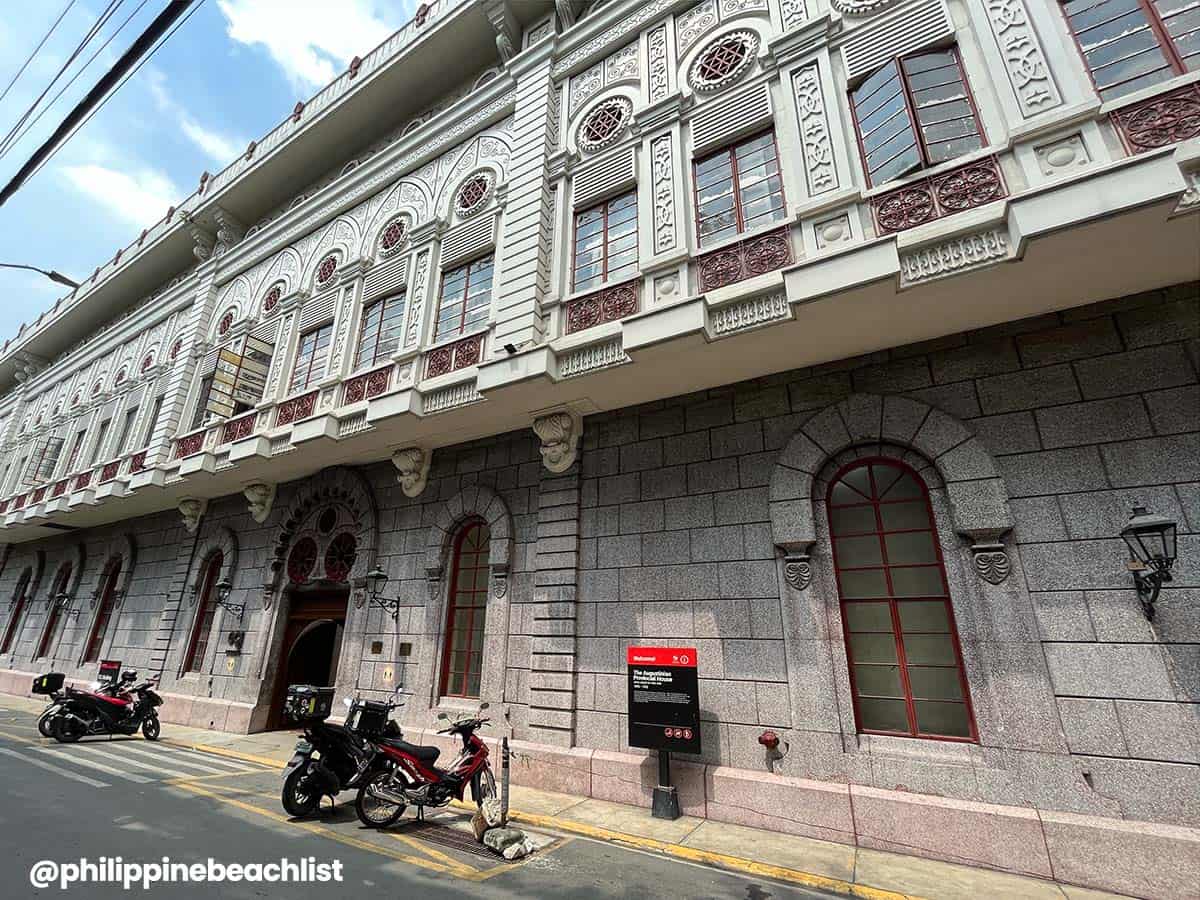 Other sites to see:
Palacio del Gobernador
ECJ Building
Galleria de los Presidentes
Baluartillo de San Jose
Intendencia or Aduana Building
Monument to Charles IV, King of Spain
---
Where to Stay in Intramuros
If you can't get enough of Intramuros, you can actually book a stay with the two hotels within the historic city.
However, there are more hotel options in other areas in the City of Manila. The area closest to Intramuros is Ermita where you will also find other attractions in the city like the National Museum Complex and Rizal Park. Below are some of the hotels you can book for your stay in Manila.
You can also check out these posts for more hotel suggestions around Manila:
---
Reminders