2019 • 02 • 22
More about Payong-Payong Beach here: El Nido, Palawan: Payong-Payong Beach of Miniloc Island
Payong-Payong Beach is one of the popular white-sand beaches on Miniloc Island. Here, you can either get the thrill of swimming amidst the strong waves or just savor the chill vibe of splashing around gentle waves. Payong-Payong is usually an alternative to Simizu Island if the latter becomes too crowded for visitors to enjoy their lunch.
How to Get There
Nearest Airport: El Nido Airport, also known as Lio Airport (Palawan); Puerto Princesa International Airport (Palawan)
By Air
There are three possible gateways to El Nido from Manila: El Nido Airport is the nearest and the most convenient one, but airfare can be too steep. Busuanga Airport is an option to consider for those who are planning to do a Coron-El Nido tour. For those who want to enjoy both Puerto Princesa and El Nido to the fullest, Puerto Princesa Airport is the most popular choice.
Coming from Manila, it will take you around 1 hour to get to Puerto Princesa International Airport. Check your preferred airline company for the flight schedule and airfare.
Once in Puerto Princesa, you have three options going to El Nido: Van (P550-600, 5hrs); Bus (P385-480, 6-7hrs); Roro Bus (P290-380, 6-7hrs)


Via van, there are shuttle vans at the airport or you may take a tricycle or multi-cab going to Robinson's Mall where the van terminal is located.
Via bus and RoRo bus, take the tricycle from the airport going to Junction 1 (P8), and then ride a multi-cab going to San Jose Terminal. You can also hire a tricycle for P80-100.


From El Nido bus terminal, take a tricycle going downtown or directly to your hotel.
From either the town proper or along Bacuit Bay, you can book El Nido's Island Hopping Tour A.
---
Entrance Fee and Other Charges
Payong-Payong Beach can be part of El Nido Island Hopping Tour A if Simizu Island gets too crowded. The tour package is inclusive of boat, lunch, life vest, snorkeling gear, and tour guide fee.
El Nido Island Hopping Tour A: P1200/person
Note: The local government standardizes the tour rates. Island hopping tour operation starts at 9am and ends at 4pm.
Eco-Tourism Development Fee: P200 (good for 10 days)
Kayak Rental Fee: P700 (whole day, within operation hours)
---
Don't Miss
The karst cliffs here are less intimidating, so visitors can feel at ease while marveling at the beauty of the place.
Swimming, snorkeling, and/or just lay on the sand and bask in the sunlight or chill under the shade provided by the cliffs and some of the trees.
---
Don't Forget
Bring lots of water. Check with your tour operator if drinking water is included in the package.
Follow the rules at all times. Practice caution. Wear your life vest, especially if you are not a seasoned swimmer or if you are in an area where the waves are strong.
Charge your gadgets and/or bring battery packs.
This is a usual stopover for lunch. Keep the place clean. Practice proper garbage disposal. Leave nothing but footprints.
---
If You Have More Time and Budget
Other places included in Tour A package are Secret Lagoon, Big Lagoon, Small Lagoon, Simizu Island, and 7 Commandos Beach.
Take the other tour packages: Tour B, Tour C, Tour D, or Tour E.
Craving for the "natural high"? Climb to the summit of Taraw Cliff.
Take the Puerto Princesa city tour.
More detailed travel guide here: El Nido Budget Travel Guide
---
Where to Stay
Whether you are looking for cheap accommodation or a luxurious one, you have plenty of choices in El Nido. Here are the top-rated accommodations according to Agoda users, in no particular order.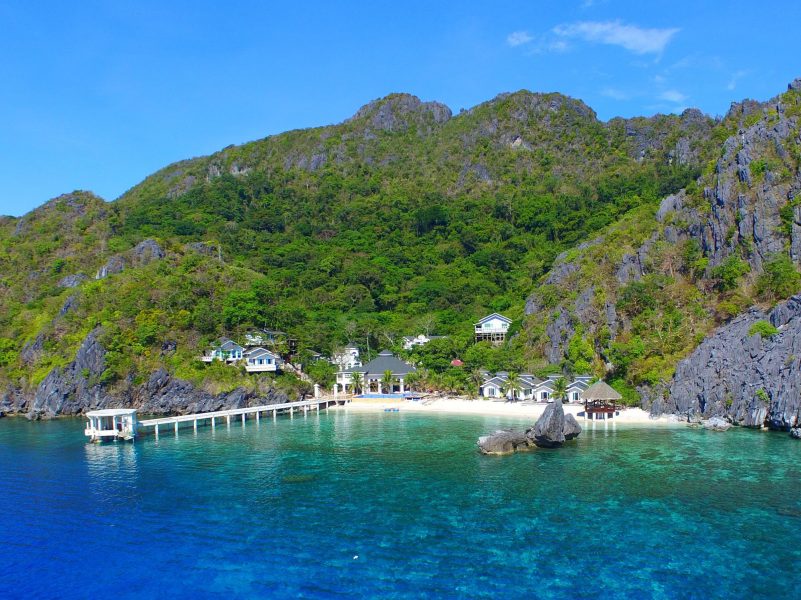 For more options, search here: Palawan Hotels
Reminders